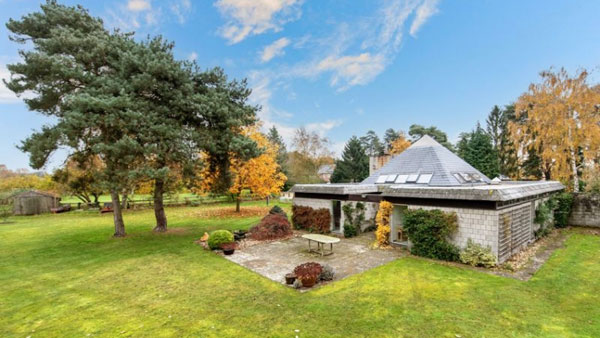 A statement then and still a presence now. This 1970s R.G. Geall modern house in Kirkby On Bain, Lincolnshire is up for sale.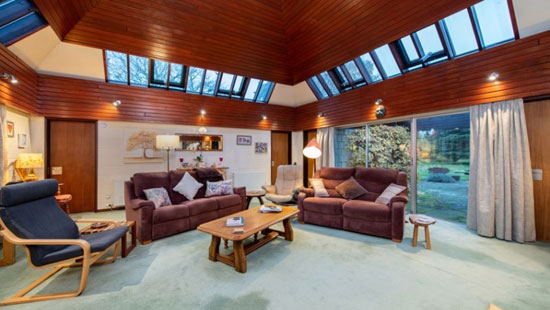 And best of all, Courtlands (that's the name of the house) hasn't changed a great deal either. You can probably tell that from a casual look at the exterior.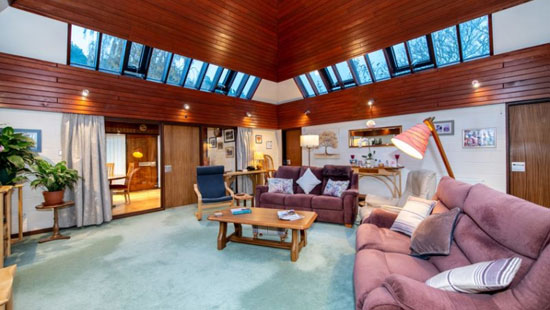 Thanks to the team at Robert Bell for the help with this one. This modern house was the work of deputy county architect R.G. Geall, with the house constructed around 1973. To be fair, I probably didn't need to tell you it was a 1970s design. There's something about modernism of that decade that is so unique to the era.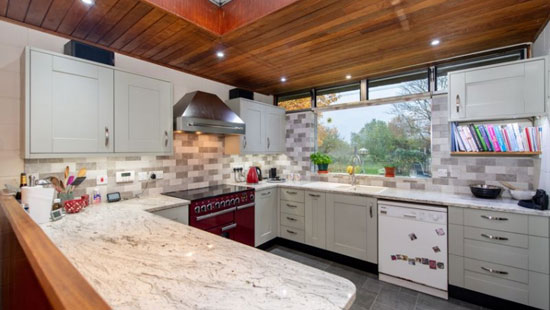 But this design goes over and above that. An angular and slightly brutal design with an almost pyramid-like in inspiration and the kind of design that really has come back round again. With brutalism very much to the fore today, this is the kind of architecture modern(ist) buyers love. Something of a European influence too. The kind of design you might see in Belgium, for example, but not so much in the UK.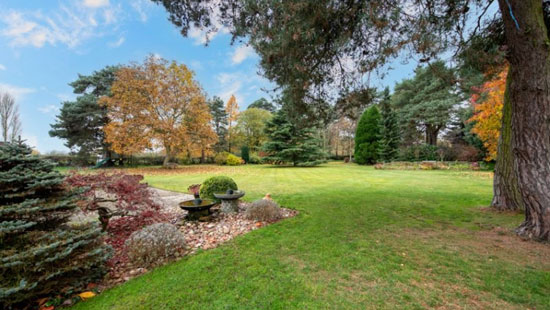 Even better, many of Courtlands' original details have been maintained over the decades. Not everything. There have been some more recent upgrades as you can see from the imagery. But the 'bones' of this one are largely untouched. So much potential with this place as well if you want to add your own stamp on it.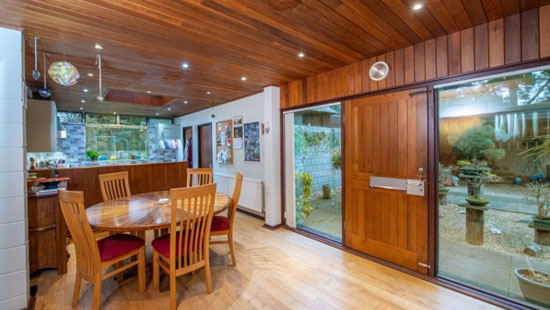 As I said, the block exterior and pyramid-inspired ceiling catch the eye from the outside, with that theme continuing once you get inside too. I love the almost futuristic feel of the reception space here, enhanced by the wood cladding and all of that wonderful glazing. Love those spotlights too. Presumably original.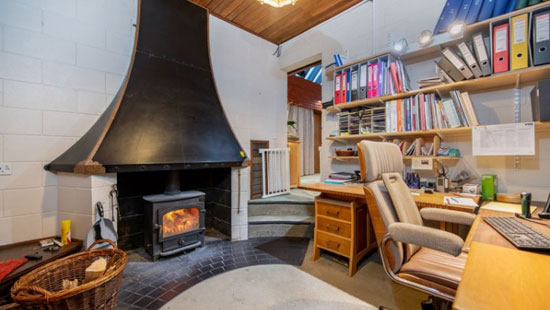 As you can probably see, the doors and the slide doors are original to the build as well, with more original touches beyond the reception. That includes the block walls, wood-clad ceilings and a rather impressive fireplace. As I said, a wonderful backdrop.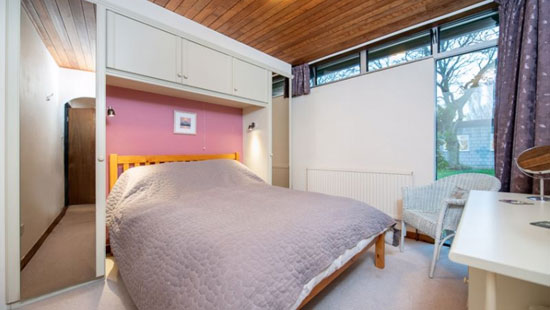 Of course, the kitchen and bathroom areas have been updated since and whether they work for you is all down to personal taste. If they don't, there are plenty of people out there that can replace them. I would guess a number of people would want to follow through the modernist theme into these spaces as well. But as I said, that's down to the the taste of the person purchasing and your budget once you've bought it.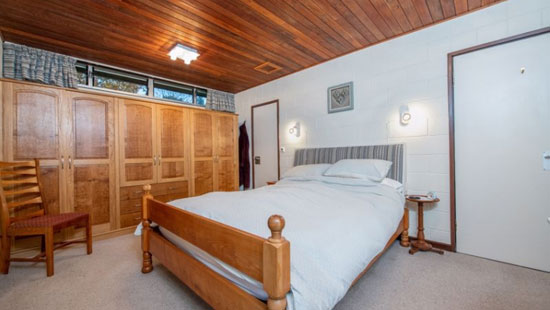 A good amount of space to furnish too – and I suspect much of it would look amazing with some period-perfect touches. With so many 1970s reissues out there in terms of interior design and plenty of 1970s-inspired pieces on the high street these days, it shouldn't be hard to replicate the era. A Guzzini lamp here, a Merrow Assoicates table there and the perhaps something bold in the rug department. Yoy get the idea.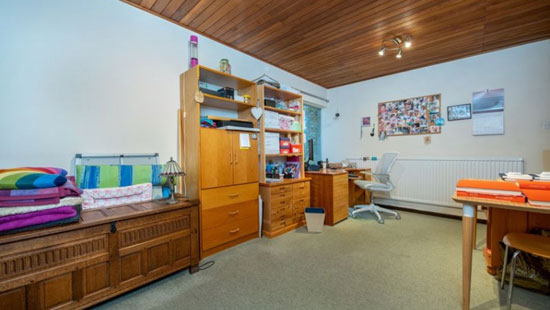 Talking of that space, the rather grand entrance area leads into the focal point of the home, the reception/sitting room, which I have already talked about. Everything else leads off it. Yes, it really is the centrepiece of the home. Quite literally.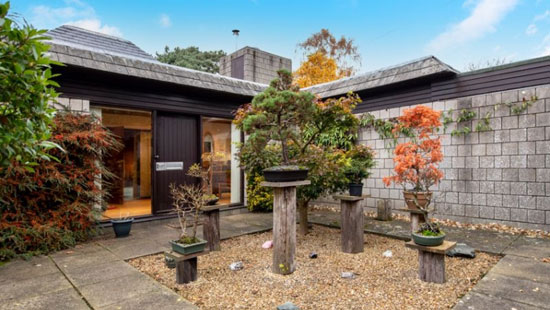 That additonal space includes four bedrooms, three of which have en-suite bathrooms and one with potential to be your home office. In these times, that's obviously a plus. You also get a snug and just beyond it, a boiler room.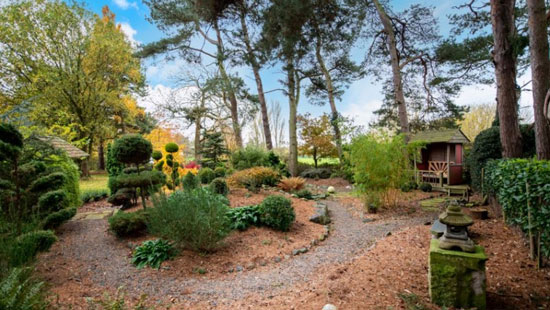 A sizeable kitchen area as well, which also incorporates a pantry and a laundry area. If you need more space for storage, you'll be pleased to hear that there are two storage areas just behind the car port. Oh yes, a garage and workshop separate from the main house as well. That's the inside space covered, but the outside offers so much too. A selling point in its own right.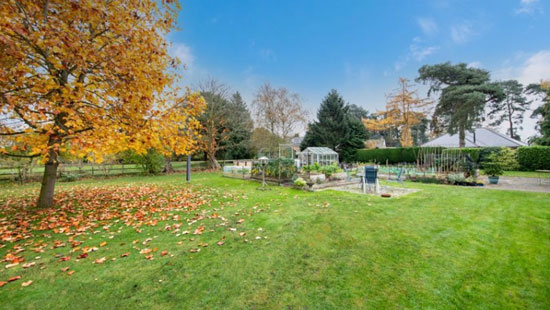 The grounds are huge. In total, you get something like 3.5 acres of land. There a lovely rear garden that feels like your own park, complete with 100 established trees and a paddock area.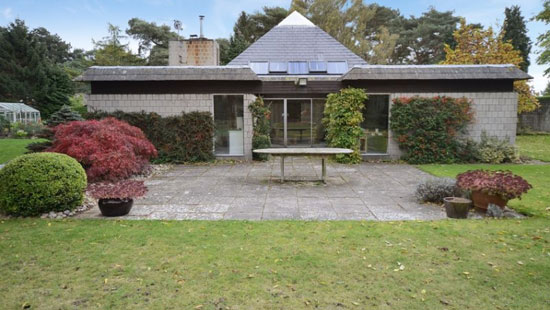 But it's the other aspects of the garden that really sell it. Those include a vegetable garden with raised beds, a Japanese garden and a classically styled ruined temple folly. A dream when the summer comes.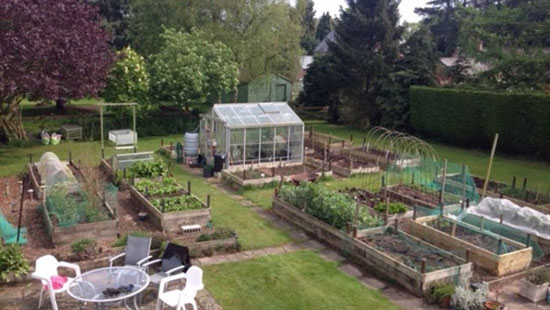 At least, it will be if you buy it. This modern house in Kirkby On Bain is just on the market, selling for £750,000. I sspect someone will fall for this pretty soon.
Images and details courtesy of Robert Bell and Company. For more details and to make an enquiry, please visit the website.