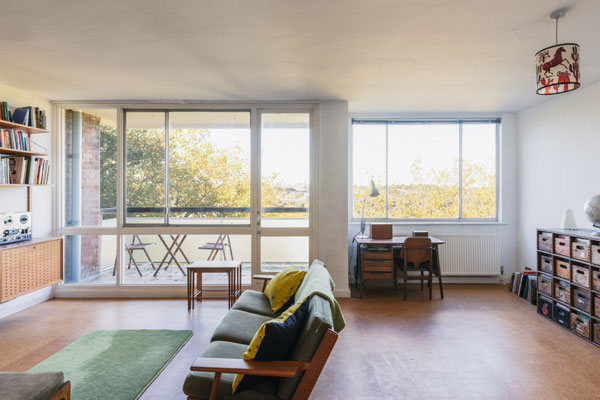 Sadly the piles of vinyl aren't included. But the period authenticity of this 1960s midcentury modern apartment in Altior Court, London N6 certainly is.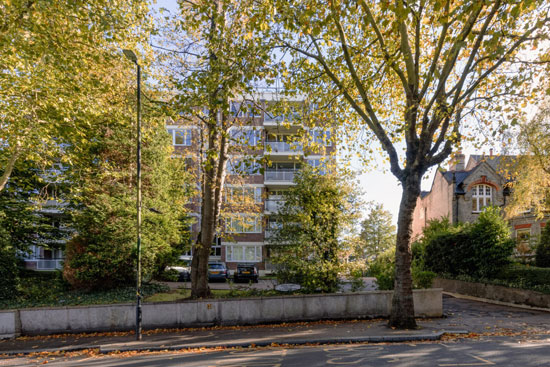 Well, most of it. Of course, the furniture isn't likely to be staying, but there is still much to love about this midcentury modern apartment in Highgate as well as the block itself.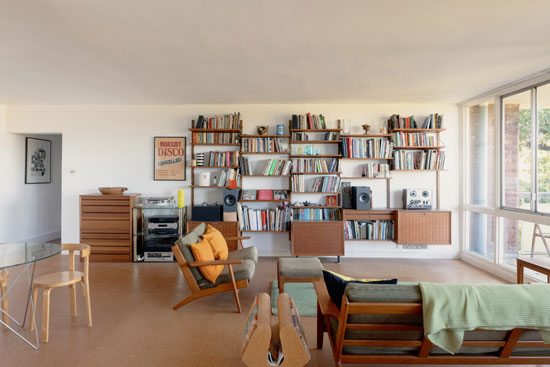 That block is known as Altior Court, which was designed and built in 1965 and is notable for its 'pinkish' brickwork and geometric patterns of horizontal glazed openings, as well as the concrete string courses and protruding balconies. A building that you would say has aged well over the decades.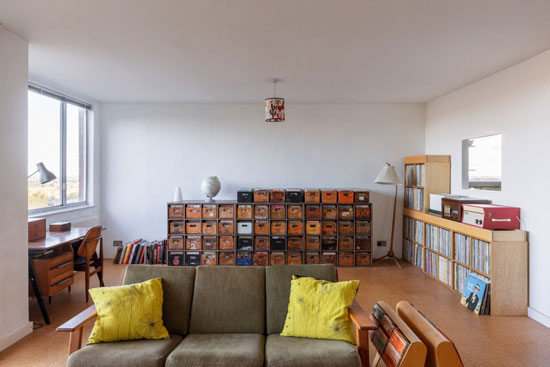 It's also quite a peaceful place to live, with mature trees shielding the building from Shepherds Hill adding to what is described by the agent as a 'peaceful, verdant setting for residents looking out'.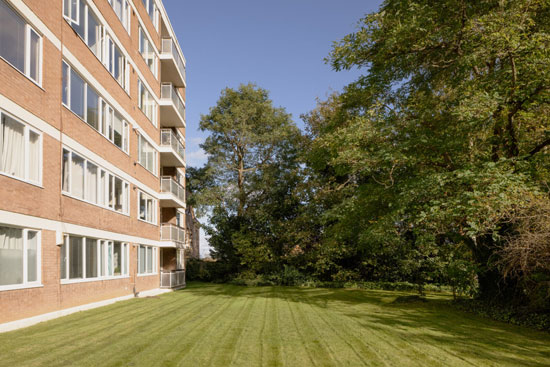 The communal areas, particularly the entrance lobby and hallways, maintain much of their 1960s detail, including 'artfully patterned' tiling and marble and mirrored panelling. A communal lift and shared staircase access all floors.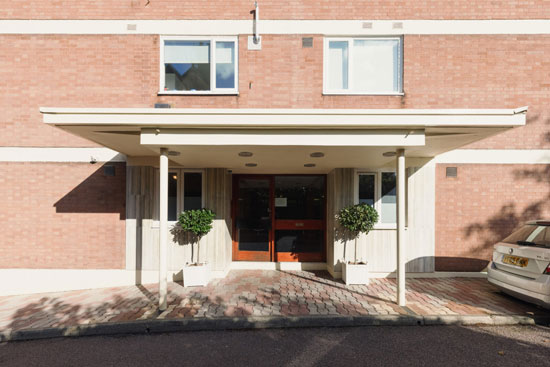 You will need either the lift or stairs as this apartment is on the fourth floor of the building. But that does add to the appeal of it, with some great views from the balcony, looking out over the treetops of Shepherds Hill and beyond to Muswell Hill and Epping Forest.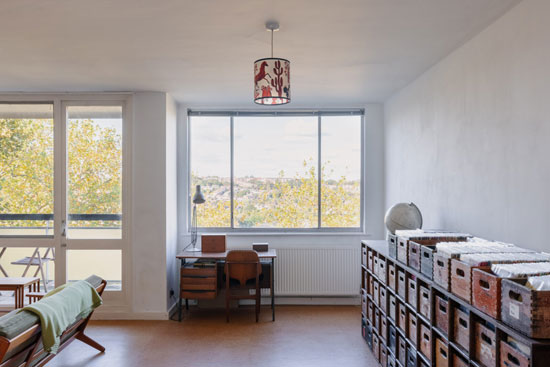 There is also plenty of appeal inside too. The interior retains much of its originality and period character, as well as the kind of light and space you only get in apartments and flats of this era. Yes, you can buy a new-build flat, but I'm guessing you will not be looking at the kind of space this one offers.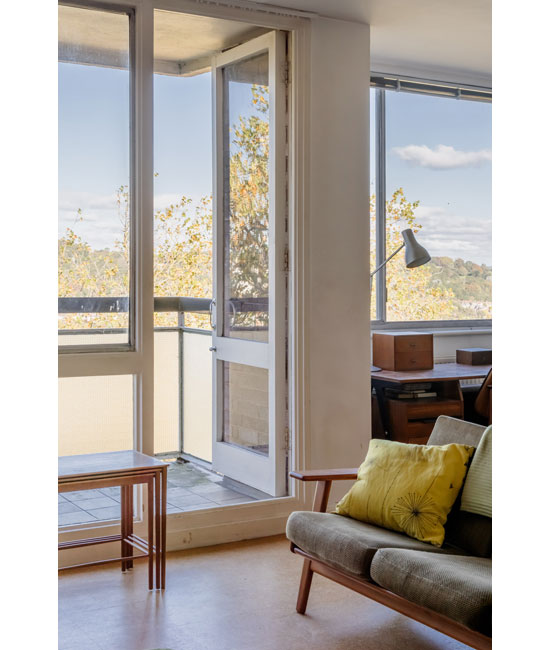 In total, you get something like 878 sq. ft. of living space, which is dominated by the large living and dining room with a study area. A great open space with cork tile flooring, a good amount of glazing and access to the balcony area and those views.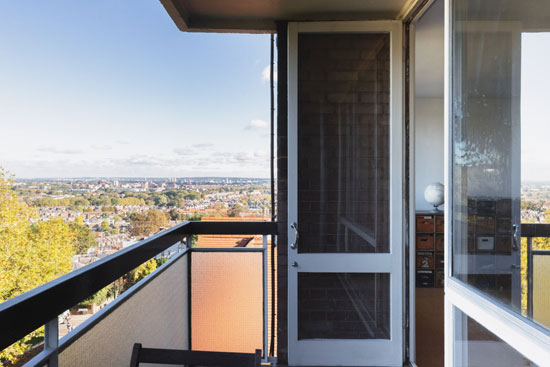 Add in some of your own midcentury modern furnishings (as the current owner has done) and that mid1960s vibe is complete. There are some other touches elsewhere that add to the 1960s ambience too.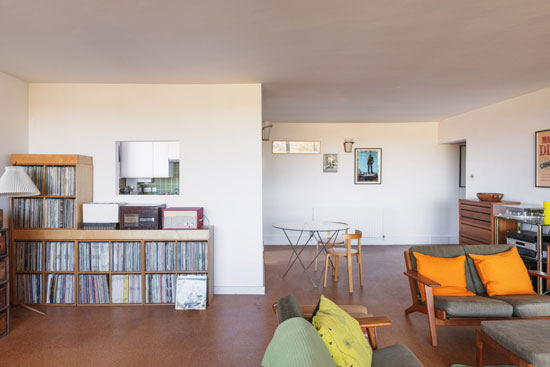 The kitchen just beyond the living room (and seen via the hatch) has some lovely avocado tiles in place, as well as some great views via the window. But it is the bathroom where the full-on '60s feel really hits home.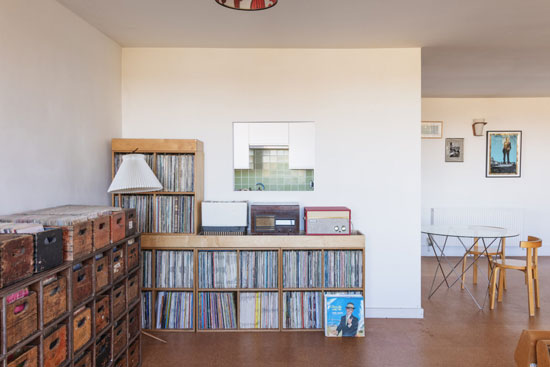 Yes, a marvellous orange tiled bathroom suite that would be a joy to behold each morning.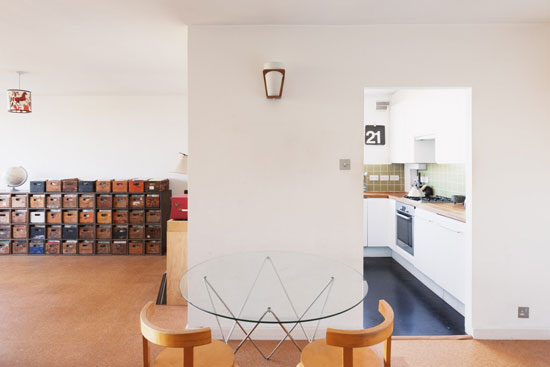 Also present is a corridor lined with shelving that leads to that bathroom, as well as the bedroom with a full-width window. If you need an extra bedroom, consent has apparently been 'agreed in principle' to modify the main living space to create a second bedroom, subject to the necessary terms and conditions and applicable fees.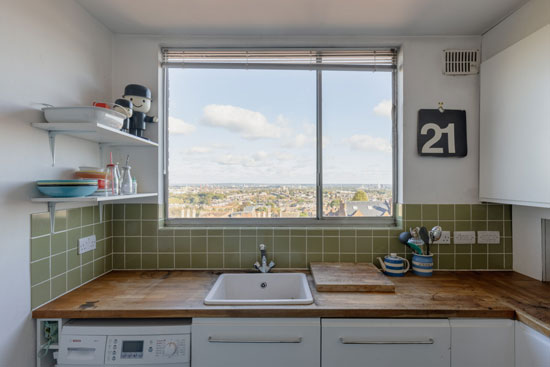 As for the outdoor space, the apartment shares 'extensive communal gardens' to the front and rear of Altior Court. Mature, broad-leafed trees (and fruit trees), plants and shrubs, as well as green spaces for relaxing and playing. Again, the kind of space you wouldn't get in a modern build.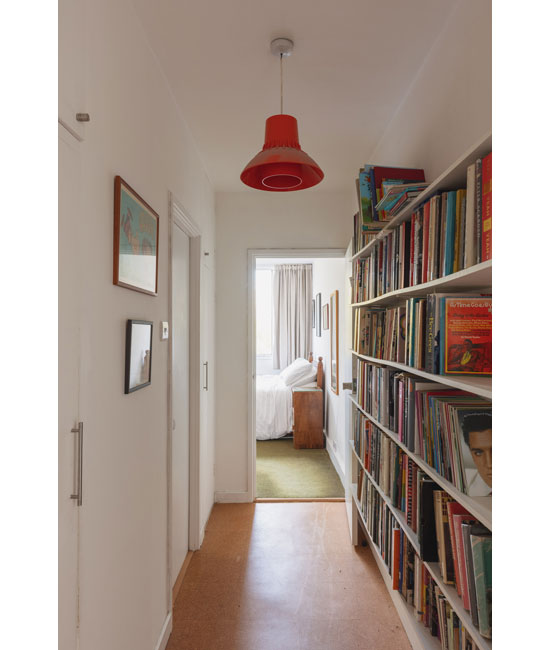 Fancy it? This one is just on the market with an asking price of £625,000.
Images and details courtesy of The Modern House. For more details and to make an enquiry, please visit the website.