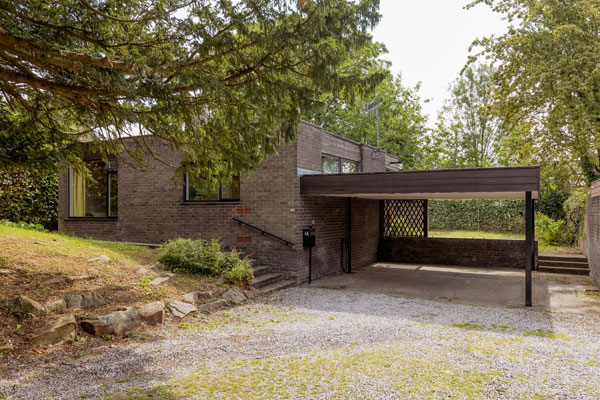 Looking for an icon with potential? Check out this amazing 1960s David Mellor modern house in Sheffield, South Yorkshire.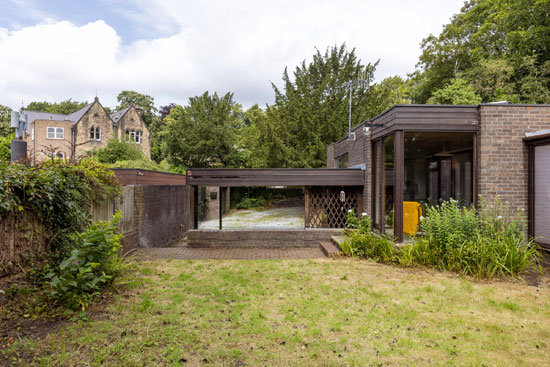 Sheffield has some fascinating modern houses if you dig deep and this one is, for me, somewhere near the top of the pile. A house that was built to accommodate the growth of David Mellor's family and business in the 1960s.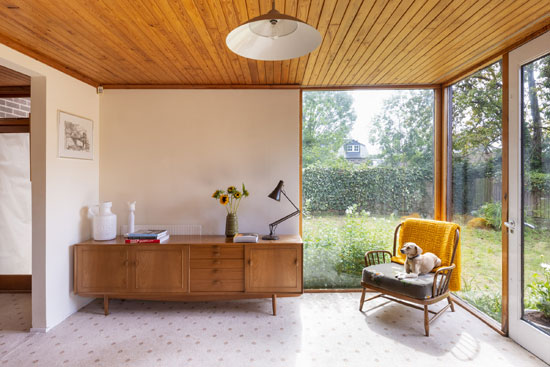 It was designed in collaboration with architect Patrick Guest on a 'small piece of land' that was given to Mellor, which bordered his original home and workshop on Park Lane (now listed, of course).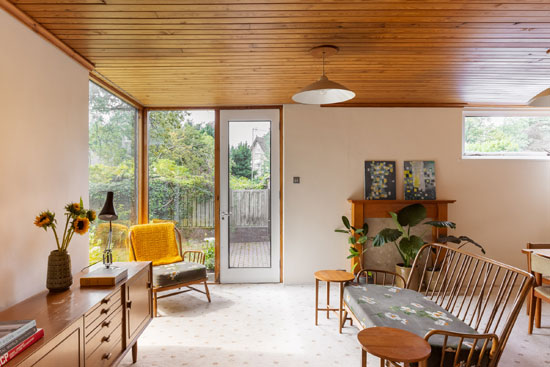 You might know David Mellor for his numerous noted designs, including his Embassy cutlery, traffic lights and pedestrian signals, many of which were conceived in this house. I lived in Sheffield a few years back and fondly remember a pleasant Sunday wandering around an exhibition of his in the city, including a recreation of a street featuring designs we take for granted today.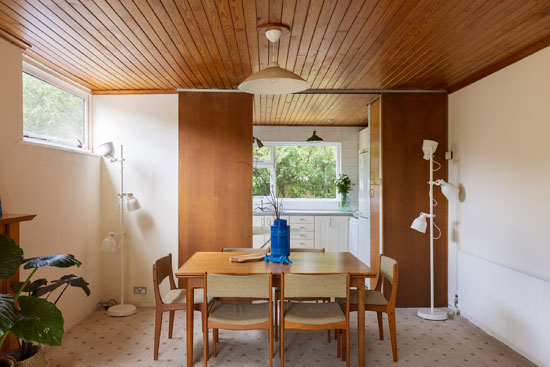 In the years following Mellor's ownership, it has been extended to include an en-suite bathroom, utility room and conservatory. But overall, little obvious has changed, both in terms of the architecture and the finish within. Although there are options on the table to do just that if you want to.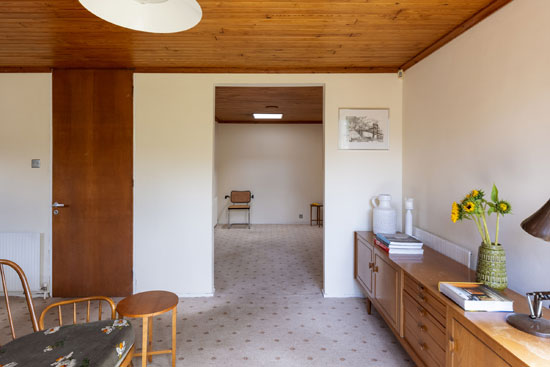 According to the agent, Studio Hagen Hall and Bentley Hagen Hall have developed a 'truly impressive scheme' that is said to transform the house into a home fit for modern living. It will remove the later additions and add in a third bedroom and second bathroom, but with 'a prevailing aesthetic that marries the best of mid-century design with the finest contemporary materials'.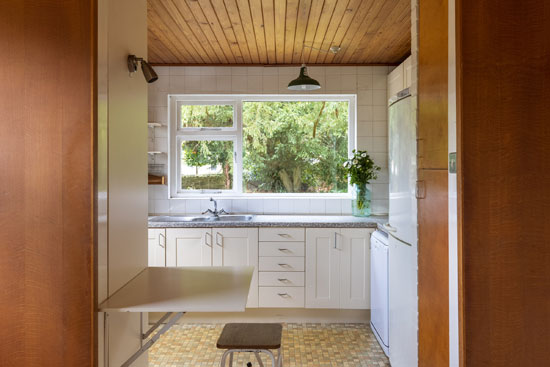 Planning for this has been granted and there is a link to the plans on the agent's site if you want to browse them.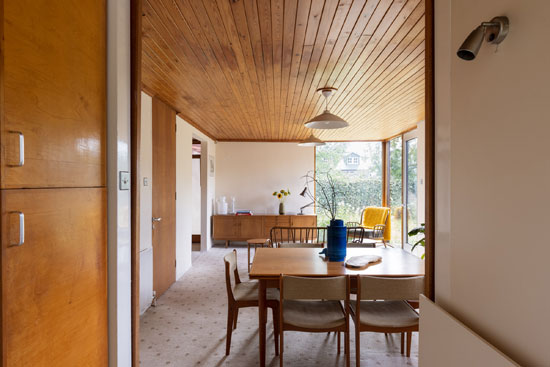 Or check out the house as it is right now. A very appealing piece of architecture and a finish that, at first glance, looks pretty much unchanged over the decades. It oozes midcentury modern charm.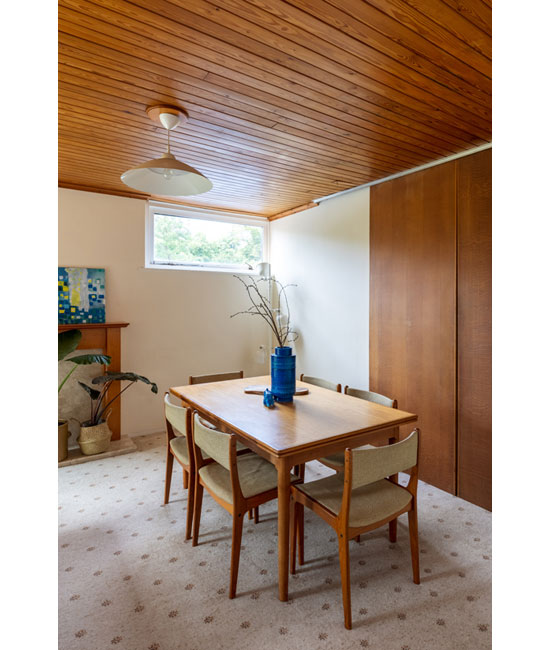 It sits in the Broomhall Conservation Area and on a quiet street within. A private driveway leads to the house, lit by one of Mellor's lighting columns that he designed for Abacus in 1954. A lovely touch.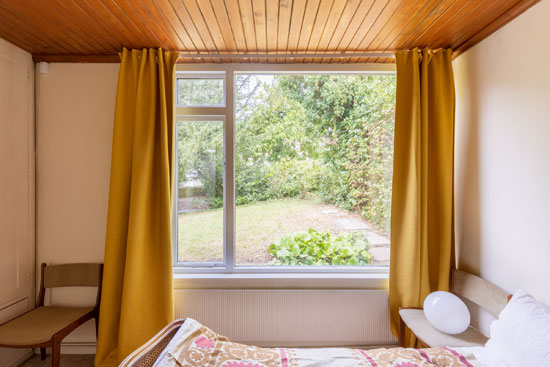 A path leads to the main house and a first glance at the architecture. Very much in tune with the modern design of the era. Flat roof, timber joists and a deep timber fascia with extensive glazing offering some lovely views over the garden.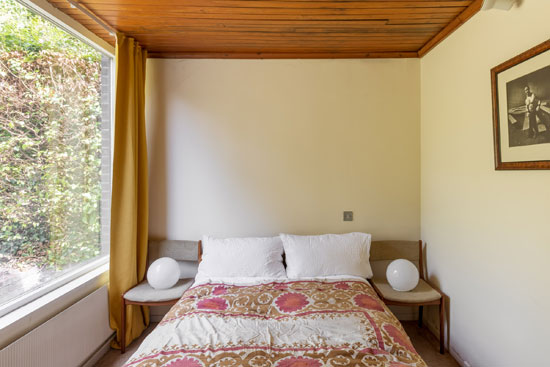 Entry to the house on the southern side is via a glazed door to the living room. The kitchen, living and dining rooms are largely open plan and are essentially the heart of the home, with plenty of natural light, softwood timber ceilings and white walls.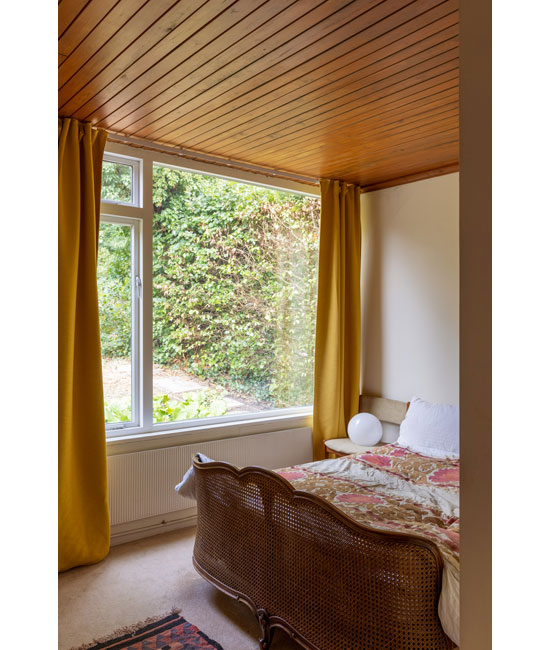 It is a fairly flexible space but is currently laid out as seating and dining, with original full-height sliding doors separating the kitchen from the living area if you want some privacy as you cook.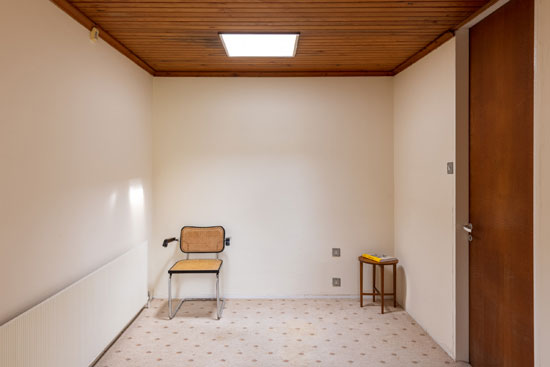 As you can see, plenty of original details throughout the heart of the house. Yes, the kitchen cabinets seem to be fairly recent, but that's an exception rather than the norm. Some nice original storage/cabinets elsewhere if that's what you prefer.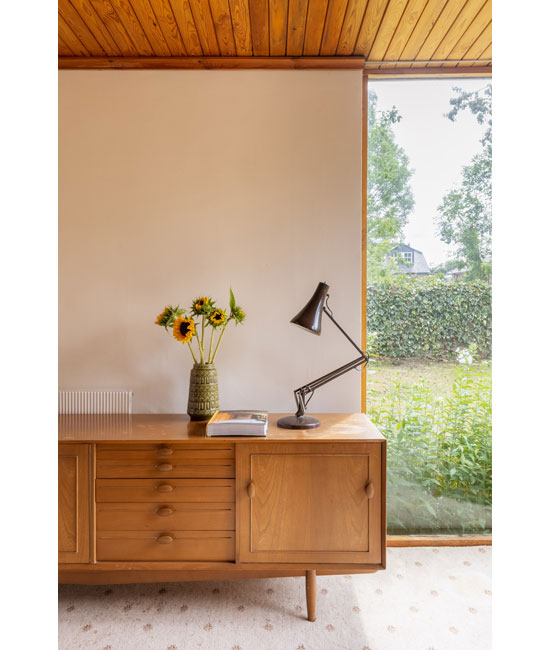 A dining room, a bedroom with an adjoining dressing room, and a bathroom occupy the rest of the original plan and of course, have more of those original details in place. It's a dream if midcentury modern is your chosen style.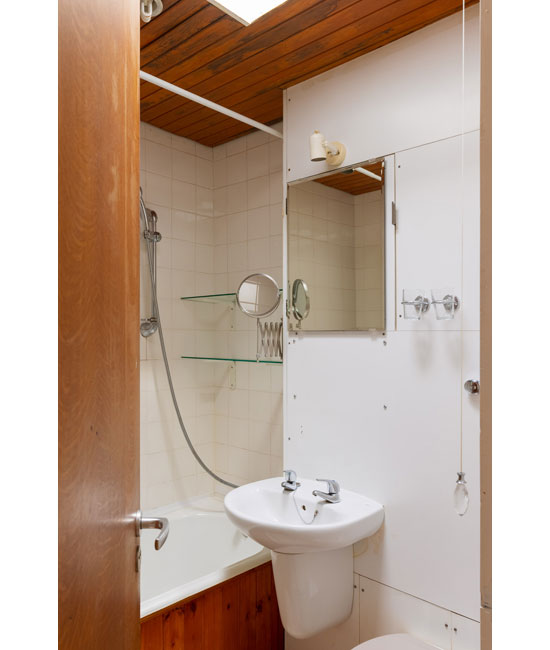 As I said earlier, there is a later extension, which was added to the house in the 1990s. That's where the contention is right now and why new plans have been drawn up. You might like it. Bit it's good to know that there is a way of moving the house on without moving it away from the past.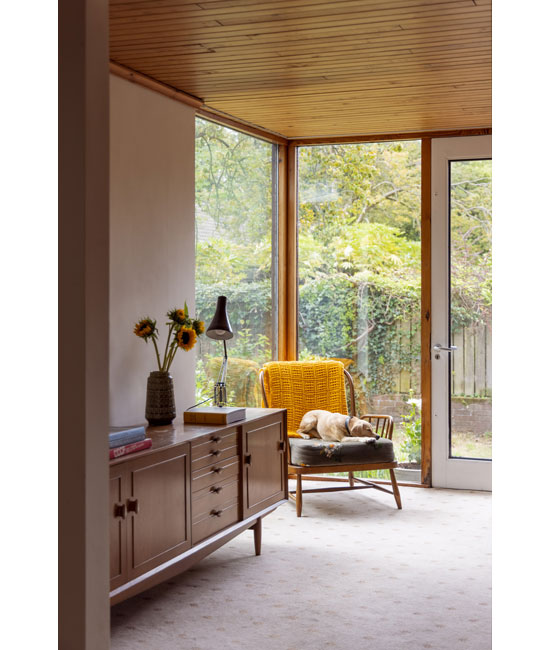 Within the extension, there is currently the main bedroom and en-suite bathroom that open directly onto the conservatory. A long hallway runs down the centre of the house, which allows 'alternative access' from the northern edge of the plot.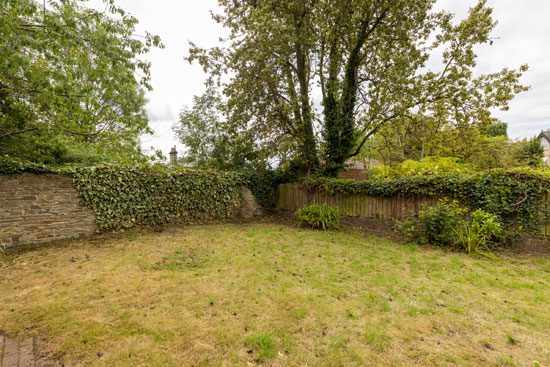 Of course, there is some nice outside space too, described as 'extensive private gardens' and with plenty of possibilities if you have green fingers. or know someone who has.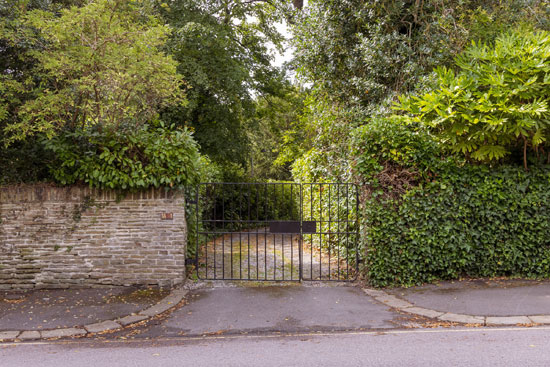 Large stretches of lawn extend from the front of the house, which is always a good thing. Everyone wants a clear, flat garden. A brick fence with timber slats encloses the garden on one side, while on the other a stone wall marks the boundary. There is also a small shed and outdoor storage space at one end of the garden.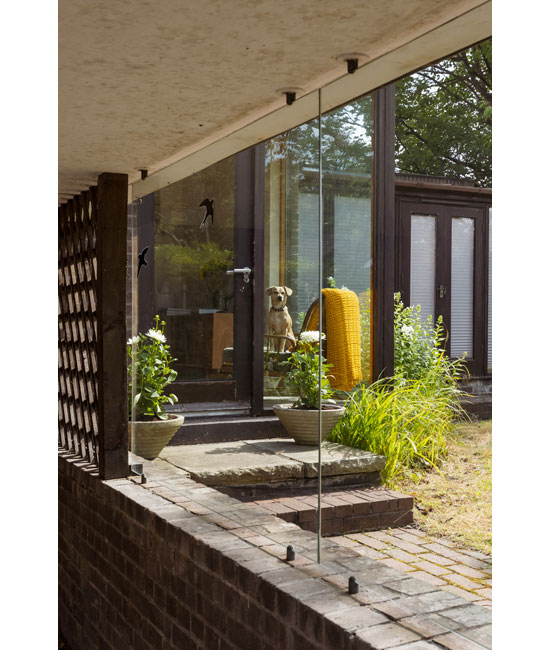 It's a house that has so much going for it. For one, it's in Sheffield, which is a wonderful city. But it is also interesting architecture with a backstory and with the potential to rework the design to bring it back to its best.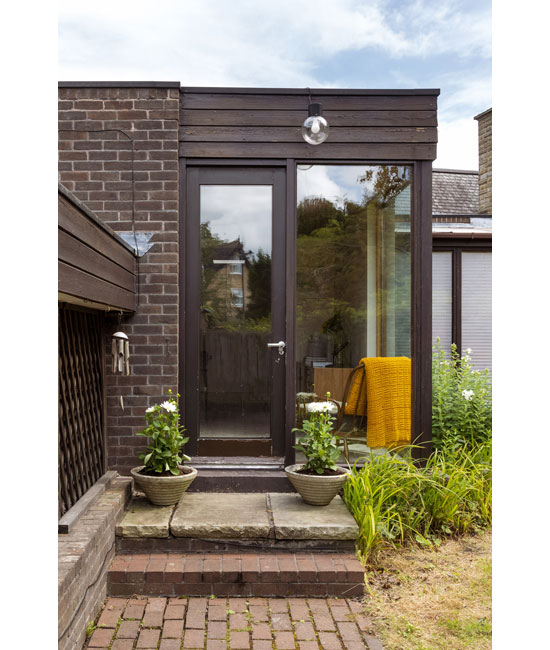 I don't think there will be a shortage of takers for this David Mellor modern house in Sheffield, South Yorkshire, which is on the market for £525,000.
Images and details courtesy of The Modern House. For more details and to make an enquiry, please visit the website.