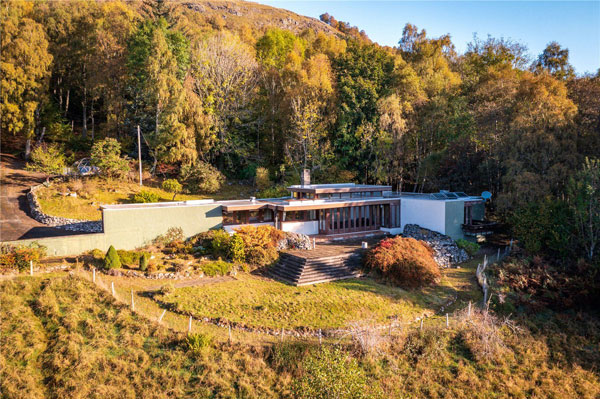 Architecture every bit as special as the scenery surrounding it. Loch Tummel House in Strathtummel, Perthshire, Scotland is up for sale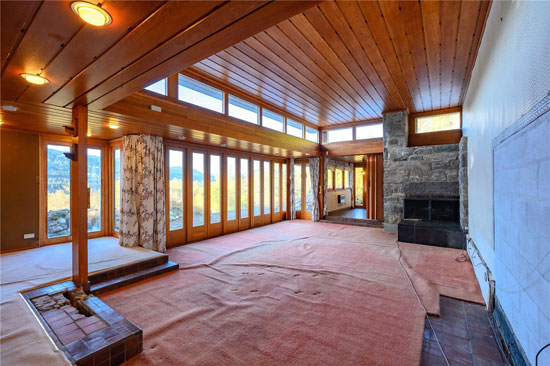 It is a house you may vaguely recall as it was up for sale back in 2011. I have checked back and outside of the furnishings, nothing obvious has changed since then. Which is a good thing as this house was almost perfectly preserved from 1972 and still is now.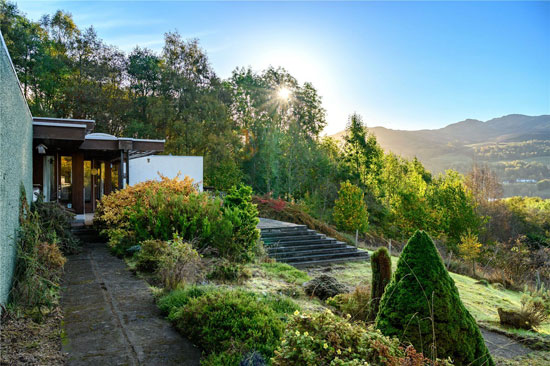 It did sell back then, but the current owners of the house didn't actually live in it. However, they did ensure it was kept warm and dry and as such, it has been well looked after and remains unchanged over the last decade.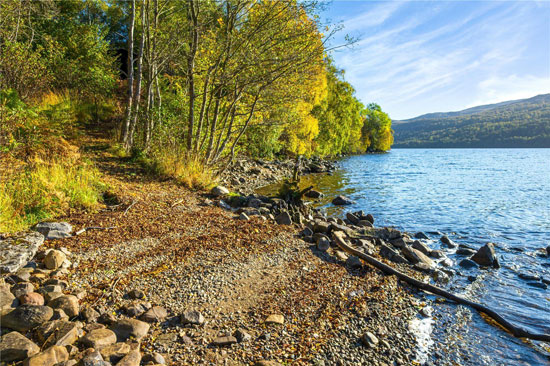 But the time has come for it to be offered for sale once more and hopefully, to find a sympathetic owner. But this isn't a house you would walk right into. The agent rightly points out that this is a house in need of 'upgrading or re-development' with the former being the option I would personally choose.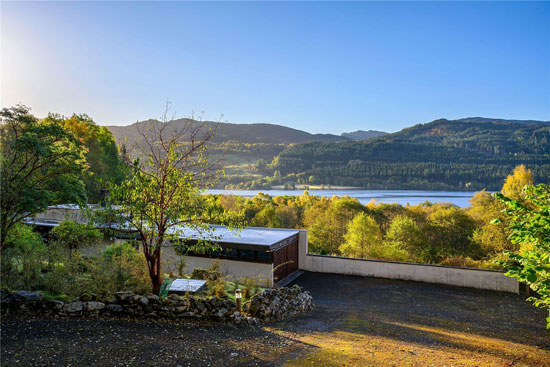 That's because this modern design, which looks to take influence from the work of Frank Lloyd Wright, is still as cutting edge today as it was almost 50 years ago. Tastes have changed over the decades, but we have come full circle with a design like this.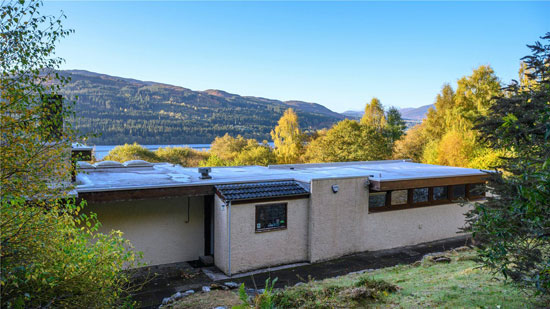 Open spaces, full-height glazing and wood cladding and built-in furnishings are all features buyers love but seldom find in contemporary builds. Features to be treasured. On top of that, the presence of some period details and the location mean this will certainly be someone's dream modernist dwelling.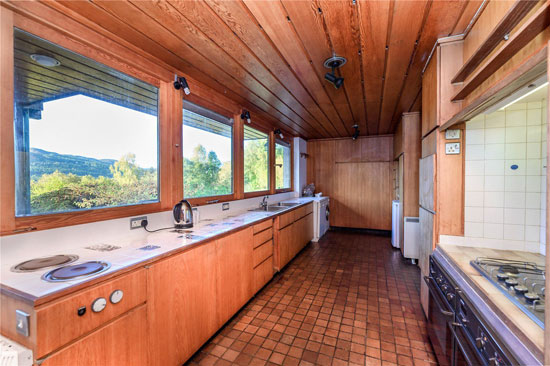 Oh yes, that location. Imagine waking up to that view each and every morning? The house sits on a south-facing slope of the north shore of Loch Tummel, with approximately 250m of loch frontage and hidden shingle beaches.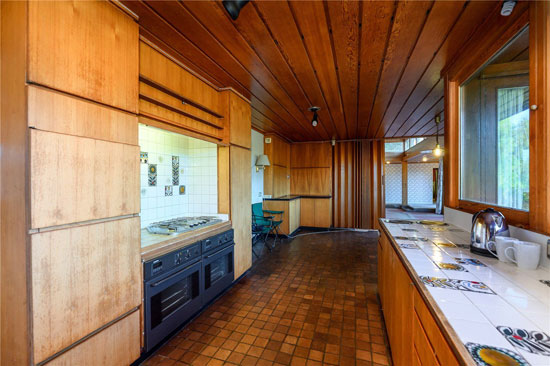 Take in the views from the expansive living room glazing, wander out onto the patio or get up close to the water. It's your call, depending on the weather. This is the perfect house if you want to get away from it all. Although amazingly, the nearest shop is just four miles away and Pitlochry is only 10 miles from your house. So not as isolated as the overhead imagery might suggest.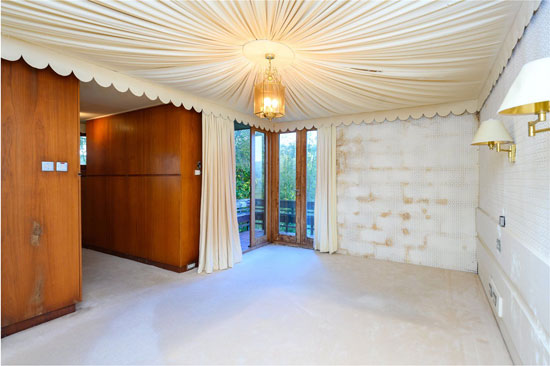 A big selling point, but for me, the setting is a close second to the house itself. As I said, it dates back to 1972, with a design described as 'cutting edge' at the time.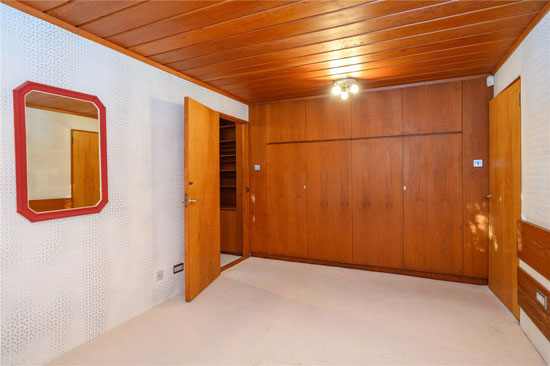 A cantilever roof construction features ventilated, knot-free yellow pine ceiling finishing, as well as similar vertical shutters that add to the character of the property. Very easy on the eye from the outside, but it is that reception area within that really sells it to me.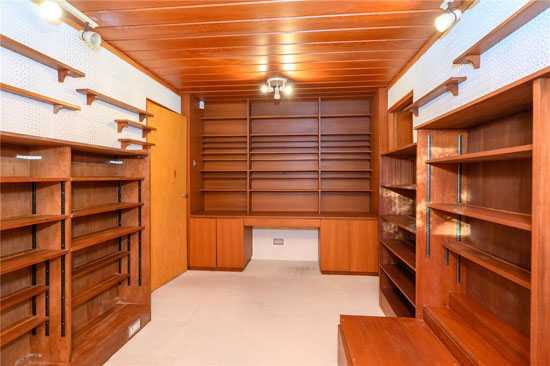 A large, open-plan kitchen/dining/living room with wood panels aplenty and a feature stone fireplace. I love how much of the kitchen retains its originality too. Yes, you might want to replace some appliances for the modern era, but the woodwork and cabinetry are wonderful.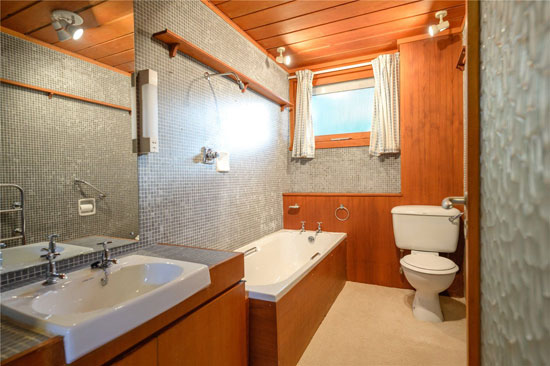 In fact, there is plenty of original, high-quality cabinetry elsewhere in this single-storey house too, which would hopefully be the basis of any renovation. Furnishings that were built to last.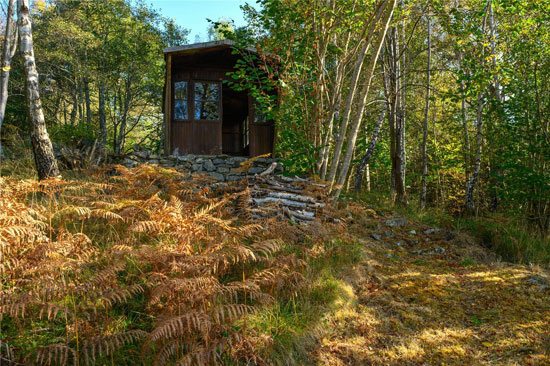 As for the rest of the layout, there are three bedrooms at the east end of the house along with two bathrooms. Note that the principal bedroom (as well as the living room room and kitchen) have views across Loch Tummel. An integral garage/workshop and utility space complete the layout.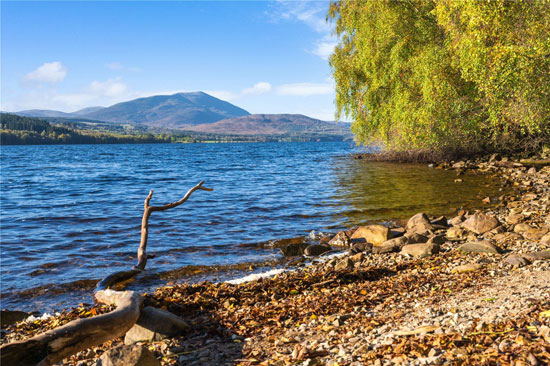 But yes, this would need work. Some areas more than others. Whether that's in terms of practicality or some fresh finishes. But what you have here are the bare bones of a very special house. You might need to update the kitchen and bathrooms, as well as do some freshening up elsewhere in terms of the finish. But as a piece of architecture, Loch Tummel House in Strathtummel still has much to offer in the 21st century.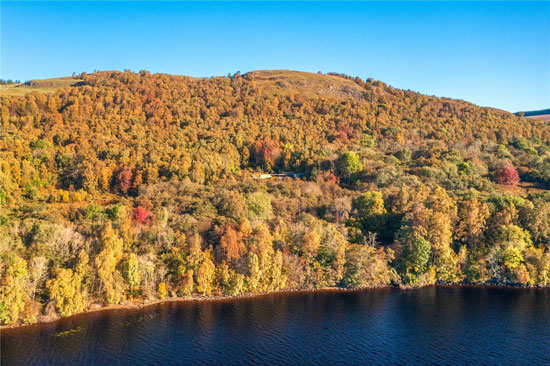 Not just in terms of the house. There's also the not-so-small matter of the land surrounding it. I mentioned the frontage, which could (subject to obtaining the relevant planning consents) potentially house a jetty and boathouse too.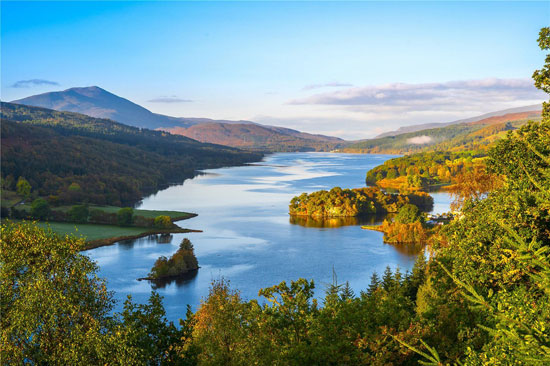 But you also get just over 20 acres of grounds. Mainly woodland, although there is a terraced garden at the front of the house with fantastic views and a grass paddock which stretches down to the woodland. Note also that the house is approached by a gated driveway that winds through the woods to a parking area beside the house. A 'grassy path' leads from here through the woodland to the lochside where an old summer house sits above the water's edge.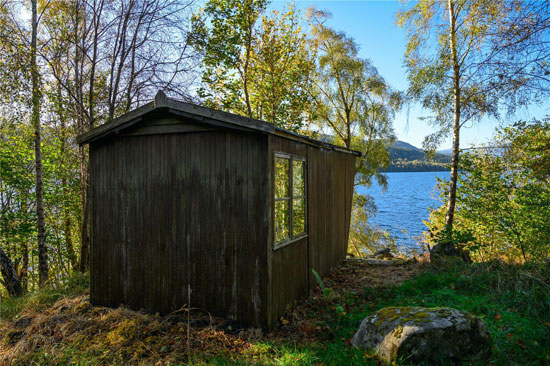 These grounds are a haven for wildlife, and red squirrels, roe deer, ospreys and pine martens are all regular visitors. An area of ground on the western side of Loch Tummel House has also been designated a Site of Special Scientific Interest by NatureScot due to the rare vegetation that grows there.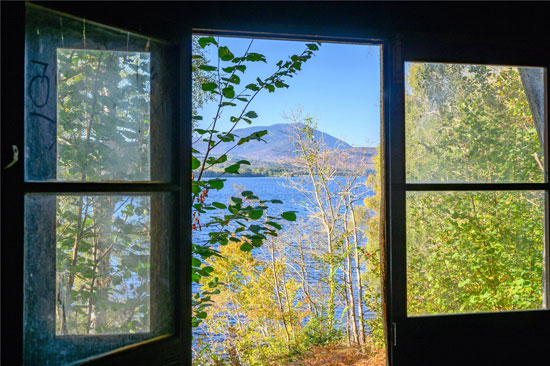 So statement architecture with potential, a location by a loch, 20 acres of land and a semi-isolated location. Who could ask for more? Well, there is more, which is the asking price.
Offers over £850,000 isn't cheap by any means, but you do get a lot for your money here. If I had the money, I would almost certainly be booking a viewing of Loch Tummel House. Hopefully, someone who loves this one as much as I do does just that.
Images and details courtesy of Savills. For more details and to make an enquiry, please visit the website.