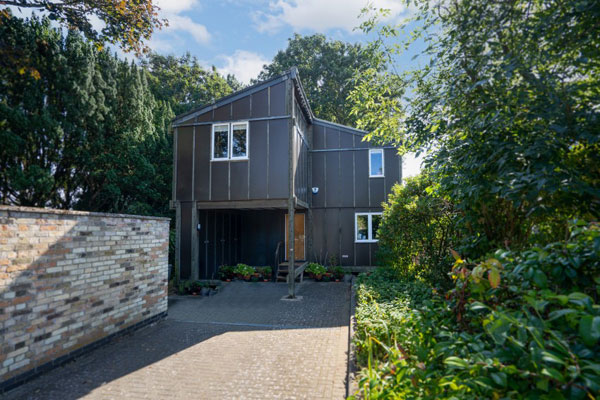 Both an academic exercise and a bold statement of the time. Now, this 1970s Marcial Echenique modern house in Cambridge could be yours.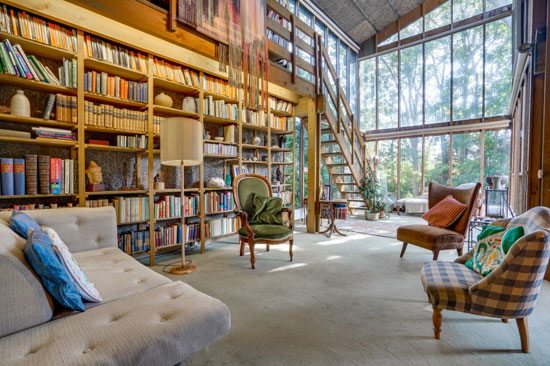 I'll be honest, regardless of its background, I would have been tempted to feature this one purely based on the bookshelves. A sight that will bring a tear to the eye of any book lover. But this isn't about all that book storage.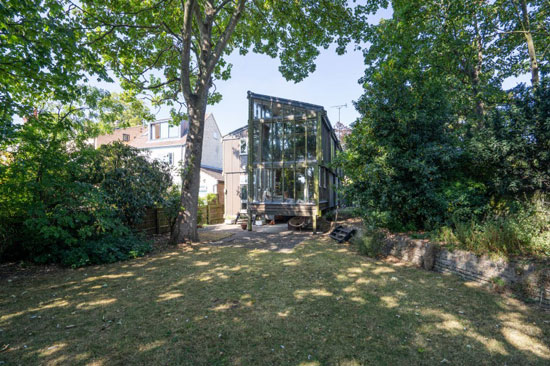 This is a grade II-listed house, one that was designed by Professor Marcial Echenique of Cambridge University in the early 1970s. I suspect little has changed since that construction with the exception of the odd furnishing.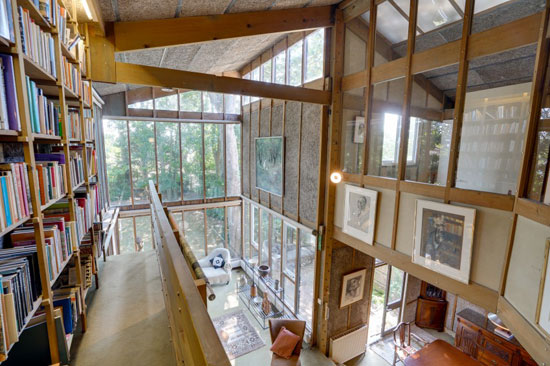 The aim was to create a large (and impactful) living space on a budget. He managed to do this, with the entire cost of the work just £7,200. I know inflation plays a part now, but even allowing for that, it's quite an amazing feat.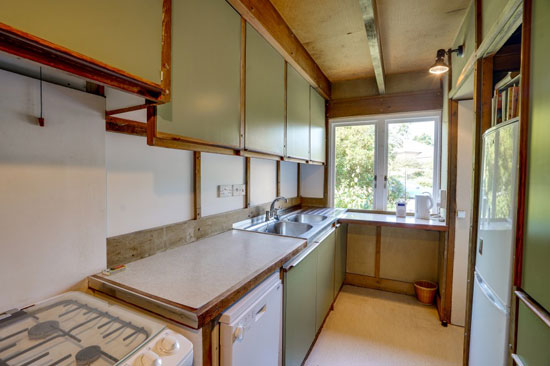 Of course, that could have meant something functional and without architectural merit. But that wasn't the case. As you can see, this is a house that still turns heads around 50 years on.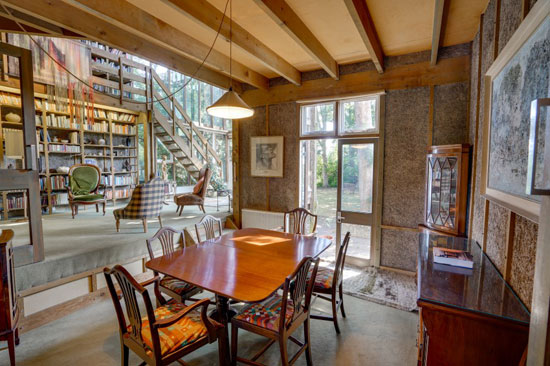 Yes, there is work to be done to update the house and bring it back to its best. The kitchen and bathroom of course, but throughout there's a need to freshen things up. Whether that's in terms of a new finish or some of your own fittings.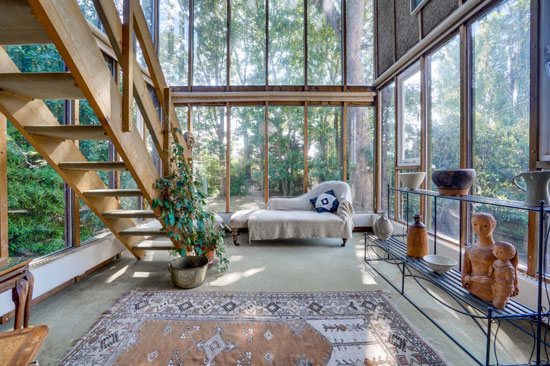 Yes, some of the finishes are a little basic. But that's to be expected in light of that back story. I'm sure you could rethink some of them. But the 'wow' factor is undeniable, regardless of your love of literature.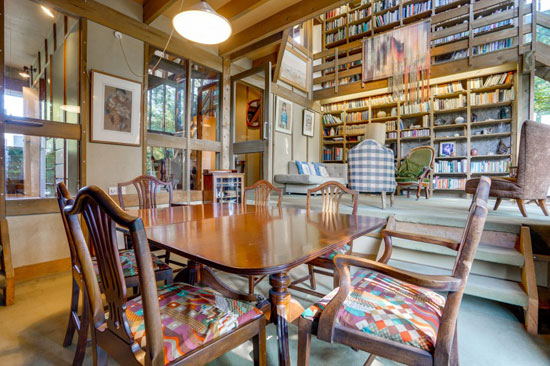 But if you do enjoy reading, this could be your dream home. The double-height reception space is just stunning, with a wall of glass taking in the views across that substantial garden.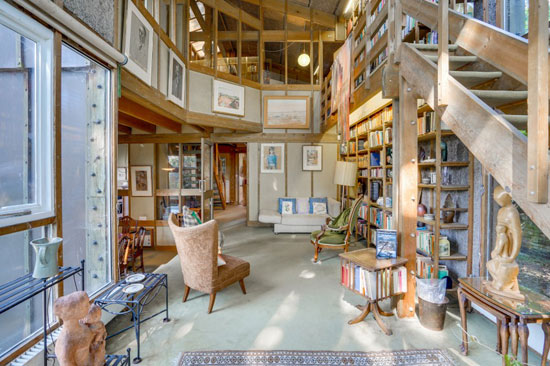 Kick back and enjoy the light and the views in an easy chair or reach for a book. Any book. I can't imagine the books present in the house are staying, but there is plenty of room for your own over two levels of this substantial living room space. And a reason to justify buying more to fill the space.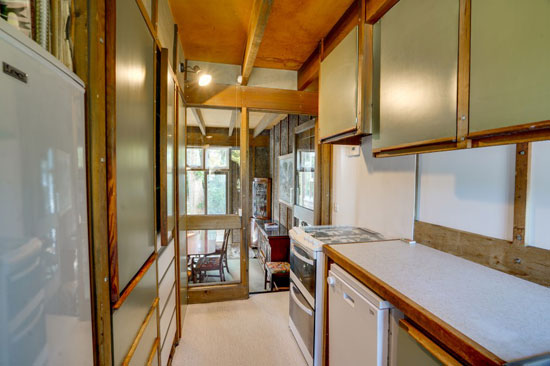 The ground floor is largely open plan, with the gallery area over the main reception and a dining area just down a couple of steps. There is also a separate study, shower room and kitchen on this floor too.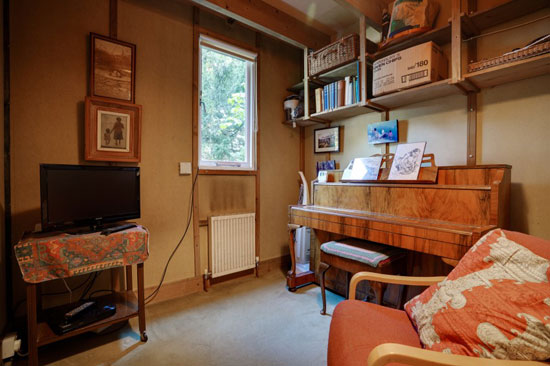 The upstairs space isn't just about the books and gallery. There is room for four bedrooms and a family bathroom too. Again, perhaps in need of some updating, but with original details and finishes, you would want to consider keeping. Freshening up and your own furnishings and fittings would transform this house.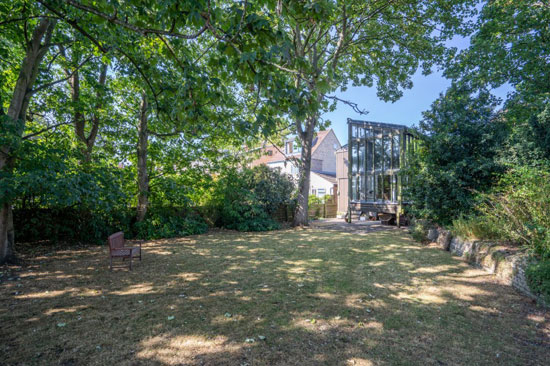 As I said, the plot is big too, which is something of a double-edged sword in a sought-after area. Yes, it's great to have that magnificent outside space, which backs onto Chesterton Recreation Ground and features mature trees, lawns and storage areas. There is also a brick weaved driveway for off-road parking and a carport too.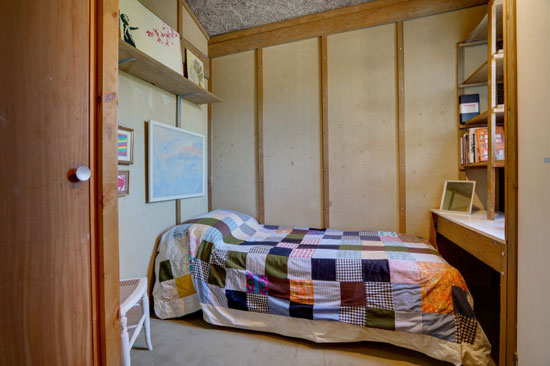 But big plots in popular areas do tend to push up the price of a house. Although in this case, perhaps not as much as you might think in the first instance.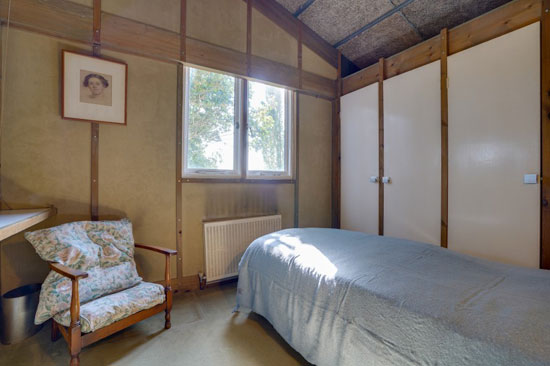 This house is on the market for £700,000. Yes, far in excess of its original cost (even when you factor in the land), but in light of current property prices, not as hefty as you might have thought.
Images and details courtesy of Hockeys. For more details and to make an enquiry, please visit the website.