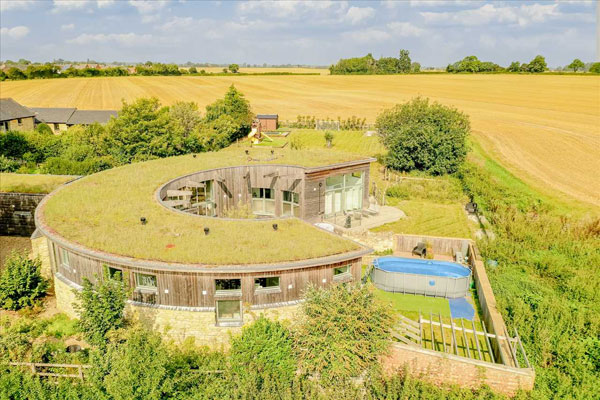 If you remember the house being built on the TV show, then you might want to buy this Grand Designs Roundhouse in Deanshanger, Buckinghamshire.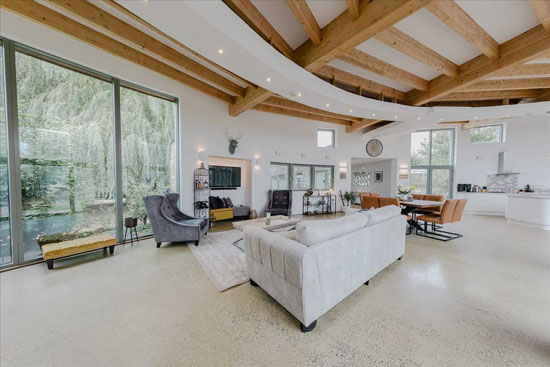 It has just gone up for sale and might well be familiar to Channel 4 viewers as a house featured on the Grand Designs TV show back in 2014 (season 14).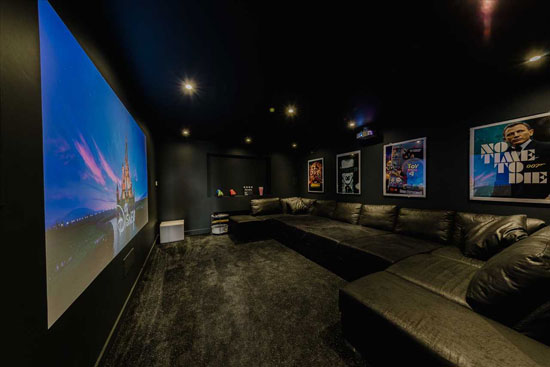 I'm not sure if it has sold in the intervening years, I suspect it might well have. Although much of what you see here is pretty much in line with the house built back in 2014 by Peter and Chard Berkin.
You might recall it was a house on land already owned by the couple as part of their previous house. But it was a design that came into being after something of a battle of wills. Peter had his eye on a round house with a workshop, while Chard wanted something more square and practical. You can see who won out at the end of the day.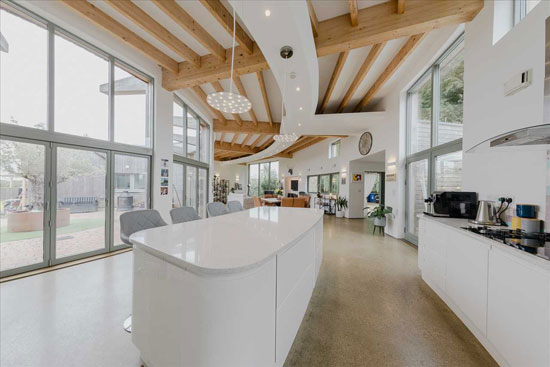 The end result is located in Deanshanger, which is about 10 minutes from the centre of Milton Keynes. Don't be fooled by that. This is very much a rural location, as you can see from the imagery here. In fact, you get 0.8 acres of land and the area beyond that is described as 'large, open fields'. So a degree of privacy for yourself and your round TV star of a house.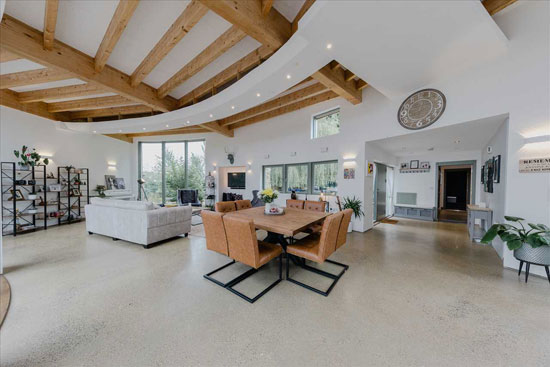 Regular readers will know that I do love a circular design and this one is no exception. Ok, not the full circle, but you do get a lovely curve throughout as well as a central circular courtyard. It might have been a tough sell but this is a design that works.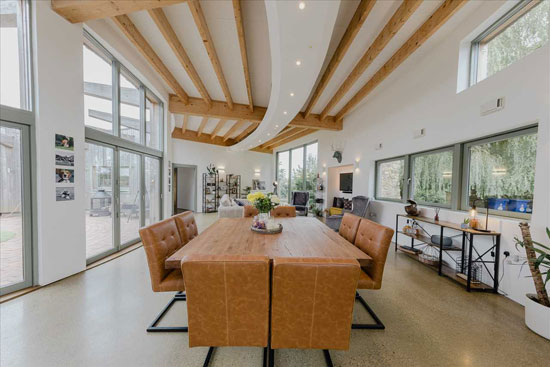 Also, on top of that curved structure is a planted roof, with the house clad in Siberian Larch on the outside. So pleasant on the eye too.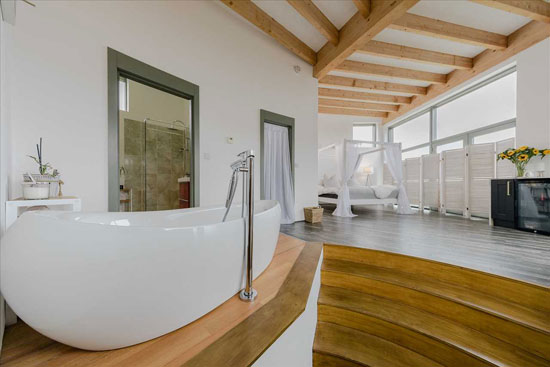 Once inside, it is all about light and space, with full-height windows, four sets of bi-folding doors to bring the outside in, internal beams, high ceilings and open-plan living space across the curve. Pretty much everything a modern-era buyer craves. The predominantly white finish adds to the light and bright feel of this one too.
If you head out of one of those folding doors you'll also find the circular courtyard I mentioned earlier, a patio area and a play park. Great for a party, that's for sure, both inside and out.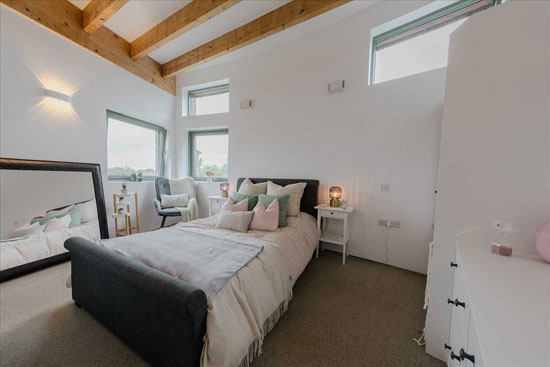 A good amount of living space here as well, as you would expect from a custom build on a large plot. The main space is the general reception area, an open living, dining and kitchen area that looks big, but doesn't seem too big if you know what I mean. Sometimes open areas like this can leave furnishings rattling around, but that's not the case here. It has been well thought out.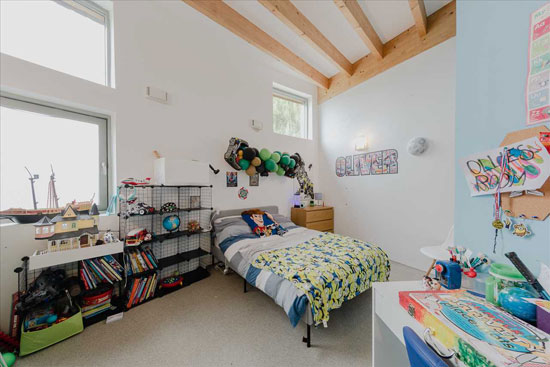 Beyond that are a large utility room and all the bedrooms. There are five in total, each with its own en-suite and the master also has its own dressing room. It also feels like a family home too. That's not always the case in statement houses like this, but the one here really does have a homely feel.
That's not quite it though, as film buffs will be pleased to hear that the house also has its own private (and very large) cinema room if you don't fancy a trip to the local multiplex. That was once the double garage in case you were wondering, with space left over for separate storage.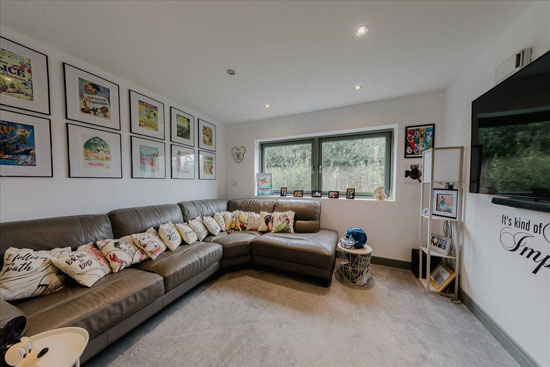 As I said, a good amount of external space too, courtesy of the patio, play park, long drive, lawns, seating area and plants.
That's pretty much it really. If you work in the Milton Keynes area and fancy something unique, The Roundhouse is worth checking out if your budget stretches that far.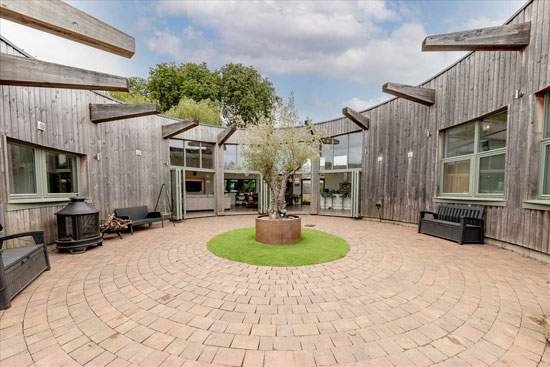 It will need to stretch too as this one is up for £1,200,000
Images and details courtesy of Alexander Lawrence. For more details and to make an enquiry, please visit the website.