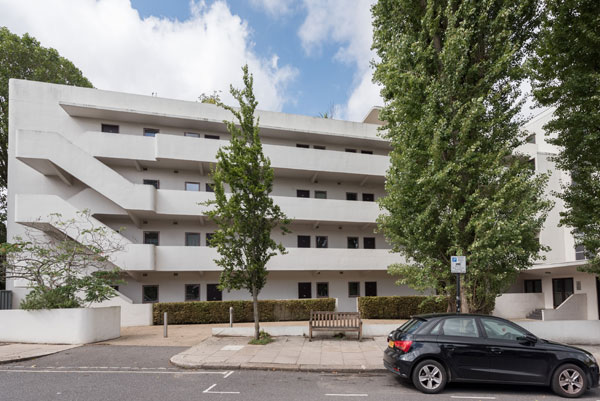 I suspect this might be of interest. An apartment in the 1930s Wells Coates Isokon Building, London NW3 for less than you would think.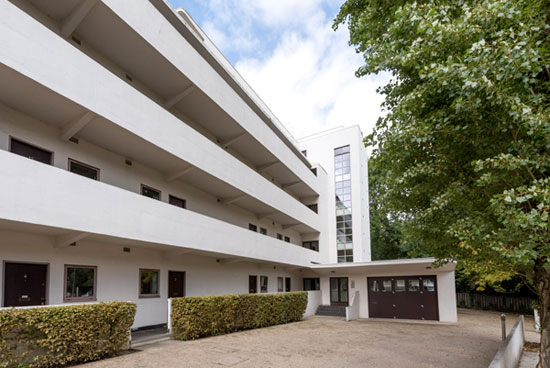 There are two reasons for the budget price tag. First off, this is a studio apartment. Not necessarily the biggest of spaces. But apartments in this block were designed to be modest in terms of floorspace. Secondly, this is available as shared ownership. So the headline price is less than half of the apartment's value. I'll come onto both in due course.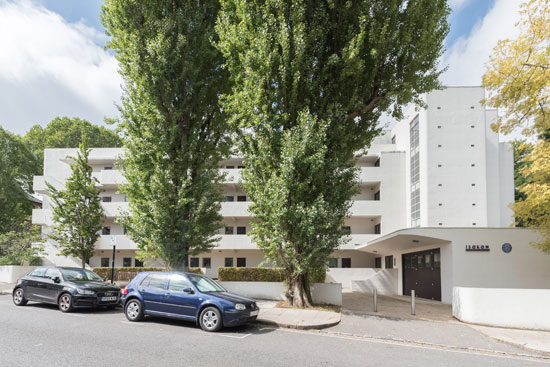 But for now, let's talk about the Bauhaus-inspired Isokon, which is an icon of modernism and for many, the dreasm in terms of a living space. So many people want to live in the Isokon and so many famous names have passed through its doors. This was a centre for intellectual life in north London and still has that pull today.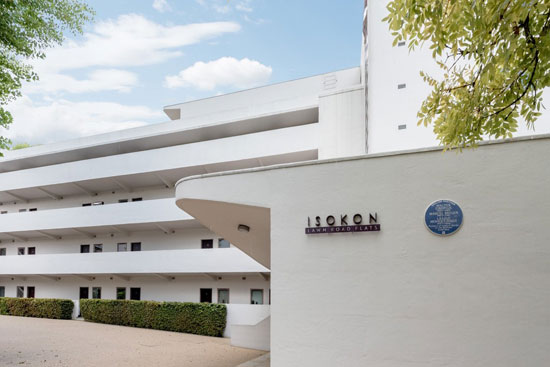 Its fame means that you probably know it as one of the most important modern movement buildings in the UK and that it was built to a design by Wells Coates in 1934.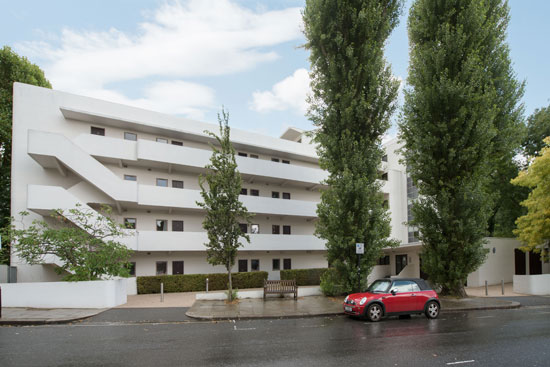 It was also the first apartment block to be constructed mainly from reinforced concrete. Oh yes, its significance means that the block has a rare Grade I listing.But the building hasn't had an easy life. The original owner sold the flats in the late 1960s, which resulted in modifications to the building.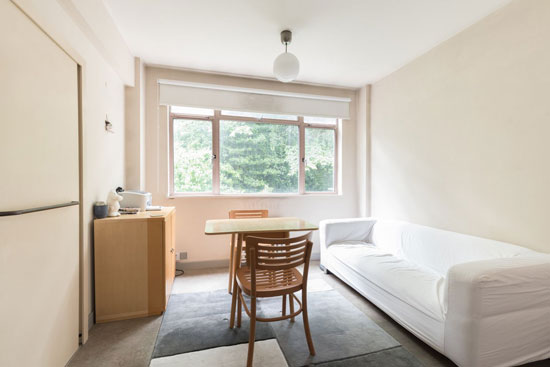 It was then sold on to Camden Council and deteriorated more over the years. But a saviour was on thew horizon. After a lengthy campaign to being the building back to its best, it was sold to Notting Hill Housing Group, working alongside the noted Avanti Architects, led architect John Allan.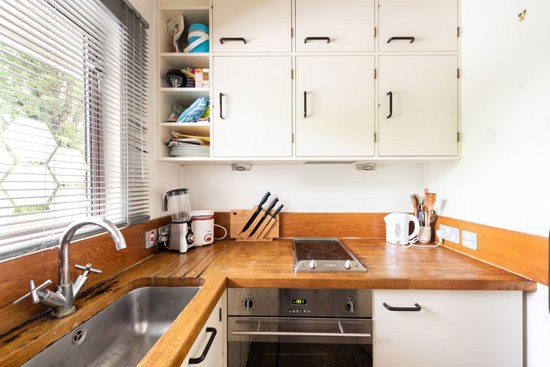 As a result, it was renovated back to its best in 2004, which resulted in 36 flats along with a permanent exhibition space, which can be found in what was the building's garage. A Job very well done.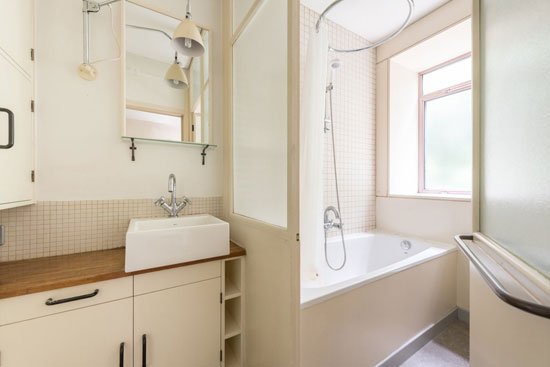 Of course, apartments will vary inside due to the personal taste of owners. But the ones I have seen tend to go down a similar and consistent road in terms of finish and fittings. Except one. You might recall the magnificent penthouse I featured a couple of years back.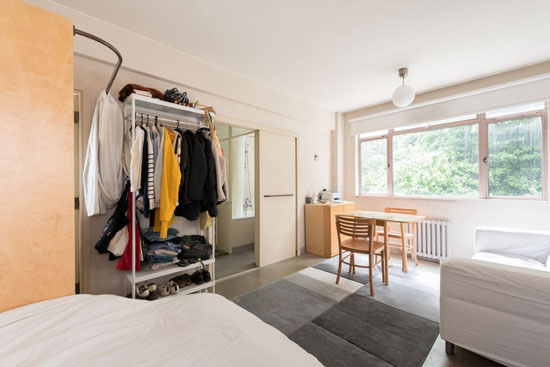 As I said earlier, this is a studio apartment, one that you will find on the first floor. Space is pretty much the main studio room (incorporating bedroom) overlooking the communal gardens and the Belsize Wood Nature Reserve, along with an en-suite dressing room/bathroom and a separate fitted kitchen that's both modern but with the 'look' of the original era. Again, I'm using that word modest, but that was always the case. Back in the 1930s, this was a place to live rather than entertain. It would be rare for residents to actually cook and eat at home.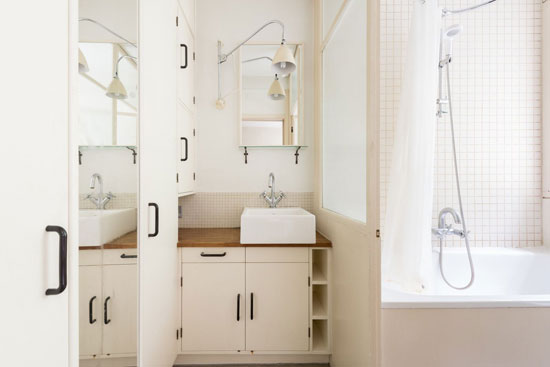 Yet despite the size, there is still that draw of being able to say that you live in the Isokon building. We all love it, but few of us can say we ever lived in it. The pull of the architecture is everything here and if you only need so much living space, then this could be the perfect place for you. Especially in light of the price.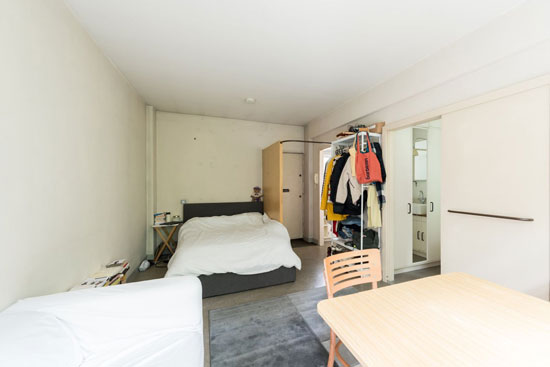 The apartment is priced to help you get on the property ladder. The headline purchase price is £140,000, which is likely to get many of us rushing to speak to the bank, But it's not quite as straightforward as that.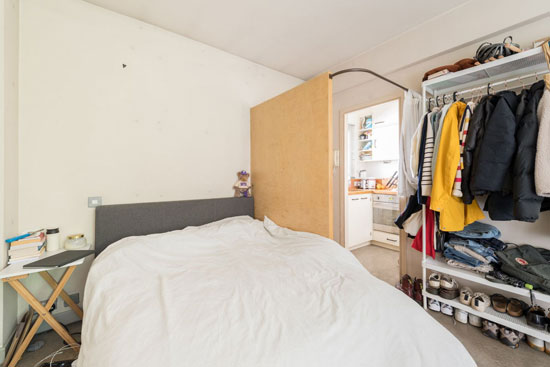 That price means you get 35 per cent shared ownership, with the full market price being £400,000. That means there is rent payable for £395.49 per calendar month, as well as a monthly service charge of £75.45.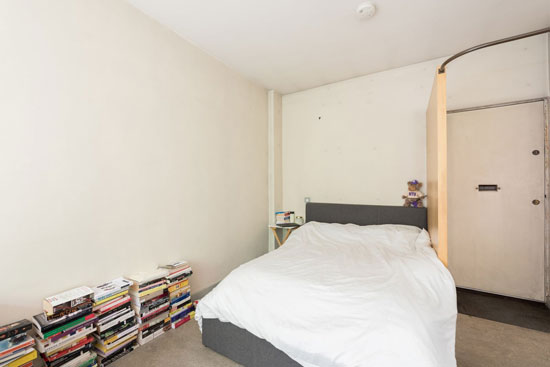 If that works for you, then have a word with the agent to get the full details and of course, to book a viewing. There are open days coming too if you get in touch with them.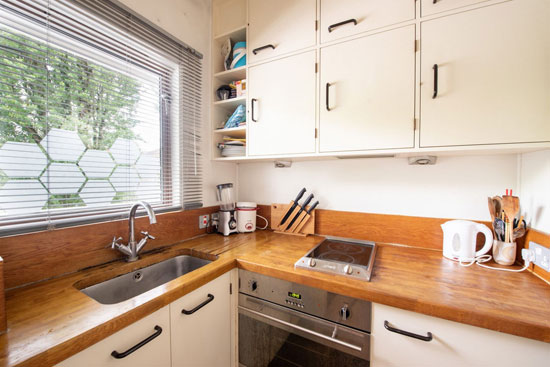 Images and details courtesy of Haleigh Residential. For more details and to make an enquiry, please visit the website.
External photography courtesy of Angela Harding Photography.