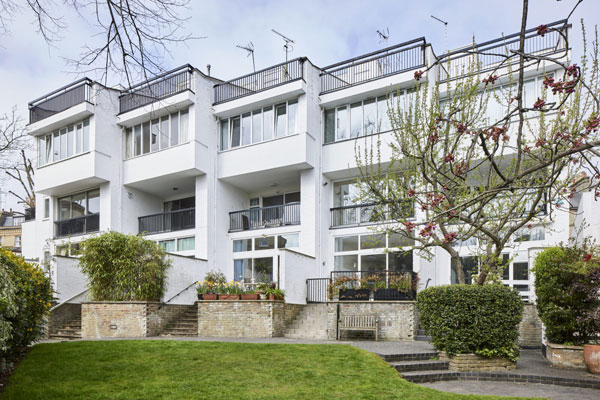 The location pushes up the price, but we can all still appreciate this wonderful 1960s Ted Levy modern house in London NW3.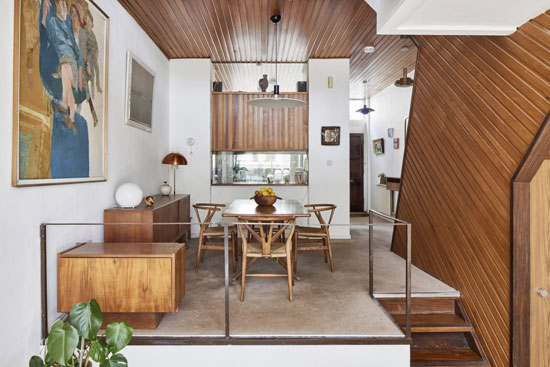 That location is at the heart of Hampstead Village, where property is always at a premium. It's also an area known for Ted Levy designs from the 1960s and 1970s, a number of which I have featured in the past.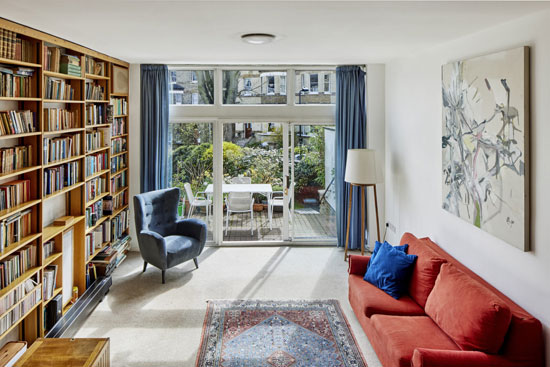 As time has passed, many of these modern houses, as you might expect, have been updated to a more contemporary finish. Not everyone wants a 1960s house with period details. So it's quite a surprise to see this one packed with original touches from 50+ years back. Especially in this area.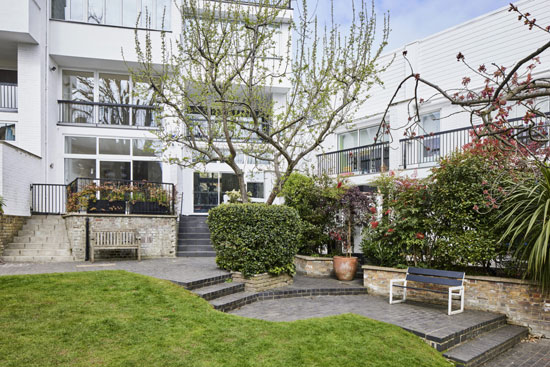 But here it is. Yes, there are one or two updates if you look closely. But that is really confined some furnishings, maybe a tweak of the kitchen at some point, some fitted bedroom furniture and a new bathroom. That's pretty much it.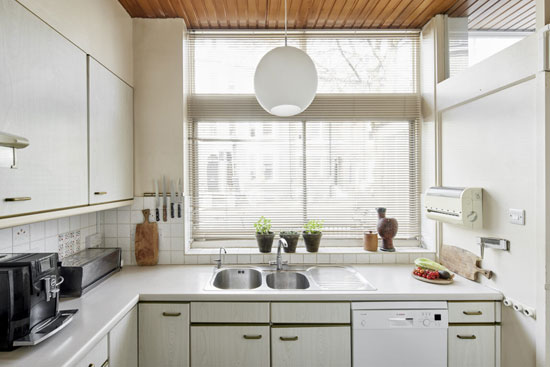 Outside of those minor modifications, this is the house Ted Levy designed as part of a group back in the 1960s. A deceptively large house complete with its own roof terrace as well as access to come communal gardens.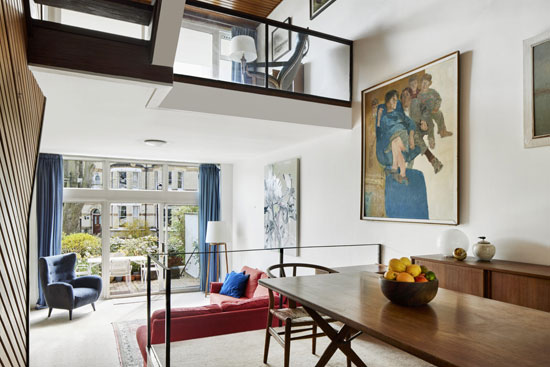 The architecture is unmistakably of its era. A staggered terraced house (although not what you think of when you hear the word 'terrace') with a white-painted brick facade, substantial glazing and upper levels that project out.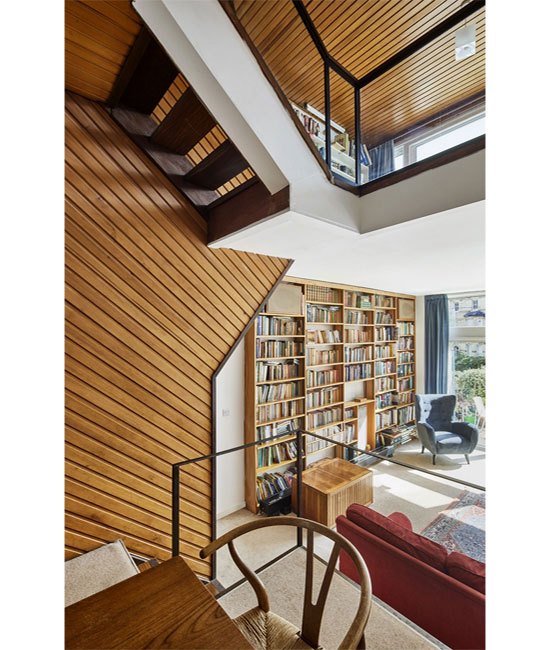 Functional in terms of maximising space, but also appealing to the eye. And if you get bored of the balcony view, you can always take a walk down to the gardens or have a wander around Hampstead. It's a very appealing prospect – if you have money to spare.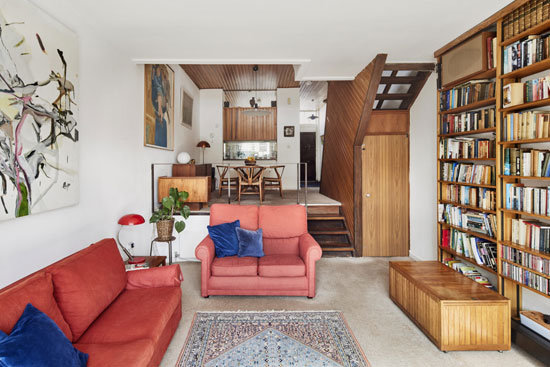 Access to the house is via a gated front courtyard, with additional access from Gayton Crescent through the gated communal garden at the rear of the house.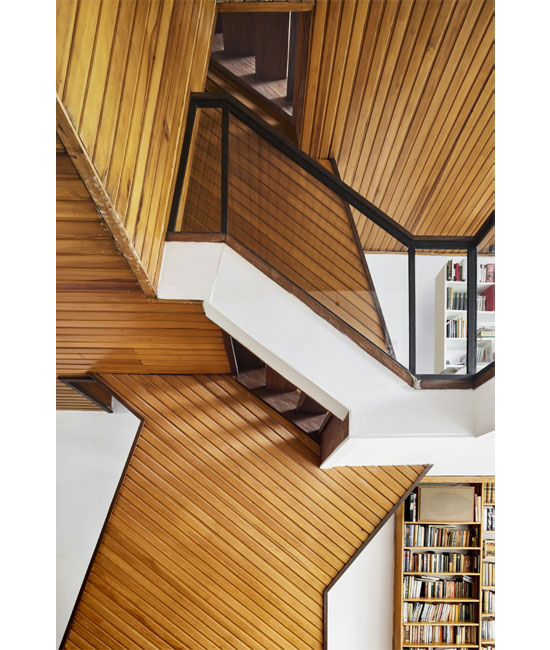 Once inside, you get to see the magic of this one. Levy uses a split-level arrangement over three floors that boosts the sense of volume and openness, as well as the light within. Although the heavy use of glazing also helps on that front. Love all of that wood panelling too, which adds to the drama of the design.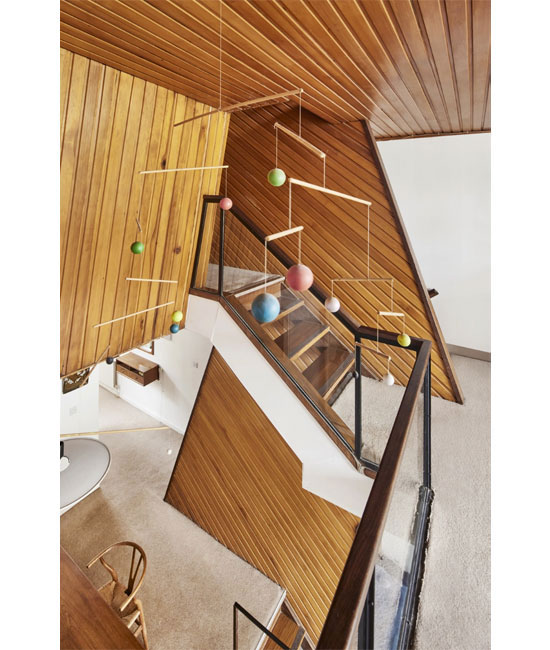 The ground floor is described as an 'open expanse', one that contains a galleried dining area with double-height ceilings and a 'sunken' living space that benefits from floor-to-ceiling glazing. It also opens onto a private rear terrace.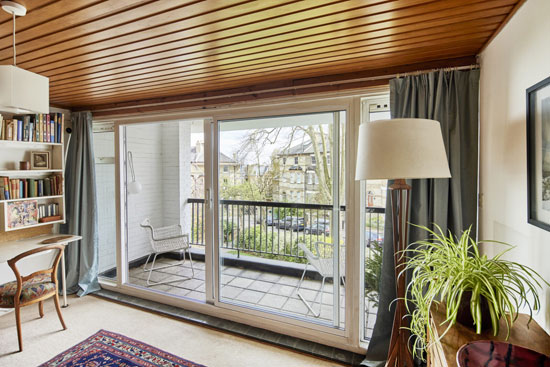 The kitchen, which looks pretty original, sits at the front of the house, separated from the dining room by glazed sliding panels in the partition wall. Whether a kitchen of that size works in the modern era is open to question. But there are likely to be possibilities even if you update it using its original footprint.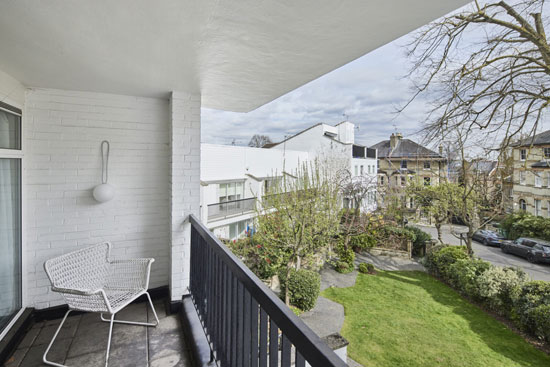 Another key feature here is the original open tread staircase clad with original timber panelling. Head up it to access the split level above. There you'll find a second reception room, currently used as a study, with full-height glazed sliding doors that open onto a covered balcony overlooking the gardens. A 'slight elevation' at the front hosts a bedroom and guest WC.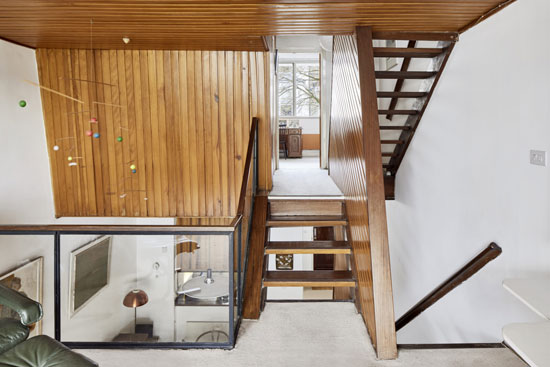 That's not quite all as three further bedrooms are located on the upper levels. The largest of them has built-in wardrobes and an en-suite bathroom. A shower room on the second floor is shared by the other two bedrooms.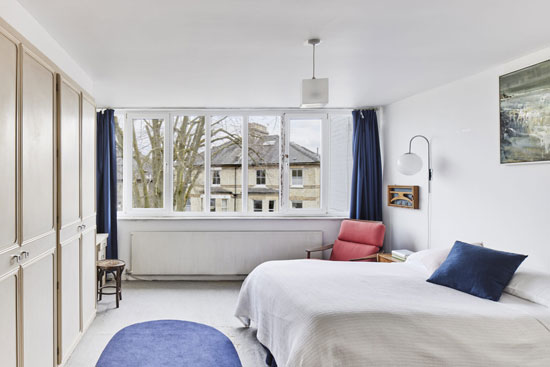 Finally, the third floor is where you will find the large, south-west facing roof terrace. That covers something like 250 sq. ft and offers views of the Heath and the surrounding area. Actually, that's not quite all as the lower ground level has an additional bedroom with independent access from the front lightwell complete with original wood-block flooring, a shower room and kitchenette, and 'substantial' storage.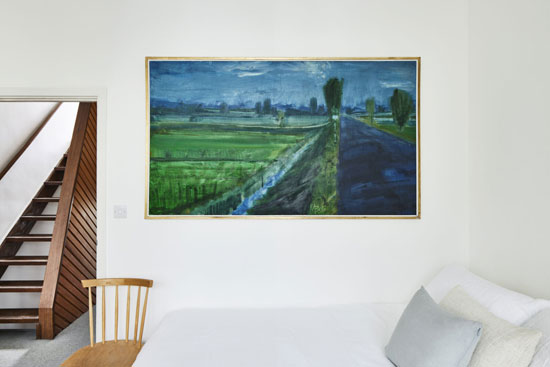 There is the outside space too, which is in addition to the roof terrace and balcony. That's a private south-west facing patio which leads down to the communal garden.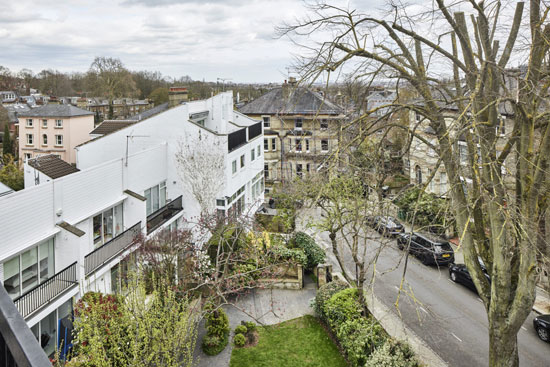 The communal space is a lawn surrounded by plants and borders, with benches positioned around it for some fresh air and a bit of relaxation time.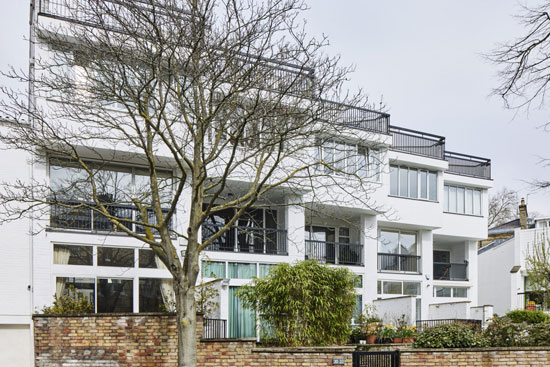 As I said, this is an area where property never comes cheap and this one is no exception. If you want to move into this Ted Levy house, then you are looking for something in the region of £2,950,000.
Images and details courtesy of The Modern House. For more details and to make an enquiry, please visit the website.