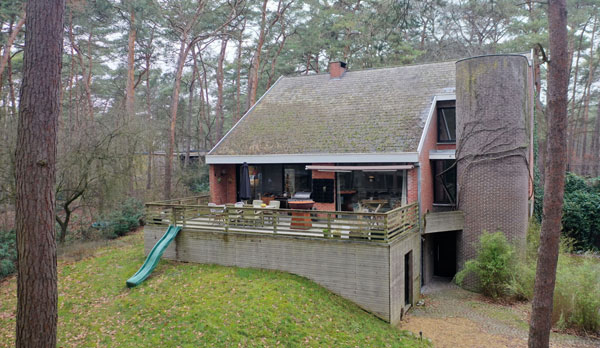 Interesting both inside and out, this 1970s brutalist house in Heusden-Zolder, Belgium is now on the market. Some lovely details too.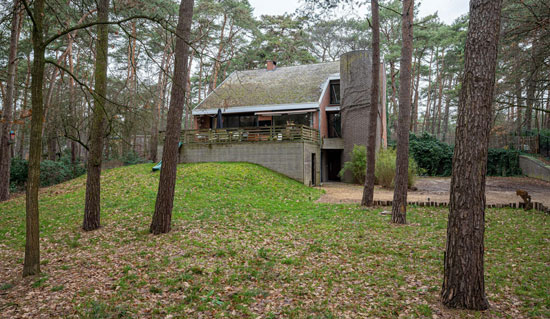 Interesting because of the architecture, the work of Wyckmans and at the brutal end of modernism. But also a wonderful interior that has been part-updated, but is still something of a marvel.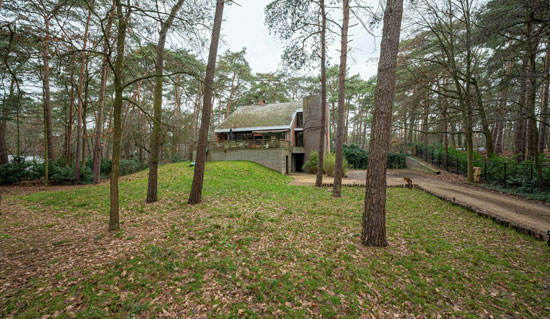 Tucked away in a rural location not far from the city of Hasselt, this is a bold piece of modernist design almost at odds with its green surroundings. But it's all the better because of that location, sat amongst the trees and built into the hills, with a large terrace making the most of the surroundings. It's a lovely spot.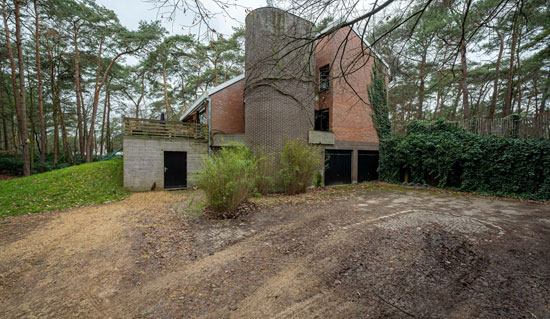 But I'm not featuring this because of the location. Although that obviously helps. I'm looking at the house itself. A typical brutalist asymmetrical construction with numerous windows and lots of open space making this a lot brighter within than you might expect.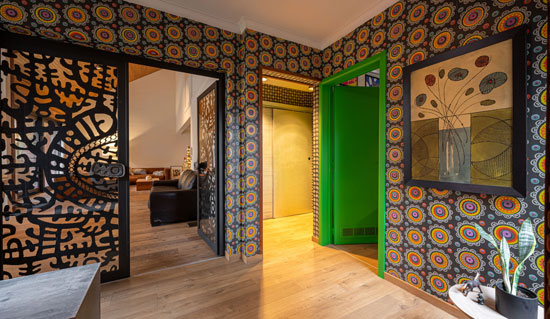 And if you want eye-catching details, check out the massive tubular staircase to the side. You can't really miss it. Something so functional becoming a key design detail is always a sign of a great architect to me.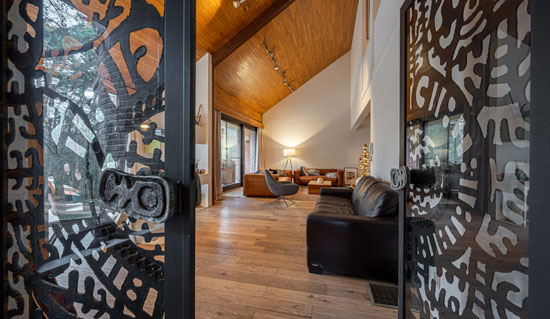 If the architecture and the wooded location aren't enough for you, do have a look at the interior. It's probably not as you would picture it. I would have had this down as all brick and concrete within. But it's actually a little more midcentury modern than brutal inside.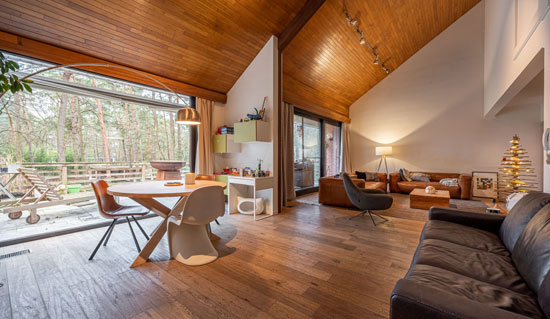 As I said, the house has been updated, but without destroying the character of the place. Yes, you might see a contemporary kitchen area and some modern finishes here and there. But that's really what you would expect of a house pushing 50 years old.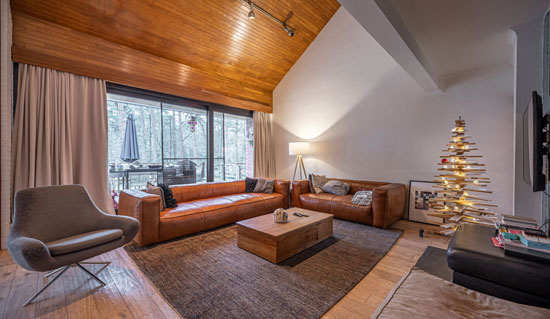 The key details are still in place, working alongside some bold finishes at times, as well as some of those modern touches. It's not always a mix that works, but in this case, it really does. Ultimately, the updates tend to be furnishings and finishes, nothing huge.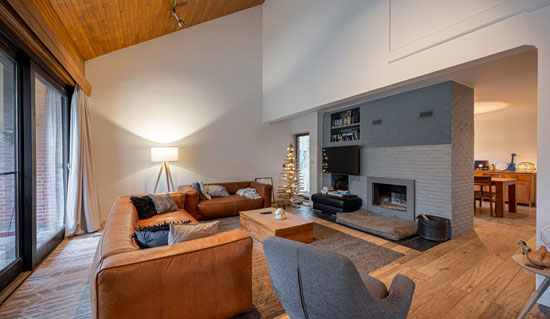 It's not where you will look when you enter through the door anyway. The first thing you'll notice is the amazing decor in the hallway as well as the curved brick that works its way around the staircase. But there's more beyond that too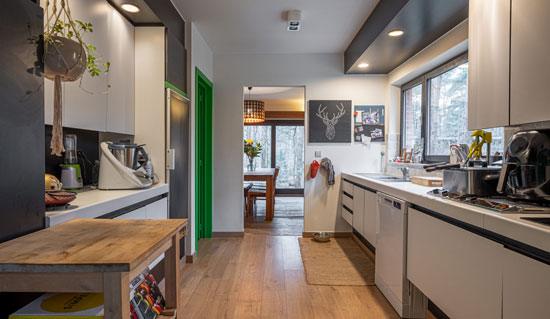 The reception space in this one is exceptional. It's everything you would hope for and more. Vaulted ceilings, wood cladding, full-height glazing and a gallery looking down on the main reception that offers up both a large study and library space. if you are a bookworm, this is the dream.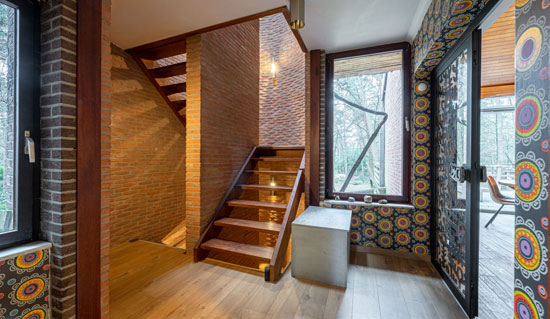 Great for work, great for get-togethers and ideal for relaxing too. This is a multi-use space that has so many possibilities, whether it's winter or summer. If it happens to be the former the fireplace should keep things nice and warm. It also acts as a divider for the ground floor space too.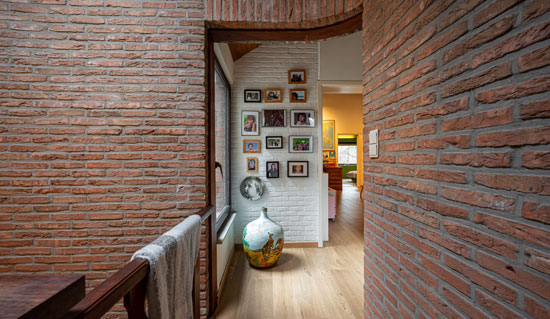 You get around 333 sq. metres of living space within this house, which sits on a site covering something like 3,078 sq. metres. As I said, the focus is the reception, which takes in the main living room, a dining area split by the fireplace and a centrally-located kitchen.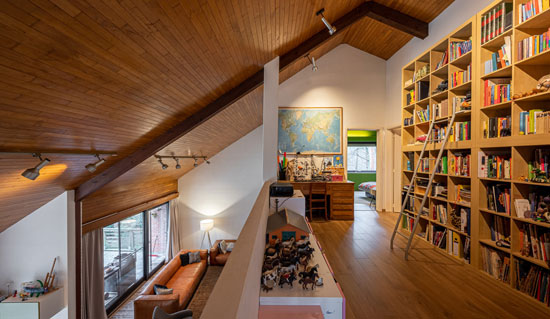 Beyond that, there are four bedrooms, a mezzanine, an office, two bathrooms and a full basement. A double garage might well help with storage too, although there are plenty of built-in storage options in the main house too.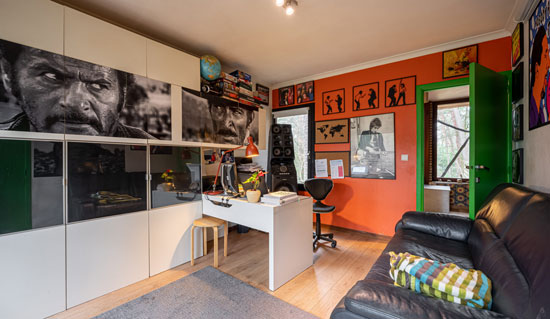 That's not quite all as this house also has two large terraces (one of which is covered), the huge and well-established garden that surrounds the house. Oh yes, there's also a swimming pool, a pool house and a log cabin sauna too. You probably didn't expect that.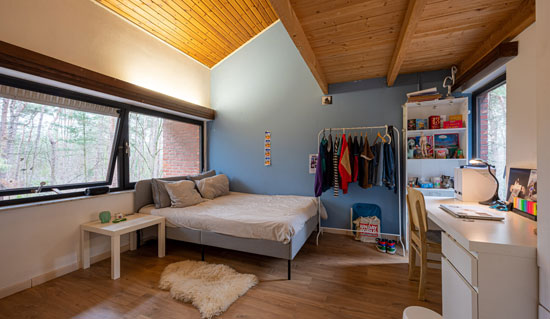 As I said, a great place to live, to work and to relax. It ticks all of those boxes and offers plenty of family space too plus a good degree of privacy.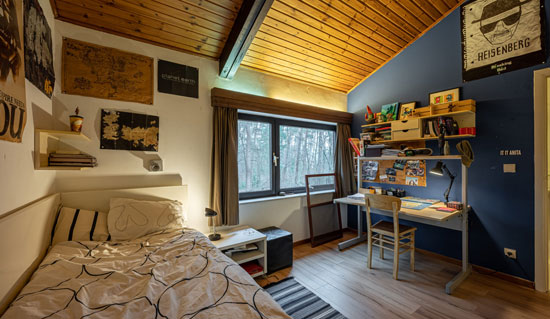 This 1976 design also has Belgium on its side. By that, I mean modernist houses in Belgium (and Europe in general to be honest) tend to be cheaper than their UK equivalents. If you can make your life work in this part of the world, you can pick this one up for around €685,000. That works out at something like £589,000 at the current exchange rate.
Images and details courtesy of Architecten Woning. For more details and to make an enquiry, please visit the website.