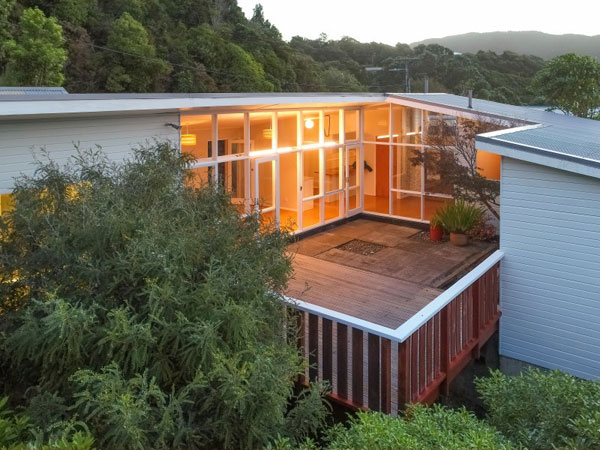 There isn't much time to declare your interest in this wonderful 1960s Fritz Eisenhofer midcentury modern house in Wilton, Wellington, New Zealand.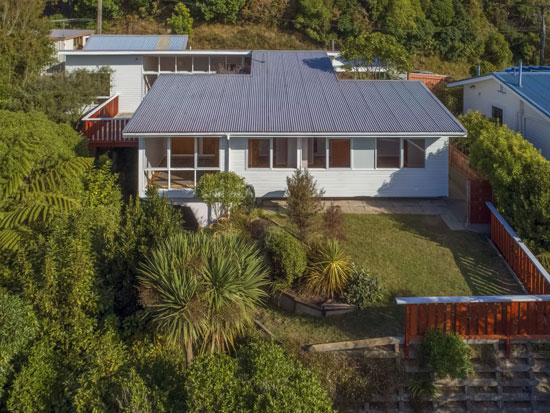 And a lot of people have already shown an interest too. Hardly surprising really as Fritz Eisenhofer designs are sought-after homes and this one has the added appeal of being a first-time on the market.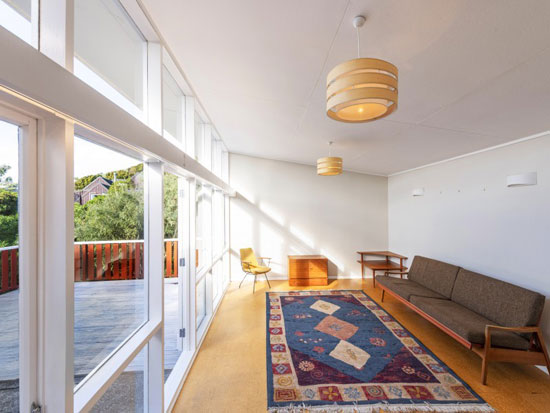 That doesn't always equate to a 'time capsule' but in this case it does. The vast majority of this place – or at least what I can see – suggests little, if anything has changed since its construction in the 1960s.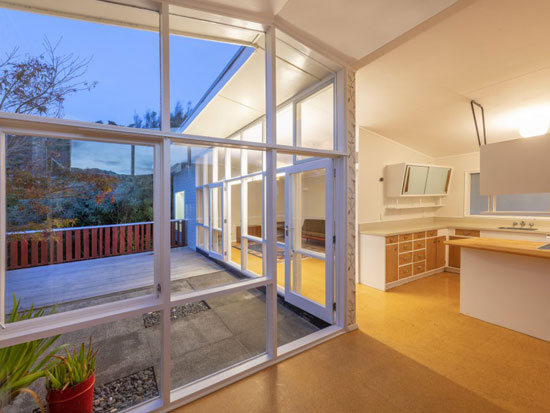 Not that this is a renovation project. Far from it. Judging by the agent's photos, this looks to be in wonderful condition. Yes, it is looking a little empty right now, but with a few tweaks and the right furnishings for the era, this could be someone's dream midcentury modern pad. At least, it is if you are looking in New Zealand.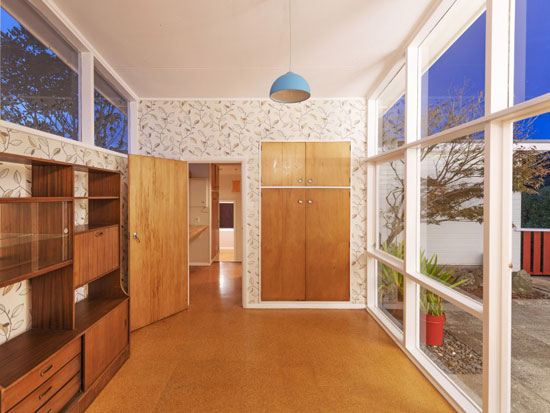 Regardless of the finish, this house is packed with the kind of details that buyers of the era and the style love. And in this condition, they really are a huge selling point.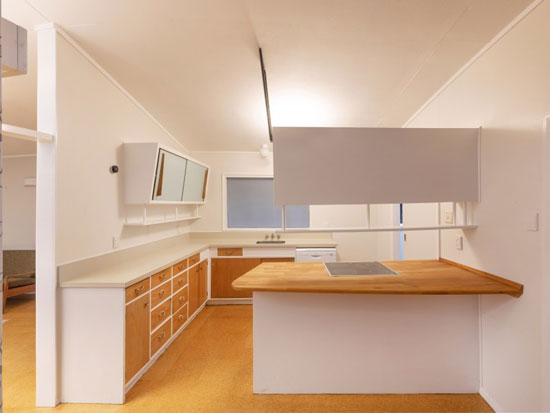 The design itself, of course. Fritz Eisenhofer's take on midcentury modern, with its clean lines, floor-to-ceiling glazing, angled ceilings and a blurring of the division between the inside and outside space. Not least when it comes to the central courtyard.
But there's more to this one than the architecture. It's the well-reserved touches that really make it stand out.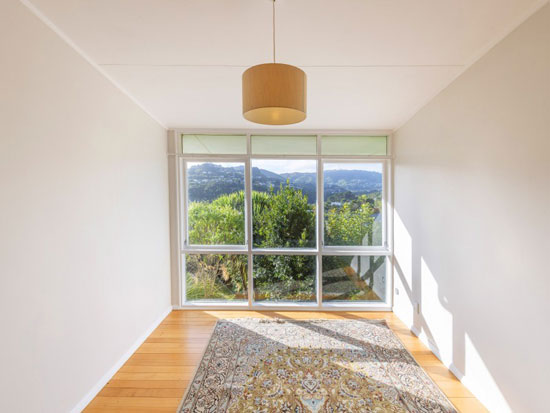 The most obvious of those is that amazing kitchen area, which is as desirable as they come. Typically 1960s, but a design that lends itself effortlessly to the 21st century too.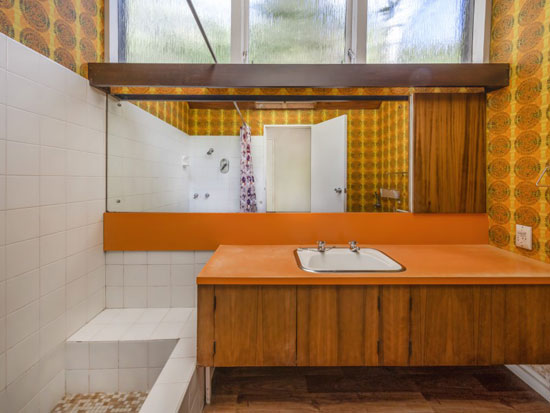 Yes, I love the bathroom too, although the orange finish will likely divide the audience. But if you want authenticity, you will keep it in place. Talking of authenticity, check out the original built-in cabinets and internal doors too. As I said, this is the perfect platform for creating your dream midcentury modern home.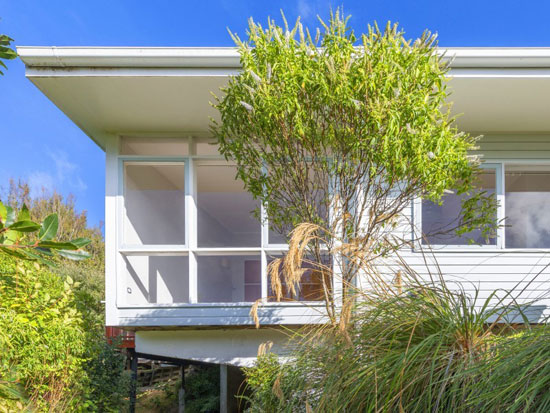 Plenty of space to create that home too. Approximately 150 sq. metres of floor space, with the accommodation split between two wings.
The layout currently offers four double bedrooms, along with two extra 'study' rooms, which could also adapt to additional bedrooms. All come with original built-in wardrobes.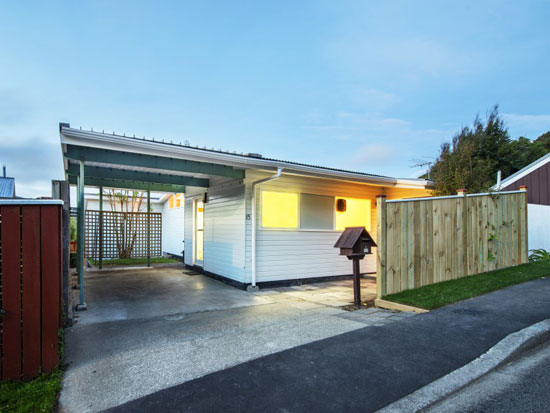 The main living room too, plus a lounge, the kitchen area, a laundry area, entrance hall and two bathrooms. The design also includes a courtyard, decking area and two garages attached to a carport just off the main house.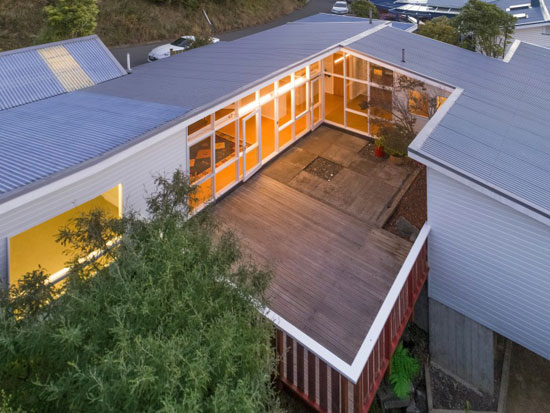 Fancy it? You will need to move quickly. The tender closes at 12pm on Friday 14th May 2021 and as I hinted at earlier, there is considerable interest in this house.
So you will need to go in high to secure it. Offers over $1,145,000 if you have a serious interest. That's around £585,000 at the current exchange rate.
Images and details courtesy of Lowe & Co Realty. For more details and to make an enquiry, please visit the website.