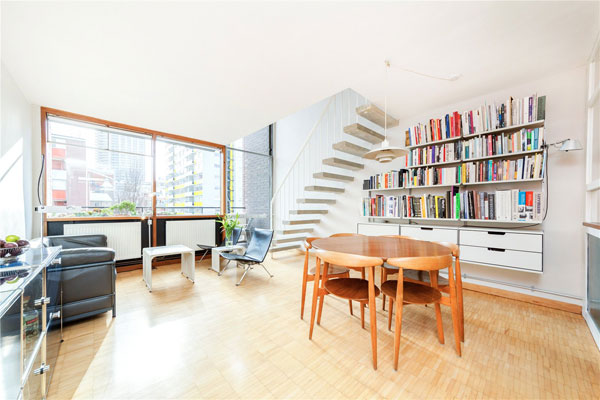 A stunning finish for this updated 1950s apartment in Chamberlain, Powell and Bon's Golden Lane Estate, London EC1Y.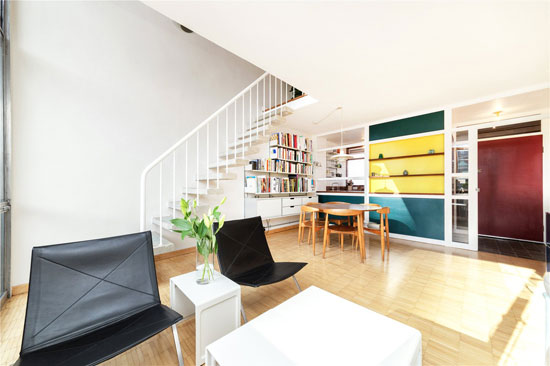 Thanks to the seller for pointing this one out to me. Always nice because you get more background and insight on the property in question. If yours is going up for sale, feel free to get in touch.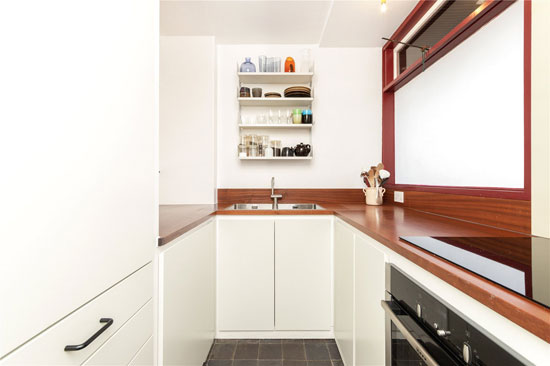 As you may already know, the Golden Lane Estate was built between 1952 and 1962 to the designs of architects Chamberlain, Powell and Bon. Known as a key example in the UK of post-war urban design, it was influenced by modernist theory and form and in particular, the work of Le Corbusier.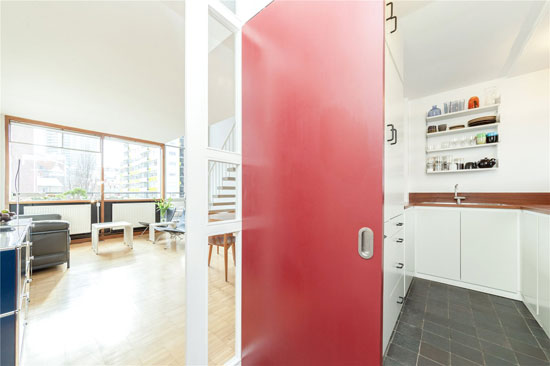 It was groundbreaking in its day and influenced social housing for some years after. It was listed grade II / II* in 1997, in recognition of the architectural and historic significance.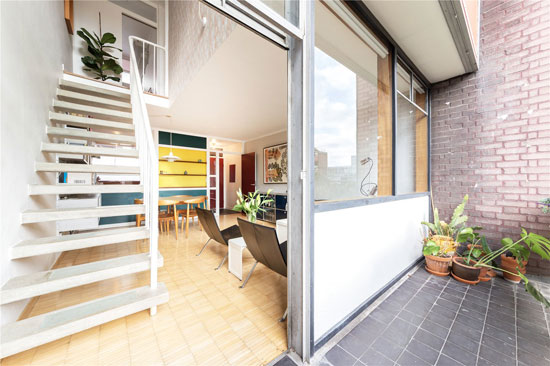 As for the apartment here, it is a two-bedroom maisonette in Basterfield House (on the second and third floor) and an apartment that has undergone an extensive renovation by its current owners and Martin Edwards architects. That's a practice that has refurbished a number of Golden Lane apartments and as such, has detailed knowledge of the Estate and its original design.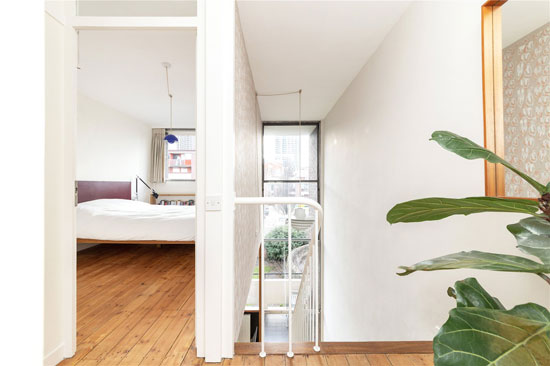 According to the owner, the original layout of the kitchen, and the partition that separates it from the living room, have been restored and 'sensitively' upgraded. Love the use of colour across that partition too, shifting a functional item into something of a feature wall.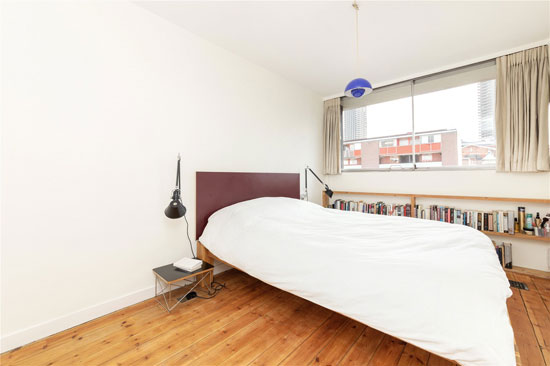 Elsewhere, you will notice the amazing concrete cantilever staircase, dual-aspect balconies, clerestories, partially glazed screens, finger parquet flooring and the double-height sliding glazing to a balcony. So much light too, which you might not expect when you see it from outside. The power of glazing.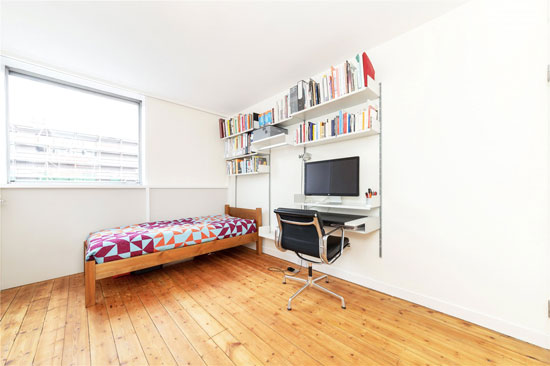 All of that is complemented by some wonderful modern/modernist design within. Ok, the furniture isn't staying, but it gives you an idea of what works in a place like this. To me, it's all about minimalism. Not loading the place with furniture, but being selective about what works within in terms of practicality and impact.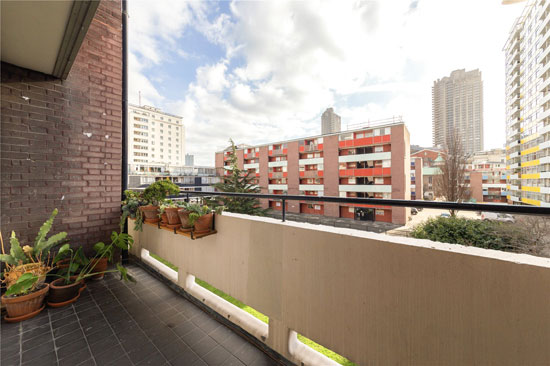 You need to be. Because even when you go down the minimal route, you are still working with modest living space in these Golden Lane apartments.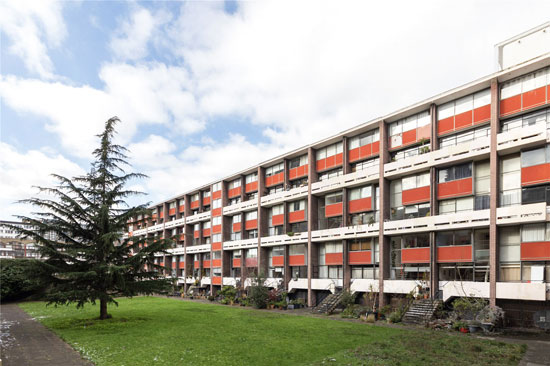 On entering you access a small inner hall area with the original slate tiles, leading into the main living space. The reception room retains the original finger parquet flooring (which is in very good condition) and a south-facing balcony looks towards the centre of the estate with views of the communal lawn and the swimming pool and sports facilities to the right.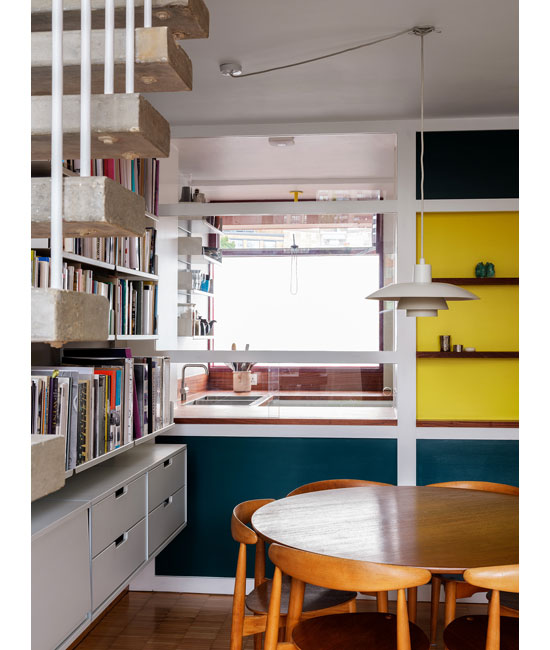 The kitchen has been recently refurbished, making use of original materials and is fitted with all new appliances including an induction hob, a fitted oven, fridge and dishwasher, a washing machine, a combi boiler as well as bespoke cabinetry.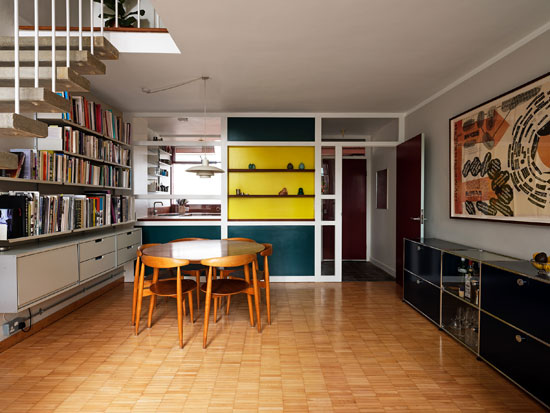 Upstairs there are two bedrooms with refinished floorboards. The larger bedroom faces south, looking across the estate with fitted cupboards and the original timber bookshelves below the window. The second bedroom faces north with a fitted wardrobe, window and door to a fire exit. Finally, the bathroom has been completely renovated with a shower, WC and washbasin.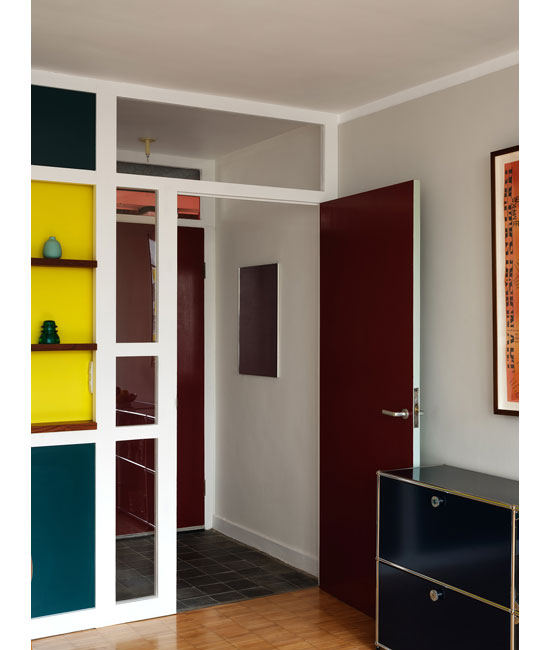 Very cool and very appealing to anyone with an interest in modern design. This apartment is on the market for £745,000.
Images and details courtesy of Frank Harris. For more details and to make an enquiry please visit the website.