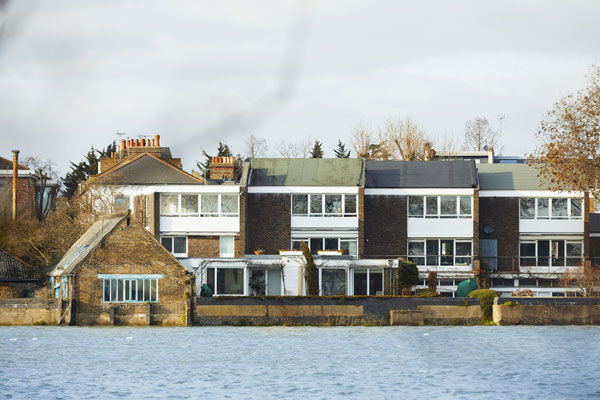 Fascinated by this one. A 1970s Michael Pattrick artist's house and studio in London W6, but only available to a select group of buyers.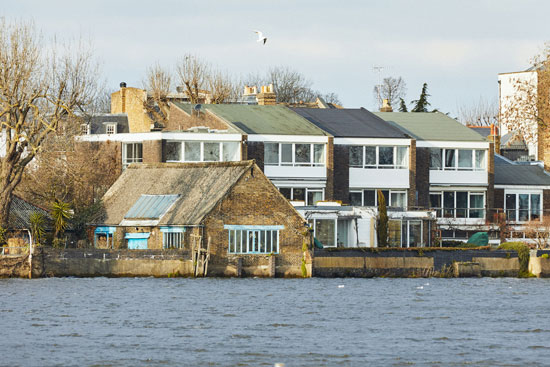 I'll get onto that in a moment. But first off, some background on this house and the development as a whole.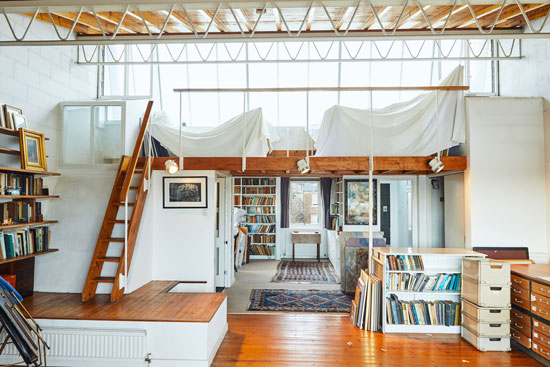 Artists Julian Trevelyan and Mary Fedden (a married couple) lived in Durham Wharf next door to what is now St Peter's Wharf, which is where this house is located.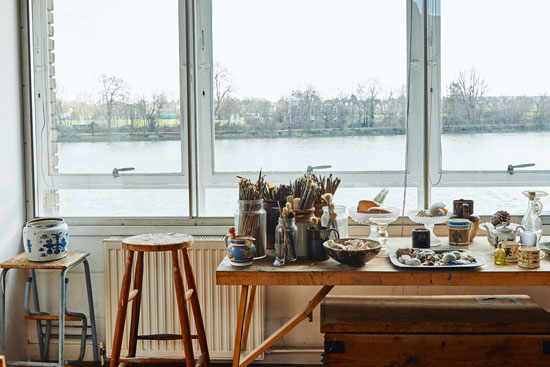 Julian owned the land there, and towards the end of the 1960s, he had the idea of developing a group of houses for artists, designers and architects. Basically, an artistic and/or creative community.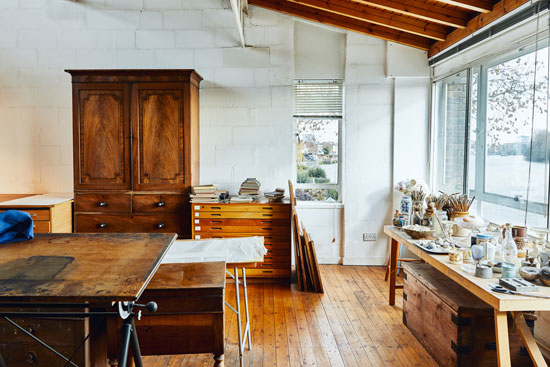 Michael Pattrick, then head of the Architectural Association School, was an old friend and became the architect for Julian's scheme. he principal four-storey buildings that made up St Peter's Wharf were described originally as 'spacious in concept', each having a large studio and 'ample living accommodation'. There was also a single studio and a small one-storey flat.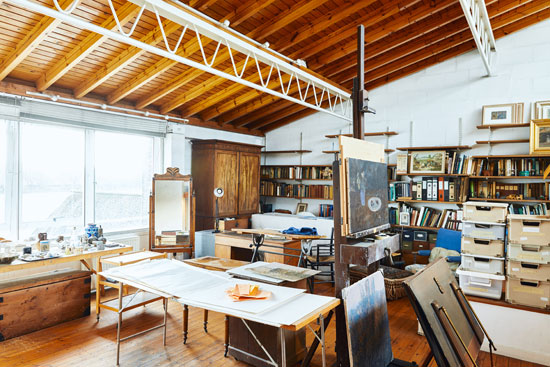 All of the dwellings were set around a communal garden and as you can see, at the side of the River Thames. A great location for inspiring anyone creative. In 1974, Julian set up the Trevelyan Arts Trust, which sold the properties on long leases to artists such as Hugh Cronyn and Evelyn Gibbs, who lived there with her husband Hugh Willett, then Director of the Arts Council.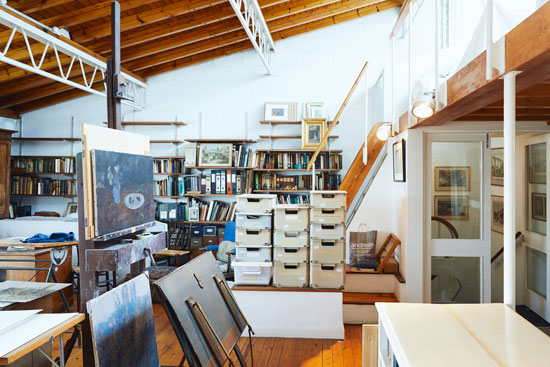 That principle continues to this day. Still live/workspaces for artists, with The Trust considering potential new members on a case-by-case basis. Not just artists, professions that have been approached include everything from painting, sculpting and graphic design through to architects and interior designers. But you perhaps want to enquire if you are suitable before going down the road of buying this one.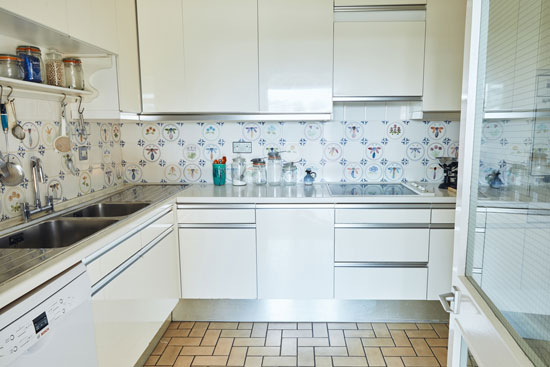 But you will also need to be successful in that career as the house isn't cheap. This is a large house in a desirable location and as such, will always command a high price.
When I say substantial, this is one of the four-floor properties and looking at the photos, one that's largely in original condition. Wood floors, exposed brick, wooden ceilings, large windows to maximise the light and the views and good-sized rooms.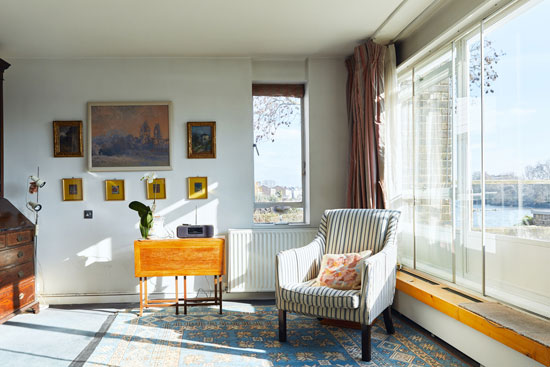 It might need some updating here and there, but I would say that's largely cosmetic. But I really wouldn't want to change much about the studio. It's just stunning.
The light, the size of those ceilings and all of that storage and working space within. I've seen apartments smaller than this. If you are an artist, I can see you already trembling with excitement about the prospect of working here.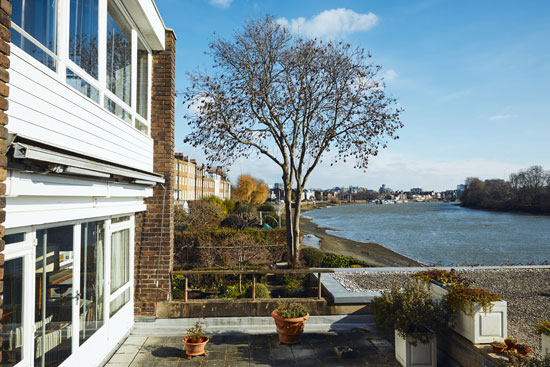 As for the layout, there's a cellar on the lower ground floor, with the ground floor having access to the garage, as well as the entrance hall with WC.
Head up to the first floor and you will find the main reception and dining area, the kitchen, a bedroom and a bathroom. The second floor has a further bedroom as well as that amazing large studio, which also classes as a bedroom. A bathroom on this floor too, plus a further bedroom area on the second-floor mezzanine.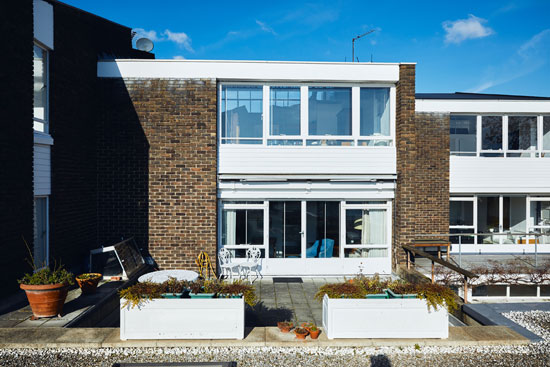 One last thing, you also get a terrace area overlooking the Thames, as well as access to the communal space. So well catered for both inside and out.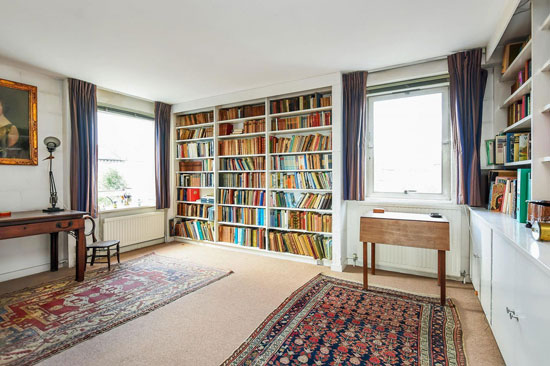 A wonderful house and a marvellous opportunity for something special if you operate in the right career/profession. If you do, the asking price for this house is £1,500,000.
Images and details courtesy of River Homes. For more details and to make an enquiry, please visit the website.