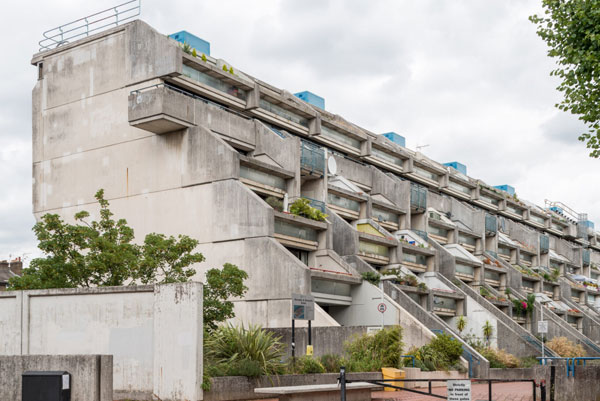 Someone has done a wonderful renovation job on this 1960s Neave Brown brutal apartment on Rowley Way, London NW8.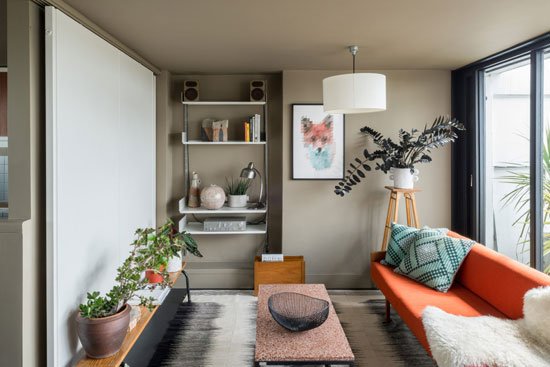 That's not always the case when these come to market. After all, the development was built as local authority housing back in the late 1960s. Yes, the authority did a great job with this development, but luxurious finishes were not a standard issue. With a couple of interesting exceptions.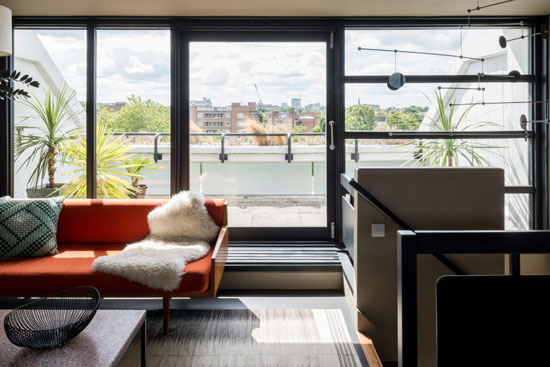 I am guessing you know the back story of this one now But for those who don't, please read on.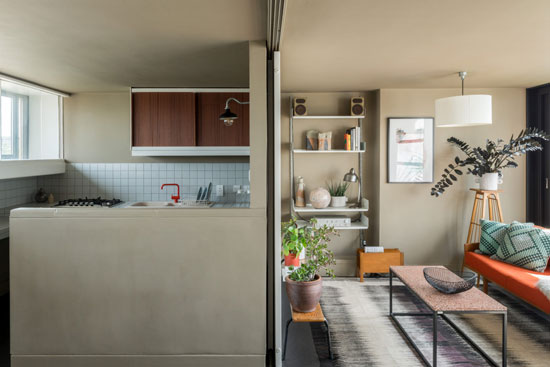 This duplex apartment can be found on the iconic Alexandra & Ainsworth Estate in St John's Wood, built to a design by noted modernist architect Neave Brown.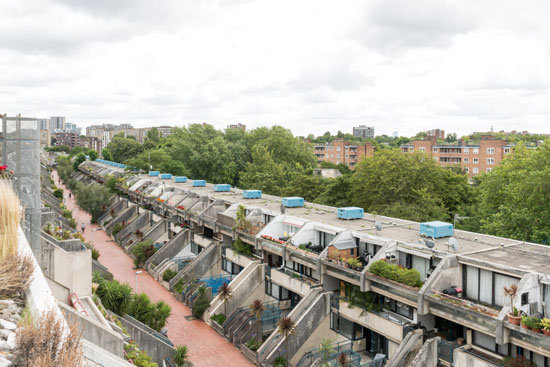 The Alexandra & Ainsworth Estate was part of the progressive social housing programme undertaken by Sydney Cook on behalf of Camden Council in the 1970s. You can find all about that in the wonderful Cook's Camden book by Mark Swenarton. Local authority housing never looked like this before or after, hence why these apartments have become so sought after. Particularly by fans of modern design and architecture, especially those with a fascination with brutalism.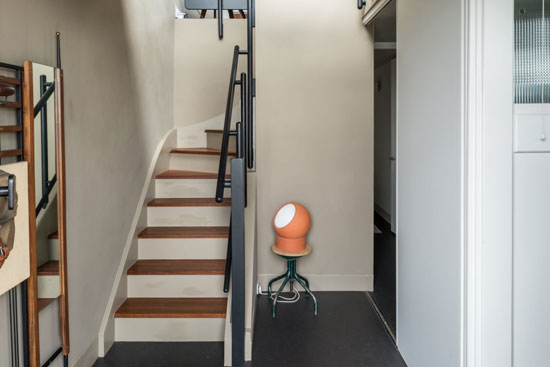 These apartments weren't exactly sought after (in terms of look) for a number of years but right now they are pretty hot and also valued pieces of architecture in their own right. The entire estate was given a rare Grade II* listing by English Heritage.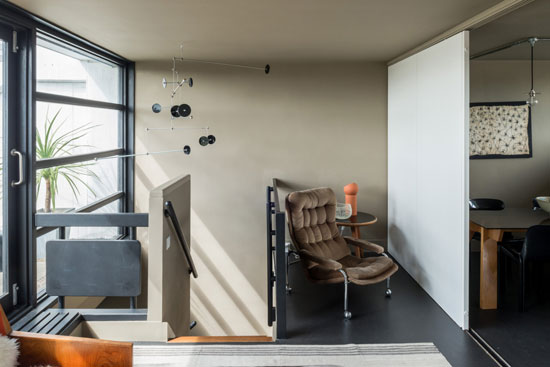 As you would expect from ex-local authority housing, I am not going to talk about original features as much as I might with other houses. But there are some details that are worth talking about here.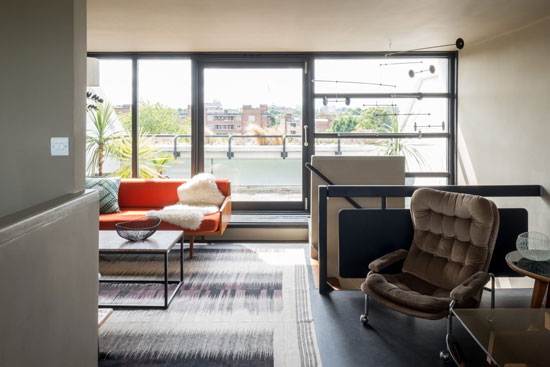 The design itself, of course. A stepped, concrete development, the living space is over two floors and with a design that maximises the natural light in the apartment. Oh yes, all that lovely concrete too.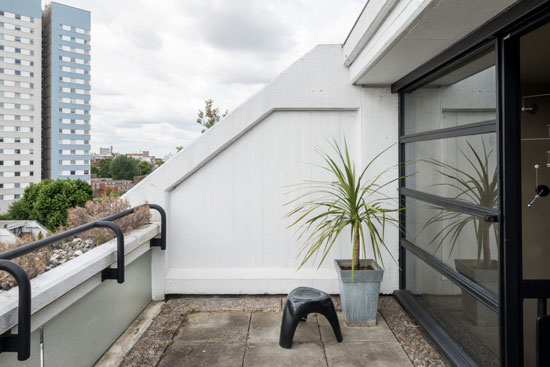 The interior would always struggle to match, but the apartment offers a reasonable amount of living space and a sliding door to balcony space. More on that in a moment. But first, let's start with the basics.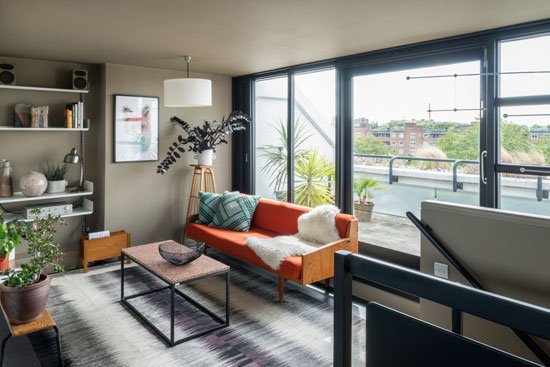 You are looking at an apartment over those two levels that offer something in the region of 850 sq. ft. of living space overall. But it doesn't have the social housing finish from the 1960s inside. Far from it. Someone has done a premium job on this one, creating something modern, but at the same time rather timeless.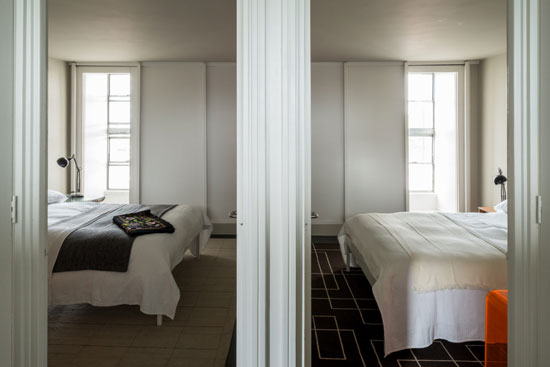 Clean lines, muted finishes, occasional splashes of colour and a nod to its mid-20th century past. This is neither retro nor contemporary. It hits both of those bases to some degree.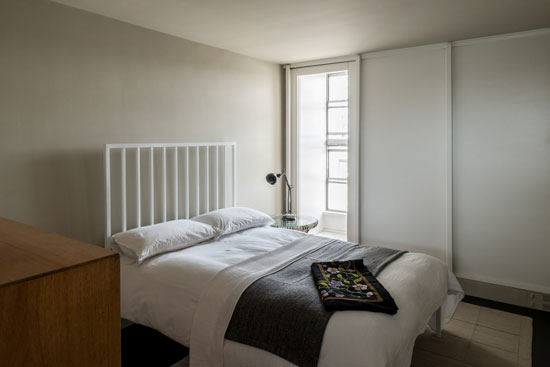 As you enter, you'll notice the black Belgian lino floors underfoot. To one side of the entrance, there is a small study with 'high fluted' windows facing out and internally, which draw light through into the apartment. The other side is a utility.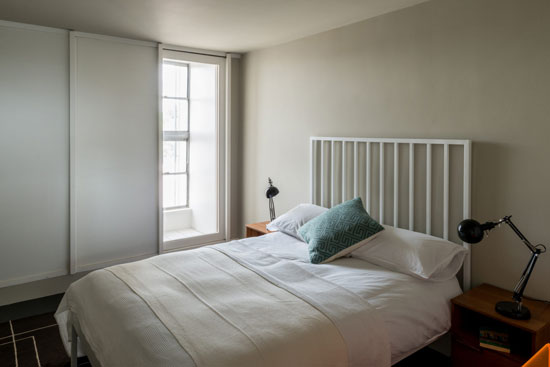 Beyond that is a shower room and separate WC along with two double bedrooms with built-in wardrobes.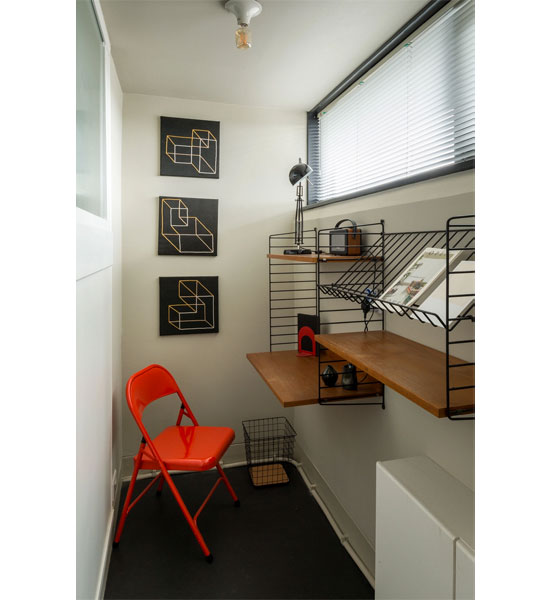 The stairs leading upstairs have been reworked with reclaimed iroko treads. Head up them and you will find the main reception space, which is on the fifth floor of the block.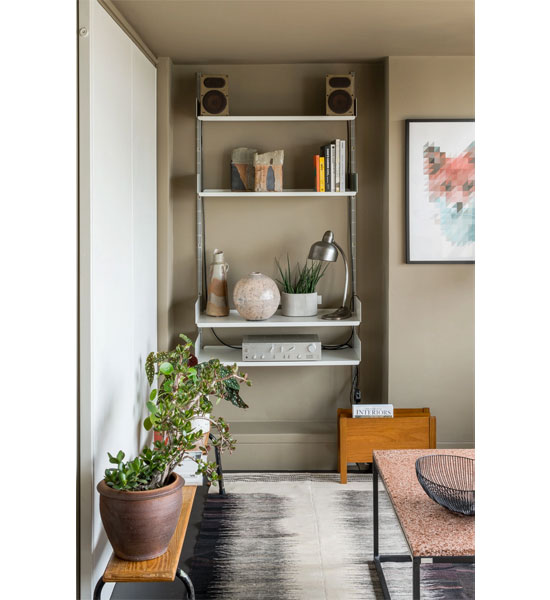 That's made up of a large, open-plan kitchen, a living room area and a dining room area. If you like authenticity then you'll be pleased to hear that the kitchen retains many of its original fittings and where new additions have been introduced, they are 'entirely in keeping with Brown's original design'. Also in the kitchen are grey architectural tiles, a Fisher & Paykel oven and fridge drawer, and stainless steel worktops. There are original cabinet units 'lining the plan' between the kitchen and the dining area.
The living room is described as 'bright' and 'airy' and as hinted at above, opens out onto a good-sized balcony area. More living space, but also a design feature to enhancing the natural light into the reception space and offering some great views over the city.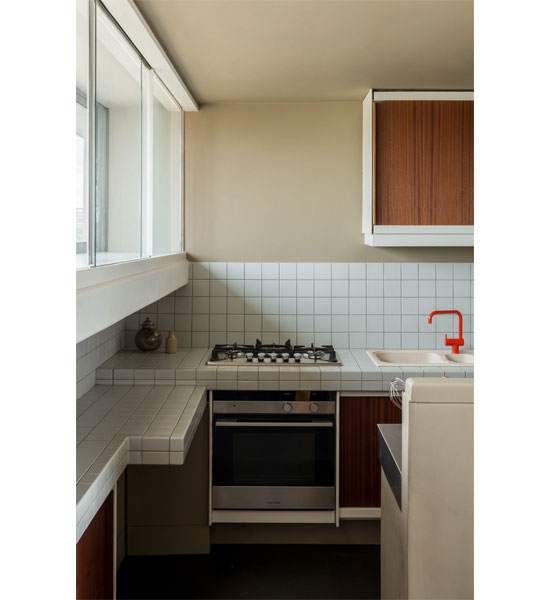 This development has always been a 'love or hate' proposition judging by previous features and although the love has certainly grown over recent years, it's still a design that will always split the audience.
If it appeals to you (and I'm sure a lot of you will love it), this Rowley Way apartment is available for £599,000.
Images and details courtesy of The Modern House. For more details and to make an enquiry, please visit the website.