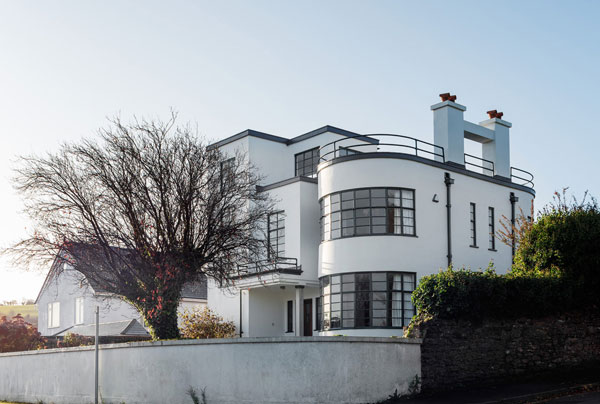 Looking at buying something from the 1920s or 1930s? Then you might want to see my tips for renovating an Art Deco house.
Why does it matter? Well, it depends on what you want to do with it. At the end of the day, it is your house and with that in mind, you can do pretty much whatever you want to do with it. Unless the house happens to be listed, but that's a completely different feature.
Most houses will not be listed, but they will be architecturally interesting, regardless of whether the national listing body has taken an interest in it. That distinctive look is the calling card of any Art Deco house as well as its key selling point. Once you lose the look, you have lost one of its key selling points outside of location. There are a lot of nondescript houses on the market and you really don't want yours joining that club.
So if you have an Art Deco house or you are thinking of buying one, please take note of the following hints. Most are pretty obvious, but they all need to be considered if you want your house to catch the eye of a passer-by or a potential purchaser in the coming years.
If you want a prime example of what is possible, do check out the wonderful Sunpark house in Brixham pictured at the top of the page, which was recently offered for sale via The Modern House. Yes, it was packed with original details but it had been renovated by the seller and as such, is something to aspire to.
Note that this doesn't just apply to Art Deco houses, these points will apply to any early modernist design and many will carry over to any period or character house.
1. Keep the architectural integrity
This is an obvious one. If you have anything interesting architecturally, please don't throw it away.
How? Well, the most obvious is taking away the flat roof and replacing it with a pitched one. It does happen. Also, ripping out the windows (more on that in a moment). replacing the front door with something bland and double-glazed or ripping out everything for the sake of modernising. In short, creating something that looks like every other house in the area.
2. Think about the look of your extension
I'm not naive, I know houses in a bit of land are perfect for extending, especially if you have a growing family. But Art Deco houses tend to be quite difficult to extend.
Why? Well, it's often down to the curves and the symmetry. The houses aren't easy to build onto without it looking obvious. But it can be done.
You may recall this art deco house in Glenageary, near Dublin, Ireland that I featured a short while back. At first glance, unchanged over the decades. But look closely. It has been extended, but with the look and feel largely unchanged.
Extending can be done, but you do have to think carefully about the flow.
3. Maintain the original features
An obvious one really. When it comes to the property of this era, you really need to maintain the original details.
That is, of course, if original features are still in place. We are coming up to 100 years since some of these houses were built. That's a lot of time passing and a lot of decades when this kind of house was deeply unfashionable. As a result, many of the original touches were often ripped out in the cause of modernity.
So if you have an original detail, value it. Whether it's a kitchen or a light switch, think carefully before you take it out. Can it still be used? Can it be repurposed or refurbished? Not everything can be, but if there is any way to keep the details, do it. From personal experience, buyers love an original detail and it can be the difference between a sale or a no-sale for many. These houses are as much about the lifestyle as the architecture.
4. Update sympathetically
Following on from that is something you will need to confront. You do not live in a museum. You live in a house, possibly with a family and certainly living an everyday, modern life. You need a house that works for you in the 21st century,
The easy option is to rip everything out. DON'T DO IT! As above, think about keeping the original details but if there are none there (as I said, many were ripped out over the years) then think about maybe putting things back in that suit the house.
If you are going for the big kitchen (as many do these days) perhaps look at something with a 1930s feel, matched up with appropriate tiling and flooring. Maybe look at vintage-style radiators for the house, consider the internal doors that have a look of the era. In short, try to recreate the 1920s or 1930s canvas to the best of your ability. It gives the look of originality without packing the place with replica furnishings which can easily look a little tacky and give the opposite effect.
5. Don't forget the windows
The windows are the 'make or break' feature of any Art Deco house. There is a cheap option, but the expensive option is the better one.
You can get double glazed windows these days that hint at the original Crittall steel windows. If your budget is tight, consider it. They don't look quite original, but they offer the look and that's probably enough. They are a step up from the plain double-glazed glass for sure.
But if you can afford to get Crittall in, you really should. The authenticity they add is likely to be worth it, although it may be a step too far if the value of the house is fairly modest. You might not get it back.
You can also refurbish original Crittall windows too. Again, see the maker for options there in terms of affordability and practicality. But please do consider the windows carefully. They are key to any Art Deco house.
6. Little touches are a big win
I know we can talk about the windows and the roof terrace. But sometimes the little touches are the biggest wins.
What's the first thing you see when you go to a house? It's probably the front door. if you have an original one, preserve it. If you haven't, think about getting one in keeping with the 1920s or 1930s, whether that's reclaimed or modern. Don't go cheap, double-glazed front door.
Look at the light switches, think about the plastering, consider the wallpaper, give your bathroom a vintage look, ponder some period-perfect art (King and McGaw has some lovely examples), look at getting a vintage clock (you'll find plenty of old and new at eBay and some great finds at Etsy) and maybe do some research with colours of the era. Yes, colour was a thing back then.
Whatever you do, don't pass over the detail. Those little things will make a big impression on your visitors.
7. Think about the fireplace
I know, we don't light as fireplace these days, but back then they did.
As time has passed, those fireplaces have been updated, ripped out and largely become redundant.
But think about reinstating one. Or more. The fireplace is more than a functional piece, It's the focal point of a room and an Art deco statement in itself.
You can easily buy a salvage one, but they don't always come cheap. One place to look is the Antique Fireplace Company, but also have a look at fireplaces on eBay too, as many people offer them for sale there. But the first port of call is probably a local salvage yard for authenticity.
8. Not everyone wants a while box
This is a word of warning for any developer looking to do a quick turnover of an Art deco house. Not everyone wants to live in a white box.
A few years ago, quite a lot of people did. The 'fashion' for Art Deco houses was stripped down and minimal. Pretty much every house I saw was plain white walls and a touch of black here and there. No character at all. But times have changed.
Buyers of these houses are tending to reject the 'white box' in favour of something more interesting. While the 'white box' might still work for a house that has had the original details ripped out in previous years, I would say think twice before doing it in a house that still has a touch of uniqueness about it.
It's your house and your call. But ripping out everything in sight isn't usually the best move.
9. Make it family-friendly
I know, this goes against much of what I said above. But this is a family home and you need to make it family-friendly to sell it.
Saying that you can do it. Have a look at this house in the Hampstead Garden Suburb. It's a house packed with character and style. Updated throughout, but without losing its appeal. In fact, only adding to it. So many of those little details remain and I love how additions have a vintage edge. This is a modern-day family home, but it's also an appealing Art deco house.
Also, check out this gem in Shrewsbury, which marries a large, modern-day kitchen and office space with a largely vintage finish. It shouldn't work, but it does, creating a wonderful family space.
10. Make the most of the roof terrace
The crowning glory of any Art Deco house is a roof terrace. Often topping the 'wants' list of any buyer, they are rarer than you might think and as a result, something that could add value to your Art Deco house.
If you have one, especially one with an associated sunroom, please look after it, maintain it, make it safe and let the world know about it. This is added outside space, often with great views. Don't ignore it or see it as somewhere that's just an added expense to look after. If you have a roof terrace it is added value. Especially if it is usable.
And if you sell, find a sympathetic agent….
This is an added bit of advice. Not all agents are created equal. Have a look at the houses I have featured in the past, look at the details, look at the images. These are the agents you should be looking at. Of course, locality and price will come into it. But a love of the style always helps.
If you are looking for one, there are plenty of Art Deco Houses featured on WowHaus and I try to keep up with as many as I can that come to market. If you are looking, good luck and please, do the house proud and preserve it as a stylish living space for future generations.