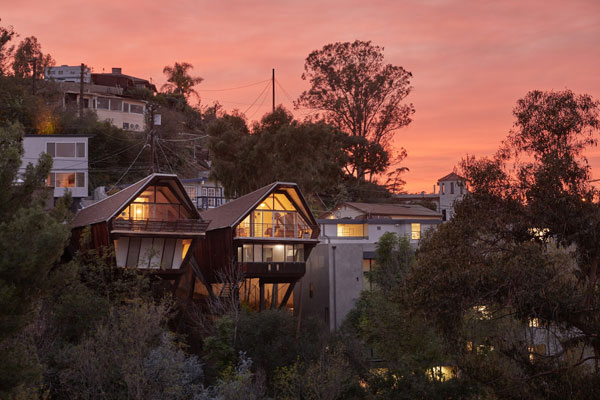 Fancy living on the edge? This 1950s Harry Gesner Boat House in Los Angeles, California, USA literally offers just that.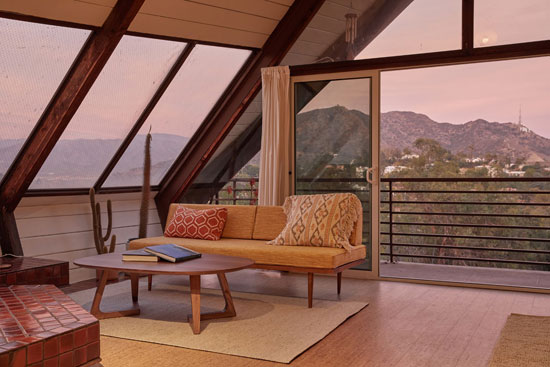 Harry Gesner is always a popular name on this site. You might recall the amazing 1960s Stebel House from last year as well as the angular Triangle House from a few years earlier. In fact, I also featured one of these houses back in 2015 too.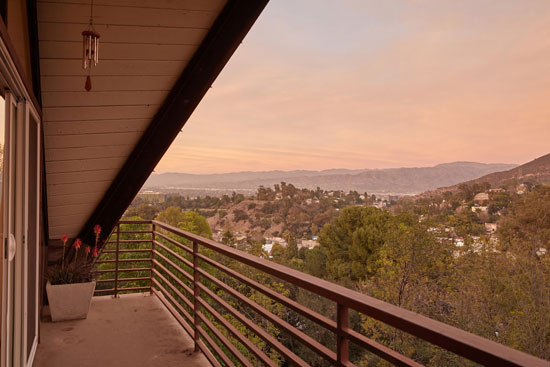 That one sold, but the one here is just up for sale. It is one of just eight similar houses that were designed by Harry Gesner back in 1959, all sotting within the Hollywood Hills and with the bonus of views of the Hollywood sign from your living room. That's a talking point right there.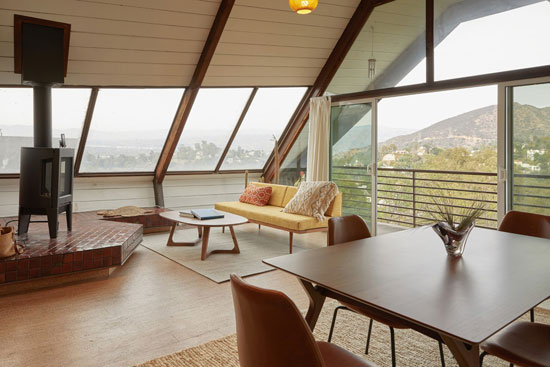 Why the Boat House? That's down to the shape and the fact that the houses were (rather usually) constructed by a team of Norwegian shipbuilders.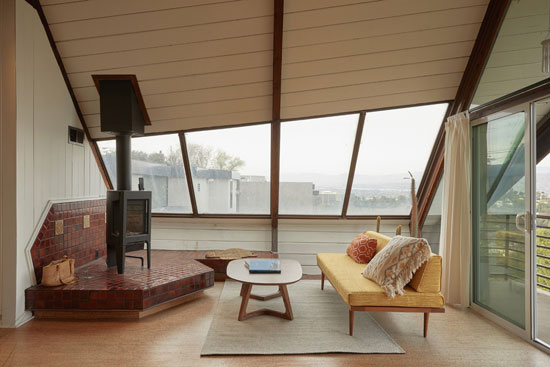 Bold (and brave) midcentury modern architecture back in the day, the houses are still bold statements today and perhaps not for people who have any kind of fear of heights. There is quite a drop from the balcony area and personally, I'm not sure I could handle it. But others love it entirely for that reason.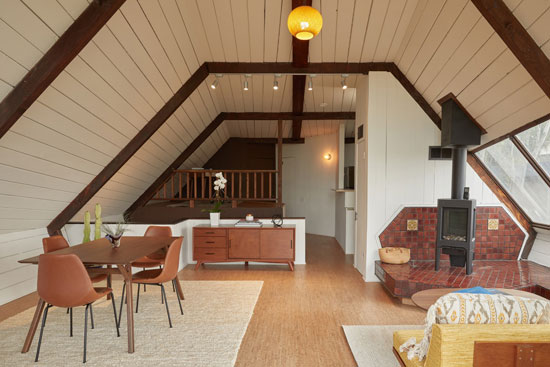 As you can guess, there is little chance of any major change when it comes to these houses. You really can't change them. As a result, this one, like the last one I featured, is pretty much faithful to the original design.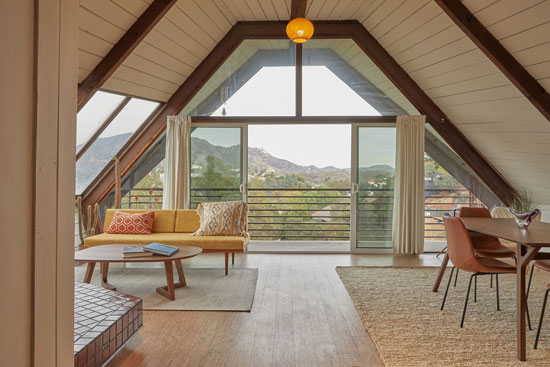 All of the hand-crafted midcentury modern design features and original woodwork are still in place, all constructed from 'hard-to-find materials' and details such as floor-to-ceiling windows still offer you one of the best views in town.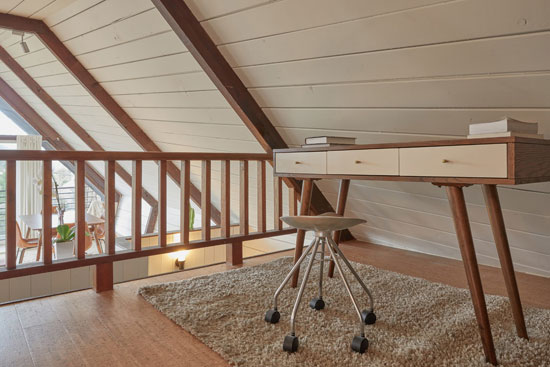 But the finishes have been freshened up, with new cork floors, an updated kitchen and bathroom now in place. Nothing radical, it just brings up to speed for 21st-century living.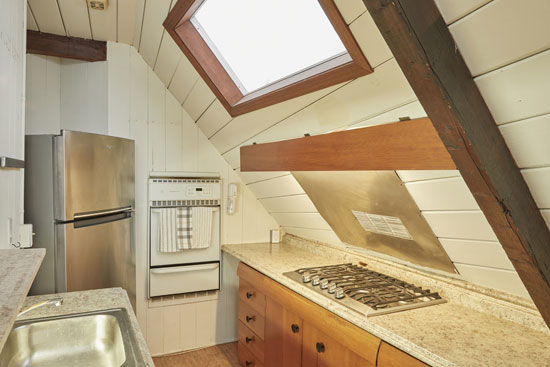 As for space, that's fairly modest and generally open-plan in terms of the reception. You also get two bedrooms, one bathroom, the kitchen area and sliding doors leading out to the balcony/deck, which in turn offers the seeping city view and the sight of the Hollywood sign. A 'lofted space' too, which can be used for a home office.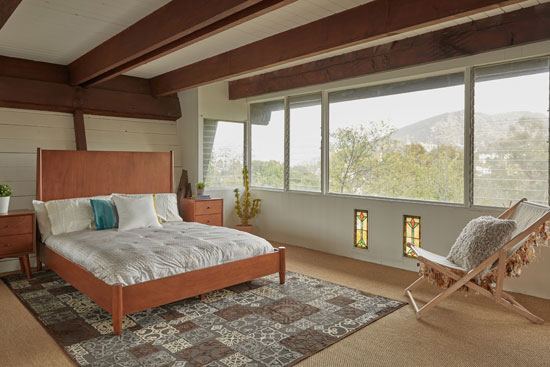 Note also that the large master bedroom has exposed wood-beam ceilings, dual closets, and a wall of windows for more hillside views.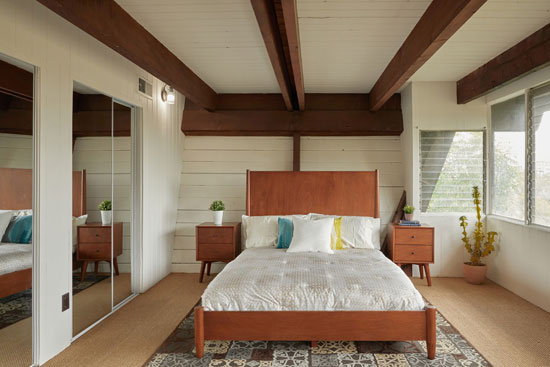 These really come up for sale and couple with the location, this is likely to be a sought-after house. Just up for sale, you can make this Boat House yours for something in the region of $920,000.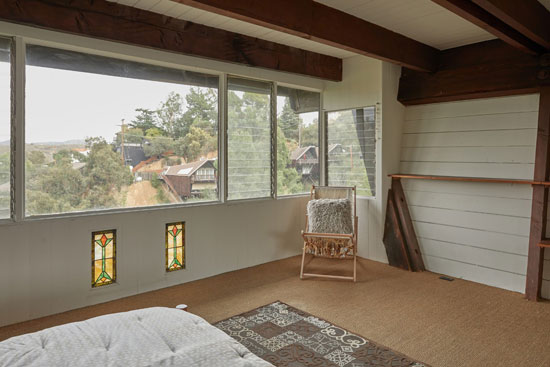 Images and details courtesy of Justin Freeling & Rob Kallick of Take Sunset at Compass. For more details and to make an enquiry, please visit the website.
That wonderful imagery is courtesy of photographer Cody James.