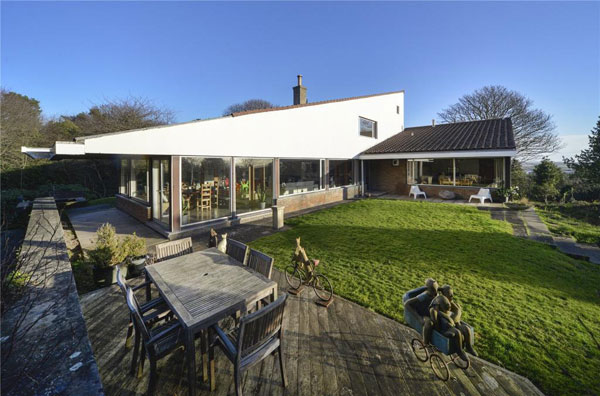 Last on the market in 2014, this 1960s Morris & Steedman modern house in Gullane, East Lothian, Scotland is back up for sale.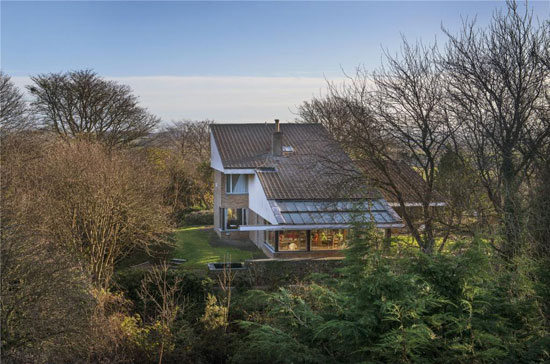 And to be fair, not a great deal seems to have changed. Which is obviously a massive plus.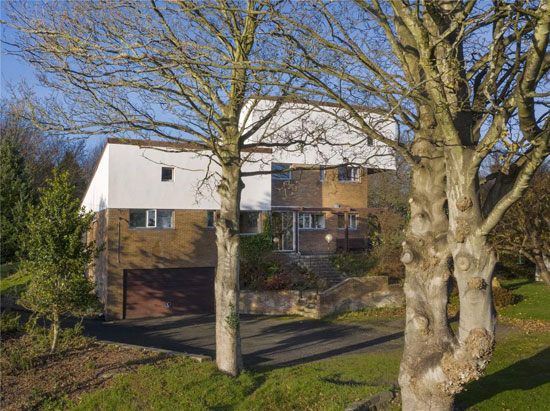 Yes, new furniture and details, as you would expect when a house has moved from one owner to another. But a look over the photos then and now indicates nothing of substance has happened to the property in the intervening years.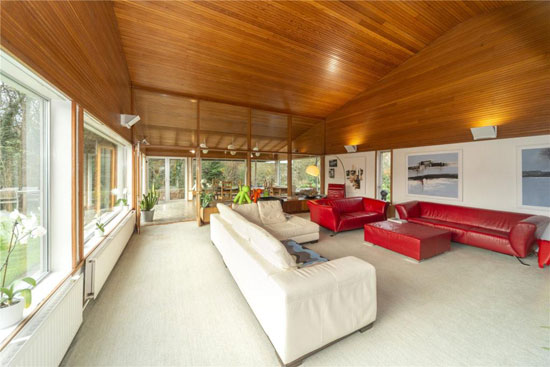 That's always the worry. When a modern house of this stature (it is a B-listed house in Scotland) changes hands, the worry is that the new owner will do something radical, particularly with the interior. That hasn't happened here, although you would need a viewing to make sure as the photos never show every detail of a house.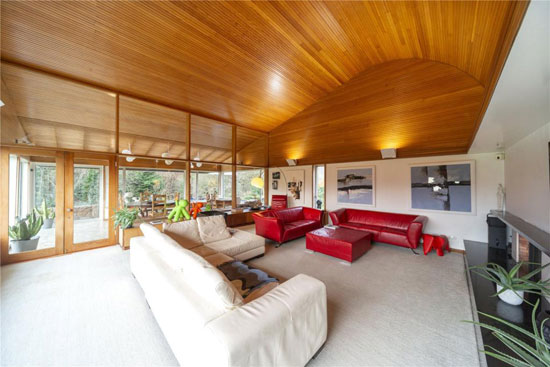 So this is still a 1960s modern house, located around 20 miles out of Edinburgh and with access to four notable golf courses, one of which is the British Open course of Muirfield, So if golf is your thing, then this might have even more appeal.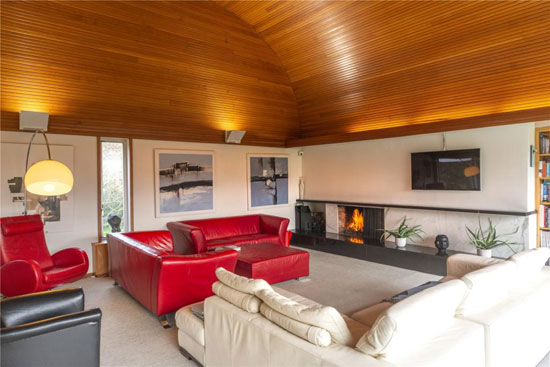 But the house itself is the star for me. Dating back to 1964, it still has impact from its bold angular architecture and still has the 'wow' factor once inside. As I said, it was almost untouched when it went up seven years back and hasn't changed much ahead of this sale.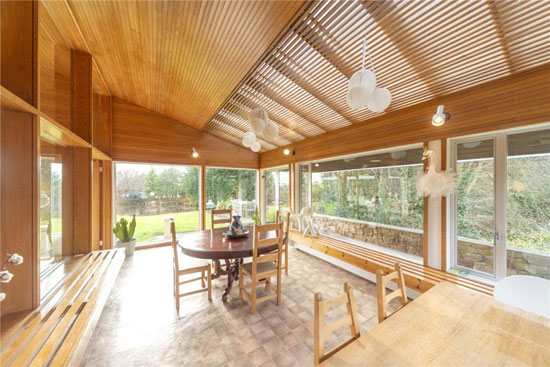 Walls of glass, those amazing volumes within, the wood ceilings, some lovely flooring and the kind of house design that has aged well over the decades. This kind of light and space is what everyone is chasing right now.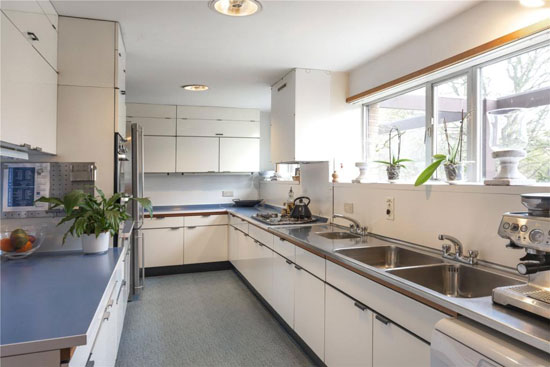 The entrance to The Quarry (that's the name of the house) is set at the top of a small flight of stairs next to the upper lawn, opening straight into the large hallway. There is also a second entrance up a short flight of steps by the car parking area and garage.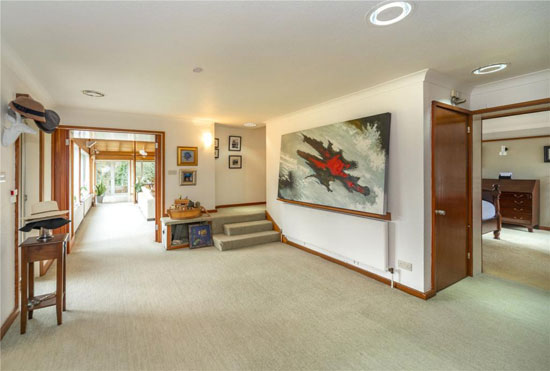 Once inside, the drawing-room is the space that sells this one. It has a curving wood-panelled ceiling and a working fireplace on a raised marble shelf with a mantel above, as well as so much space to play with. Beyond that is a large garden room with double doors opening into the rear patio.
The hall also opens onto the dining room which has windows on three sides and a connecting door into the kitchen.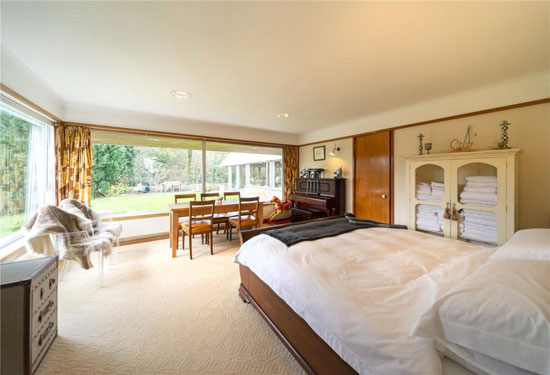 Oh yes, the kitchen. It still has the original Hygena floor and wall units and there are integrated appliances, some of which have been recently updated. A sliding door opens onto the hall next to the porch leading to the back door. The breakfast room is just across the hall, connected to a utility room.
Interestingly, the master bedroom is also on the ground floor, with large windows and an en-suite bathroom. Again, quite a space.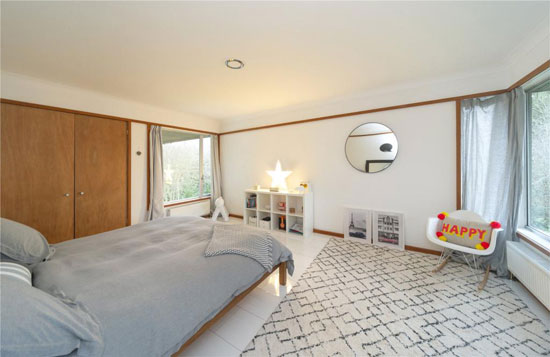 Head up the staircase in the hall for three further double bedrooms; one with a large attic store that could adapt to a playroom or home office. A family bathroom finishes off the internal space.
But outside is quite a selling point too. The grounds extend to approximately two acres in total, which is something of a bonus. They include a driveway leading to a large parking area, a double garage and a south-facing lawn with pedestrian access/a shortcut to the golf courses.
The upper garden has a patio, two further lawned areas, plants and trees. A workshop too if you need it.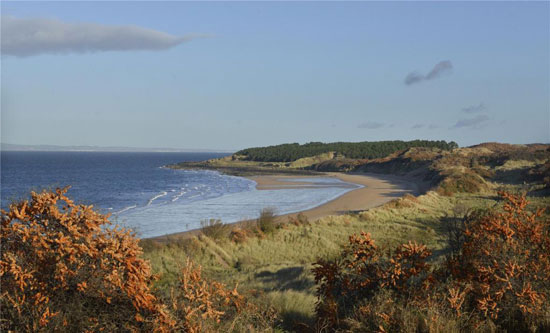 There is already interest in this one, but you never know what will happen. Regardless of that, offers over £975,000 are needed if you want to own it.
Images and details courtesy of Savills. For more details and to make an enquiry, please visit the website.
Thanks to Jamie and Douglas for the tip-offs for this one.