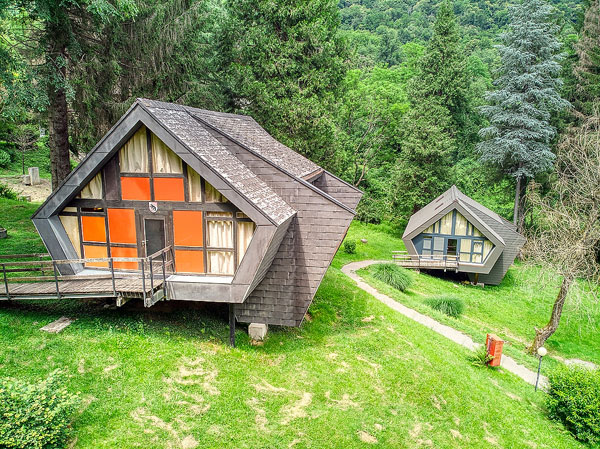 These 1960s midcentury modern holiday chalets in Ponte Cremenaga, Switzerland are pretty special and mostly up for sale.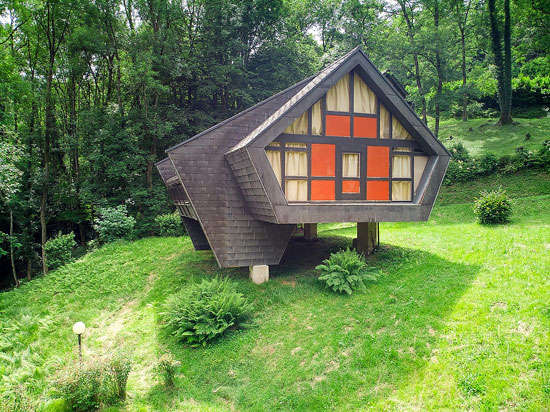 Yes, your very own mini midcentury modern holiday home. And quite the design statement too, courtesy of architect Justus Dahinden. They have featured in some architectural books, but even allowing for that, this site has managed to stay under the radar somewhat.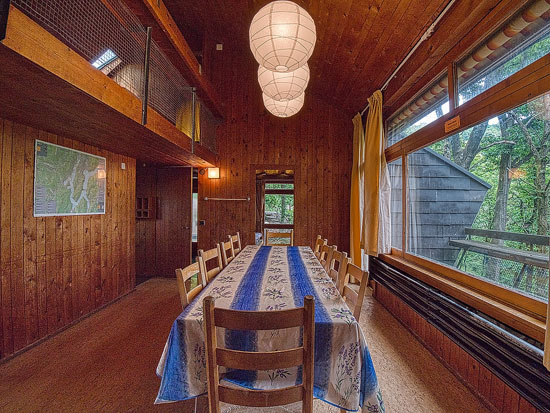 Huge thanks to Dominic for pointing me in the direction of these, which can be found on the Bosco della Bella site. 17 of the 27 unashamedly retro chalets are currently for sale and are likely to appeal to anyone with a love of mid-20th century architecture.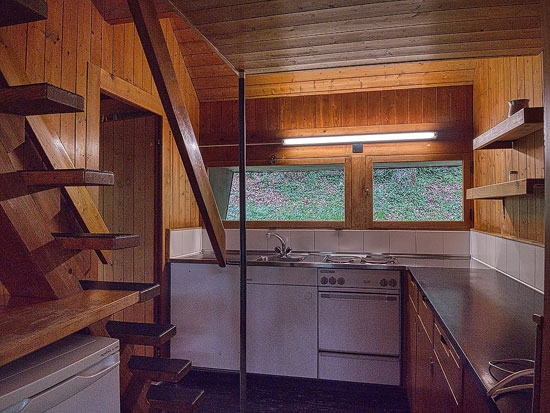 They look faithful to the era and looking at the images, they pretty much are inside and out. Although the 'external infrastructure' has been updated across the site. That's the water, sewage, electrics, phone lines, fire safety and outdoor lighting. All the all-important basics.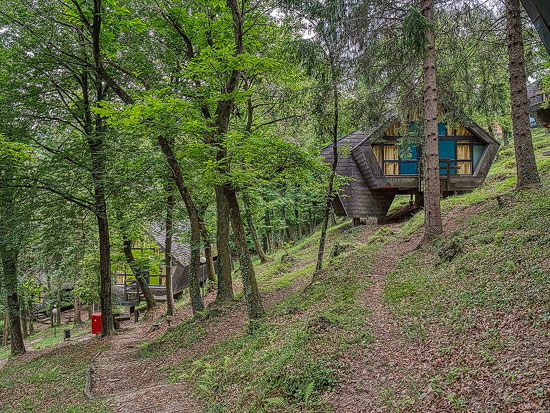 Outside of that, this is your very own 1960s getaway in what looks to be remarkable scenery in Ponte Cremenaga, which is located in the south of Switzerland and in the Italian-speaking region of Ticino. Lugano seems to be your nearest airport if that gives you a reference point, but there doesn't seem to be much in or out of it. So if you are thinking of one of these places, you might want to check the links there.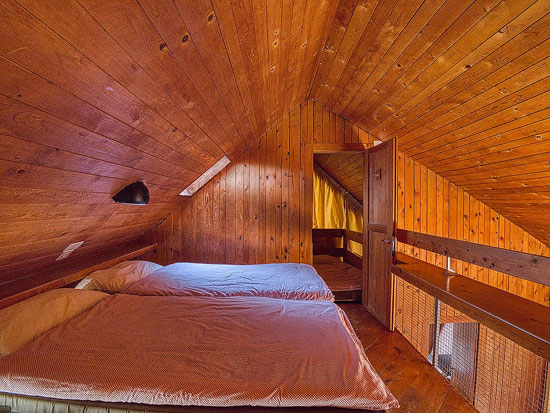 But enough of the practical talk. Let's look at the chalets and the site itself. The site seems to date from 1961, with much of what was built back them largely unchanged, both in terms of individual chalets and the larger communal buildings. The swimming pool building is quite something.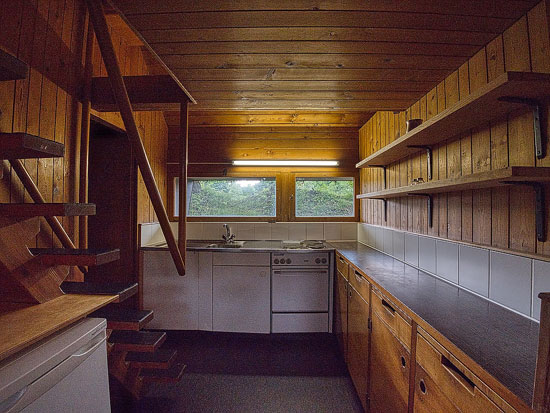 I am guessing it's less about skiing here, more about walking and being in the open air and lovely scenery that surrounds it. Camping for people who prefer to hang out in something more solid.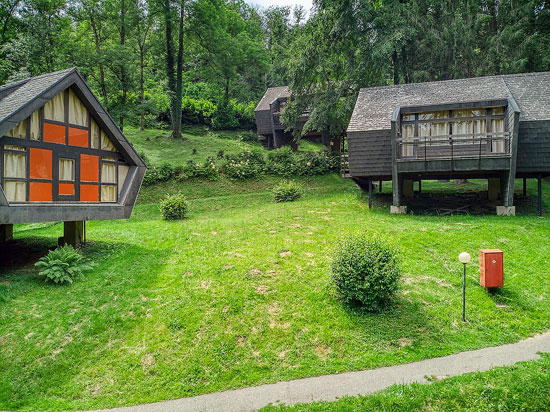 Like one of these angular chalets. As I said, over half of the chalets are being offered for sale, presumably because they are moving away from the rental model. Different sizes, with each holding between 6 and 10 people. But all with a similar bold modernist design.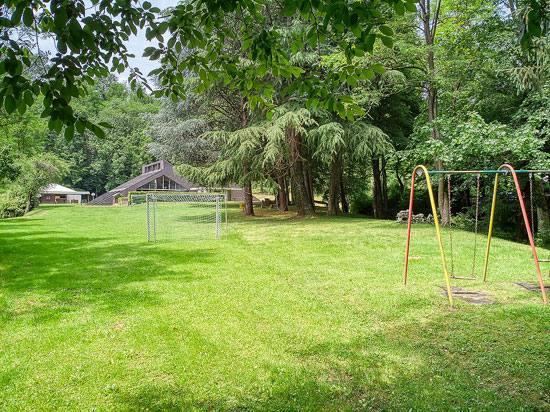 Not just an interesting exterior either. Judging by the photos on the agent's site, not a lot has changed inside. Yes, you could radically update each one. But the retro vibe within is a massive pull.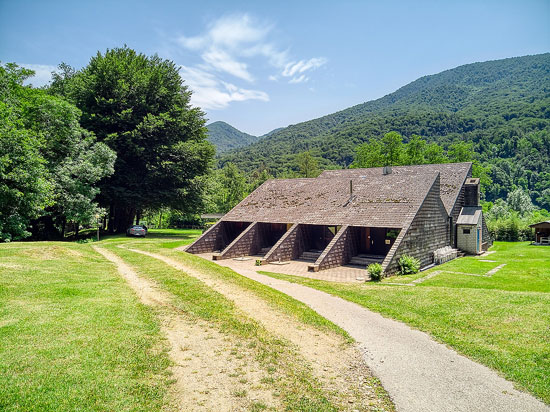 Vaulted ceilings, wood cladding all over the place, balcony accommodation, walls of glass to the side and some period light fittings too. I'm sure there are things you might want to tweak. The kitchen perhaps, maybe some of the other fixtures and fittings and the stairs, whilst looking good, might not be for everyone. Things you would consider when moving into any house really.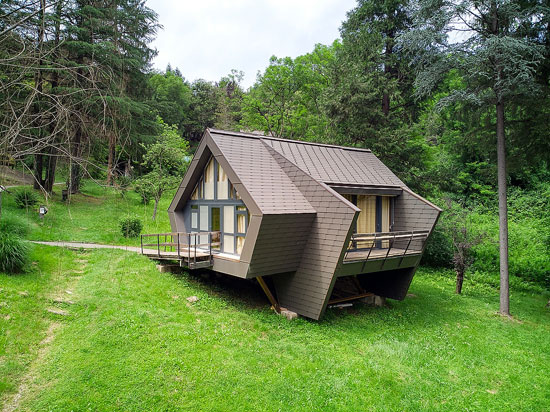 Of course, you get all the scenery too. The site is located on the edge of the Tresa river, with plenty of woodland and scenery around to enjoy. All accessible by car, with some chalets having their own parking spaces.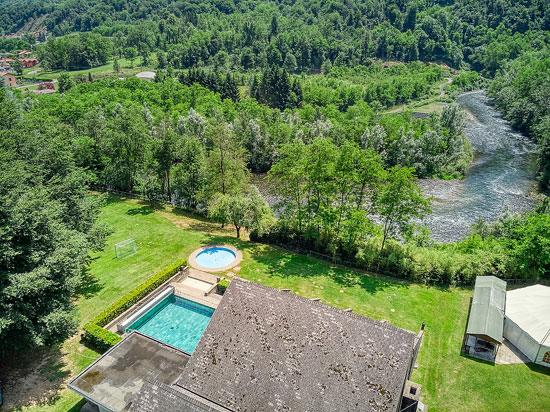 You can also access a playground with stone tables on the site, a restaurant and a swimming pool with a design that's up with any of chalets. Beyond it even. It looks like a great place to hang out, especially if you have kids to keep amused too.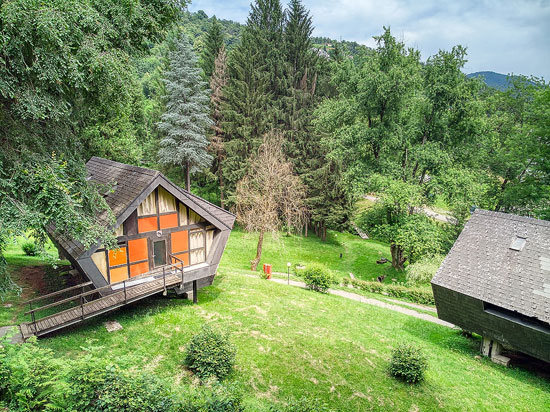 The apartments and available in different sizes and slightly tweaked designs, so do have a look at the main site and the agent's site for a full idea of what is on offer. But as a guide, these start from the equivalent of £150,000. Not bad if you can see yourself getting some use out of one.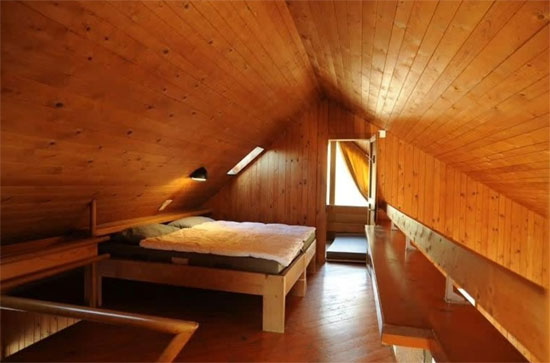 Note also that a large part of the site is actually available for sale too, including five houses, two multi-family houses, the restaurant, the swimming pool and 35,000 sq. metres of land. Your own modernist holiday business.
Images and details courtesy of Homegate and Bosco Della Bella. For more details and to make an enquiry, you can contact the seller via both of those websites.