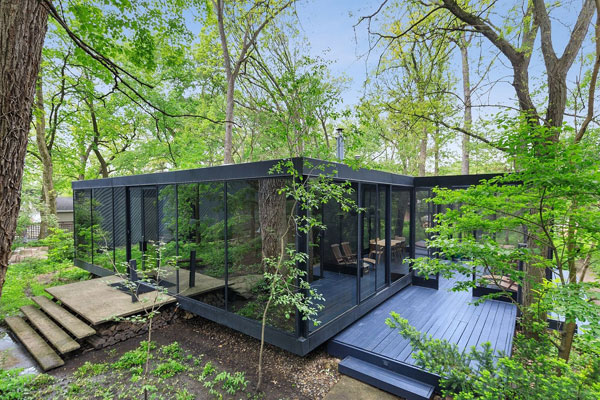 No, this isn't the Ferris Bueller house. But this 1970s Richard Marker modern house in Downers Grove, Illinois, USA isn't far off it.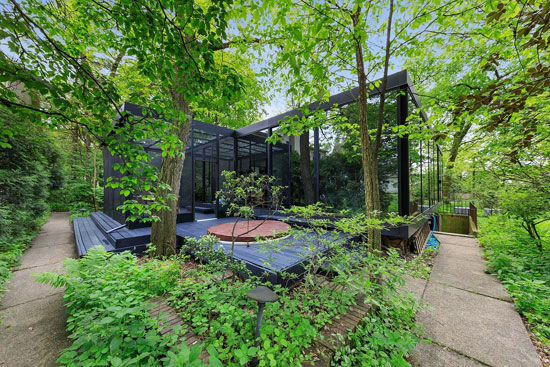 Not far off both in style and geography. As you might know, the house made famous in the 1980s cinema classic Ferris Bueller's Day Off was this A. James Speyer property in Highland Park, Illinois. That one actually dates back to the 1950s but is also located in Illinois. The one here is later, specifically dating back to 1974.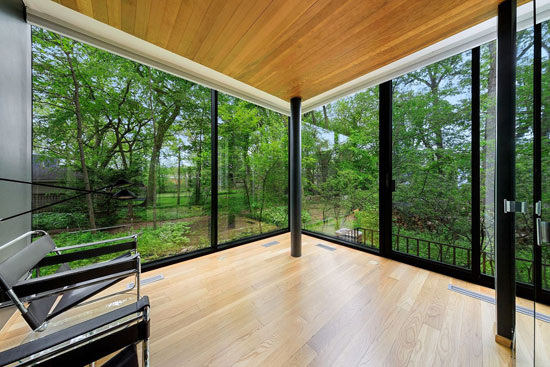 It is still that 1970s house in terms of the architecture. The classic 'glass box' inspired by the likes of A. James Speyer and Mies van der Rohe, this is a design in touch with its surroundings. You literally are at one with nature, wherever you are in this one. Even decades on, this is still as modern as it gets.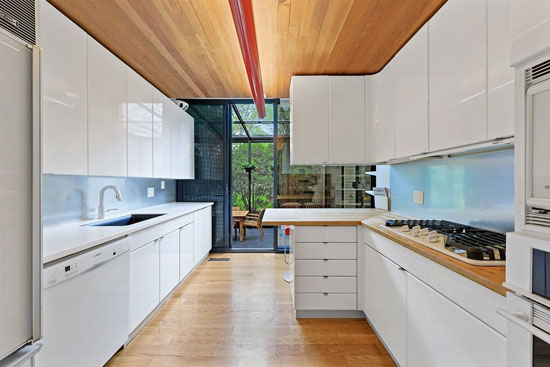 If you are expecting an interior from the same decade as the architecture, you might be a little disappointed. Although the house and layout have likely changed little in the last 40+ years, the finishes have been updated. Many in the very recent past.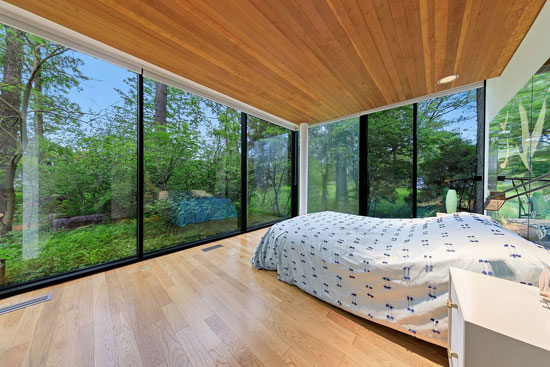 The walls of glass are still the dominant feature within, along with the white oak floors and ceilings. That was the template and everything is still based around that. I am talking about the finishes and the details.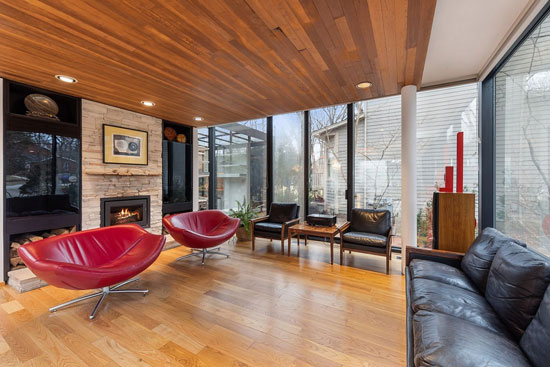 A lot of what you see here seems fairly fresh, whether that's the furniture or the general decor. Of course, that kitchen is the first thing you notice, white and modern, but with this being a very 'modern' house, not out of place. That's perhaps because that 'new' kitchen actually uses the original cabinetry.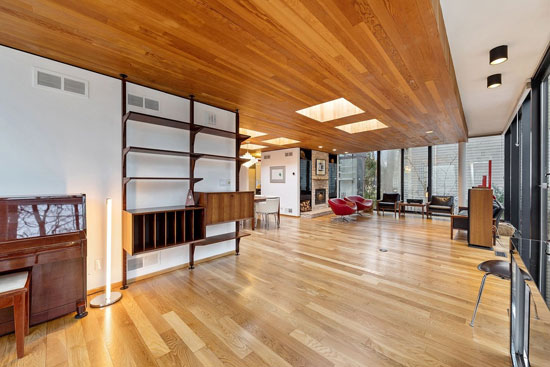 Elsewhere, modern light fittings, modern fireplaces and white gallery-style walls (this one does look like an art gallery in places) create a more contemporary vibe, with a few vintage touches here and there that are more in keeping with the original era. Yes, there is a spiral staircase here.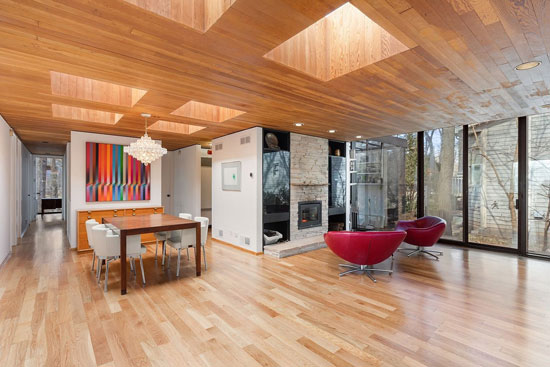 More space than you might expect from as house of this nature too. 2,016 sq. ft. in total, which is actually over two floors rather than the single floor you initially see.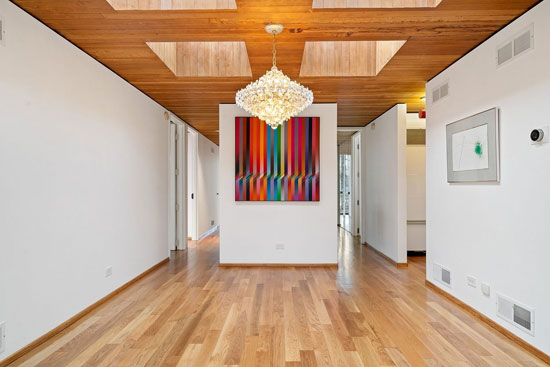 The layout is rightly described as 'flexible' due to the open-plan nature of the house. The main space is the reception, made up of a living room and dining room, which is vast and dominates the layout.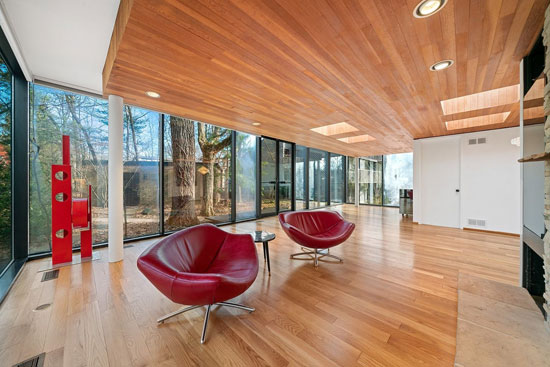 Beyond that are four bedrooms, with the master bedroom having its own bathroom and den. There are two further bathrooms within the house too.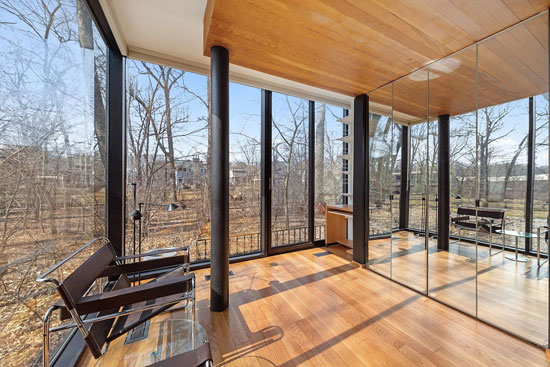 Also worth noting that the glass theme continues with a porch with glass walls and ceiling. There's another surprise in this one too.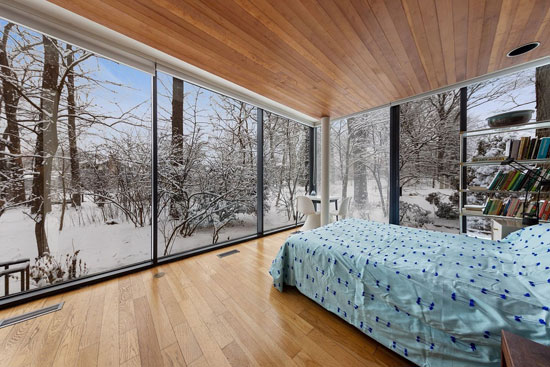 A I said, space is over two floors, with a finished basement making up the second level. Not just a place for extra storage (which is usually the case), this one is a 'recreation room' with its own wet bar, as well as a workshop and some storage too. Yes, a huge social space if you want to get away from the formality of the upper level, as well as some practicality.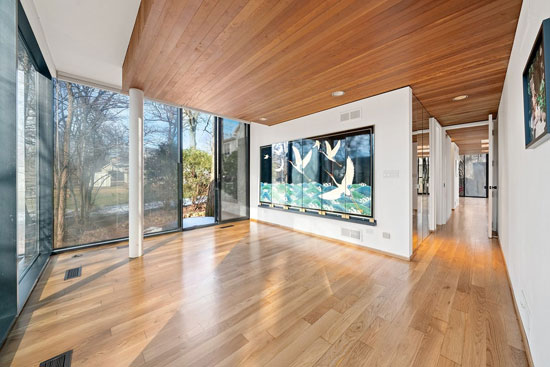 The land isn't as plentiful as you might imagine from the photos, but you do get 0.34 acres and it looks like your glass box is surrounded by enough greenery to keep things private. A large garage within that land too.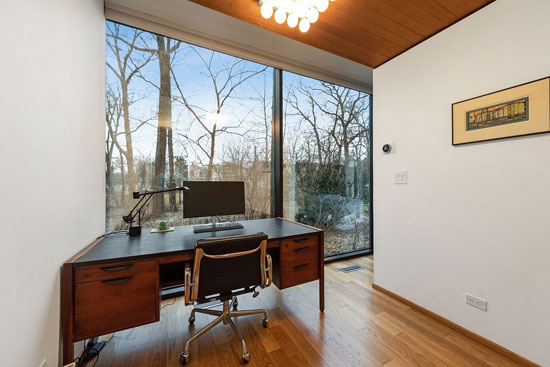 Recently reduced, $795,000 is the asking price if you fancy this one.
Images and details courtesy of Zillow. For more details and to make an enquiry, please visit the website.