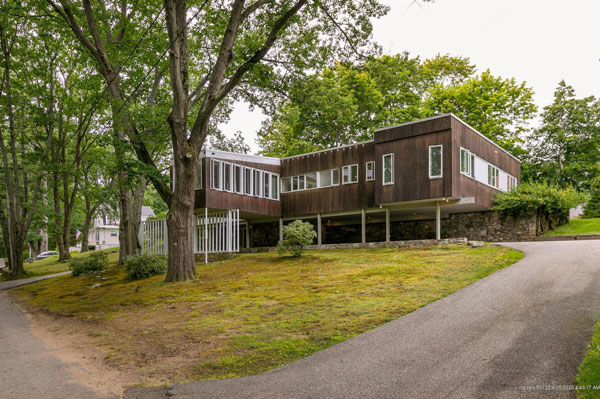 It has been updated, but Marcel Breuer's Potter House in Cape Elizabeth, Maine, USA being up for sale is still a big deal.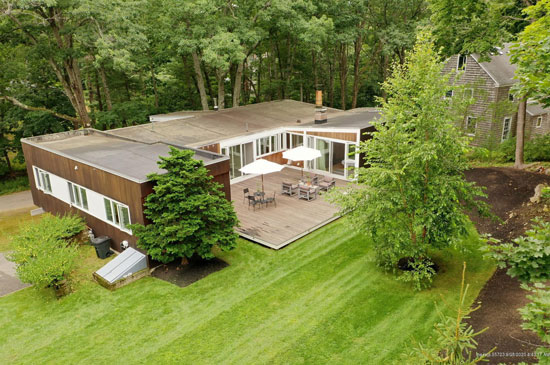 Any Breuer design going up for sale is a big deal. He's a modernist icon and his houses are to be cherished. This one has been updated, but thankfully, most of the original and key details remain in place.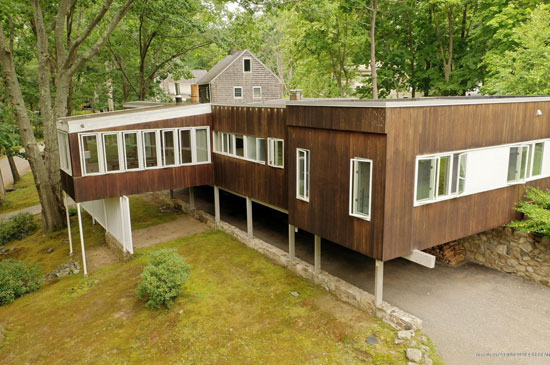 It's a forward-thinking piece of architecture, that's for sure. Think about it – this house was designed and built in 1949, but even today this is still a bold piece of design. A clever one too.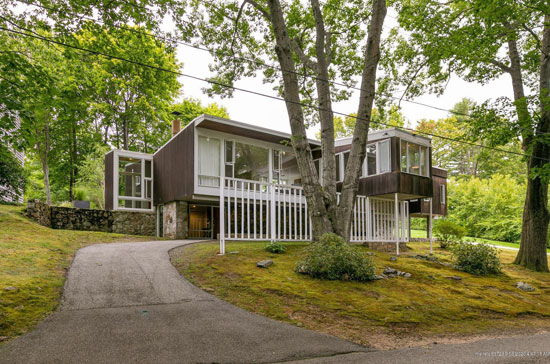 It is also a house that works with its setting, being a part of it as it nestles into the sloping plot, the wood cladding only adding to the impact and the scenery. This is a statement house.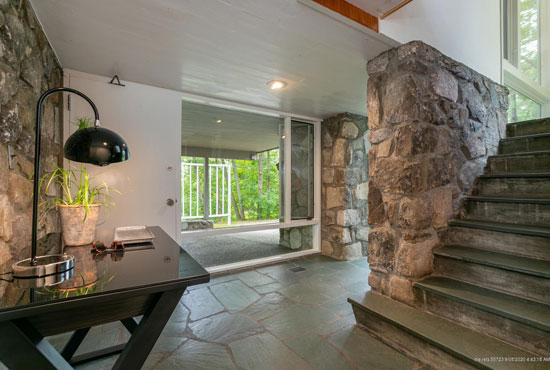 That's before you get to the actual design, floating on that stone platform with rooms overhanging beyond it. Remember that stone, there's more of it later. Not that you can see it from the war, That's all about the entertaining space, accessible from all sides of the house. I'm always excited about a house that you can drive under too. No idea why. It just seems futuristic.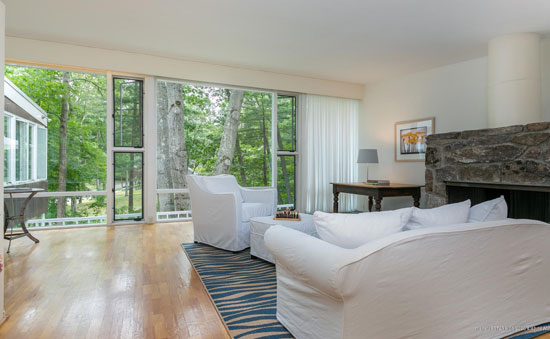 At first glance, you would expect this to be a time capsule from that original era. So did I. But it isn't. That's either a plus or a minus, depending on how many modern-day comforts you like in your modern(ist) home.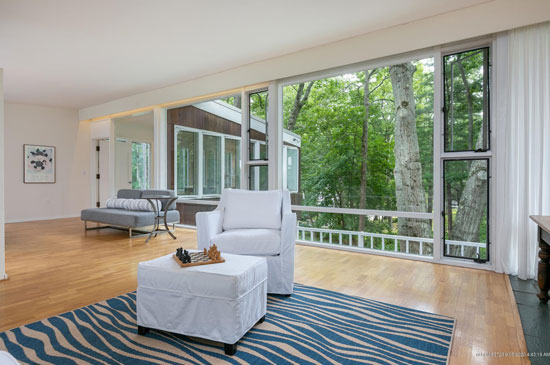 Not that it has been completely overhauled. Far from it. There is plenty of original detail in this one. But for me, it probably needs more of the mid-20th century putting back in. That's not a criticism. Everyone's home is their own to do with as they please. But some midcentury modern furnishings and fittings in this one will really set it off.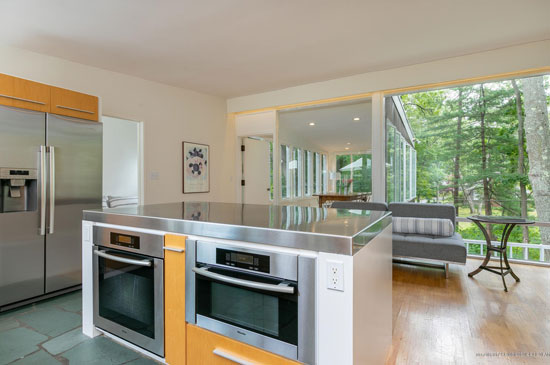 After all, you still have those internal stone walls inside, not to mention some original flooring, full-height glazing, exposed brick and a likely original fireplace or two. The backbone of this house is just fine.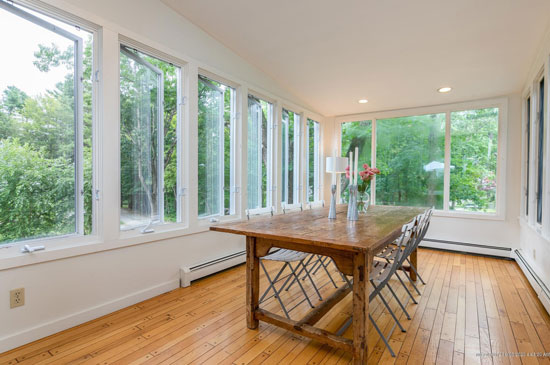 Outside of that, you probably noticed the modern-day kitchen and the nettle finishes throughout. It would be lifted so much more with some more daring design and colour. But that's down to whoever decides to buy this one.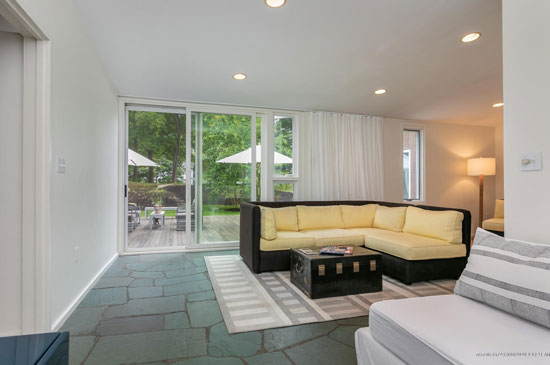 This is a house that offers plenty of living space too, which you might have guessed. That's down as 2,850 sq. ft. on a plot of just under half an acre.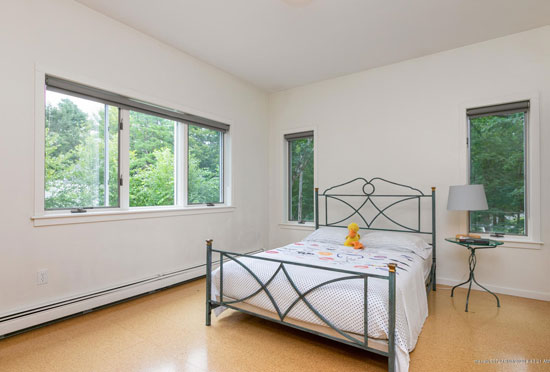 Space includes three bedrooms and three full bathrooms. Also present are three bedrooms (one being the master bedroom), a family room, the modern kitchen area, a dining room, an office, laundry and the interestingly-named 'mud room'. Walk-in storage as well.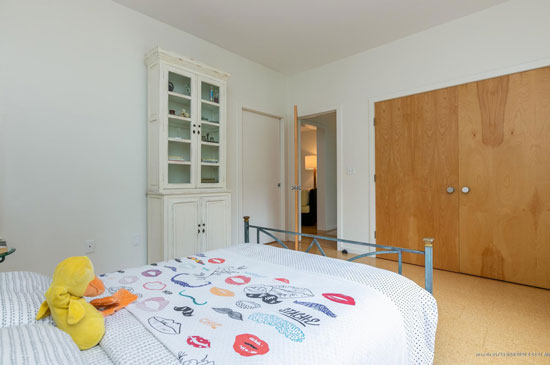 As I said, half an acre outside, but before you take that in, have a look at that entertaining area/Brazilian hardwood deck in the centre of the house, sheltered from three sides and accessible from those same sides too. Beyond that is lawn and trees that shelter the property.
Location and architecture mean this isn't cheap at $1,149,000, but it's an amazing house regardless.
Images and details courtesy of Caldwell Banker. For more details and to make an enquiry, please visit the website.