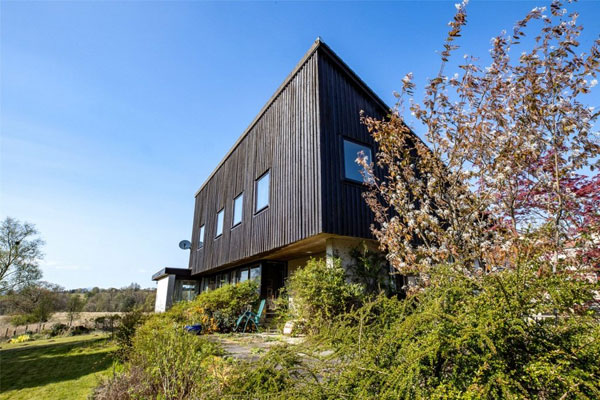 Pitched as a renovation project, this 1960s Donald Downie modern house in Killearn, Stirling, Scotland has so much potential.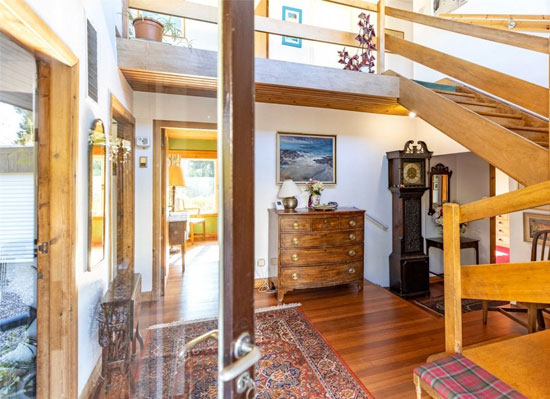 Not that the update is a done deal. The agent points out that the house is in 'move-in condition' but some renovation might be required. I can't disagree.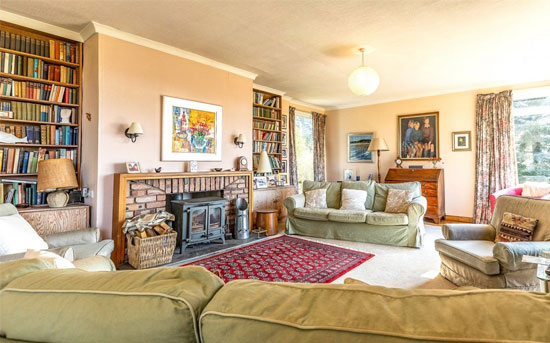 At the moment, the house is a mix of desirable period details and some areas that might need to be updated or reworked. Of course, the jewel in its crown is the bold architecture itself, which is stunning.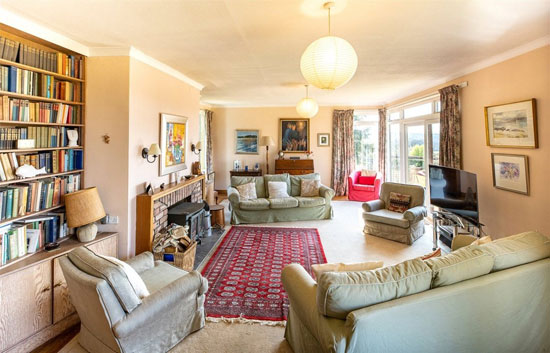 That angled, wood-clad exterior really is something and although parts of the exterior might be looking a little tired, it's still a profile I wouldn't think of changing.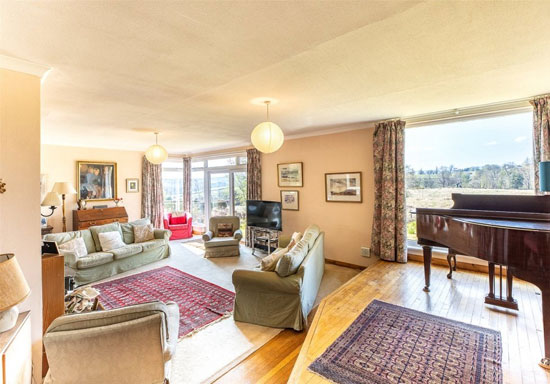 If you want to update, there are plans in place to modernise the house with an eye on creating more of an open-plan living space, adding a new family dining kitchen and a replacement double garage.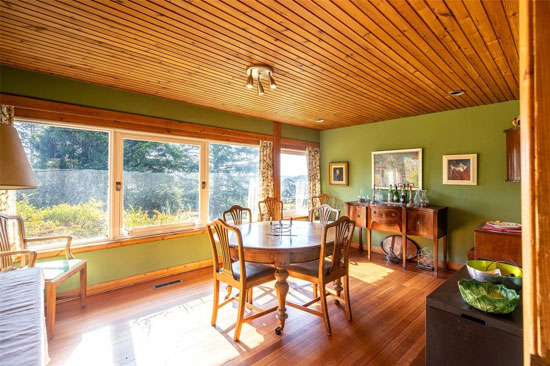 See the listing and the agent for that. There's even an artist's impression of a newly-refreshed exterior on there too if you want to see what is proposed. But for now, let's look at the house we have.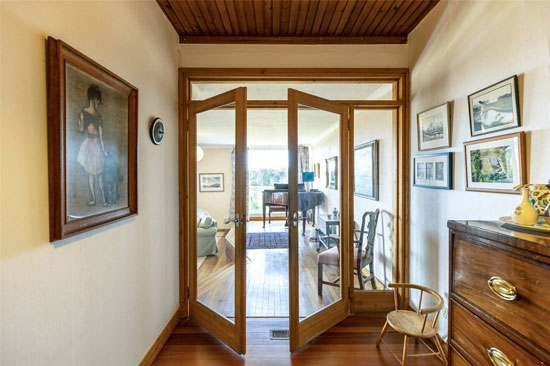 It's a property that sits in the sought-after area of Drumbeg Loan in Killearn, which is around 15 miles north of Glasgow. This house also has a wonderful position just by Killearn Glen, with views towards Ben Lomond and Dumgoyne. Picturesque, but not far from the big city. Not a bad place to be.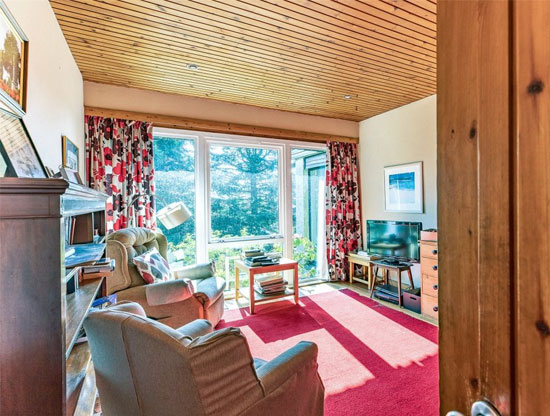 Even better when you get this house to wander back into as well. As I said, a 1960s build and the work of Donald Downie, it's a house that looks untouched over the majority of its floor space. But not entirely.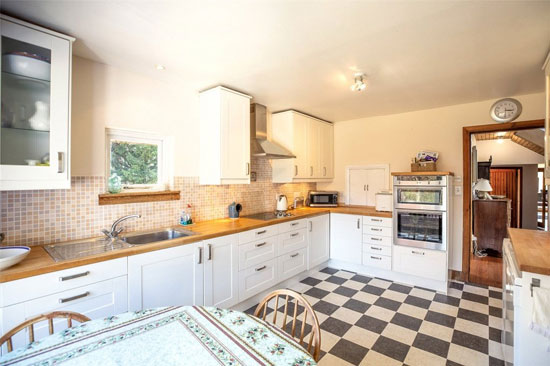 Some rooms need freshening up, whether that's in terms of decor or furnishings. Others might need a complete rethink. The kitchen is modern, but I'm not sure it's quite in keeping with a bold modernist design. The bathrooms probably need something more contemporary too.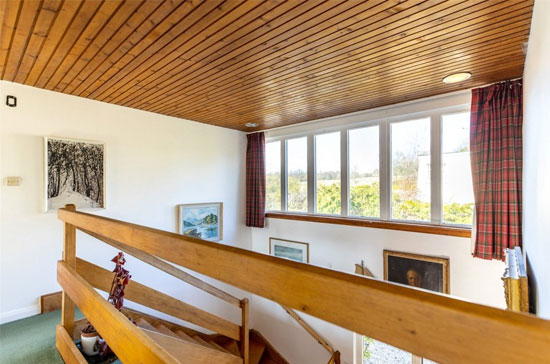 But so many details to work with here, The original wooden floors, the interior glazed doors, the wood-clad ceilings and the staircase and landing for example. All packed with midcentury character. Whether you go for the modest update or the more extensive package, please make sure you look after those. The house would lose so much without those details.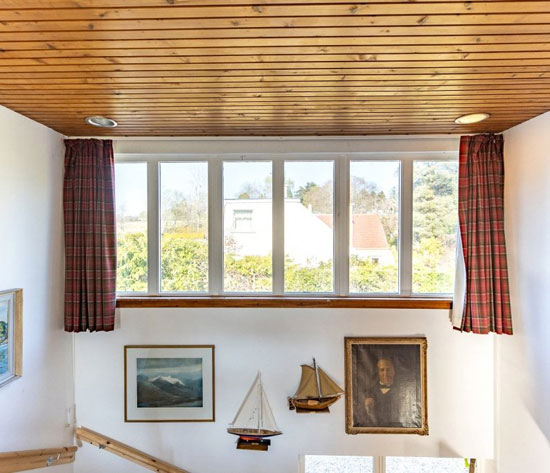 As it stands, the house is laid out over two floors, with a double garage just away from the property. Quite a complicated layout right now, which is perhaps why there is a push to go more open-plan with this one.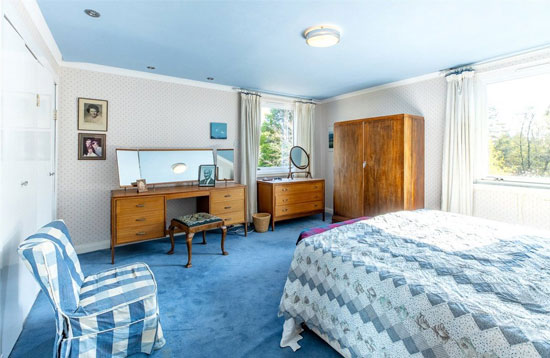 A reception hallway leads to a further hall, which in turn takes you to the extensive lounge space. Behind that is a family room and beyond that is a dining room. The ground floor is completed by the kitchen, a utility and a downstairs WC.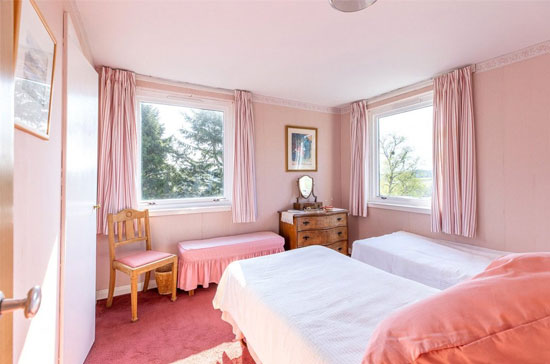 On the first floor is a total of five bedrooms, as well as a couple of storage areas, a bathroom and a shower room. There is quite a large hall space upstairs too, with views over the bannister out of the window and beyond. A nice place to ponder life.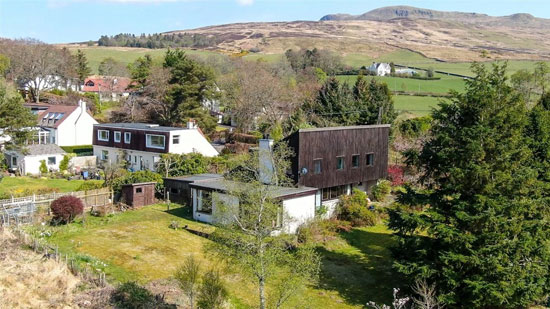 The plot looks large too, mainly to lawn and again, perhaps in need of a little tidy up to bring it back to its best. But again, not a huge job there.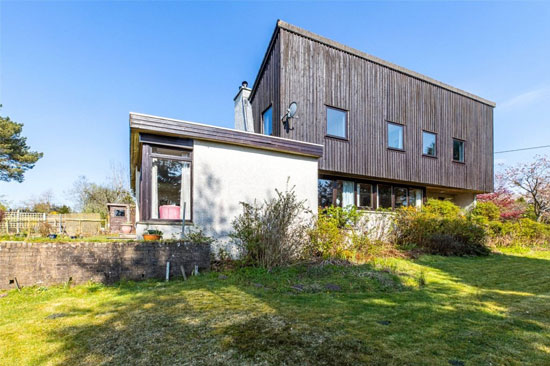 Fancy it? if you do this one is up for sale for offers over £450,000.
Images and details courtesy of Rettie. For more details and to make an enquiry, please visit the website.