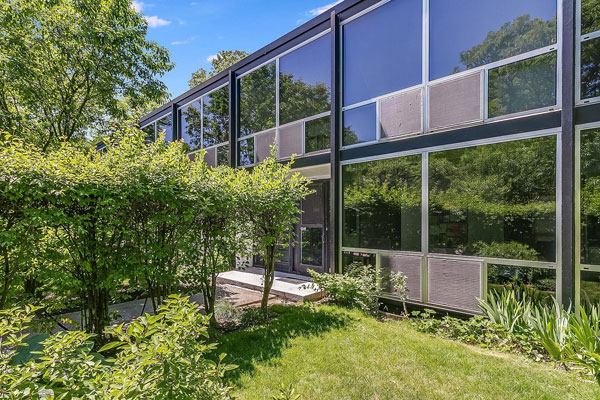 They have gone up in price in recent years, but this 1950s Mies van der Rohe modern townhouse in Detroit, Michigan, USA still looks great value.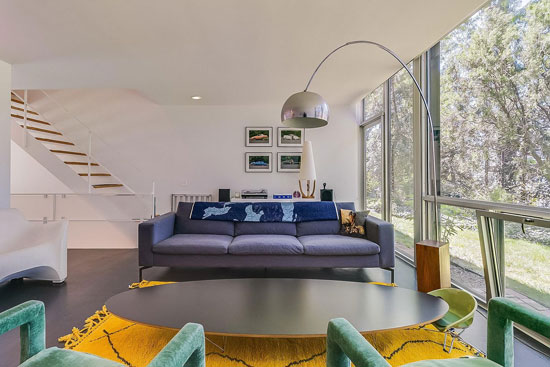 As you might be aware, Lafayette Park was a forward-thinking development dating back to the late 1950s, with Mies van der Rohe producing designs for affordable modernist architecture that really has stood the test of time.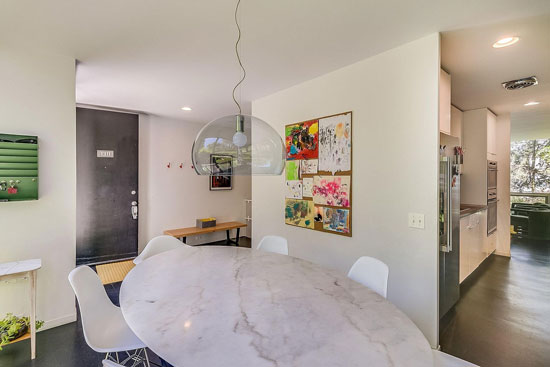 In fact, if designs like these were proposed today, they would still be seen as fairly radical. What went wrong in 60 years? I really don't know. But I do know that these houses have steadily grown in value due to the area having something of a lift and the architecture being re-evaluated and rediscovered in recent years.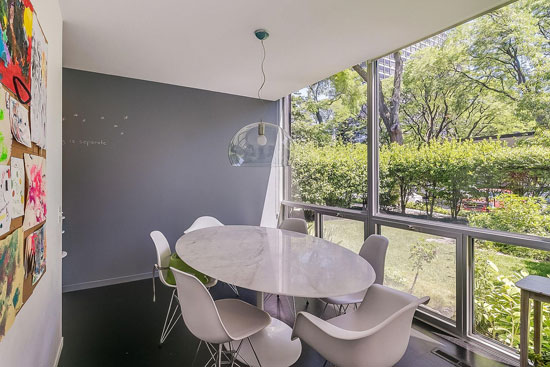 The first of the ones I featured was at $225k, but just a few years prior to that, these houses were changing hands for something like $80k-$90k. If only we had known then what we know now. Although that's pretty much the case for the housing market in general.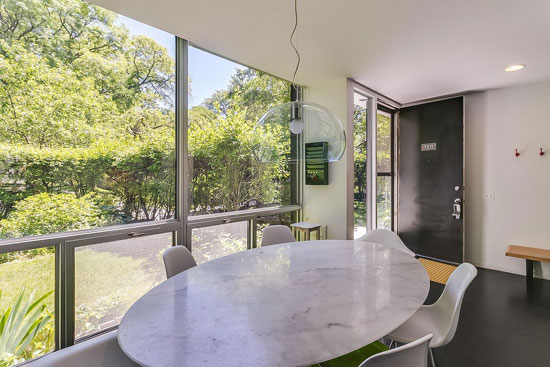 But even now, this is still relatively affordable modernism, although you would have to be looking in this particular area for it to be the right option. I can't see people moving countries for this, however cool and affordable it is. If you are – or you just want to know more for future reference – please read on.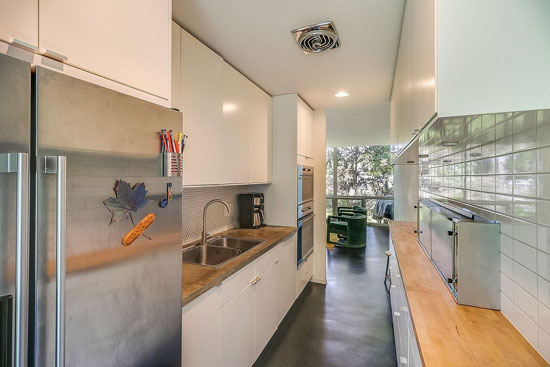 The one here has updated, as you might have noticed. The houses here are often in a spectrum, ranging from untouched to updated in a fairly basic manner through to a full-on renovation. This one is at the renovated end of the market. Modernised as much as you can really.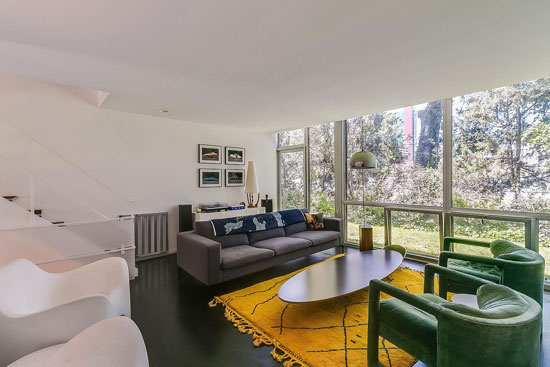 But the house hasn't lost sight of the original design. The layout is pretty much like all of these houses. So full-height windows, an open layout, open-tread staircase and accommodation over three floors. The finish is more contemporary, but that's about the only change.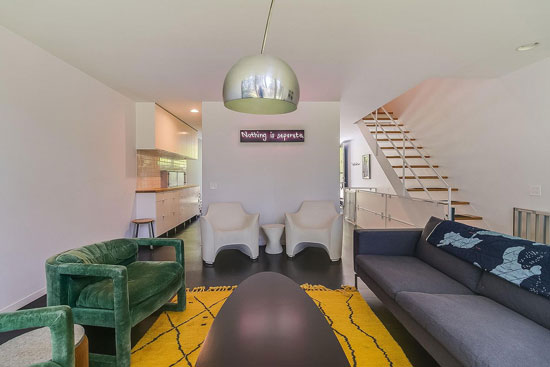 So enter in and you are greeted by the reception room which opens onto the galley kitchen, with more reception space across from that. Note the updated kitchen and the trademark staircase. Like the Kartell light fittings and the colour scheme as well.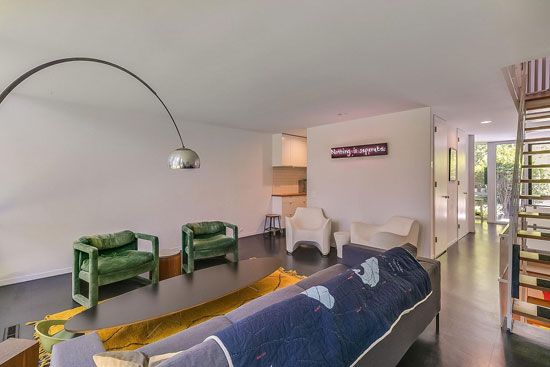 Head down the stairs and the basement offers a family room as well as a separate laundry and storage area.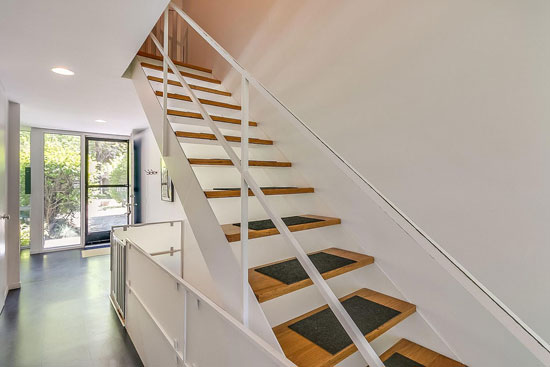 Go upstairs and you will find a custom artist mural in one of the bedrooms as well as custom storage in the master bedroom. Two bathrooms serve this one too. All with the sale level of finish as the downstairs space. Someone with an eye for design has got their hands on this one.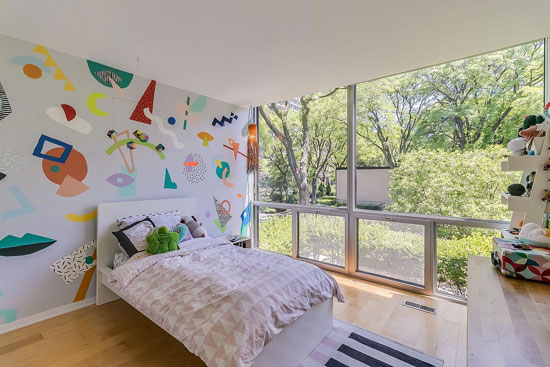 It is also worth noting that the development is run as a 'co-op'. You pay an association fee and you get plenty of benefits, such as building and grounds maintenance, security, water, 'basic' cable TV and the internet, window washing, insurance, trash pick-up, snow removal and much more. If it's a reasonable fee, that is another big selling point.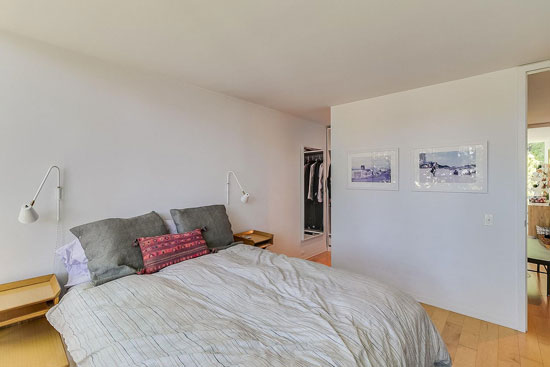 So much to appreciate with this one, especially with the finish. The price is $395,000, which is definitely the top end. But that still only works out at £321,000. If these were well-located in a UK city, the price would be far, far in excess of that.
Images and details courtesy of Zillow. For more details and to make an enquiry, please visit the website.