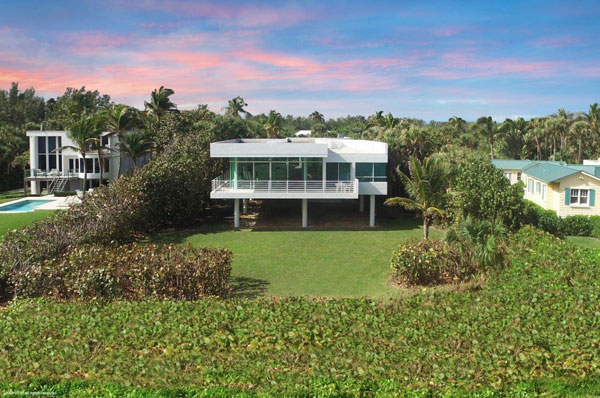 Not by the great man himself, but this is a Le Corbusier-inspired modern house in Hobe Sound, Florida, USA. Pretty stunning too.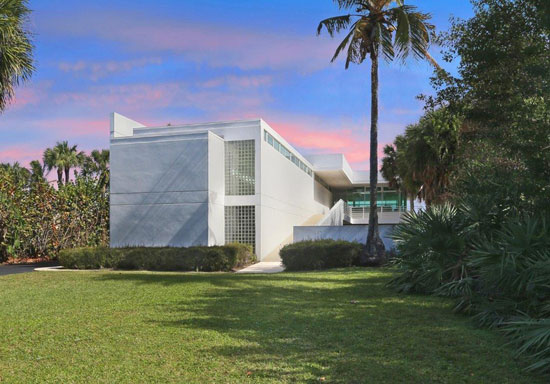 The architect is actually local, namely Albert Alfonso, who designed this place back in 1995 and taking inspiration from the work of Le Corbusier.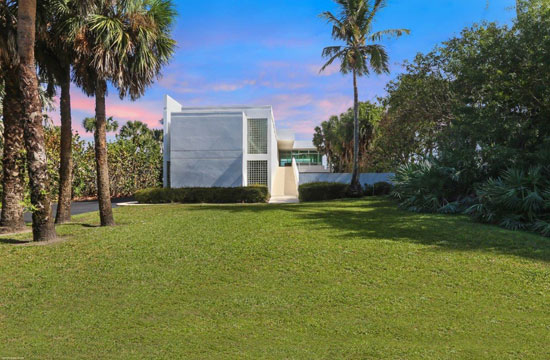 You can probably see it. Not exactly a replica of Villa Savoye, but the look and feel is reminiscent of Le Corbusier's work, albeit with a distinctly 1990s/contemporary feel and finish within.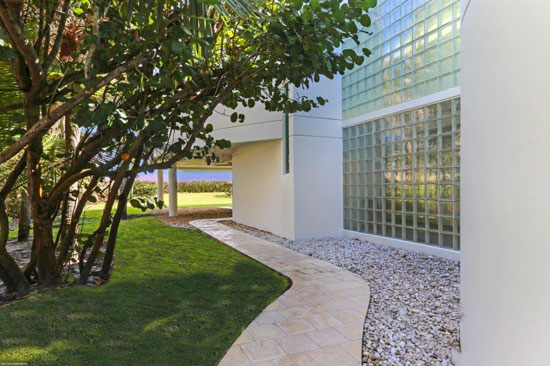 The location is ceetainly a 'wow' factor here. This house sits in a good-sized plot that runs right up to the beach front. You get an acre of land and that spot on the beach means some amazing views courtesy of both the walls of glass and the terracing, both of which are a key part of this design.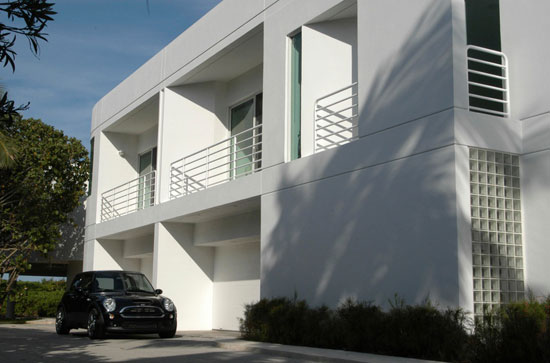 As for the house itself, well that's the kind of angular 'white box' that all too often can sum up modernist design. As I said, this is more a tribute than a groundbreaking piece of architecture, but a lovely one regardless.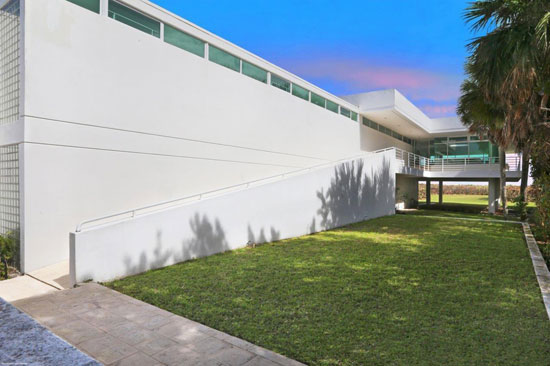 I'm quite fond of the rear of the property, which is starker and with glass brick walls and a ramp from the main living space to the greenery at the back of the house.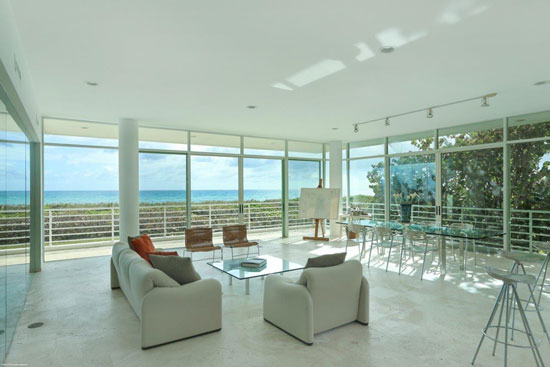 But it is from the front where you can see the real merit of this one. Raised up (perhaps both for practical and stylistic reasons), it offers walls of glass from the reception, a large terrace and of course, open living space and a clean, what finish throughout. Almost clinically white in fact.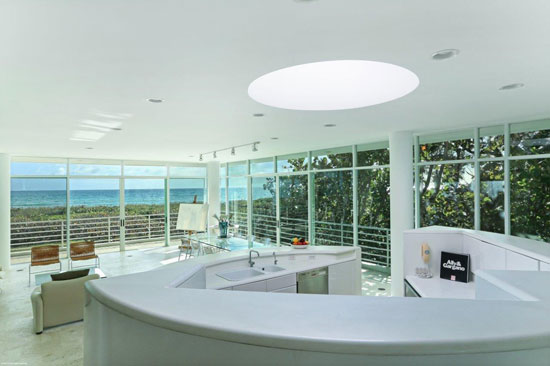 Oh yes, a rooftop terrace too, which isn't obvious from the photos but is listed on the floorplan.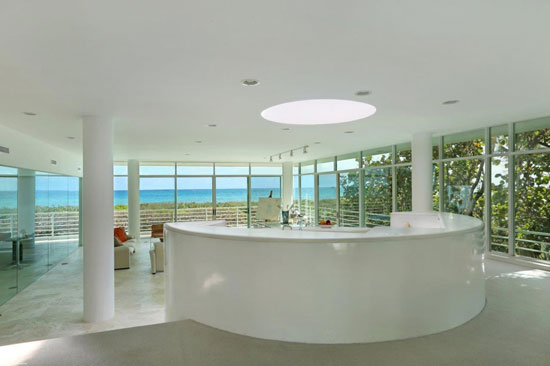 Talking of the floorplan, the lower level offers what is described as a 'covered area', along with a hallway, 'work area', storage and exercise room and a four-car garage. Functional space if you like.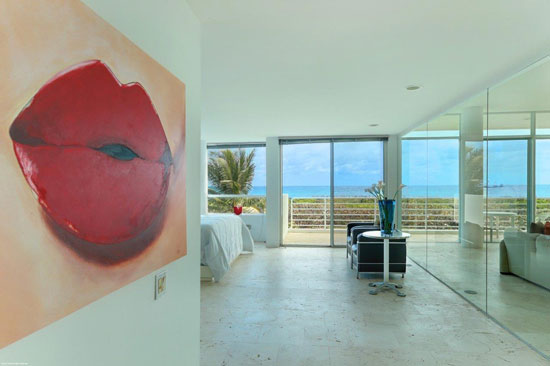 Head up to the main level and this is where is gets complex. the dominant space here is the open-plan reception, which is made up of a dining area, great room and family room, with a kitchen area at the centre of it all.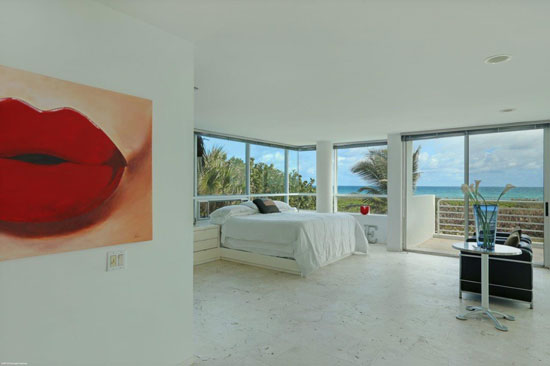 That all has access to the main wraparound balcony, as does the master suite with walk-in closet and bathroom, which is just along from the reception.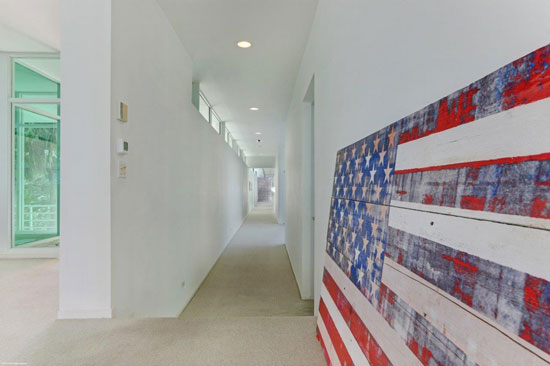 Further back and accessed by a gallery is the study, two further bathrooms and a utility, as well as three further bedrooms, each with their own mini balcony areas. Finally, that rooftop terrace I mentioned.
Apparently this is 'only 30 minutes' to Palm Beach airport should you be looking for a very pricey holiday getaway. Originally offered at $4,795,000, it is still on the pricey side despite a price cut. It is up for sale for $4,395,000.
Images and details courtesy of Zillow. For more details and to make an enquiry, please visit the website.