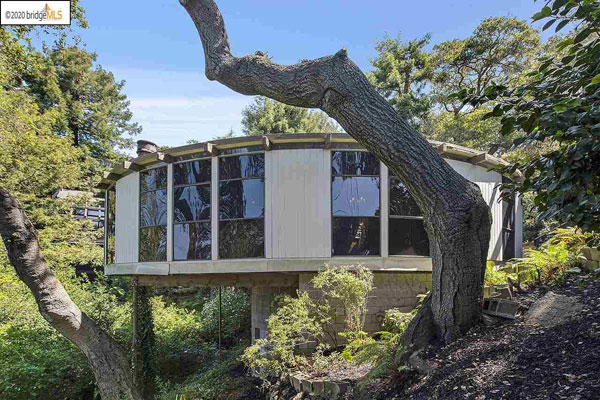 Not just a rare design. This 1970s Leon Meyer Round House in Piedmont, California, USA is up for sale for the first time.
Huge thanks to Nancy Kate Grayson at MCM Real Estate on Facebook for this and throwing in a bit of background too, as the agent offering very little on that front.
The Round House wasn't a one-off. This was one of a series of bold circular designs from Leon Meyer from this era. 30 were actually constructed (although I suspect a good number may have fallen by the wayside) with this one being house number eight.
As I said, this is interesting because of its rarity but also because this house has never been on the market since it was constructed back in 1972. You know what follows from that. Yes, this does take us into time capsule territory.
I'm looking but I am not seeing any major changes to this one of late. The agent has some photos of the house 'dressed' with furniture and mentions some kind of rework in 1975. But outside of that, any changes are 'tweaks' rather than significant changes. This is likely to be the Round House Leon Meyer designed almost 50 years ago.
Of course, you will need a love of something quirky and something midcentury modern for this to work for you. It's probably a tough one to maintain too in light of that quirky design. But despite all of that, I suspect this house will shift very quickly. It's an interesting design and a great project for someone who wants a 'retro' house. But it comes at a price. Which I will come to later.
Let's talk about the house first, which has a hillside location that has grown around the house a little since it was but. At least, that's the idea I get from the artist's impression of the original house on the listing.
Great views too via the floor to ceiling glazing. That elevated setting looking out over the buildings and out to the waters beyond. Pretty much a 'picture postcard' to enjoy each and every day.
That curved reception with the glazing and beams is something special, as is the original fireplace at the heart for the room. the right furnishings and this is the midcentury modern dream.
Beyond that, let's talk the circular staircase at the centre of the house, the original kitchen, wood walls, those rather interesting internal doors and the curves within all of the main accommodation. That tropical mural is impressive too but to everyone's taste.
It just needs someone with an eye for design to come in, add some period character and bring the house back to life. As opposed to someone who rips out the interior of this one and leaves it a rather soulless space. Albeit it an interesting frame.
As for living space, that is around 1,927 sq. ft. in total, which obviously includes that dominate reception area and the original kitchen plus four bedrooms and two bathrooms. There is an unfinished basement too, which could have potential.
There is also outside space, which you may find surprising. But includes car parking for a couple of vehicles in the detached garage and some outdoor seating space as well. The plot covers something like 9,983 sq. ft. overall.
Quirky house, pretty of space, great location. No bargains here with an asking price of $995,000.
Images and details courtesy of Zillow. For more details and to make an enquiry, please visit the website.