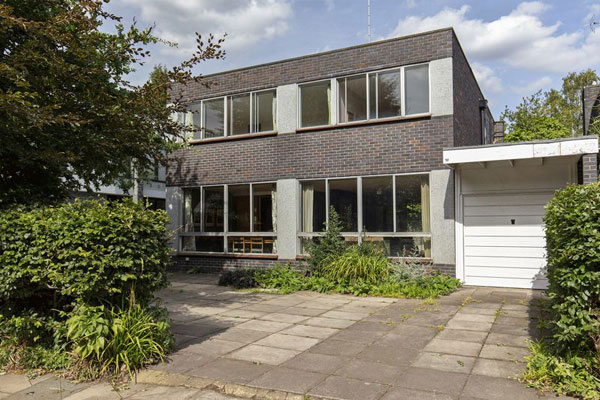 Amazingly, this is the first time this 1960s modern house in Kenwood, London N6 has been offered for sale in over half a century.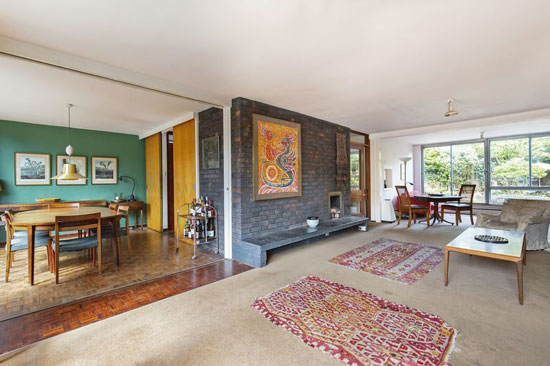 Whether that means it's a first time on the market isn't clear. The house dates back to 1960 so unless it was built and sold in fairly quick succession, it might well be the first time it has been made available for sale.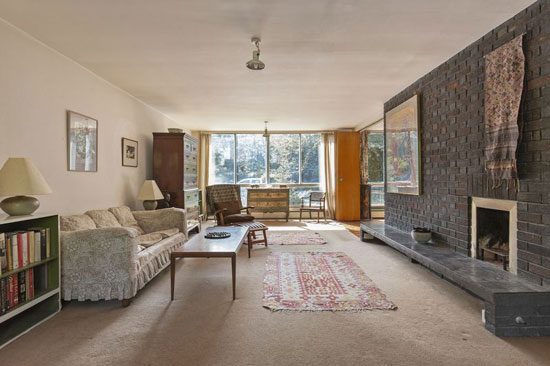 Not that it matters. What matters is the architecture and for me, this is something rather special and as you can see from the imagery, a house that has been barely touched over the decades.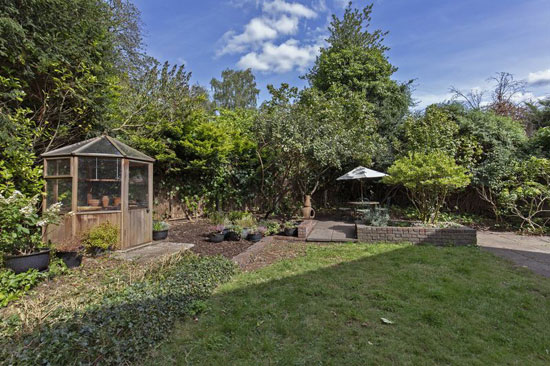 That's a positive for me and maybe you, but maybe not for the target market. The house sits in a desirable area in a large plot and the uniqueness of the architecture is likely to be both a selling point and a potential downfall. The agent (quite rightly) suggests that the house has 'scope for re-modelling and extending', which it does in light of that plot. But you do worry that a house of this character and style may well be lost forever in the process.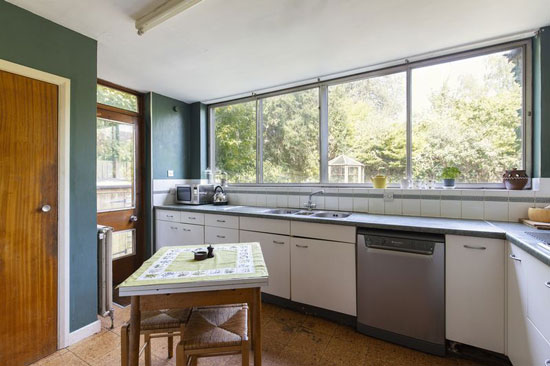 Hopefully, that's not the case and someone falls in love with a house like nothing else around it.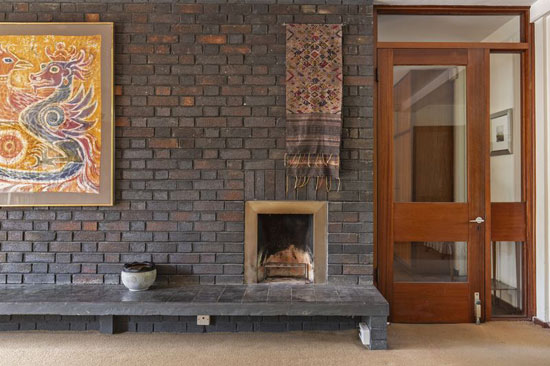 Unfortunately, I haven't been able to find an architect's name for this one, but whoever it was created a statement piece of modernism back in the day. A 1960s (and rather angular) take on an early 20th-century modernist design. Render this white and you might have it down as a 1930s design.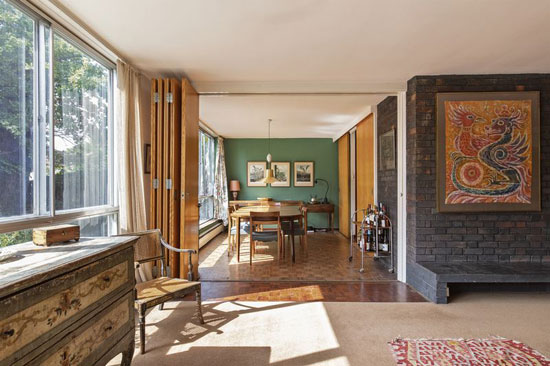 But '60s it is, with the brick exterior very much of that era, broken up by walls of glazing that should guarantee plenty of natural light within. Once inside, there really is no mistaking the era.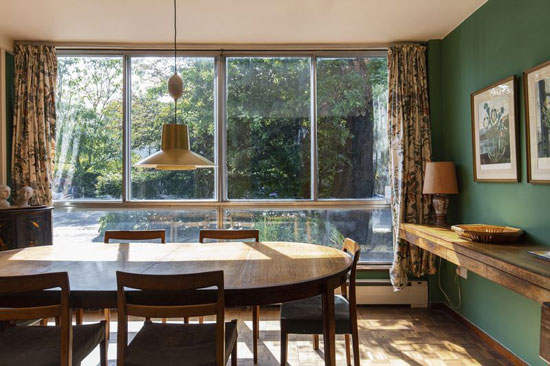 So much to appreciate in the finish here. The walls of glass I already mentioned, but also the open spaces, the exposed brick, the distinctive and original interior doors, sliding doors to break up (or open up) the layout, parquet flooring, some wood-clad ceilings and built-in units and of course, that spiral staircase, a trademark of the era.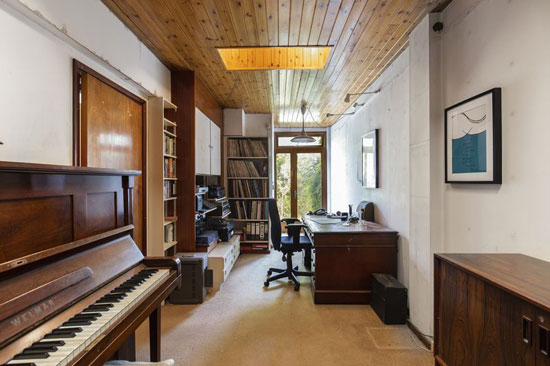 A time capsule of the era? Not quite, but not far off. It looks like the kitchen is a relatively recent upgrade and a couple of fixtures and fittings have been updated too. But not much else. This is as original as they come in this part of the world.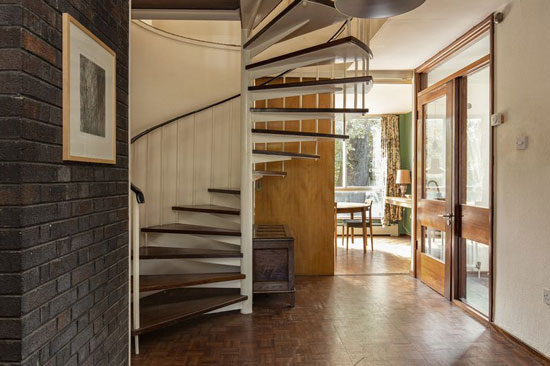 It isn't short of space either, even before you consider the option of adding some. Arranged over two levels the ground floor has a 'spacious' reception/dining and entertaining space that looks great for a party of gathering.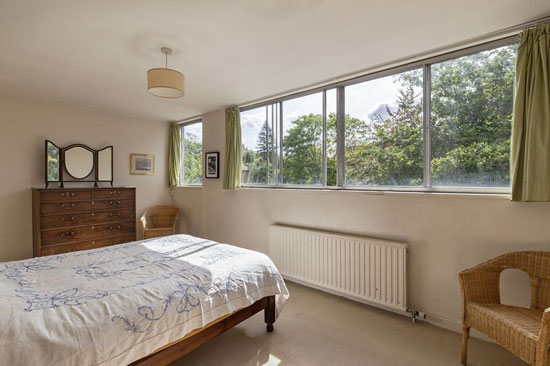 When you don't have as many people around and want some privacy, the partitions can seal areas off. Love the exposed brick wall and fireplace too, very much of the day, although that is likely to be more appealing to the eye than of practical use in the 21st century.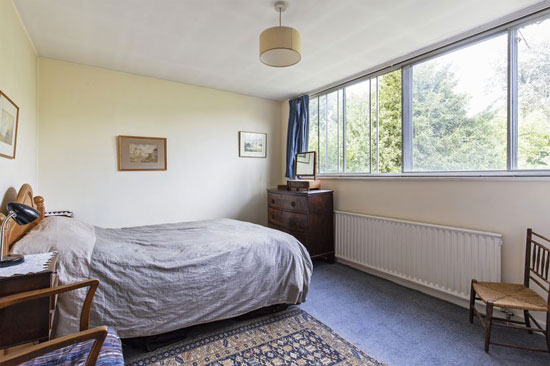 Also on the ground floor is a separate kitchen, a study area, the guest cloakroom and access to the garage.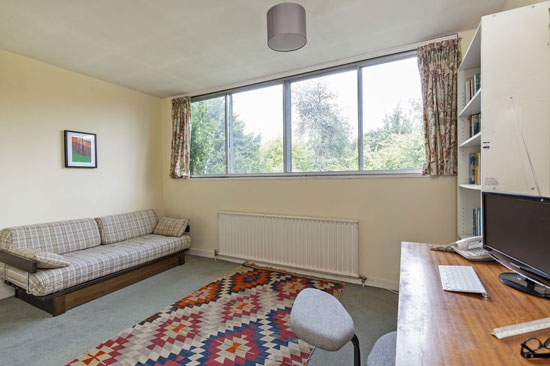 The upper floor is pretty much the sleeping accommodation, with the benefit of claiming that spiral staircase each night to get to it. The first floor has four double bedrooms, including a master bedroom suite with dressing room and en-suite bathroom, as well as a separate family bathroom and a utility room.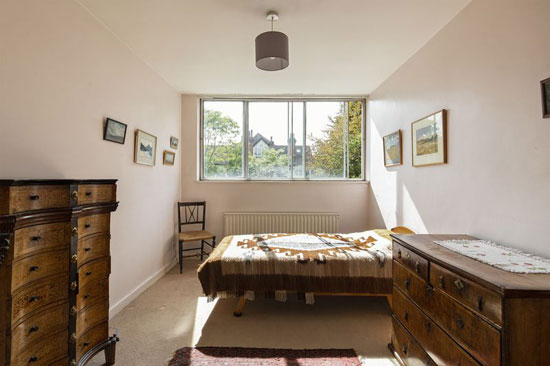 The outside space is also worth talking about, with a 'very private' rear patio and garden and off-street parking for several cars. The front is just paved and not much to write home about but the rear garden looks like quite a substantial space, shielded by trees and a mix of lawn, plants and a seating area.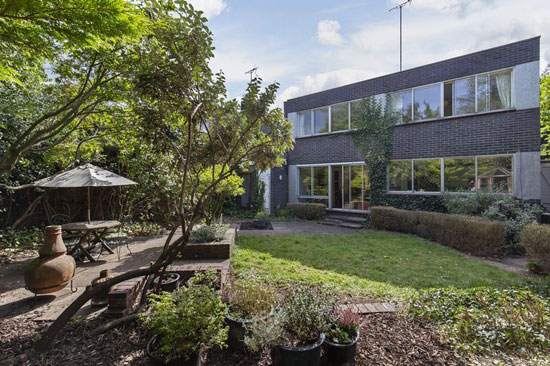 As I said, this is a sought-after area and a premier road in the Highgate area, so regardless of the house, it would not come cheap. Some statement architecture and a large plot push that price up even further.
If you want to secure this one, you are looking at something in the region if £2,500,000 and the house is available chain-free.
Images and details courtesy of Litchfields. For more details and to make an enquiry, please visit the website.