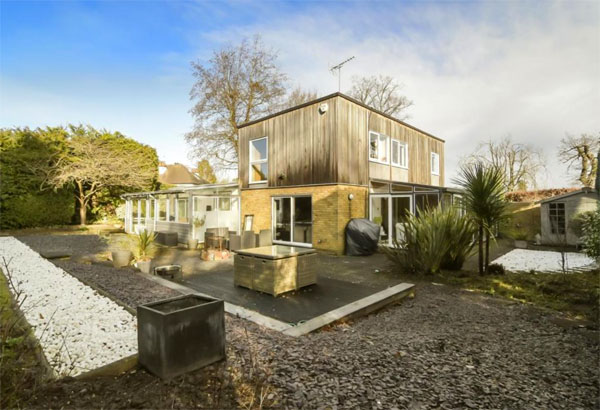 Thanks to everyone who informed me about this 1950s modern house in Harpenden, Hertfordshire, which is on the market right now.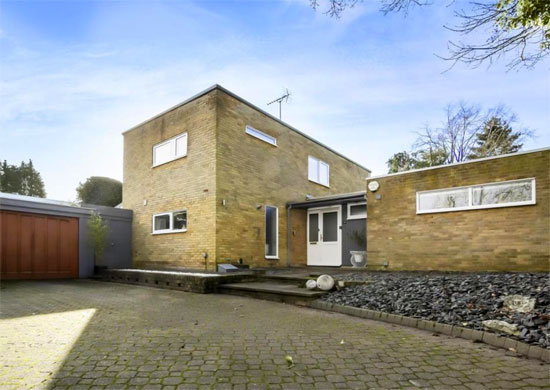 Yes, a few of you got in touch about it and got good reason. This is a very cool family home, packed with original details, but without being trapped in the past.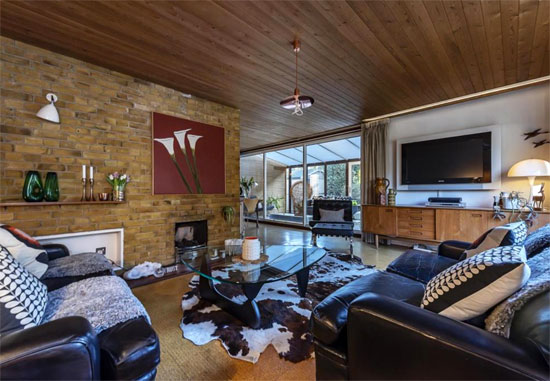 According to the agent, this was an individually-designed home based on the functionalist style of architect Alvar Aalto, although obviously not overseen by the great man himself.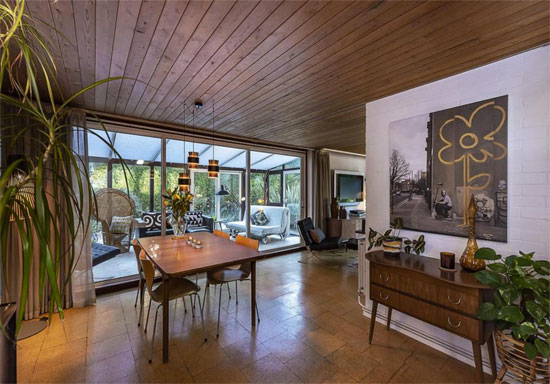 In other words, angular modern architecture and back in 1959, likely to have been quite a design statement in the Harpenden area. Even today this is a design that catches the eye.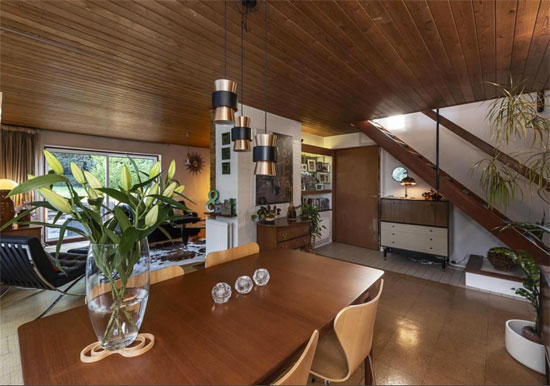 It caught my eye both inside and out. When I see a house like this I do tend to be wary of looking beyond the front door. All too often the character has been sucked out of designs of this period. Modern finishes, bland white walls, you know the kind of thing. Not so with this one.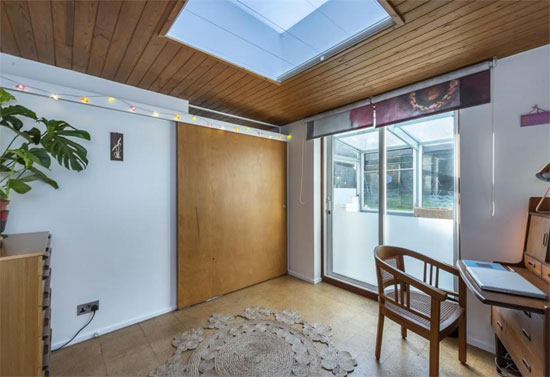 Not a lot of detail is given by the agent, but for my money someone has renovated this one, working with the key details and updating where necessary.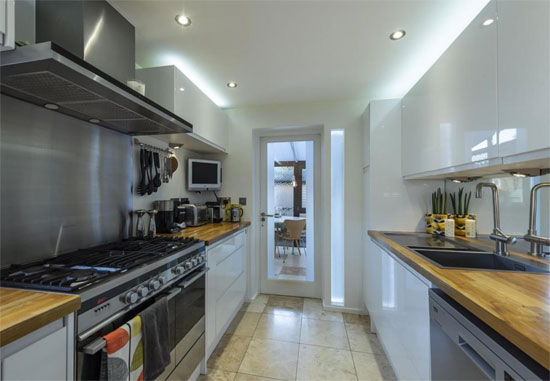 The end result is a house that should work for fans of modern architecture of the mid-20th century but at the same time someone who wants 21st-century convenience. It's a nice balance.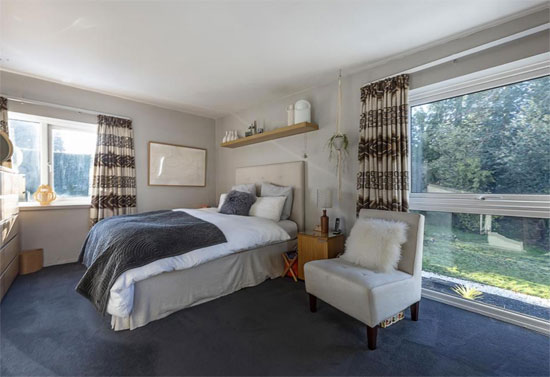 In terms of the originality, the angular architecture is the first port of call, but once inside there is so much more to enjoy. The wood ceilings, the exposed brick, walls of glass, the open staircase, some original light fittings for example, with support from a number of fixtures and furnishings that throw in an added layer of 'retro'. The original era is here for all to see. But not everywhere.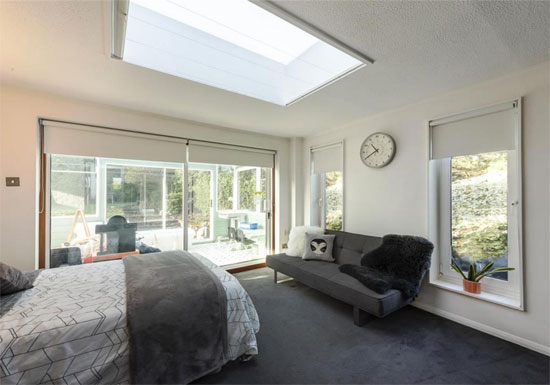 Beyond that, you will see some fresh finishes, a modern-era kitchen and modern bathrooms. Has it been extended or just part-modernised? It's hard to tell to be honest. Either way, it's a very stylish place to live.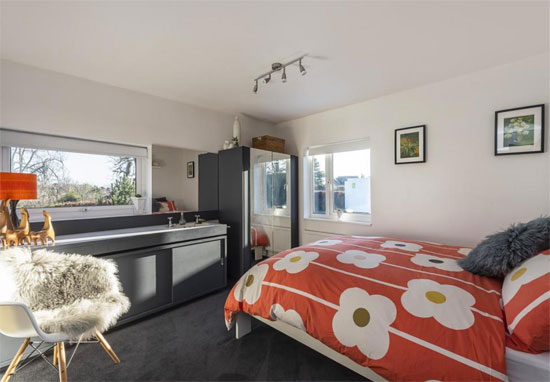 A good amount of living space too, with the majority found on the ground floor. If you head upstairs, that is reserved for three bedrooms and the family bathroom. The rest is downstairs. So you are looking at a magnificent living room space that flows into the dining room area and access that modern kitchen. Beyond the kitchen are a utility room and a large conservatory.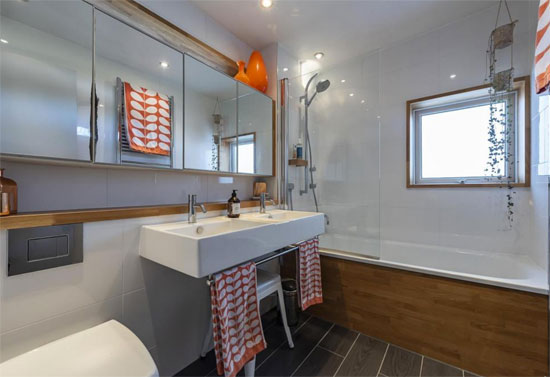 A second conservatory area is across the ground floor, which is also where you will find a study, a family room, the fourth before and a second bathroom space.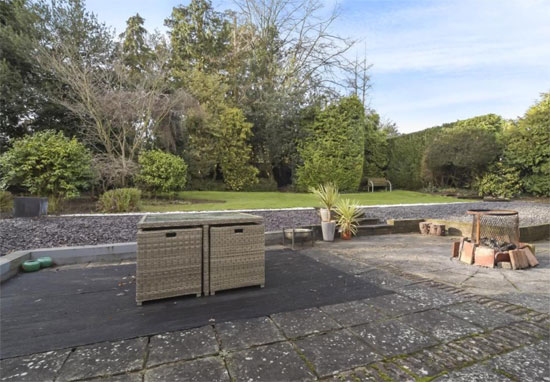 All of which is on a 'highly desirable road' and on a 'private mature plot' that looks as substantial as the house itself. Note that there is also a double garage and ample parking to the front of the house too.
A lovely place to call home but you will need something in the region of £1,750,000 to take ownership of it.
Images and details courtesy of Whittaker and Co. For more details and to make an enquiry, please see the listing on Rightmove.