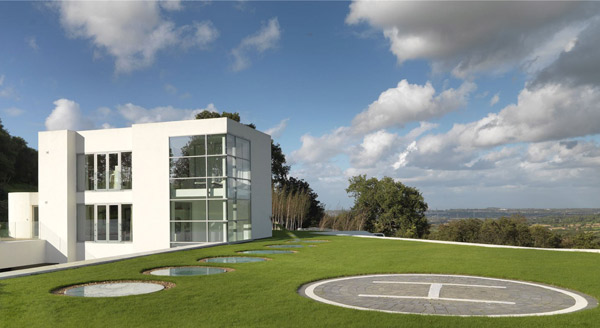 Featured this back in 2015, but the Steppingstone modern house in Helsby, Cheshire now seems to be available at a lower price.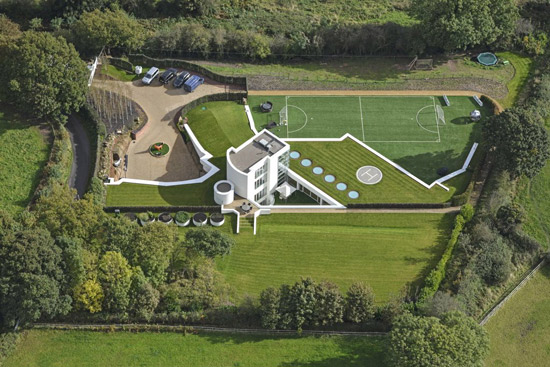 Not that it is a low price. This is lower, but still aimed at someone with a healthy bank balance. The kind of person who wants a modernist getaway and perhaps has a helicopter to get there. A love of football wouldn't go amiss either.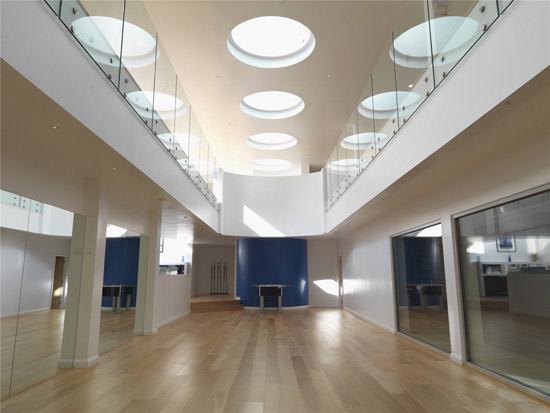 I'll explain all of that in due course, but for now let's talk about the house in general, which sits in two acres and was commissioned by the current owner, who wanted to create a 'discreet and unique private' family house in a contemporary style and in a stunning rural location. All those boxes ticked I think.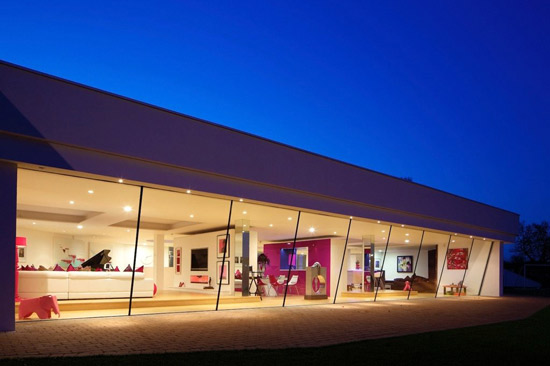 It really is quite something and perhaps best appreciated from the sky, where you can see how the house sits on and within that large plot, with both inside and outside space being talking points.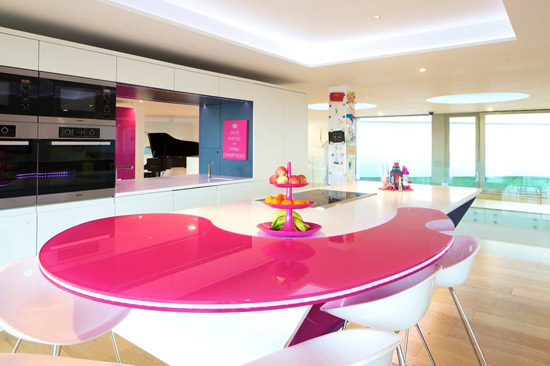 I'll start with the house and its interior first. The architecture is impressive, with the white structure and its heavy glazing putting me in mind of modernism of the early 20th century at first glance. But a second and third glance tells a different story. This is a house very much of the 'now', taking some clever design twists and turns along the way.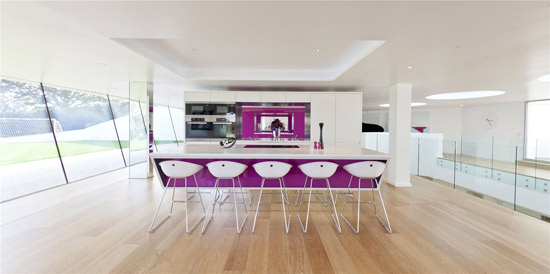 In fact, a 'substantial section' of the house lies beneath the original ground level for almost subterranean living.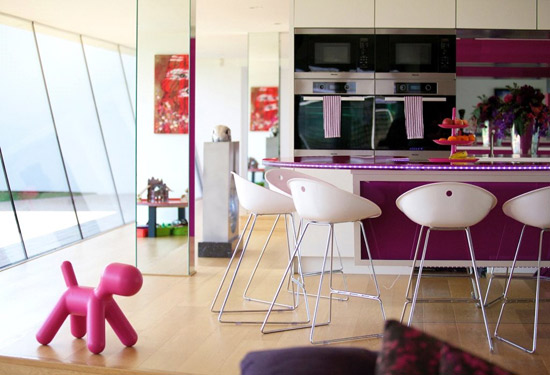 The use of technology is everywhere too. That includes keyless doors, some with fingerprint recognition, an audio visual system supporting various satellite feeds (one area of the house looks like a sports bar with its walls of TVs), Lutron lighting and natural climate control. This is the future, but available to you right now – at a price.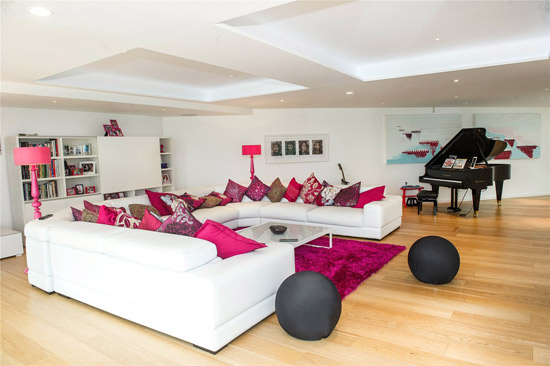 As for the layout, at ground level, the front door is 'discreetly positioned' and opens into a hallway beside the staircase that accesses the four floors of the main property.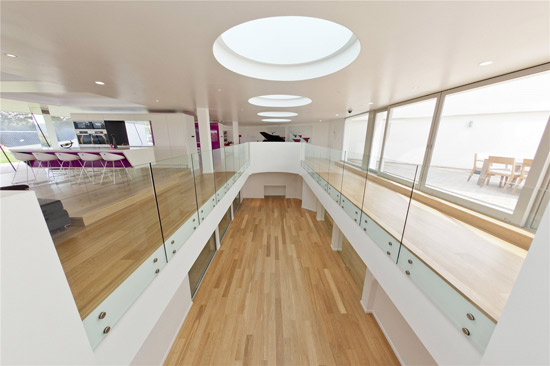 The main 'entertainment space' is courtesy of a large open-plan single room, divided by partitions into a series of individual 'rooms', each with its own character. Those include relaxed and more formal sitting areas, a dining room, kitchen and a music area, all benefitting from the floor-to-ceiling glazing and as such, plenty of natural light.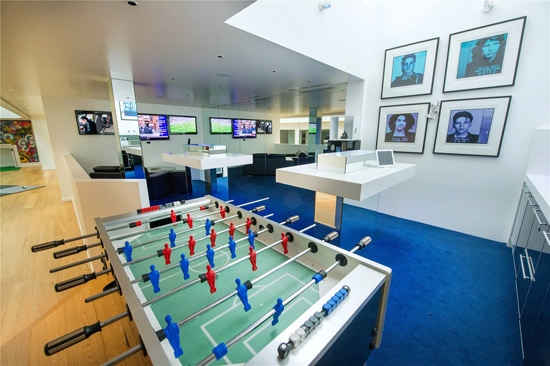 A second staircase leads below ground to the 'leisure' area, which includes that fully-equipped sports bar area with fridges, seating and multiple TV screens.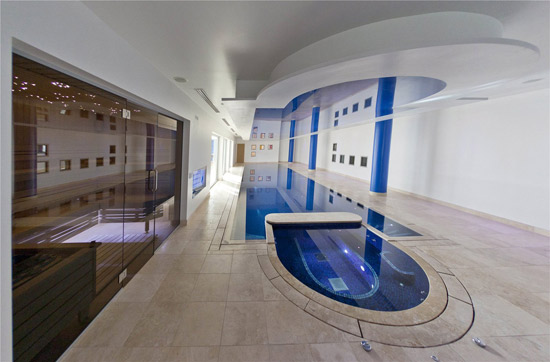 The bar overlooks an open hall used for indoor games such as cricket, badminton and football. Yes, it's that big. Running parallel to the hall is an eye-catching indoor pool with a sauna/steam room, along with a hot tub, changing rooms, and a gym. So buying this will definitely save you money on any ongoing gym memberships.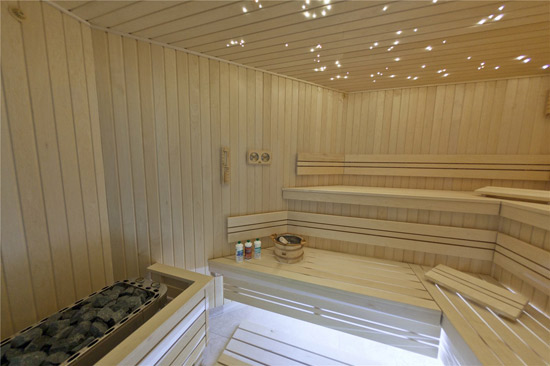 The bedroom area is split between a family area and guest bedrooms, which are on different floors. The family area is in the 'tower' over the first and second floors. The master bedroom is on the second floor, complete with an en-suite bathroom as you would expect, with the first-floor accommodation made up of two further bedrooms with en-suites.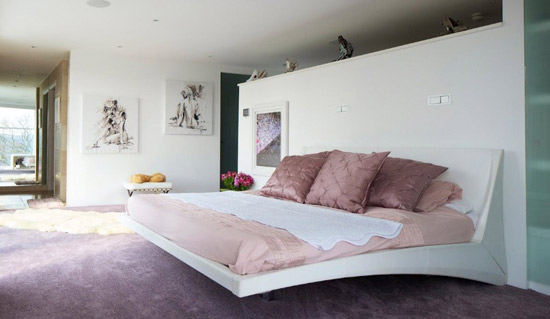 There is also a self-contained apartment on the lower ground floor, which has independent access and an opening onto a central below-ground courtyard. That apartment has a bedroom, a dressing room and a kitchen area. Finally, there are two more bedrooms on the lower ground floor, again with each en-suite bathrooms.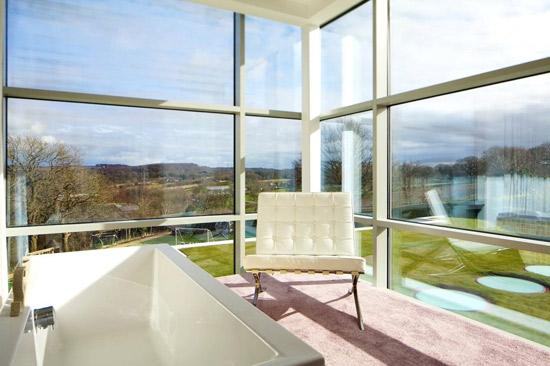 A part-glazed 'link' has access to additional garaging and a covered walkway takes you to the main garage block and a workshop. Finishing off the accommodation is a studio/office, should you want to work from home. If I lived here I wouldn't think about leaving for work. Although you might have to if you want to pay for it.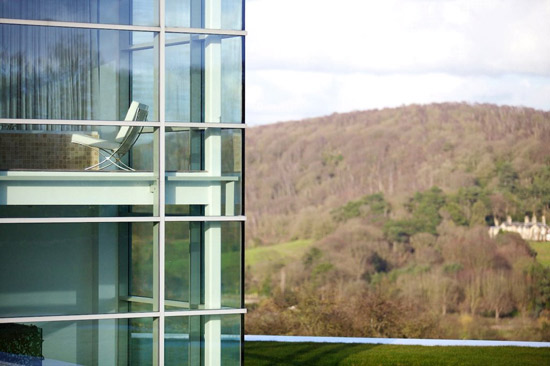 I mentioned the outside space too as it is rather special. The site has access through sliding electronic gates opening onto a block-paved driveway and forecourt and beyond that, access to the full two-acre site. Within that site, you will find your very own 3G 5-aside football pitch, a zip wire, an al fresco dining area, a hot tub and even an outside television.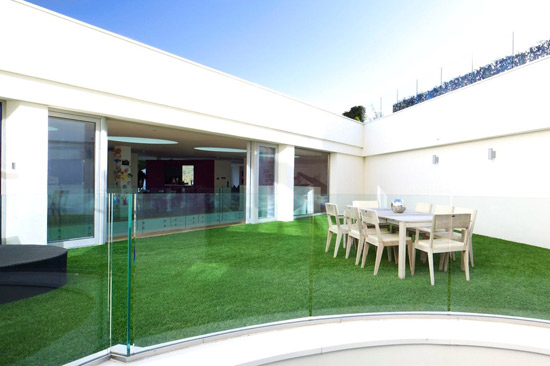 Finally, if you happen to be the kind of person who zips around the country via helicopter, you can land your very own with the top of the house able to be used as a helicopter landing area if you need one.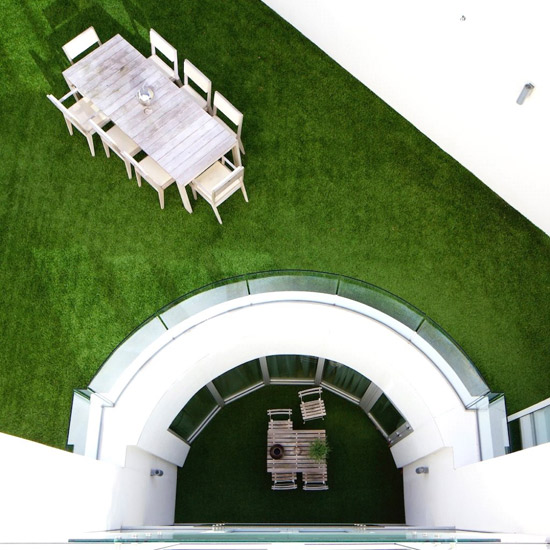 Quite something, I'm sure you'll agree. When it was first marketed, the house was up for £4,750,000. It has now been reduced to £3,950,000. Ok, still way out of the range of us mere mortals, but if you happen to have the money or have been on the receiving end of a windfall, this could be your dream modern getaway.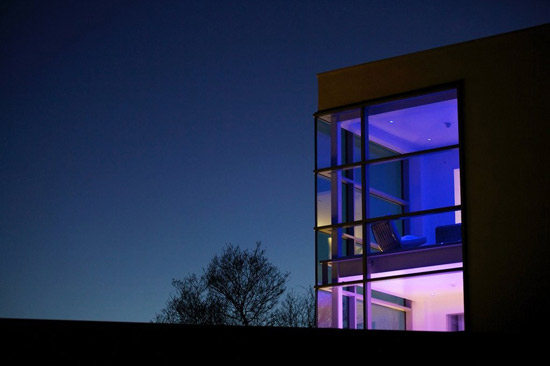 Images and details courtesy of Strutt and Parker. For more details and to make an enquiry, please visit the website.
Note that you can also rent this house for £4,500 per week.