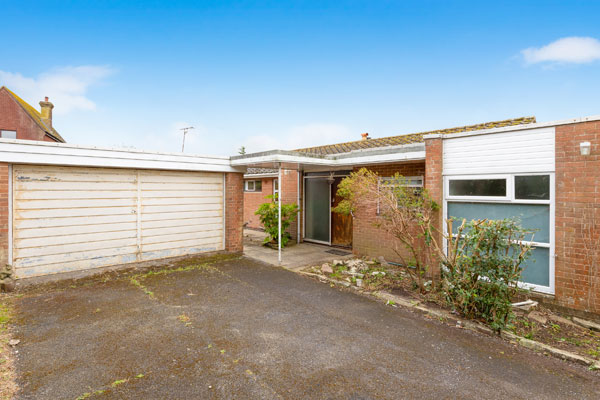 I suspect the plot might sell this one in the end, but this 1960s renovation project in Newton Abbot, Devon is still worth checking out.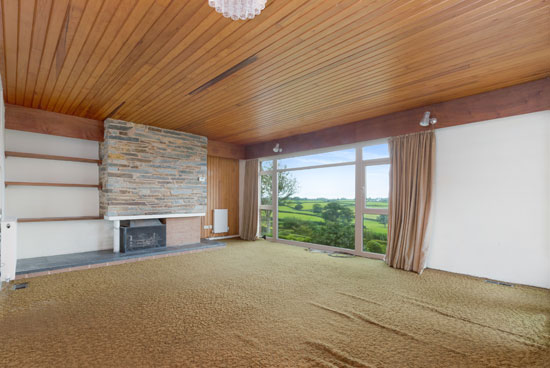 Unmistakably of its era, the agent has this down as needing 'considerable modernisation and improvement'. But they also mention the plot, which is considerable, as having the potential for a 'Grand Designs' house if you want to do that.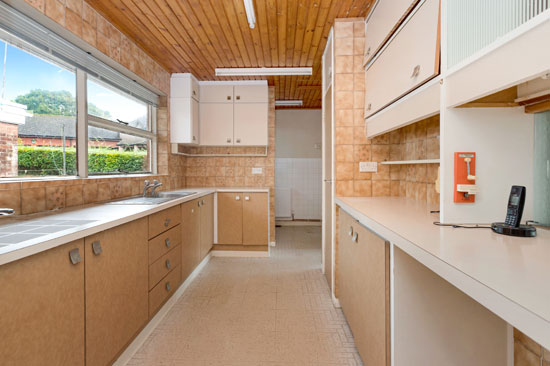 It's hard to disagree with that. It does sit on a large plot that might be perfect for development. But let's not overlook what is there right now, a distinctive house that might well have options to come alive once more if you throw in a bit of imagination.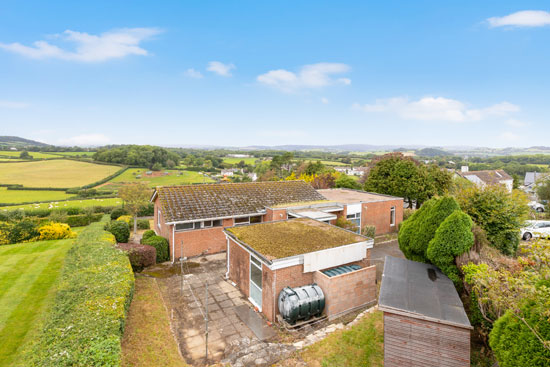 The house, known as Kernow, has 'semi-rural' setting in an elevated spot that offers some wonderful views over your own land and beyond from the balcony and the rear glazing.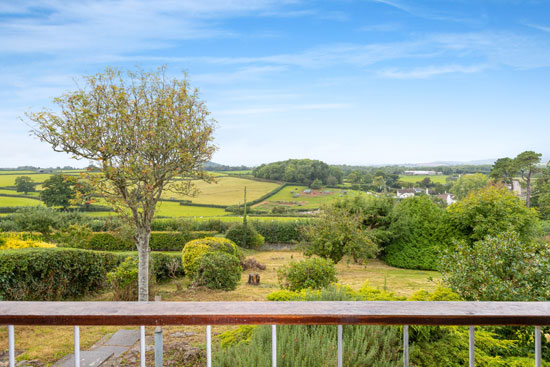 Little has changed over the years looking at the images, with the exception of what looks like a recent bathroom upgrade. Nothing much else though, inside or out.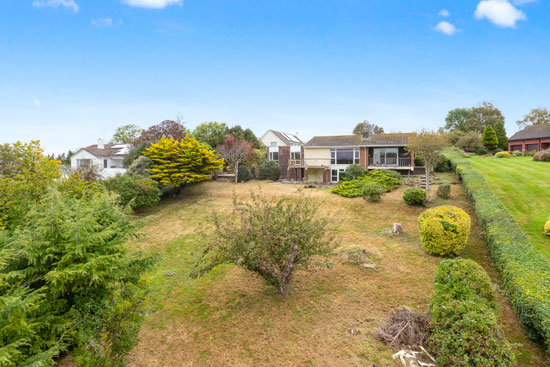 That huge reception with its full-height glazing and timber ceiling is wonderful. Love the original fireplace and shelving too. The wood panelling continues elsewhere too, as does that glazing and if you want a retro kitchen, the one here definitely fits the bill.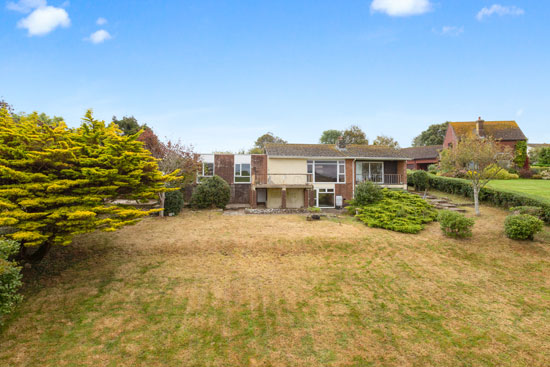 It isn't perfect, far from it. It lacks the kerb appeal right now and the interior lacks character right now being so empty. But there is plenty of potential here if you like 1960s architecture.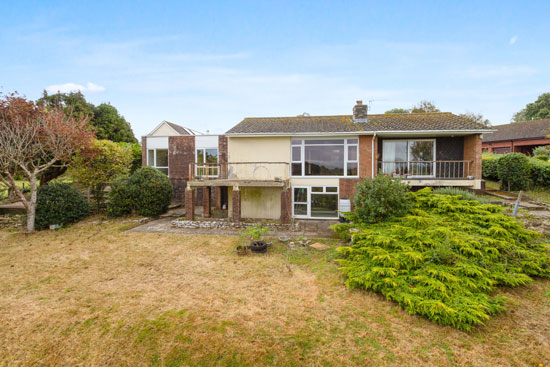 Most of the space sits on the ground floor. A porch leads to entrance hallway and in turn to the lounge that dominates the floorspace.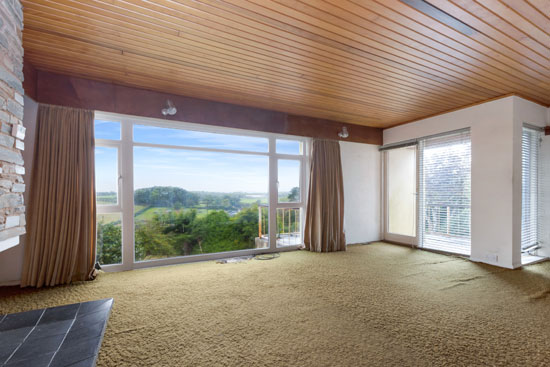 Beyond that are the kitchen, a bedroom with en-suite bathroom, two further bedrooms and a room that can either be used as a dining room or a fourth bedroom. Finishing off the space is the family bathroom, and a study.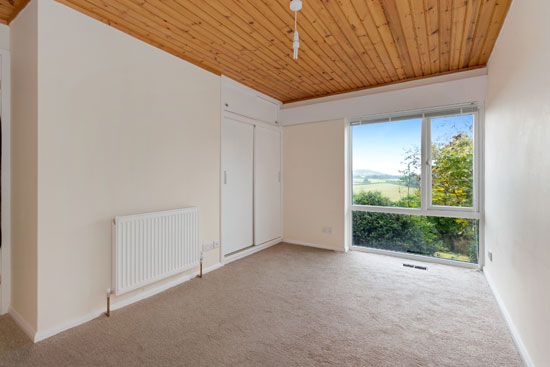 There is a lower ground floor too, which contains the garden room. If you need more space, the double garage at the end of the driveway should provide it.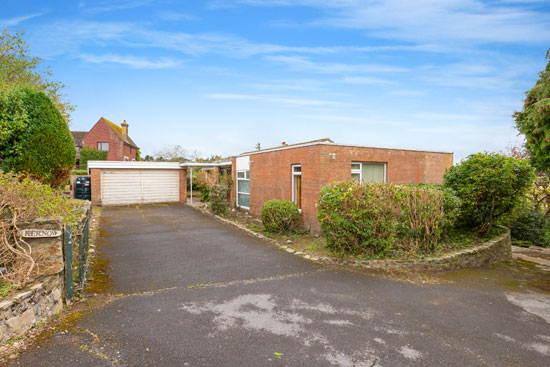 As I said, a large plot with this one as you can see from the images. That might be its ultimate downfall. But it's also a selling point with plenty of lawn and hedge borders.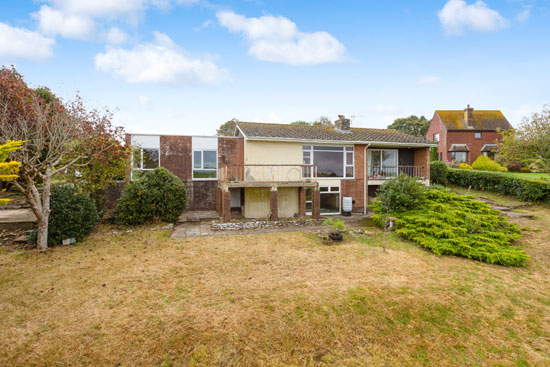 £450,000 if you fancy updating this one.
Images and details courtesy of Coast and Country. For more details and to make an enquiry, please visit the website.