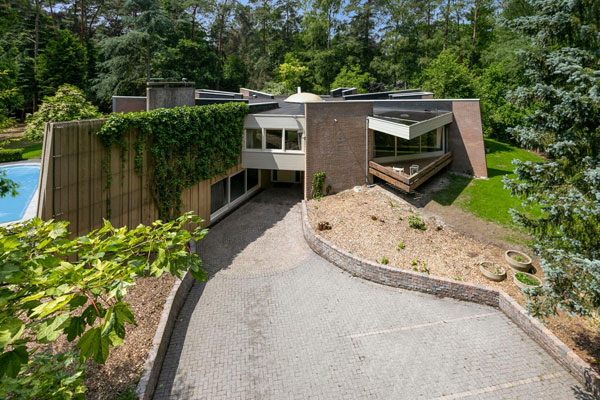 Once again, this part of the world throws up an absolute gem. The star-shaped modernism of this 1970s house in Kapellen, Belgium.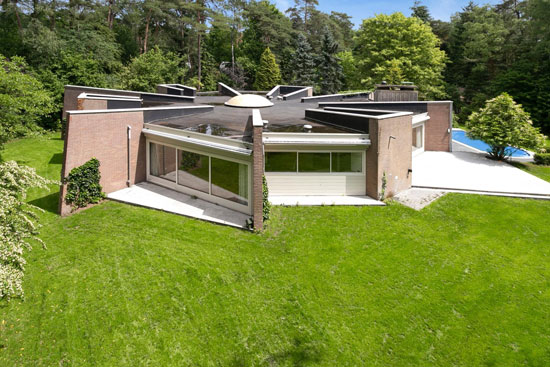 Kapellen is in the province of Antwerp and an area known for both its architecture and apparently its peaceful vibe too. Which sounds like a perfect combination. Life would be even better if I was living in this house.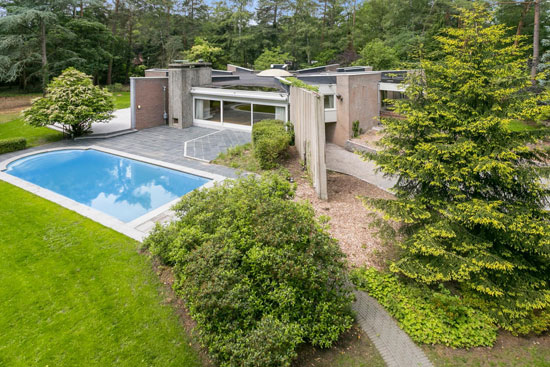 This is the kind of bold, modernist architecture that could only be from the 1970s. It peaked at that point, with the excesses reeled in pretty much ever since. Or perhaps it's down to the cost of construction and the land required?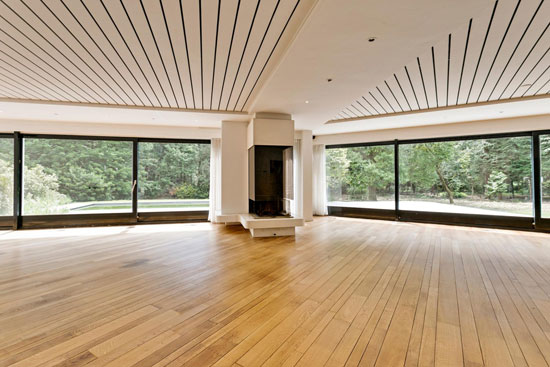 Whatever the reason, this isn't something you see a lot of these days and as such, we should appreciate it and enjoy it.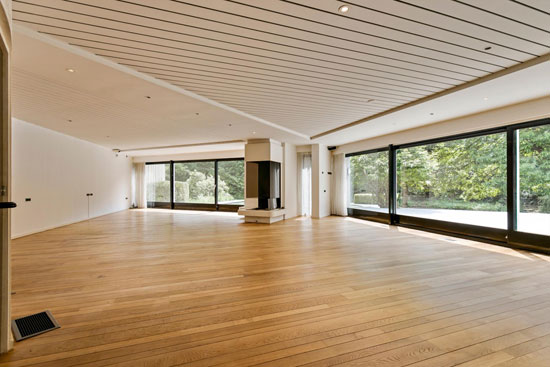 What I don't know (sadly) is the name of the architect, but the house was individually designed, the end result is like nothing else I have seen. Or at the very least, nothing I have seen for quite some time.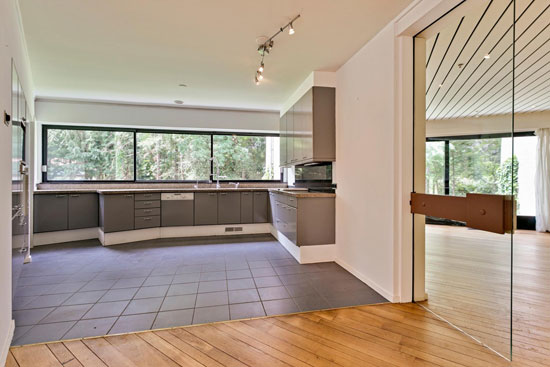 Modern, futuristic, space-age, dramatic – all words you can apply to this one.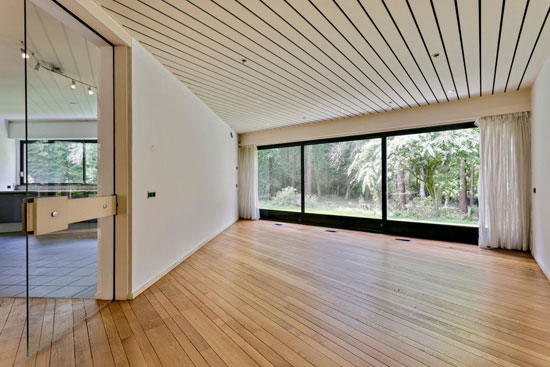 The entrance alone on this one gets me. The driveway past that high concrete wall and disappearing into the house. As you can see, the large wall hides away the pool and entertainment area, but I'll come to that later.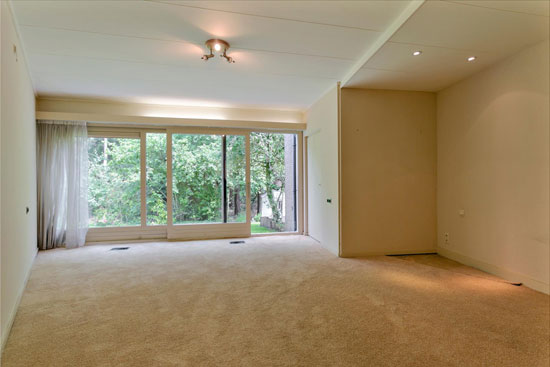 For now, I'll focus on the design overall, which is circular at its heart, but with (I think) eight different zones departing off it, many with full-height glazing and with brick walls sectioning out the different areas/rooms. Star-shaped maybe? It certainly gives that impression.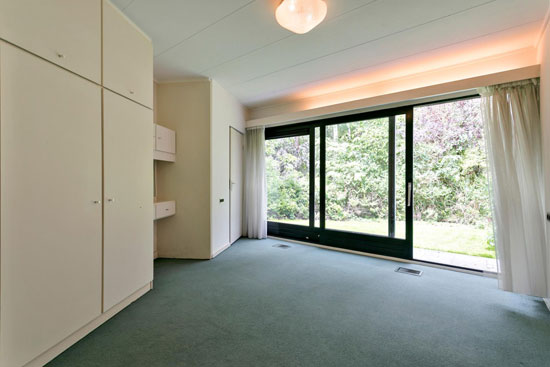 When you see a design like this, you just know it's going to be special inside. And thankfully this 1970s doesn't disappoint on that front. The almost brutal exterior has a rather softer interior and an interior that doesn't look to have changed much in 40 or so years (it was designed and built in 1977).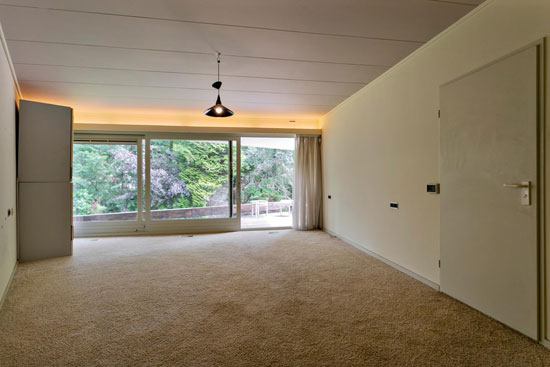 Check out the vast receptions with its wood ceiling and floor, with a feature fireplace in the distance. The internal glass doors are amazing too, while the bedrooms are untouched (right down to the light fittings) and perhaps with the original thick carpets. One of the bathrooms looks original too. I would definitely keep that in place.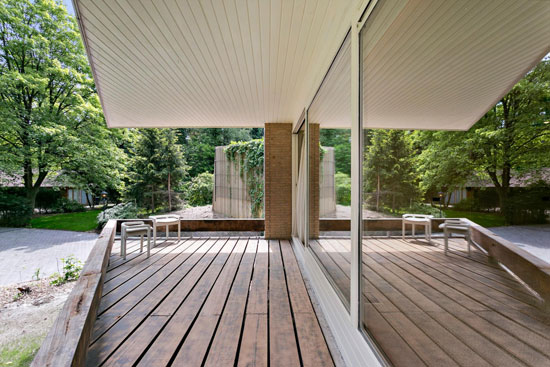 But nothing quite compares you for the central circular core of the house. Almost sci-fi in its look, it has the round roof light, the panel walls, a marble floor and a staircase down below. It goes down to a bizarre space with mural walls with doors and storage off, adding a touch of mystery to the place.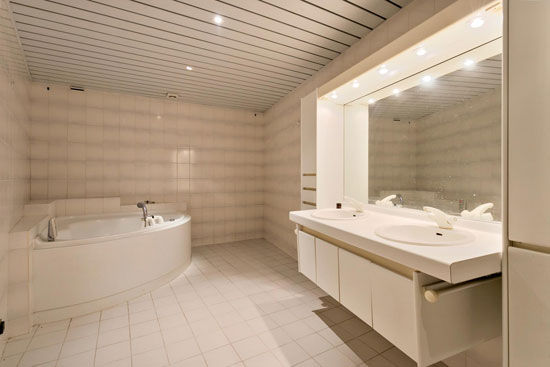 But this isn't quite a time capsule. The kitchen is new, some of the bathrooms updated and perhaps even the glazing – although you might want to get a closer look at that.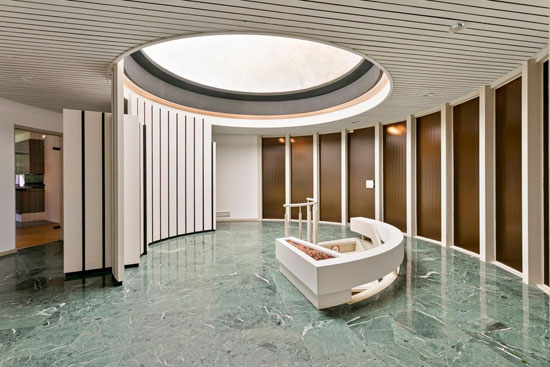 But despite that, this is a house that's in largely original condition, at least architecturally, with so much space and potential. You have just got to hope that someone sees the potential of the original 1970s character rather than turning it into something far more bland.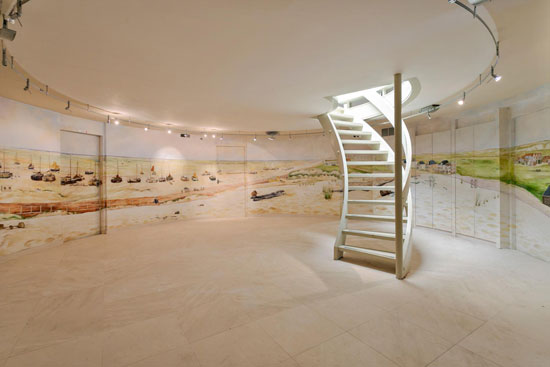 Space certainly isn't an issue here. The generous reception space is probably bigger than a number of high-priced apartments in London. Beyond that is the large fully equipped kitchen, both of which are located on the floor at garden level. Both of these areas have access to a substantial terrace area and beyond that the outdoor swimming pool.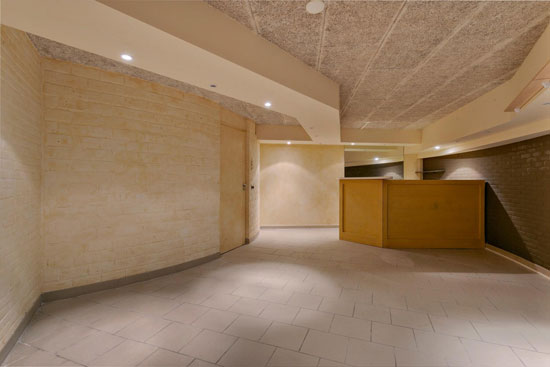 There are a total of five bedrooms with large windows, all with fitted wardrobes, along with three bathrooms, one of which is en-suite to the master bedroom. Note also that the master bedroom has access to its own terrace.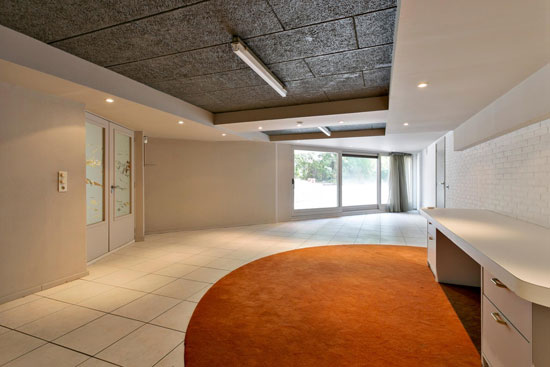 That's not quite all as the core of the house also accesses further space down that staircase. According to the agent, that is made up of 'office or practice space; plus three rooms that can be adapted to your own needs. Yes, it's actually something of a lair. There's also a sauna and steam room down there too.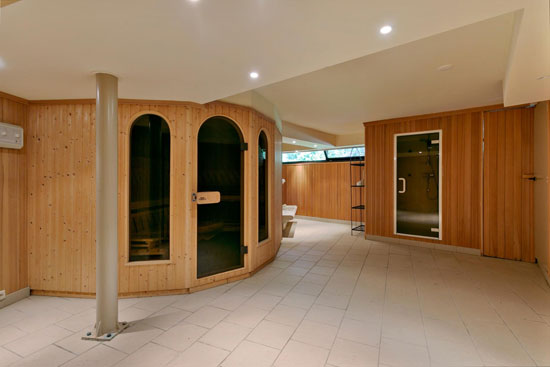 Oh, there's more too. An outbuilding has four garages, along with a shower room/dressing room, which could be used in conjunction with the swimming pool. There's also bags of land around the house. Described as sitting on a 'large' plot, it sits within 'endless forests' and as such, should guarantee you a good degree of privacy.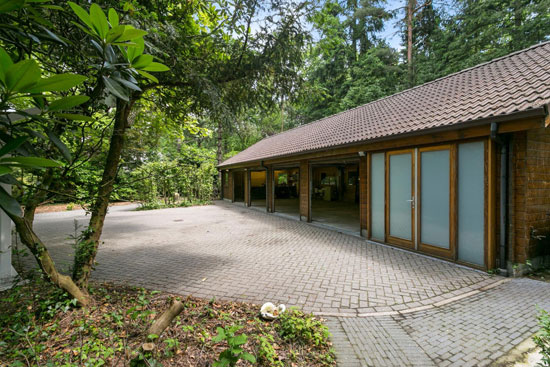 I dread to think how much this house would be if it was in the UK, but in Belgium, this house is up for sale with an asking price of €895,000.
Images and details courtesy of Home Sweet Home. For more details and to make an enquiry, please visit the website.