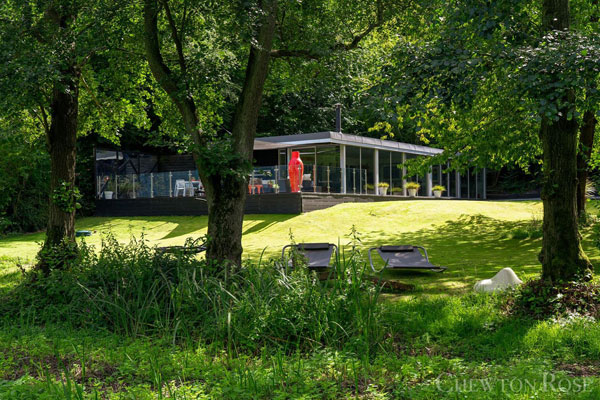 At first glance you might think this is something modern in the US. But this is actually a glass box modernist house near Norwich, Norfolk.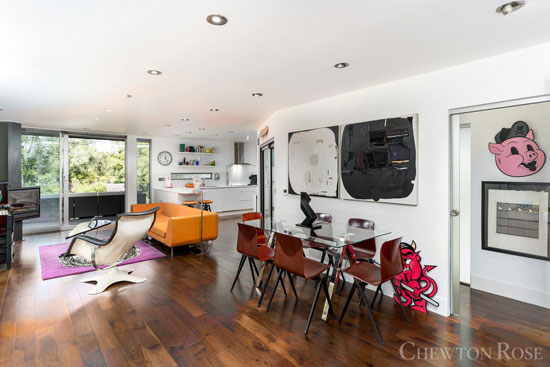 The term 'glass box' doesn't really do this house justice, but it does give you an idea of what you expect.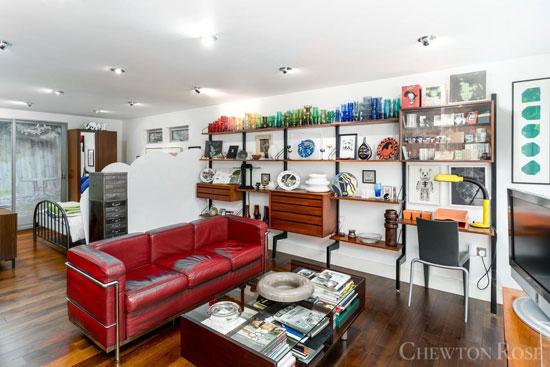 As you might have guessed, this is a house inspired by Mies van der Rohe's Farnsworth House. In fact, it is described as a 'liveable version', with the original designed as more of a weekend retreat. This could work in that capacity too, but really this one is designed for all-year-round living. In fact, it's a dream place to wake up each morning.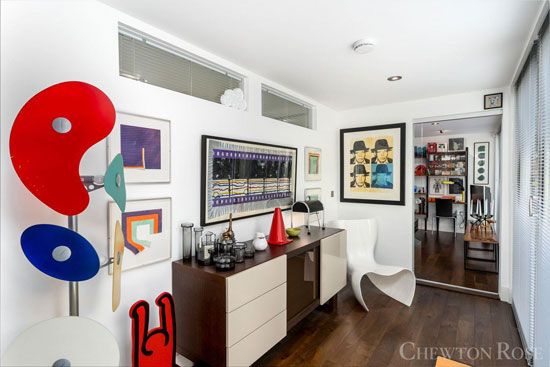 The location is a 'secluded spot by the river', around 20 minutes drive from central Norwich. That spot is around two-thirds of an acre on the edge of the River Wensum with mooring and fishing rights, the only permanent home on this part of the river. You can see why they went for the 'glass box' design.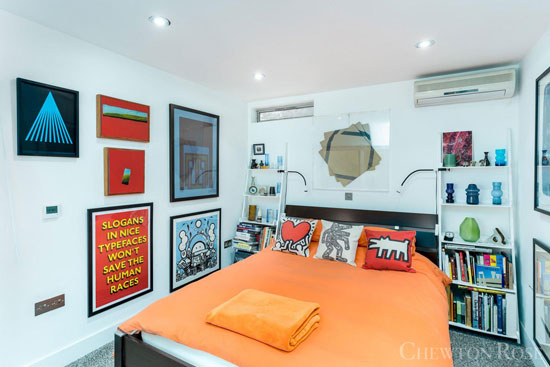 The house design, rather than being something midcentury like the Ferris Bueller house, is actually quite contemporary, dating back to 2006 and 'greatly extended' in 2015.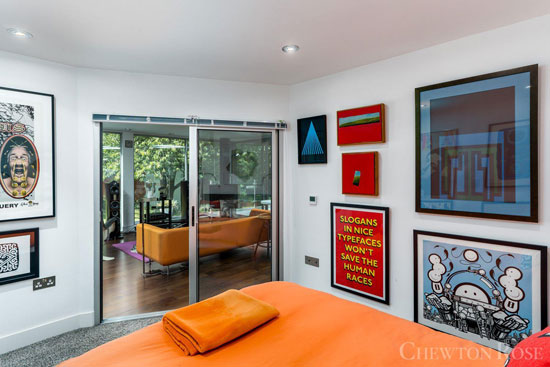 As you might expect, the glass walls draw in the surroundings and offer some great views, as well as having the effect of boosting the natural light.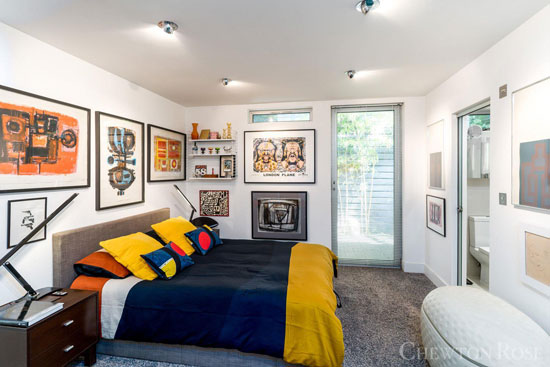 It's also quite a spacious house too, complete with its own annexe, which is ideal for guests but is versatile enough to be part of the main house if you need more floorspace for your own family.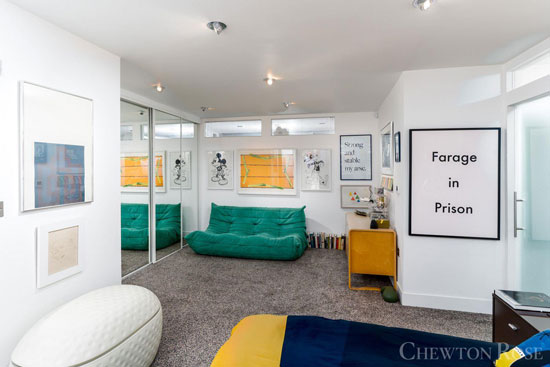 As for the interior, that's pretty much what you would expect of a house of this type. I have covered the walls of glass, but once inside you can see the clean, white backdrop and the wooden floors. It is a backdrop too, with most of the walls covered in art. Theres no mention of any of that staying (which is unlikely at best), but it really does look quite striking with all of that colourful artwork throughout the house.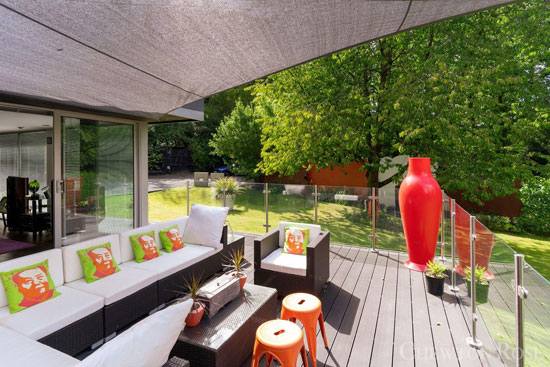 Note also that the sliding doors have been designed to go into the walls and with frosted glass giving privacy to the bedrooms and bathrooms, the entire home has a 'sense of flow' between the various rooms.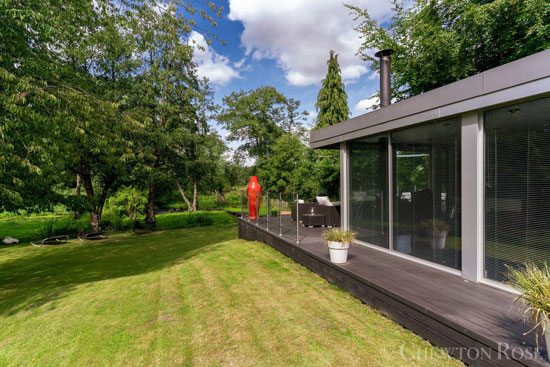 Plenty of modern features in place too, such as underfloor heating throughout and remote-controlled lighting in the main living area, as well as automatic gates and alarms.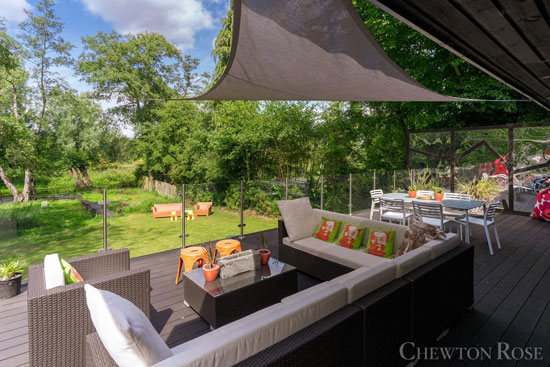 As for the layout, entry is via the hall, which leads to an open-plan living area with feature fireplace to the left. This space has doors to the 'vast' balcony, as well as being open to the kitchen area.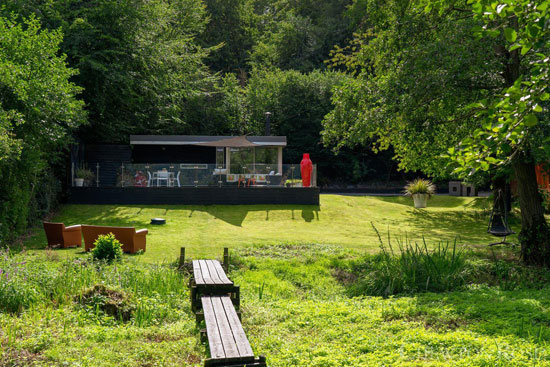 An inner hall leads to the main bedroom, which has an en-suite shower room, together with the guest bedroom and family bathroom. A door from the entrance hall also leads through to the annexe space and its, large triple-aspect room and an en-suite shower room.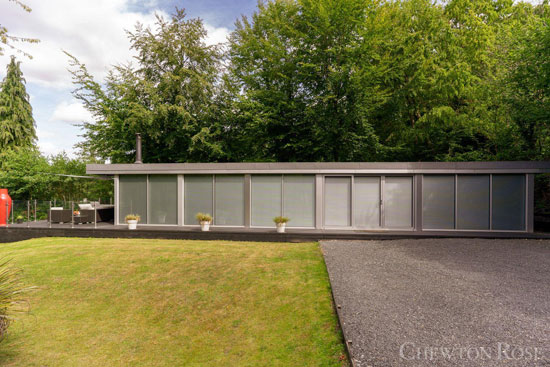 That's not all as the outside space for this one is as much a selling point as the inside. I mentioned the large balcony area, which is pretty much a further annexe when the weather is on your side, but there's more on offer than just that.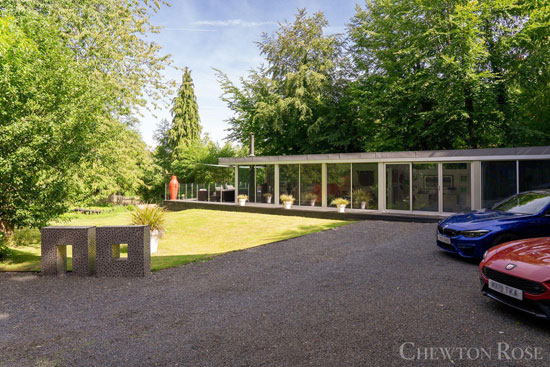 Additional seating area can be found on the plot, making it perfect for parties, outside dining, barbecues and picnics. You also get an area of decking down by the river, along with 'another party area' in a different section of the garden, where there is also a static caravan and a fern garden.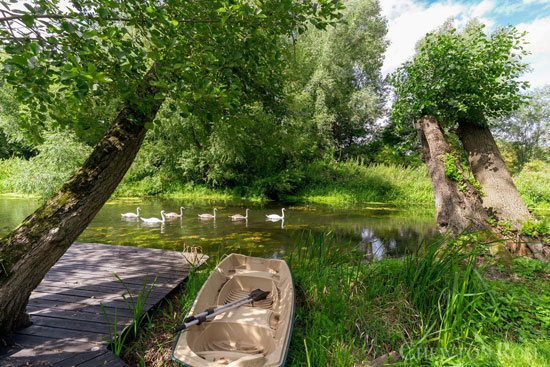 At night-time, the garden can be lit up in zones, the trees can also be lit all around the garden and when you look back at the house when it is illuminated it 'gives the illusion of floating'.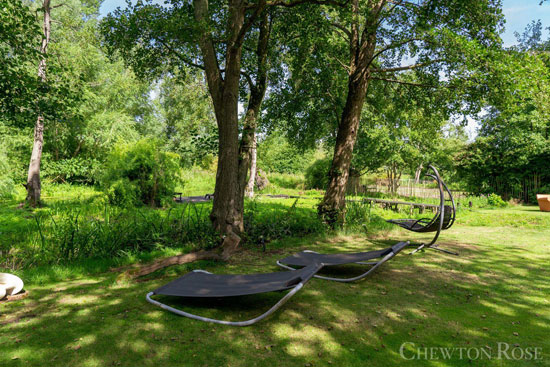 Which leads nicely to that last selling point I mentioned earlier, which is a river frontage with mooring and 'riparian' fishing rights. Pretty much a dream getaway. Even better if you can live here all year.
If that's your dream the guide price is £895,000.
Images and details courtesy of Chewton Rose. For more details and to make an enquiry, please visit the website.