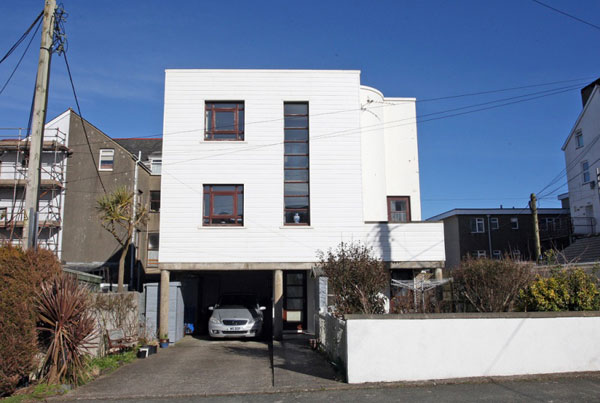 It has been marketed before, but at the current price, this 1980s modernist house in Pwllheli, North Wales might be worthy of another look.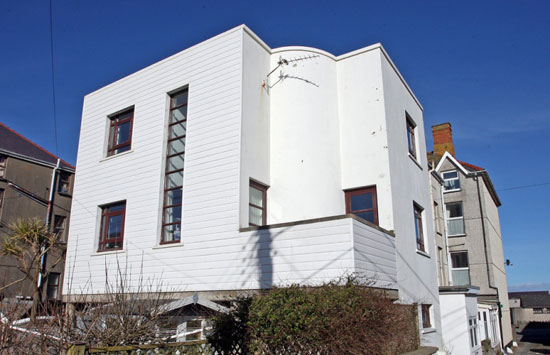 Thanks to Christopher for letting me know about the continued availability of a house I first spotted back in 2011. I haven't been following it enough to know if the house has been for sale for the full eight years, but I do know that it has had a considerable price drop over that time. In fact, this is one of the cheapest UK house finds I have ever featured.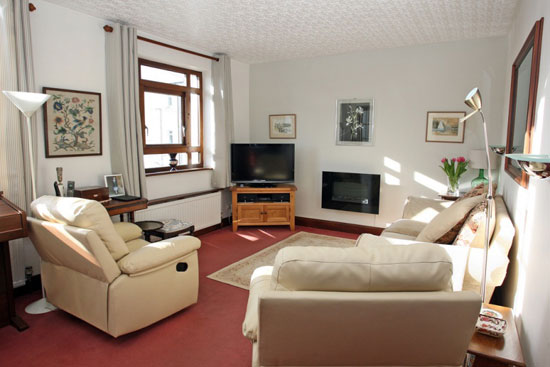 As for the house, it has the look of something 1930s and modernist, which is perhaps the intention. But this individually architect-designed house (I don't have a name) actually dates back to the 1980s, as some of fixtures and fittings might indicate.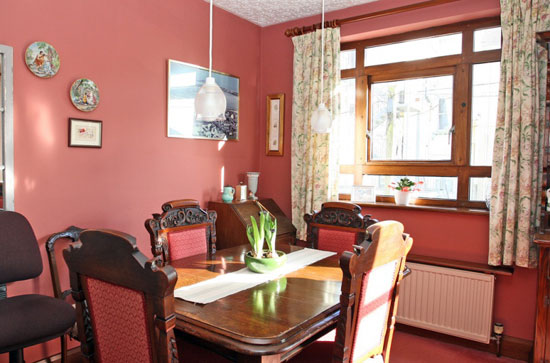 You'll find it in a good position in terms of this part of North Wales. I have just come back from there and did investigate a bit. The house is a short walk to the train station, the (modernist) sailing club and marina and a rather lovely beach. The shops are also a short stroll away too. But it is amongst several houses (most large period properties), rather than being in plenty of land.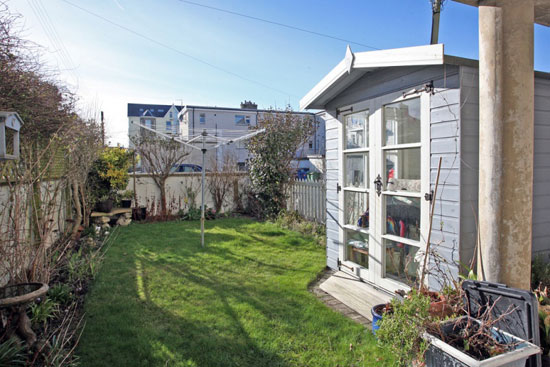 Beyond that, you are a modest drive from the likes of Abersoch, Nefyn/Morfa Nefyn, Criccieth and Porthmadog to name just a few places. In around half an hour you can be in Caernarfon too, with Anglesey not much further. So well-located for that part of the world.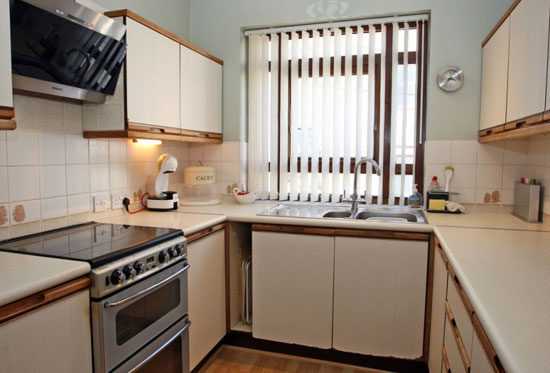 Ideal as a house and possibly with potential as a holiday home or let (although you would have to look into that in case there are issues regarding either).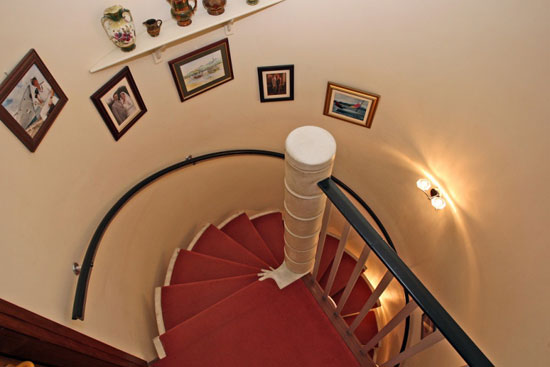 The house itself is one with potential. I don't think a lot, if anything, has changed since the 1980s. As a result, although it has obviously been well looked after, the house does look a little tired in places.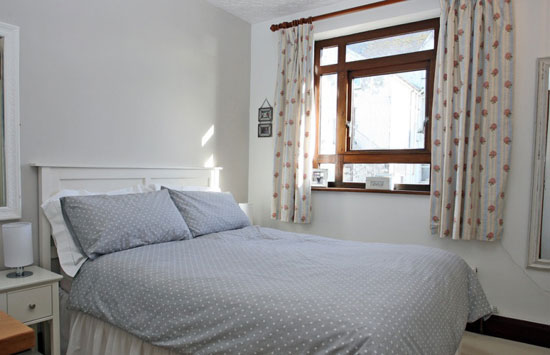 The kitchen and bathroom are very much of the original era (which isn't necessarily a selling point) and some of the finishes and furnishings (although the latter will not be staying) don't quite fit with this kind of house either. You have to look beyond that and see it with some fresh decor and your own belongings in it. This could be a very special modernist house with a modest amount of work and compared to some, a modest price.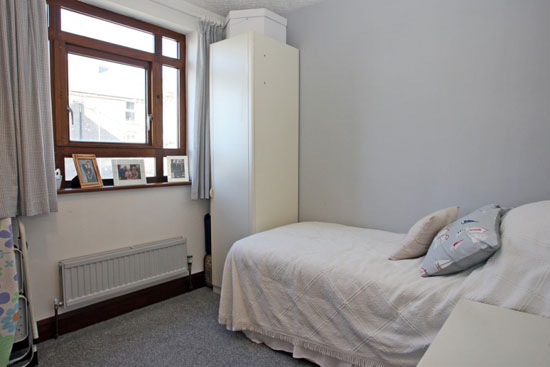 As for the layout, that's set out over three floors, with the most interesting feature being the polished concrete spiral staircase to get you up and down. Not for everyone, but personally I love seeing one of these in a house.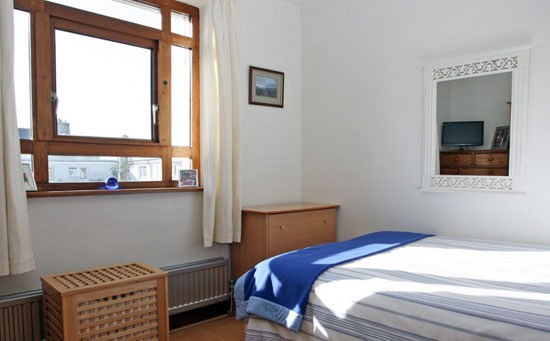 The ground floor has a utility room and a separate shower room, with the carport taking up most of the other space here.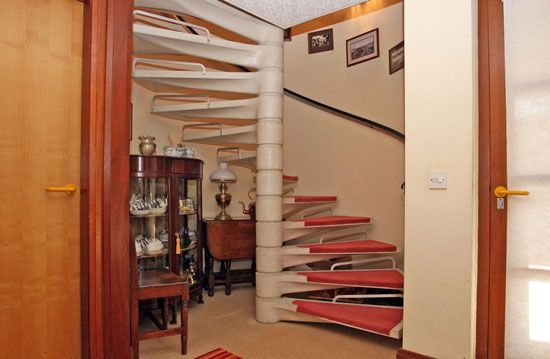 Head up to the first floor via that spiral staircase and through a curved door is the lounge with a floor to ceiling window for plenty of natural light. Beyond that are the kitchen and a dining area with access to the small sun terrace.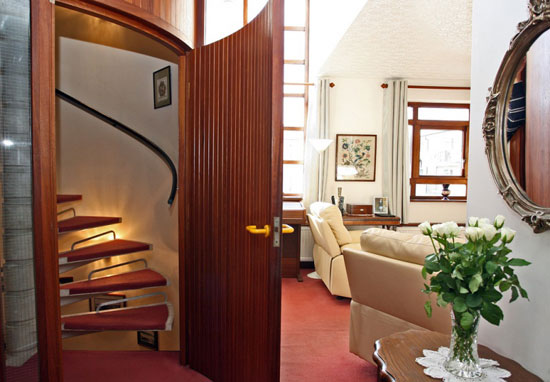 On the second floor are three double bedrooms and the family bathroom, the latter partly clad in dark wood and fitted with a 'champagne suite'.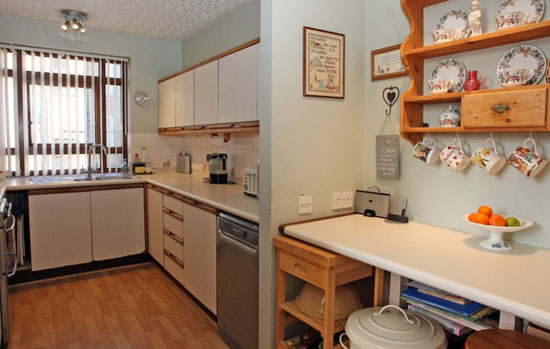 As for the outside space, the front of the property is made up of a 'small lawned garden', a carport and a tarmacadam driveway for more off-road parking.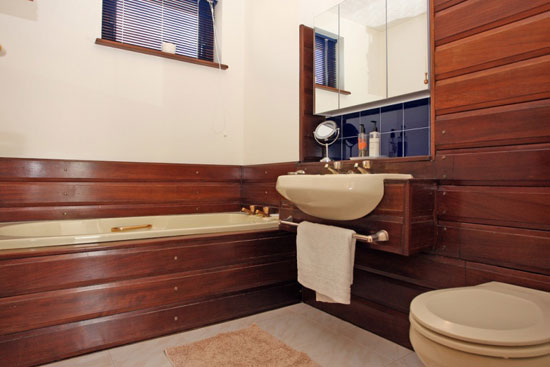 £185,000 is the asking price right now.
Images and details courtesy of Dafydd Hardy. For more details and to make an enquiry, please visit the website.