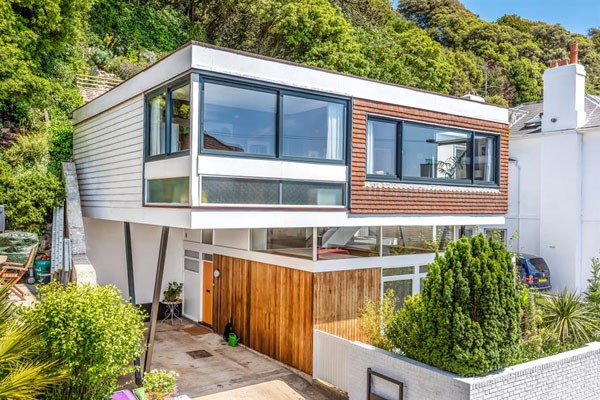 Featured in the past, the 1960s John Floydd midcentury modern house in Sandgate, Kent seems to change each time it hits the market.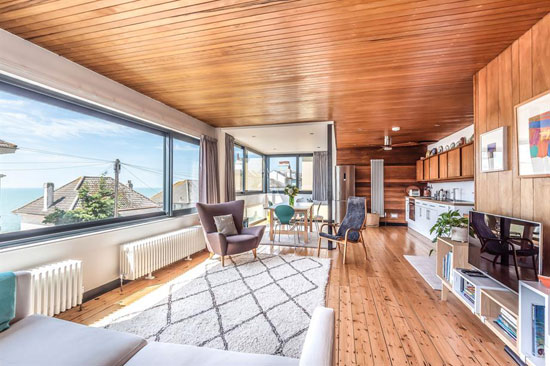 In fact, I have just been checking the archive. The first spot of this one was way back in 2011 when it was pretty much an untouched relic.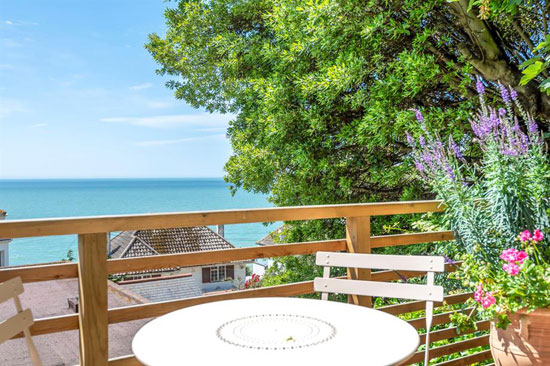 Fast forward to 2014 and the house was back on the market, tidied up and updated as you might expect. The in 2016 the house came back on the market for a third time, again with more tweaks and a higher price, but still keeping the key selling point of the character in place.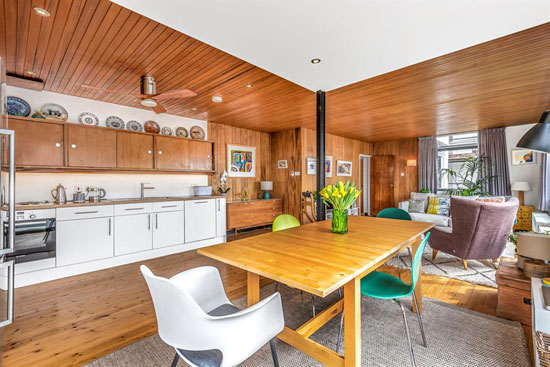 Now we are in 2019 and the house returns again with another £200k on the asking price (in fact, £400k more than when it first sold in 2011) but still maintaining that all-important midcentury modern period charm. Without it, the house would lose most of its appeal.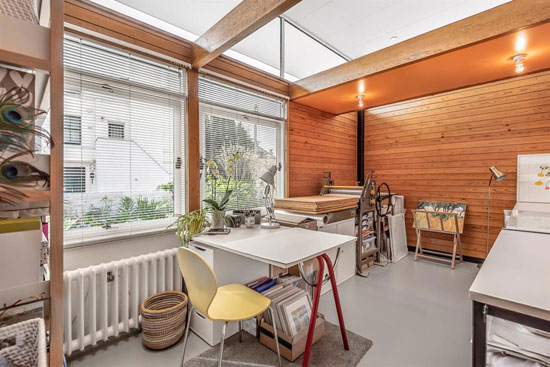 To be fair, each of the past owners has added value. The last time it was up, it was just after it had a renovated kitchen and bathroom, as well as a new heating system, upgraded windows, new inflation and some rewiring. All without taking away the charm of the original 1964 John Floydd design.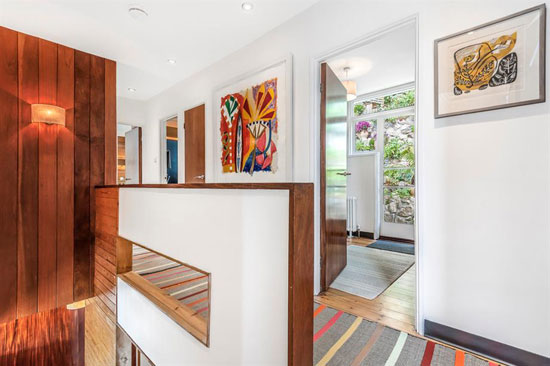 A bold design, this house on stilts has a steel frame and is clad in aluminium and timber, with some red concrete tile hanging and a monopitch roof. Planning permission was apparently granted in 2018 for a second-floor sunroom and timber decked roof terrace, should you like the idea of that.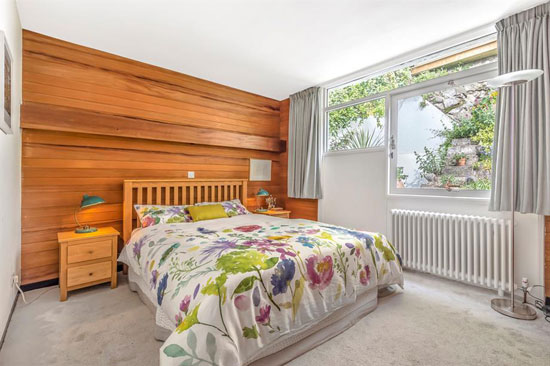 It offers the perfect weekend retreat with its sea views and a short walk to the beach, as well as being a super-cool place to live all year round if that's your intention. Especially now the heating and insulation have been sorted out.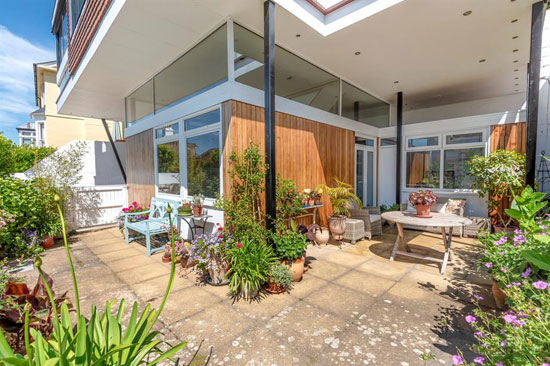 In terms of updates this time out, I'm not entirely sure there are any major ones outside of decor. I have tried to compare and contrast between this and the last listing and nothing is jumping out at me. The imagery is very different, certainly brighter this time out and that does give the impression of a different finish. But it really might just be the image effects used. I suspect the lower level had been upgraded, but you will need to book a visit to confirm that.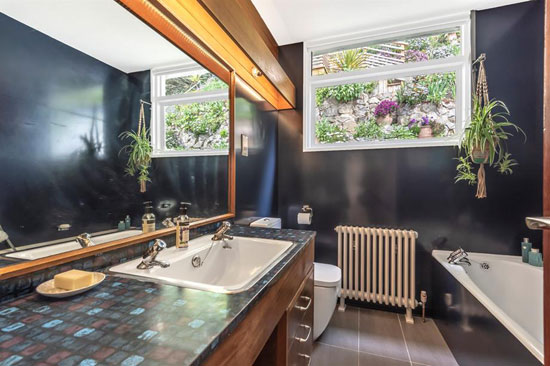 The exterior looks well maintained, but not radically different and the interior is still very much inspired by midcentury Scandinavian design. Wooden floors, walls and ceiling, open living space and numerous period details and fittings.
Certainly no time capsule though. All that work over the years has ensured that this is a modern-day living space. But one that hasn't lost its character over the years.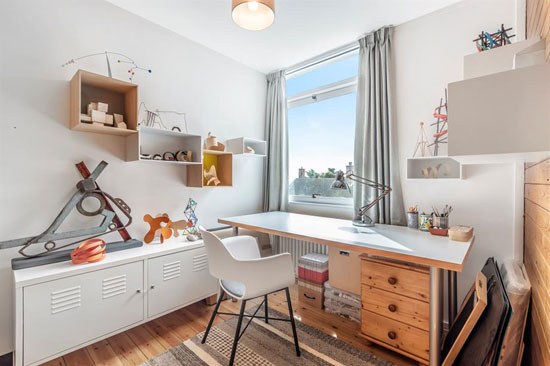 As for space, that's over two floors, with entry via a carport and opening into a hall with glazed double doors to a side terrace and front garden. The ground floor has a 'light filled' studio on the ground floor, as well as a shower/cloakroom, a utility room and an adjacent workshop/store overlooking the sheltered terrace.
Head up the first floor via a rather lovely period staircase for the main accommodation, dominated by the open-plan, triple-aspect living room, dining room and fitted kitchen with large picture windows for the all-important sea views.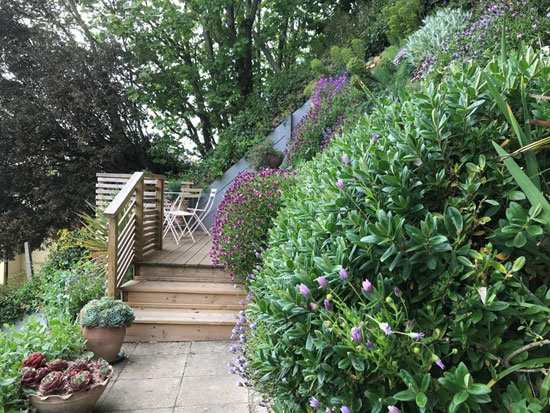 Also on this level are the three bedrooms to the rear overlooking the garden, a study/bedroom 4 with sea views to the front and the family bathroom, still retaining much of the original detailing.
Outside you have the security of double gates, a carport and a 'hard standing area'. There's also a secluded wall enclosed front and side garden, with the rear of the property offering a 'coastal and Mediterranean style' terraced garden plus a large timber deck terrace with sea views.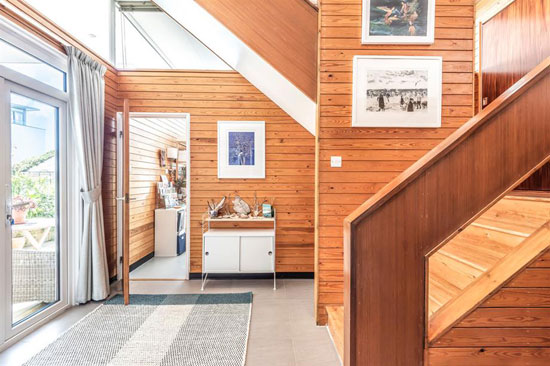 As I said, the price of this one has been going up and up since 2011 and now has a guide price of £700,000.
Images and details courtesy of Phillips and Stubbs. For more details and to make an enquiry, please visit the website.
Huge thanks to Tim for the tip-off!