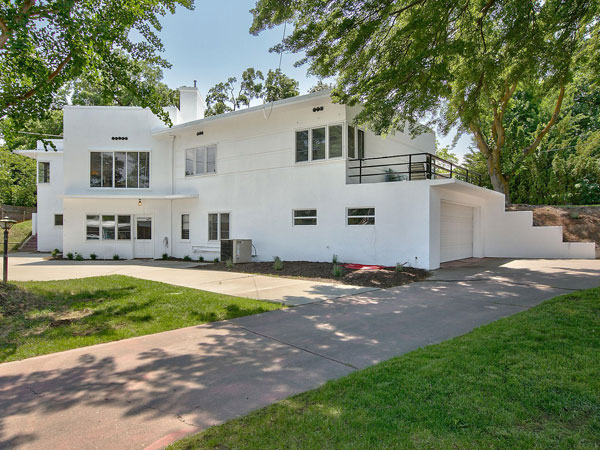 A little late for the style, but I am glad this 1940s art deco house in Yakima, Washington, USA did finally arrive.
It was actually built in 1940, sitting on a 'coveted' road and at first glance, barely changed over the decades. Not quite so.
The architecture looks to be intact, a mix of angles and curves and a house that works with its plot. Yes, it does look like a single-storey house as you approach it, but a look at the rear of the house shows something very different.
In fact, the more angel rear of the house shows accommodation over two floors, as well as garage space built into the side of the property. All with the kind of white finish you expect of this kind of modernist build.
From that, we would assume that the house is likely to be something of a period piece inside. It isn't, but it still a very appealing piece.
As I said at the start, this is a little later than many art deco houses I feature and as such, the interior was likely to have been a little later in inspiration too.
Not that we would know for sure, as the house looks to have been extensively renovated, but keeping what looks like the original shell and overall, a classic look.
That interior takes inspiration from early midcentury modern design, with open spaces and hardwood flooring throughout. The windows are either original or in keeping and the finish largely neutral. The kind of space that could adapt to a variety of finishes, deco or not. New kitchen and bathrooms too, as you might have worked out
The main level has three large bedrooms, a 'well-sized' living room and the dining area. Two bathrooms as well, plus a further bedroom. Through the kitchen and up original hardwood steps you can access the large rooftop deck, with the garage just below it.
$420,000 is the price of this one, with more images on the agent's site if you need them.
Images and details courtesy of Zillow. For more details and to make an enquiry, please visit the website.