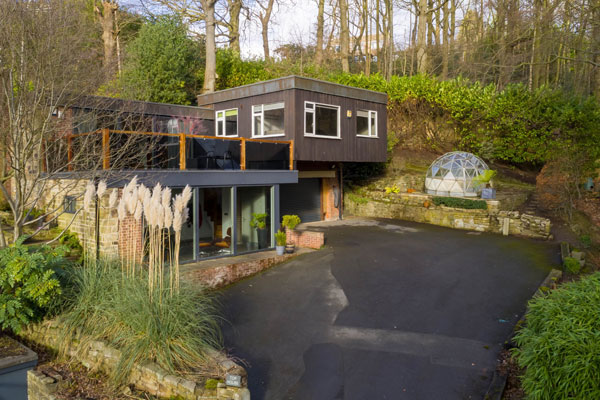 Updated, but still a very stylish 1960s midcentury modern property in Huddersfield, West Yorkshire up for sale.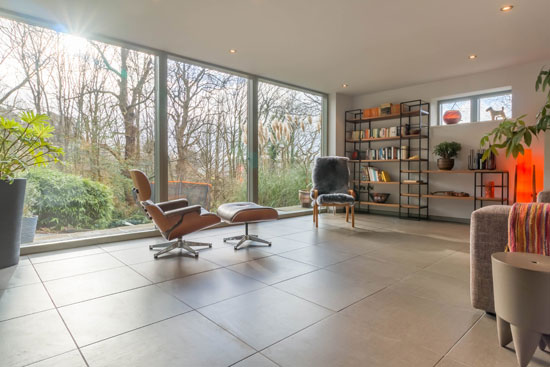 Huddersfield was something of a popular location for the site once, with a number of mid-20th-century houses going up for sale in a fairly short space of time. You can see those in the Huddersfield archive. Saying that not many have come up of late. Until this one, anyway.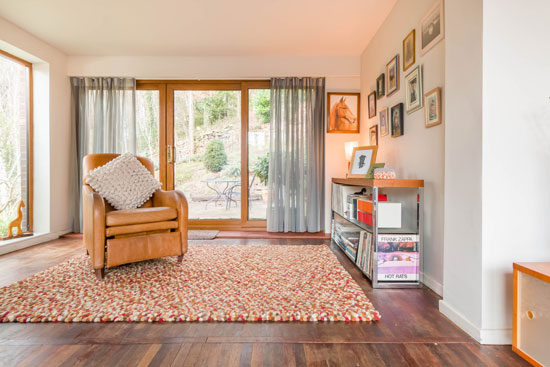 The house here dates from the 1960s and overall, still maintains that period character. But this house has also obviously been updated in recent years.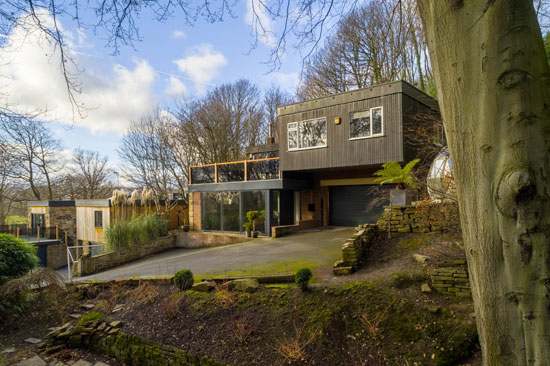 Not that I have a problem with that, as someone has done a decent job of it, keeping the feel of the era and some original design details, but adding in some modern-day finishes and features, such as inset lighting and underfloor heating, for example.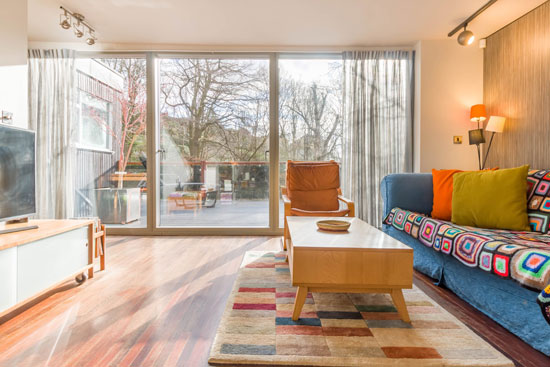 The end result is a family home with a strong retro feel, which in part is down to the way the home has been dressed, a mix of design classics and modern-era retro pieces are scattered about the place.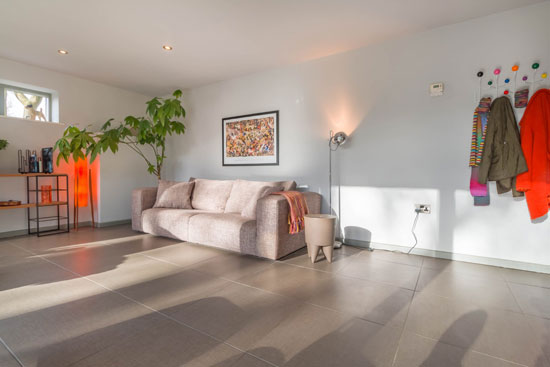 The house itself, which I think is called Top House, is nestled within a 'tranquil woodland setting' and maintains its original (individual) architect design, which sits well within that setting. If you want or need a flat garden, this probably isn't for you. But if you want something a little more interesting, do check it out (there are more images of the exterior on the listing if you need them).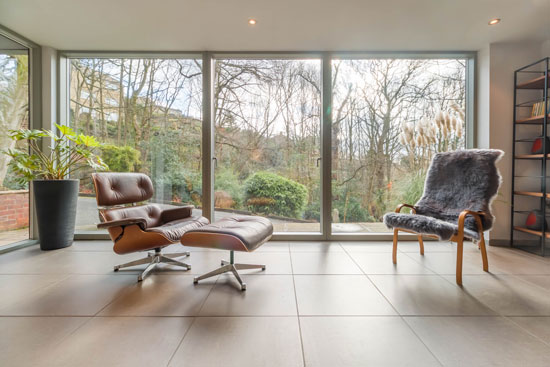 As I said, restored over the years, but keeping an open plan layout, particularly when it comes to the reception space.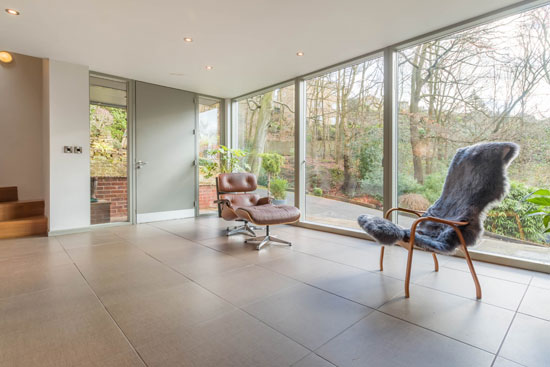 The property is arranged over three levels and is made up of a garden room with floor to ceiling windows taking in the 'leafy surroundings' and an open-plan kitchen diner with a sitting room that opens out to a south facing raised balcony terrace at the front and open woodland to the rear.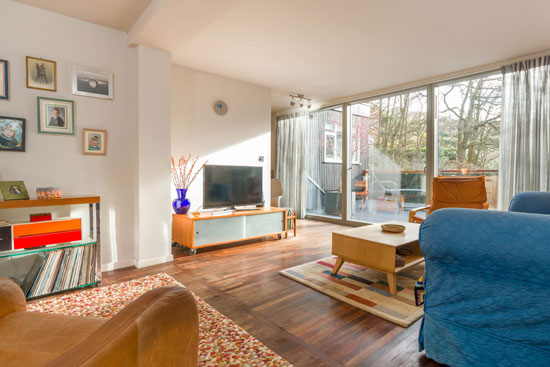 You also get three bedrooms, two bathrooms, a separate WC, a garage with utility area and driveway parking for several cars.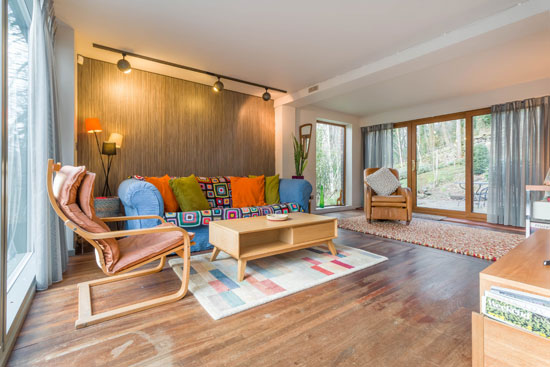 The house is part of a development known as Jumble Wood, which is a private secluded woodland location on the outskirts of Huddersfield made up of four individually-built houses, all of which are said to be 'sympathetic to neighbouring properties in style and character'.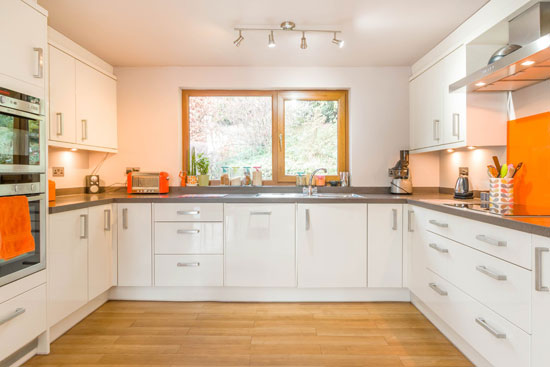 This one is the last house along the private lane and as such, has more privacy and no passing vehicles.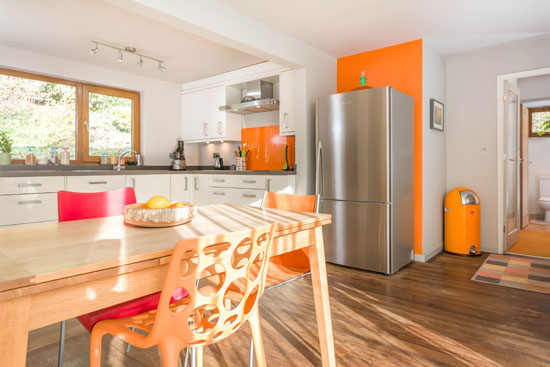 If that sounds like your kind of location and house, this place went up for sale at the start of the year, but has just had a price drop. It is now on the market for £499,950.
Images and details courtesy of WM Sykes. For more details and to make an enquiry, please visit the website.