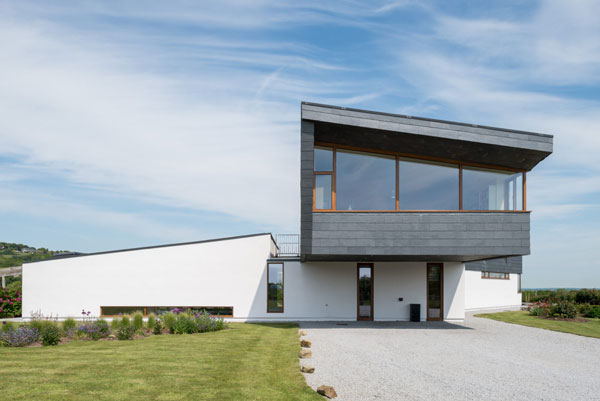 A recent build, the Warrenders modernist house in Fairlight, East Sussex is quite a striking piece of architecture.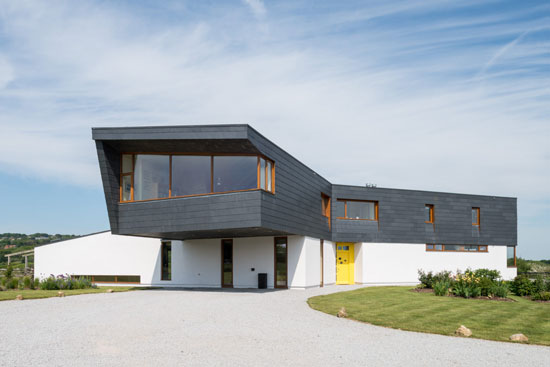 I don't feature enough contemporary houses, but that's because I can't find enough interesting ones. All too often, contemporary builds are squeezed onto small plots and while creative with the use of space, don't often catch the eye.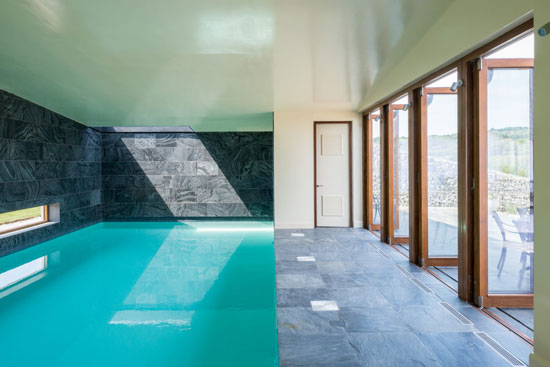 That's not the case with this one, which sits in plenty of land and takes full advantage of it. Not just that, London based practice Alma-nac created a house back in 2014 that you really can't take your eyes off.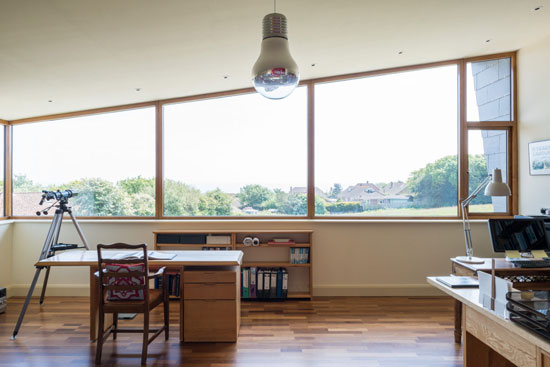 It sits in an elevated position on the East Sussex coastline, five miles to the east of Hastings, in an Area of Outstanding Natural Beauty. Once upon a time, a 1950s bungalow and 'dilapidated barn' sat here, but both were removed for something a little more cutting edge.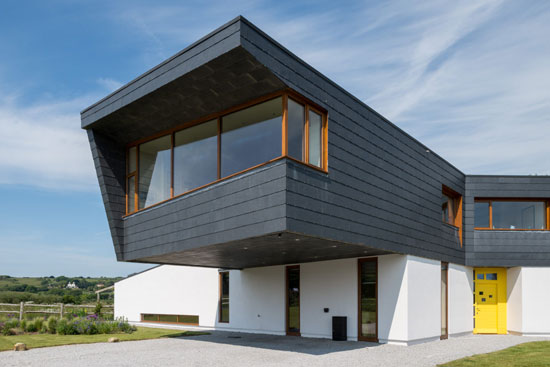 This is a fascinating design. It has the look of something radical from the 1960s at first glance and if you happened to be in the area, that might be your first thought.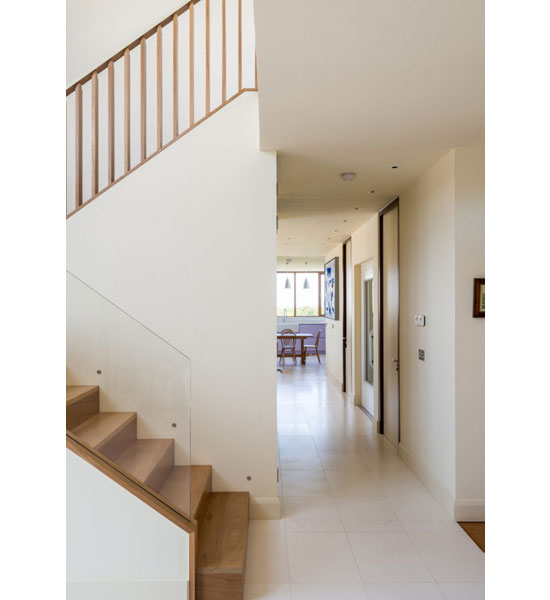 But this is as contemporary as it comes, with a steel frame angled in two directions to 'frame' the surrounding countryside in one direction and the coastline in the other. Note that there are views as far as the headland of Dungeness from this house. The upper level cantilevers over too, with some effect and practically, as it also works as a parking space for the house.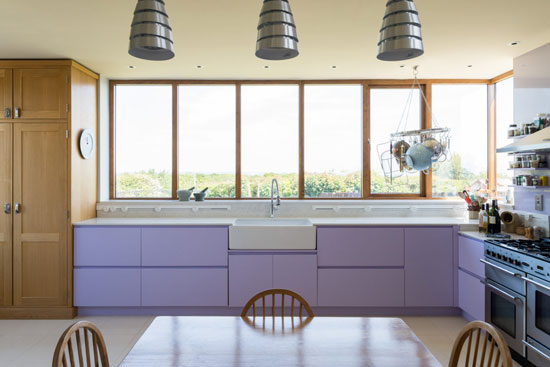 You access the house via a private driveway and then through the main entrance at the front of the building. Beyond that is a double-height entrance hall, with full-height, bi-fold glass doors to bring the outside in.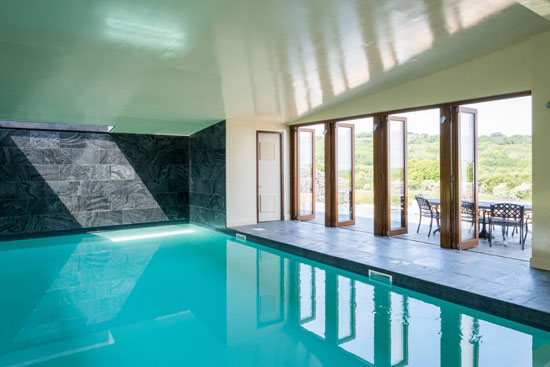 On the right-hand side of the house is a sizeable dining room and the modern kitchen with separate utility, which looks out over the garden and rather handily, the vegetable patch.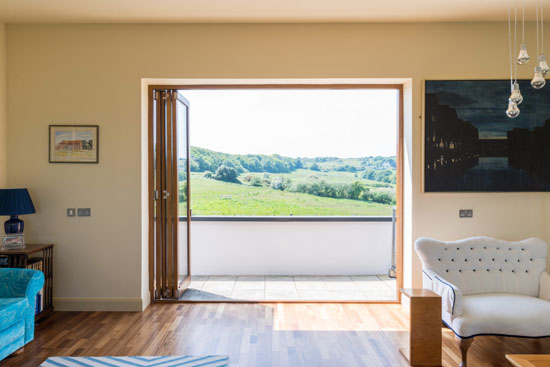 At the other end is a guest room with en-suite bathroom and a separate snug, both of which could be converted into self-contained living space if you need it.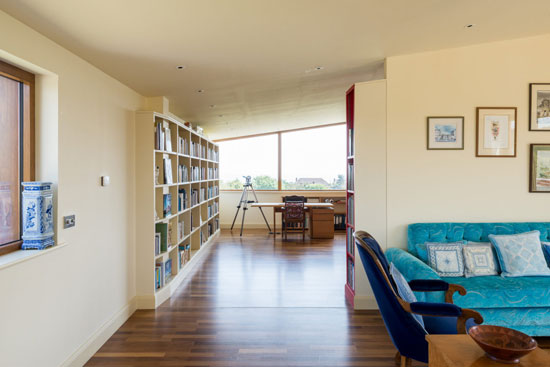 Beyond that is one of the highlights of the house, which is a ten-metre-long swimming pool room, again with a wall of glazing.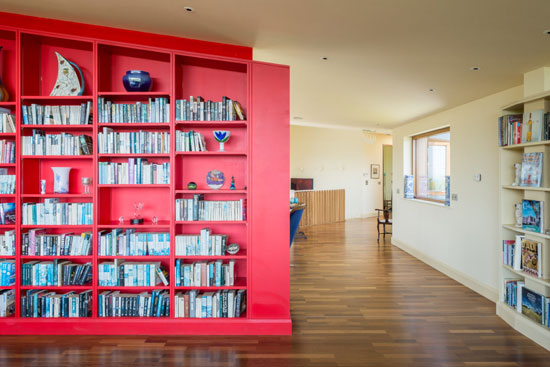 Head upstairs via staircase or internal lift (not something you see every day) and access the open/spacious landing room with glazed doors leading to a first-floor balcony.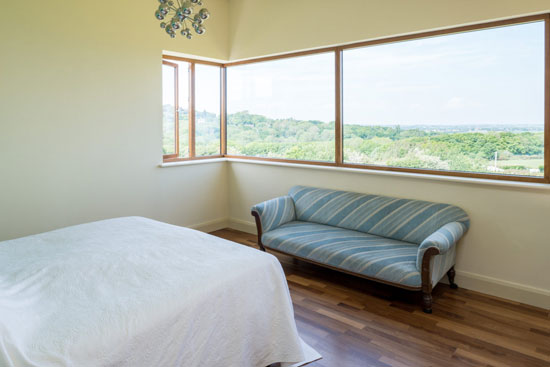 The cantilevered section has a large study and library internally, with a triangulated glazed wall to one end. Also on this floor is the master bedroom with a large en-suite and separate dressing room and a further guest bedroom with en-suite.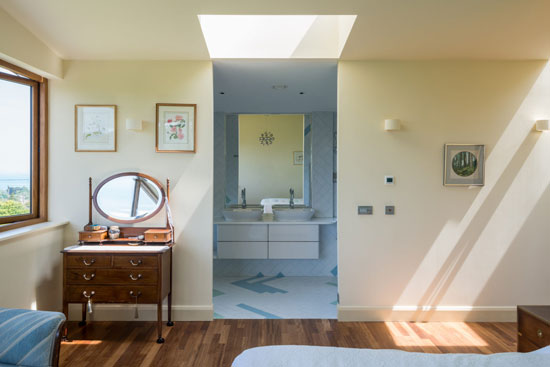 As I said, plenty of space outside too, taking in 6.5 acres in total, although the formal gardens only cover 1.5 acres of that. The gardens include a sheltered dining area, herb garden, fruit trees and potting shed to the rear.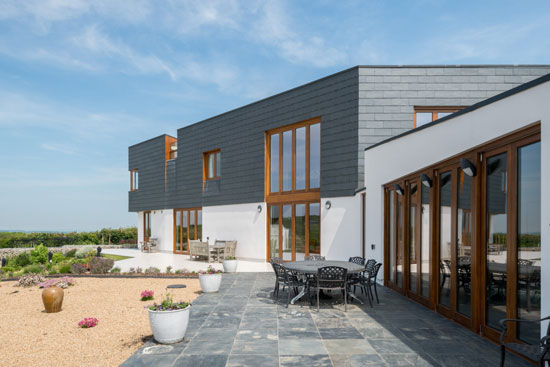 If I had an observation to make, it would be that the interior is rather tame and traditional in comparison to the architecture itself. But as ever, that really is decor and it shouldn't be too difficult to go down a more radical and/or modernist path with this house.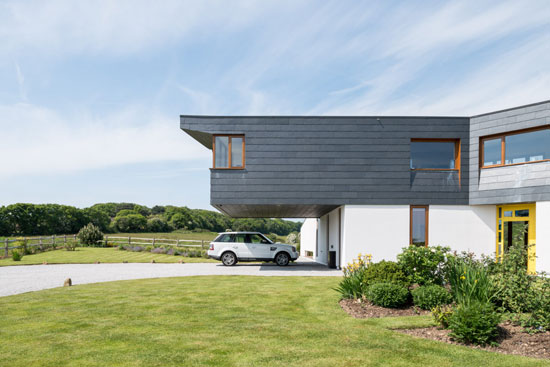 Not cheap at £2,350,000, but very appealing.
Images and details courtesy of The Modern House. For more details and to make an enquiry, please visit the website.