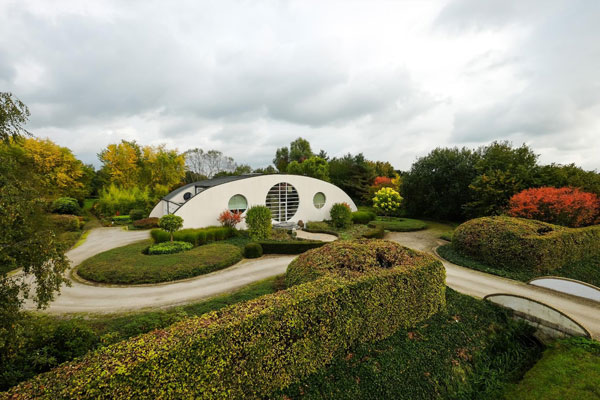 Not sure describing this as a modernist house in Ramsel, Belgium is quite right. This is more postmodern architecture.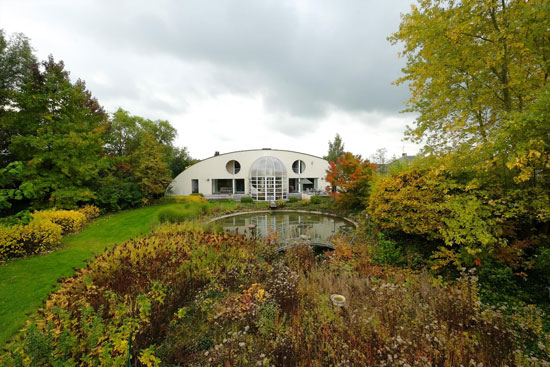 I don't feature a lot of postmodern designs, not least because not a lot of postmodern domestic architecture comes up. To be honest, it isn't my strong point either. Perhaps I need to pick up the Postmodern Buildings in Britain book to brush up.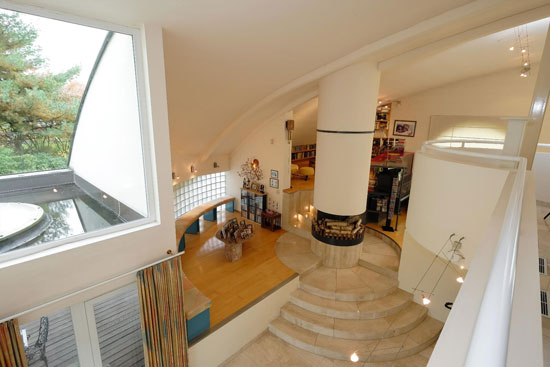 Not that it would help in this case, as the house here is in Belgium and specifically, the north of the country in the Antwerp province.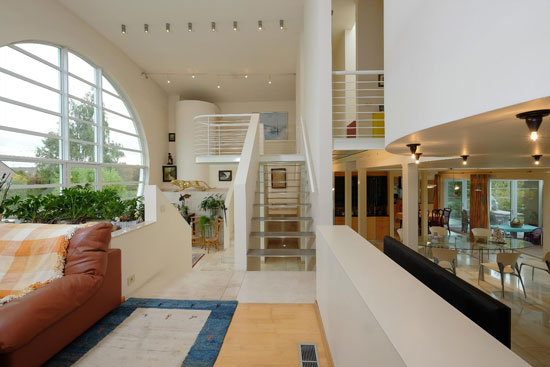 And it's a house that probably looks like nothing else in the area. In fact, it looks like nothing else I have encountered. I just wish I could credit the architect, but I am struggling to find his or her name.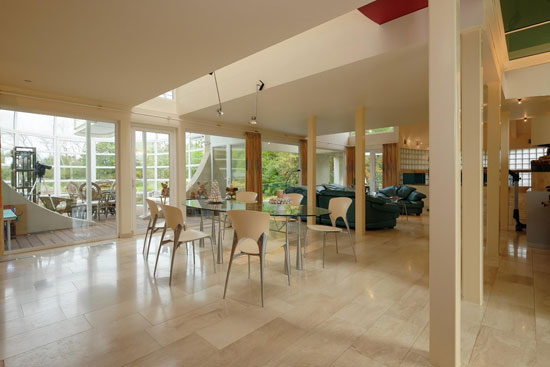 It looks like an oversized playhouse or some kind of alien spaceship. Whatever it looks like, this is a piece of architecture you really can't take your eyes off. It's also a house that leaves you wondering what is behind the front door. If you can find the front door.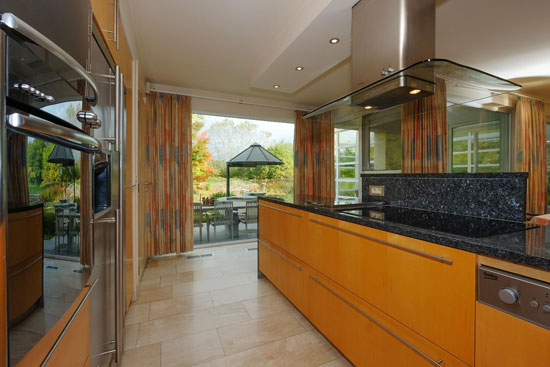 When you do find it, you'll realise that the inside isn't quite as exciting as the outside. Although it most definitely has its moments.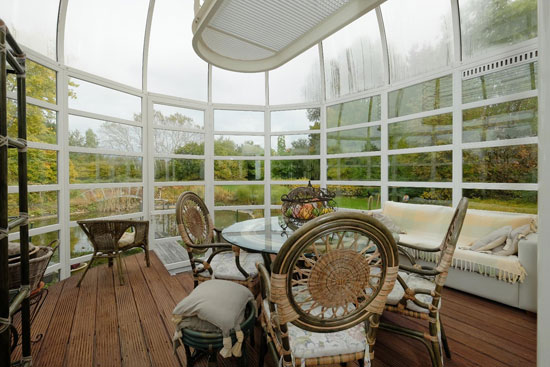 That's because half of the house holds up compared to the outside, the other looks like it could do with a lift.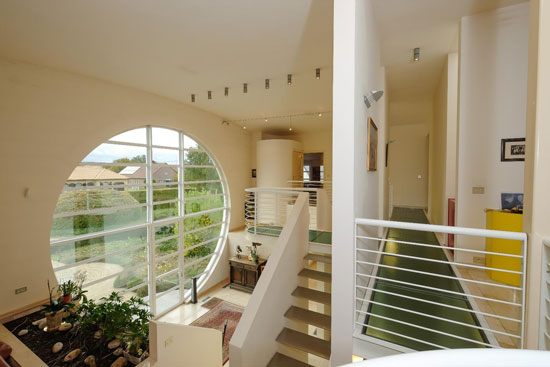 I'm not sure it's because the house has been renovated in any way. After all, this one only dates from the mid-1990s. It seems like someone has gone bold in some areas, but less so in others.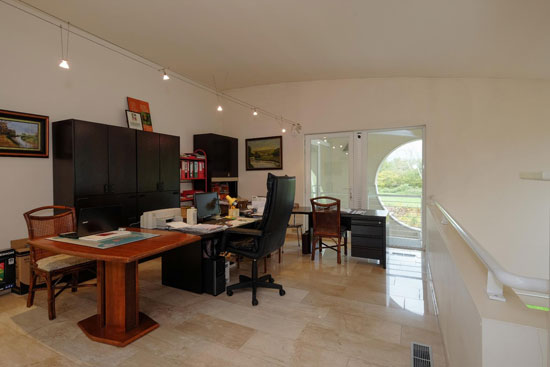 But that can be changed. The shell of this one is unique and a good part of it impresses inside too. Maybe a rework of the rest and the right fixtures and fittings in place would bring a little more balance to that interior.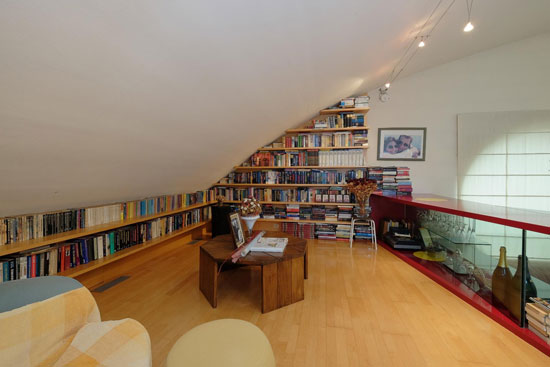 Anyway, enough of that. Let's focus on the positives. That fascinating design and its use of glass ensure plenty of natural light within the house. Some eye-catching detail too.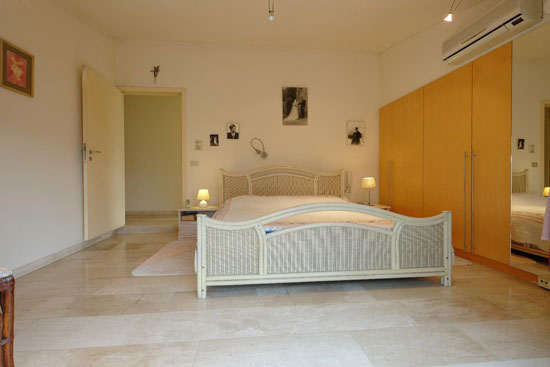 The entrance hall offers an open view of the spacious living room, which is laid out with various lounges, galleries and a dining room, most of which have double-height space and with the focal point of that amazing circular fireplace.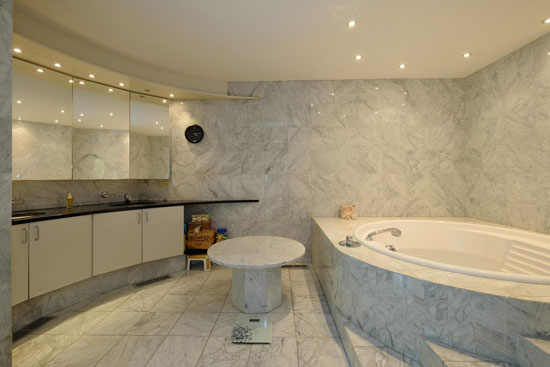 That's not quite all as a library sits within one of those gallery areas and that glass-heavy garden room is the perfect place to take in the scenery. An office space too, should you need to work from home.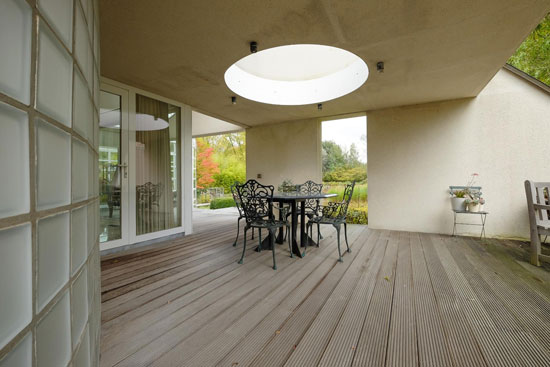 The ground floor also a fully equipped functional kitchen with breakfast corner, utility room and access to the garage, which has space for three cars.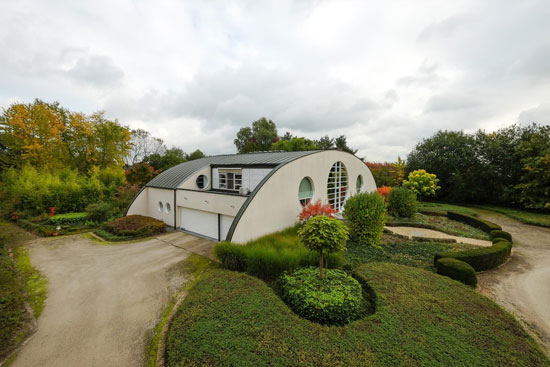 Elsewhere, the house has a 'luxurious' bathroom and three bedrooms, two of which have fitted wardrobes and dressing areas. All three have access to a large roof terrace too.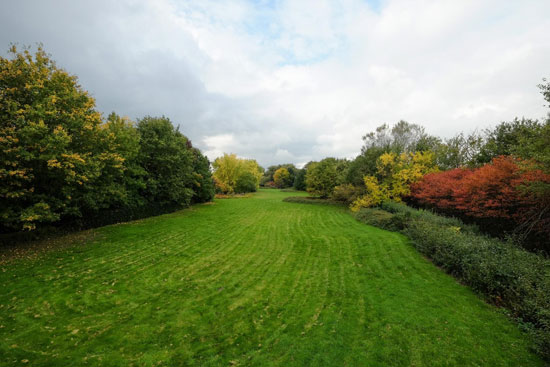 The outside is worth talking about as well, with carefully manicured gardens taking in around 1.4 hectares and a drive that takes you on a tour of the gardens before hitting the house.
With a bit of work, this really could be something very special, if it isn't already. As it stands, the asking price is €798,000.
Images and details courtesy of Hillewaere. For more details and to make an enquiry, please visit the website.