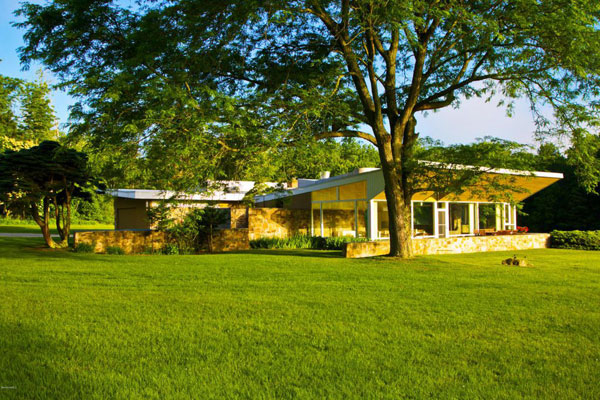 An architectural icon has just gone back on the market. That's the 1940s Marcel Breuer Robinson House in Williamstown, Massachusetts, USA.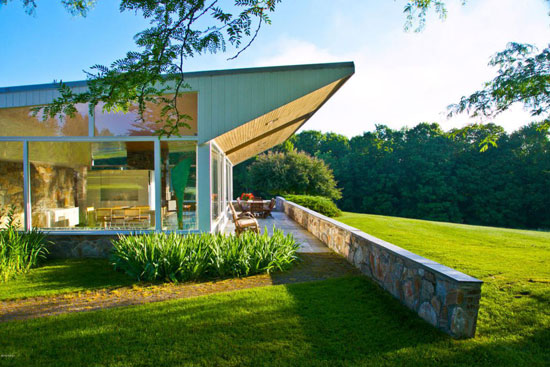 Even better, this one has just had a hefty price cut too. Ok, it's still not what you would call cheap. But a lower price might well make the house all the more appealing.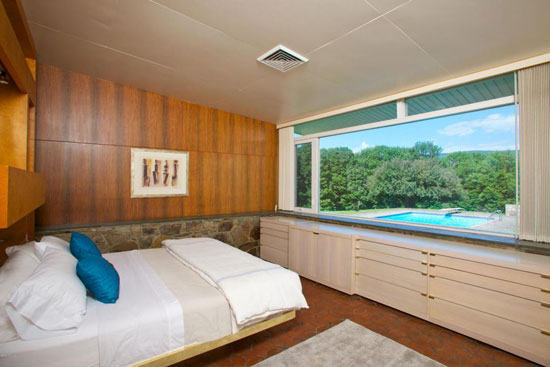 Amazing to think that this one actually dates back to 1948. It really was a groundbreaking build and an incredibly influential one too. Designed by Breuer for Preston and Helen Robinson, its sits in a plot of over 40 acres, with a design intended to be a part of it rather than contrast with the surroundings.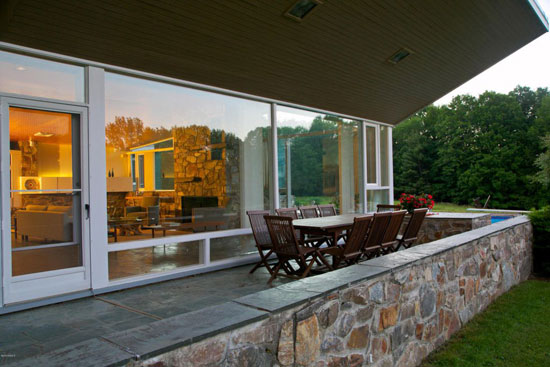 That protruding butterfly roof immediately catches the eye and would have had even more impact back in the 1940s. But that's not the only interesting aspect of this place. Far from it.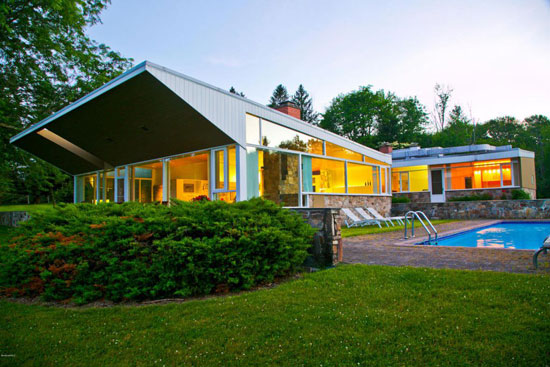 This is a house that uses the 'binuclear' design Breuer became famous for, with separate wings for sleeping and living connected by hallways within. It also has some wonderful design features inside too, including the walls of glass that bring the nature in, the exposed stone walls and stone fireplace, wood panelling and the flow of the open reception spaces across this single-storey house.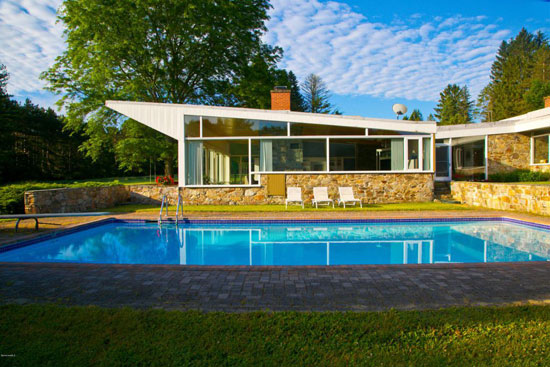 It seems in such wonderful condition too. Yes, updates here and there in terms of the finishes, but overall, you get the impression that this house has been both treasured and respected by its owners for seven decades.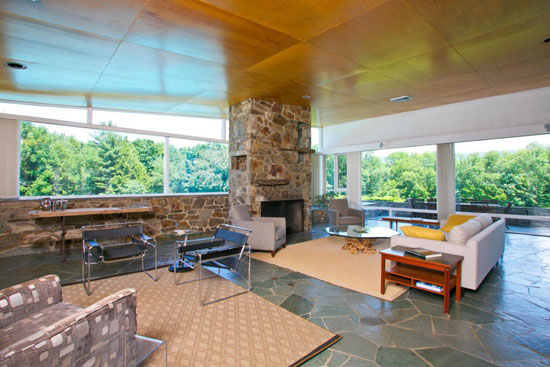 If that's not enough, there's an equally stylish guest house on the plot too, but we'll come to that in a moment.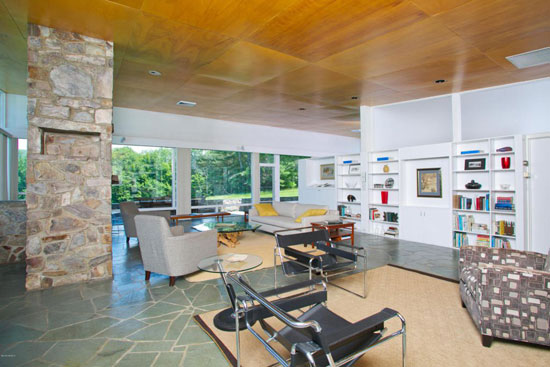 For now, let's look at that main house, which has that 'divided' living space, which is essentially a square and a rectangle. The square is the reception area, which is the main reception, the dining room and the kitchen, as well as some office space if you need to work from home.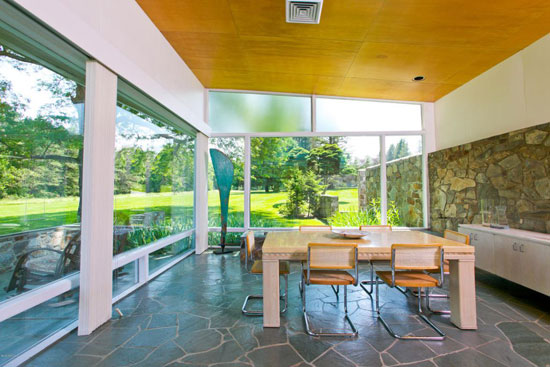 Separate from that is the rectangle, which hosts the bedrooms, bathrooms and garage. There are, as far as I can tell, two bedrooms and two bathrooms in the main house.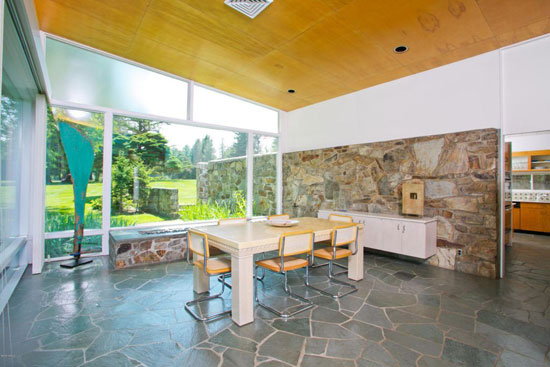 I say the main house because there is that guest building that looks every bit as cool as the main house. Can you imagine having that extra place to put up your friends and family? They might never leave. I'm not sure if that's a good thing or a bad thing. I'll leave that one to you. Love the gallery and spiral staircase in the smaller unit, as well as the continued use of the wood and stone in the 900 sq. ft. guest space.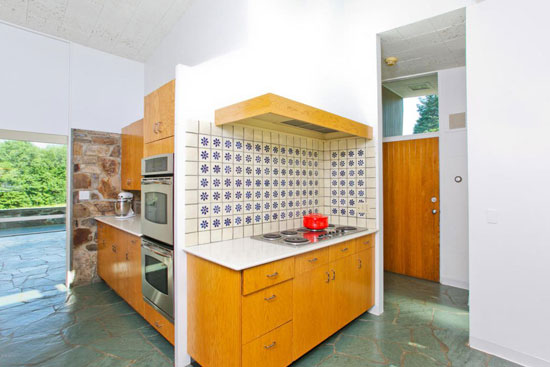 Oh, did I mention the pool? Well, I'm guessing you already spotted that. Another reason for your guests never to leave and a wonderful place to hang out and/or party, knowing that the 40 acres around guarantees you complete privacy as you do.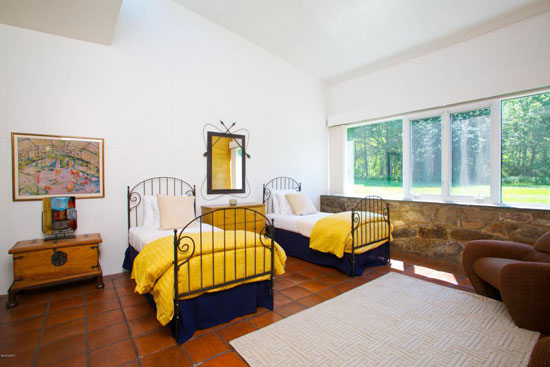 Yes, as you might have guessed I really do want to move in here, but sadly, I think I missed the boat when it came to affording a Marcel Breuer classic. But as I said, it has had a price drop to entice a new owner to make the move to Massachusetts.
When it was last up for sale in 1992, this house had an $850,000 price tag. Yes, we definitely missed out then.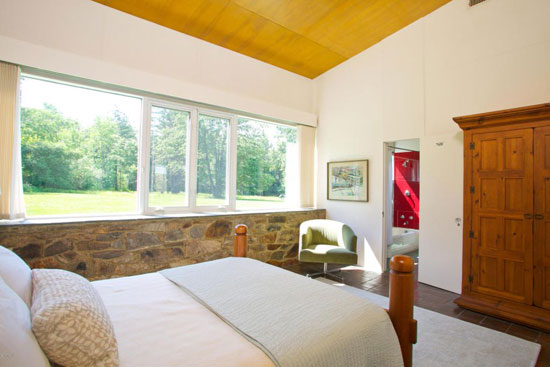 Fast forward to early 2018 and that price jumped up to $1,900,000. But it didn't sell. With that in mind, the vendor has now dropped the price to $1,500,000. I know, still out of your price range. But it is going in the right direction. If it doesn't sell this time, who knows?
Images and details courtesy of Zillow. For more details and to make an enquiry, please visit the website.