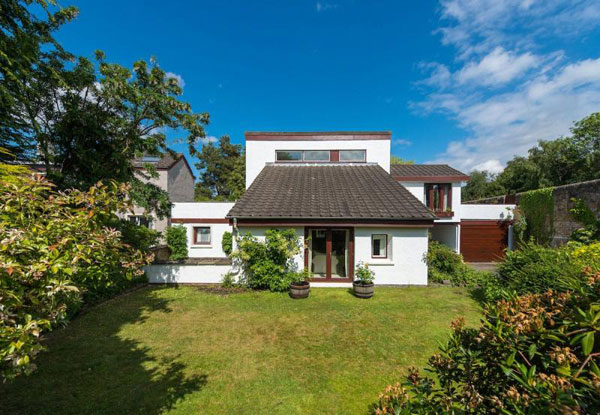 It has been updated, but there is still much to admire in this 1960s modernist property in Edinburgh, Scotland.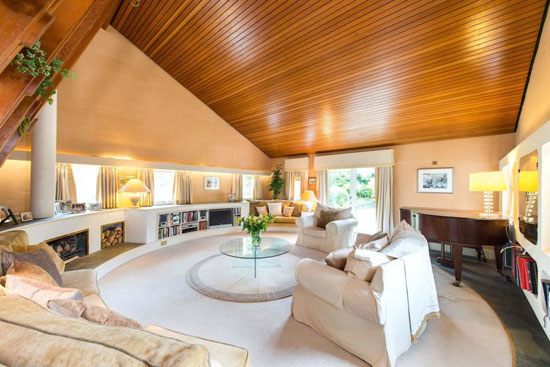 Thanks to Douglas for flagging this house up, which is believe is the home of noted architect Ron Cameron and a house designed by the architect 'to exacting specifications' for his family back in the 1960s.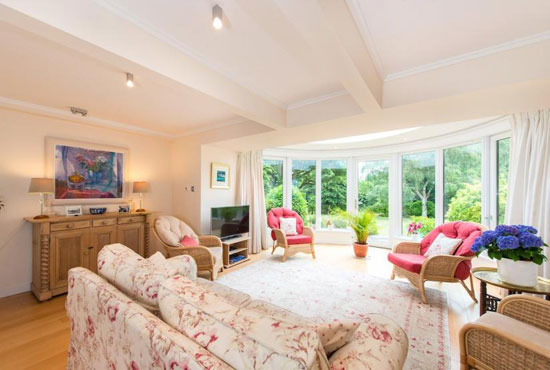 In fact, this one was built in 1968 and still has some of the original detailing in place. Of course, most of the architecture itself looks unchanged (but not quite all, which I will come to later) as well as some of the interior.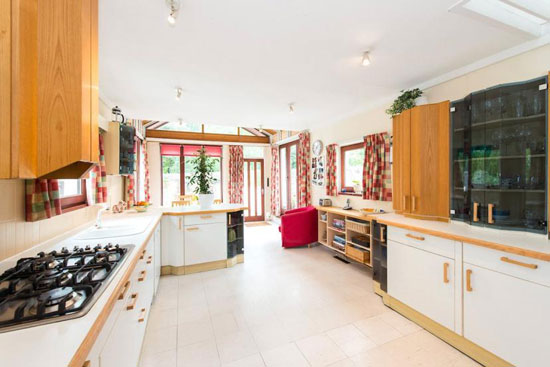 'Some' being the key word here. The house has been lived in and loved by its owners over the decades and looking around; it seems that some of the finishes are more contemporary than others. But in the main, I am talking about decor and finishes rather than serious structural change.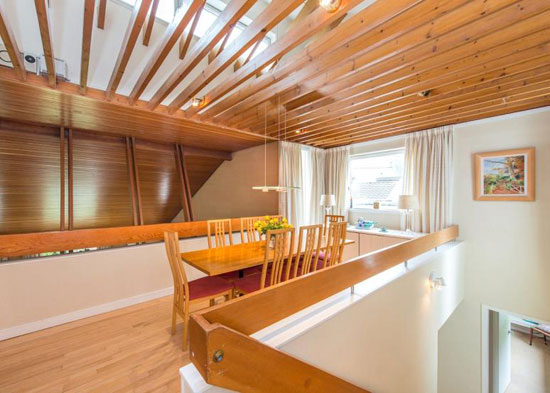 But some areas most definitely haven't changed. The star of the show in this house is that amazing reception space, which looks straight out of the pages of a cutting edge 1960s interiors magazine.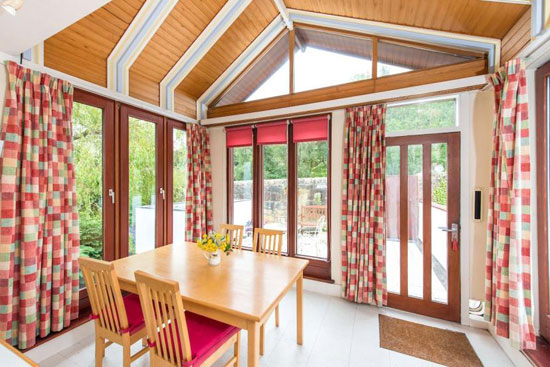 The high vaulted ceiling with wood cladding, the sheer volume of the room and the lovely curve that incorporates the fireplace and storage. With a tweak of the furnishings, this could be your dream 1960s hangout.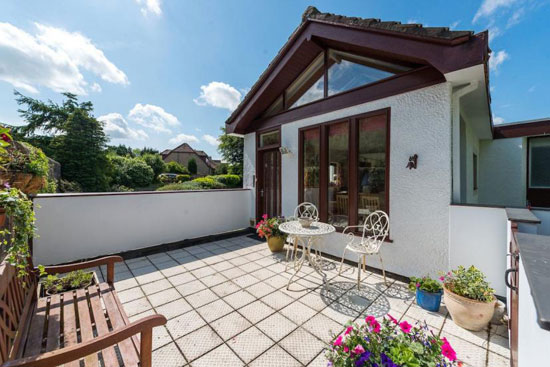 Check out the mezzanine dining area too, which again looks faithful to the original design, as does the nearby staircase.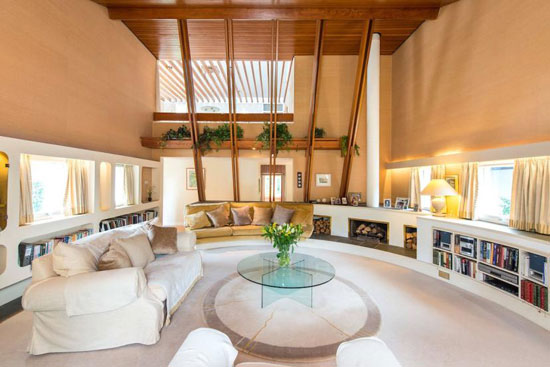 Elsewhere the finishes tend to be more modern and in some cases probably need to be updated, especially if you want something in keeping with the architecture. There's nothing wrong with the finishes at all and everything looks to be maintained to a high standard. But I suspect prospective buyers might want to go a little more modern in some parts of the house.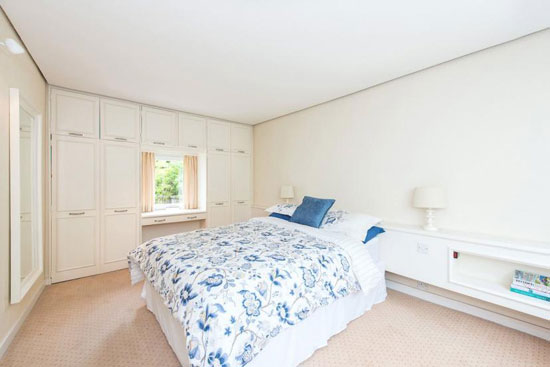 As for space, there is a good amount of that both inside and out. Let's start with the floorplan inside first.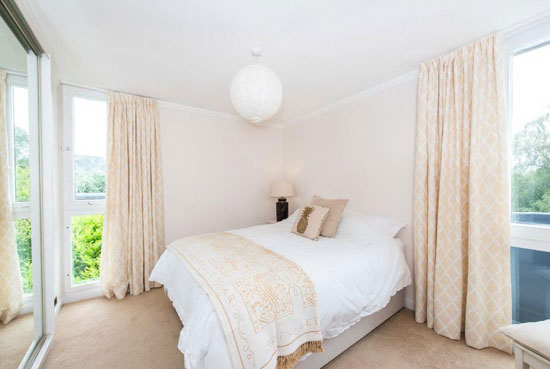 That's made up of a ground floor with vestibule, entrance hallway, formal sitting room, a family/garden room, the master bedroom with en-suite shower room, a further bedroom and another shower room.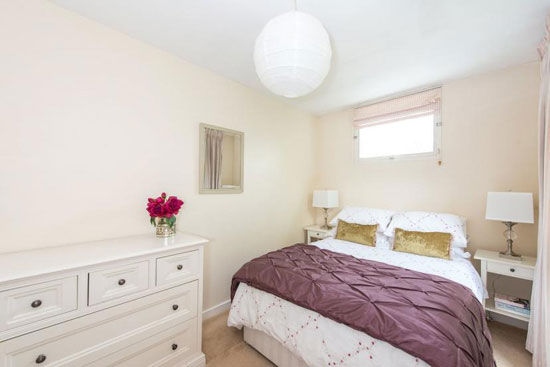 Head to the first floor and there is a kitchen/breakfast room, that mezzanine dining area, three more bedrooms and the family bathroom. There are views over the gardens from almost all the rooms, but especially from the first-floor terrace.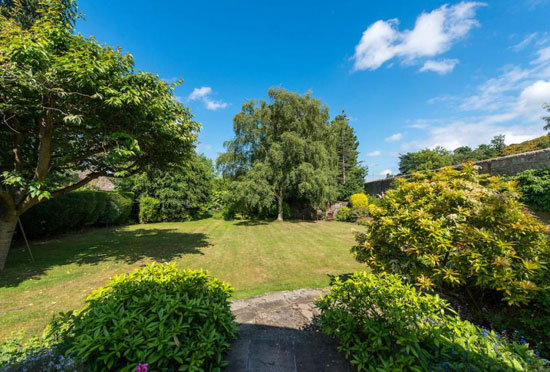 Those grounds certainly look substantial to me. There are private gardens to the front and rear, with the gardens bordered by a number of mature trees, which no doubt add in some privacy.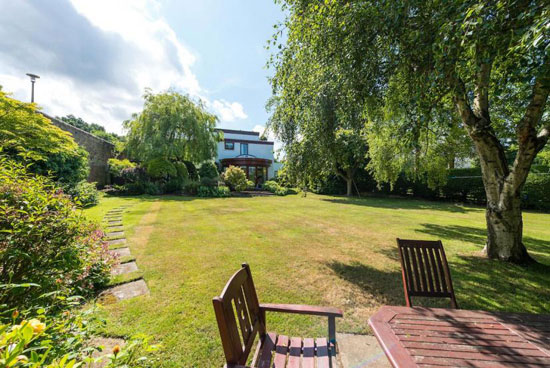 There is also a private driveway with carport, as well as a garage and a secure storage shed.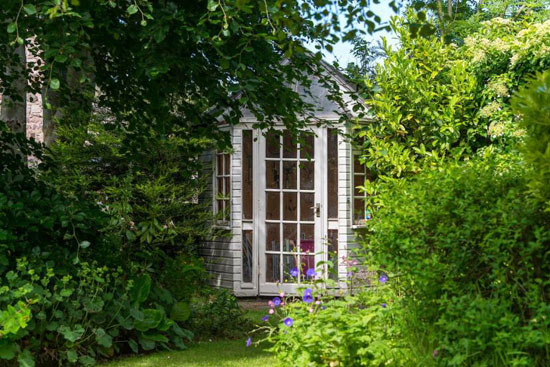 Offers over £795,000 if you like the idea of this one.
Images and details courtesy of Rettie. For more details and to make an enquiry, please visit the website.