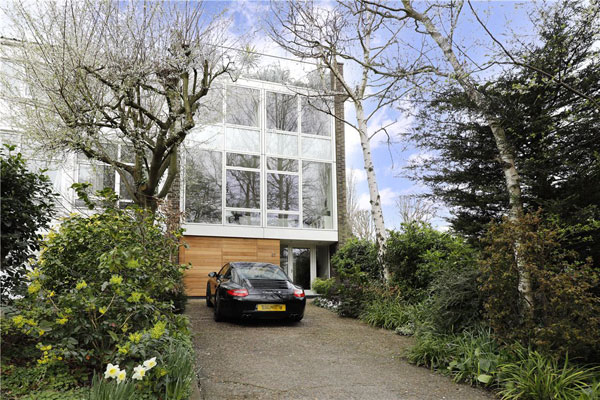 A good-looking house, especially after renovation. This 1960s modernist townhouse in Wimbledon, London SW19 is up for sale.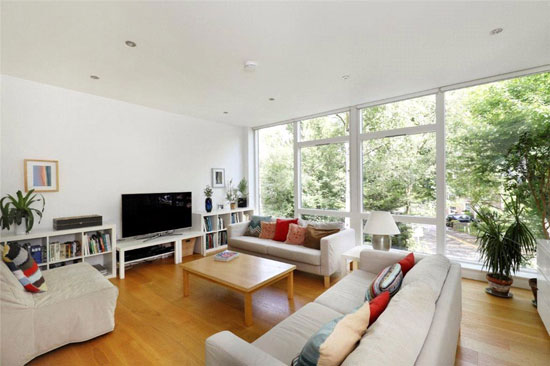 At least I think it is the 1960s. There's little background about these houses, but I would guide it is either 1960s or very easily 1970s. Not that it matters, but if I can confirm a year, I'll update this piece.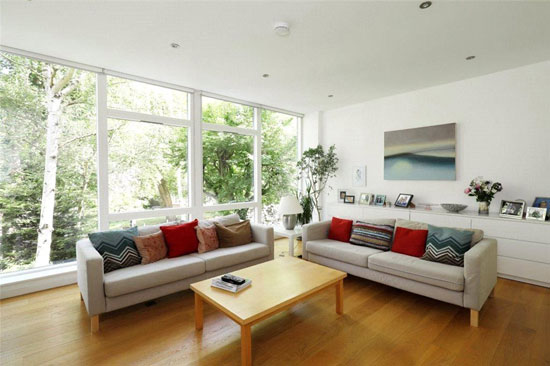 In fact, I know little about what is described as a 'highly regarded private estate', located near to both Wimbledon Village and Common.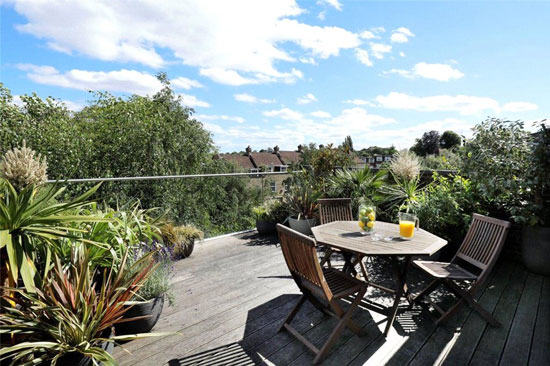 SW19 is a wonderful area for modernism of this area. Check out previous finds to see what I mean, not least the 1960s grade II-listed Richard and Su Rogers-designed Rogers House in London SW19. This place isn't up there with that, but it does have a number of selling points alongside its location.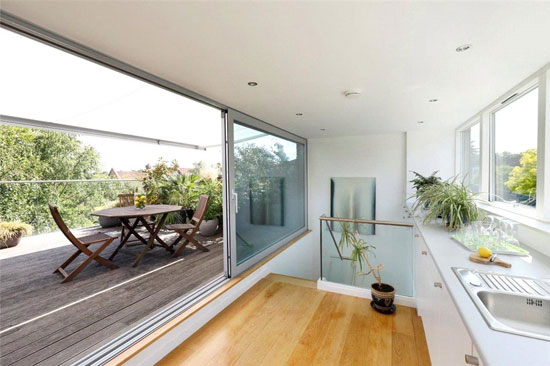 First off and most obviously, I am looking at the architecture. This is a modernist townhouse at the end of the block and unmistakably of its era. They just don't construct houses like this in any number these days, which is a great shame.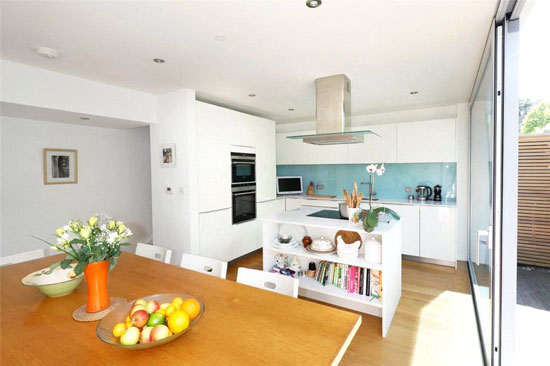 Angular and dominated by that wall of glass on the front elevation. Even after all the work, this is unmistakably mid-20th century. But a house that has had an extensive refresh.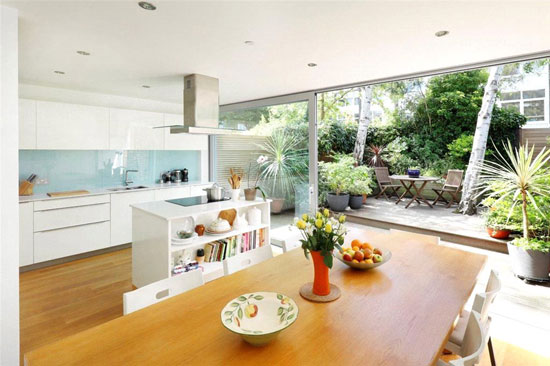 According to the agent, the house was 'comprehensively refurbished and extended, inside and out, by the current owners in 2010/11'. Architect owners? If I was playing 'Through The Keyhole', that's the conclusion I would come to looking at that lovely home office space and the RIBA publications within.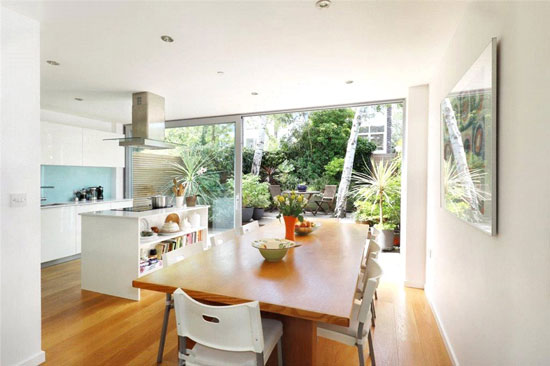 The end result is a house that is still about the original architecture (albeit with some added cedar cladding), but with a clean, contemporary finish throughout. In short, it looks pretty stunning.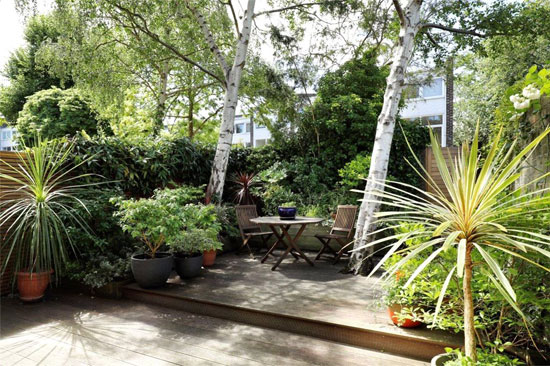 As for the extra space, that's described as a 'studio room' (which you can see packed with instruments on this page) and a less-obvious roof terrace, which is always a selling point as far as I'm concerned. Other improvements that might not be obvious include solar water heating, underfloor heating and integrated smoke detection and sprinkler system.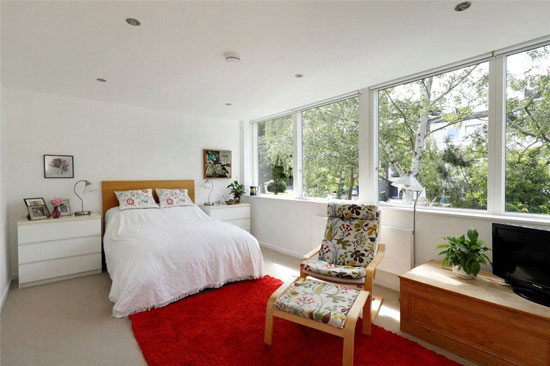 Overall space a selling point too. The house is set over four floors and includes the hallway, the main reception room and its wall of glass, a kitchen/dining room that opens out onto the garden/outdoor entertaining space, a utility room, a cloakroom, an impressive five bedrooms, two bathrooms and that additional studio room and roof terrace.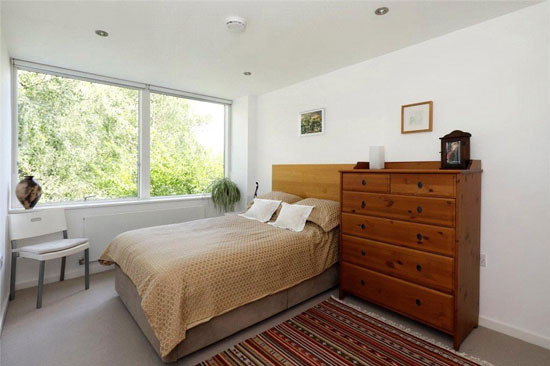 You also get a bike store, off-street parking and the landscaped rear garden. Note that you also get access to the gated communal gardens too. With that in mind, there is a service charge of £350pa for this place.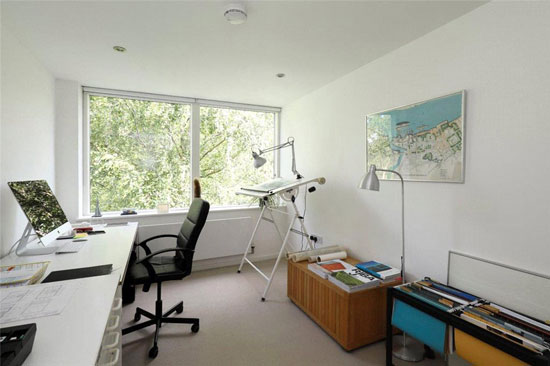 Of course, there's also the option of renting this out during Wimbledon fortnight and going on your own luxury getaway with the proceeds. According to the agent, there is 'considerable rental demand' during that time of the year.
Whatever you want to do, your first thought will be about the asking price. This one is up for £1,495,000.
Images and details courtesy of Robert Holmes. For more details and to make an enquiry, please visit the website.