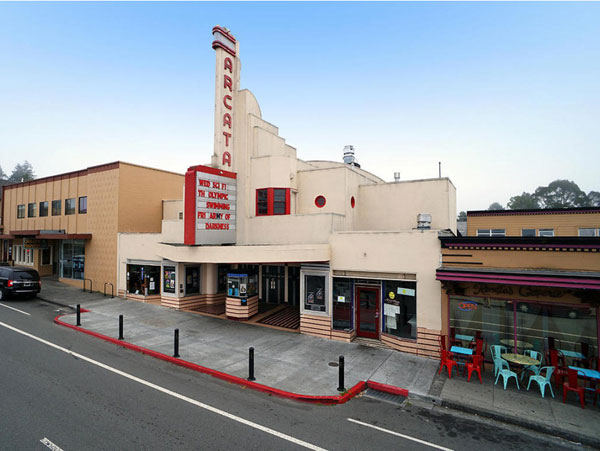 A lot going on here, but summed up as a 1930s art deco cinema, retail and living space in Arcata, California, USA.
An incredibly striking building and judging by the reception a preview of it got on Twitter, a number of you agree.
Not just a cultural hub, this 'lot' also offers up two smaller businesses and living space as part of the package, all of which is part of the historic 1938 cinema.
At first glance, you might think you would be walking through a time capsule as you push open those cinema doors. Sadly not. The cinema was renovated/restored back in 2009, although the work was 'in keeping' with the original 1930s building.
It's also much more than a cinema too. When it re-opened a decade ago, it was as the 'Arcata Theatre Lounge', hosting major music acts and special events as well as screening films. As you can see from the inside shots, it definitely has a 'nightclub' vibe about it within.
But a retro nightclub, with the interior still paying homage to the building's 1930s heyday.
Of course, being a working venue, it has everything you would expect of one. That includes a full commercial kitchen, concession counter, a licensed bar (plus everything you need to run one), safety features plus upgraded sound and theatrical lighting.
But there's more. Upstairs is the private 'living-in quarters' with its 'cool retro city vibe' and a balcony view of downtown Arcata. I'm not sure how much living space there is, but at least one bedroom and a bathroom. plus generous reception and office space judging by the photos.
Two commercial rental units are attached too, which are currently Smug's (which looks like a pizza place) and the Bluegrass Barber, which is pretty self-explanatory.
The listing doesn't have a full profit and loss breakdown for the business as you might have guessed, which is likely to be key to any decision to buy this place. Something to look into and study before you get anywhere near handing any money over.
Hopefully, it does make a decent profit, as the asking price is quite hefty at $1,650,000. If you do buy it, I'll definitely be up for a trip over for the opening night.
Images and details courtesy of Zillow. For more details and to make an enquiry, please visit the website