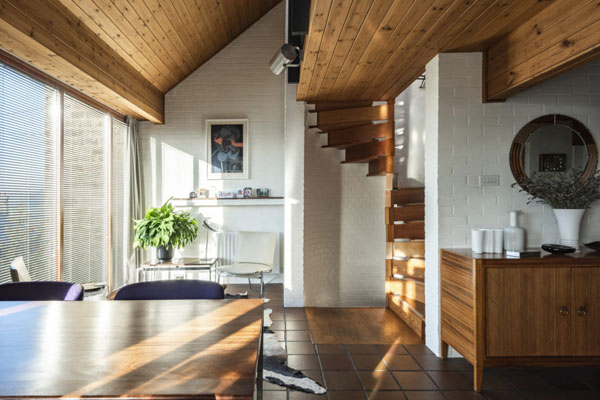 Nice location and architecture. This 1960s John Humpston midcentury modern house in Hackney, Derbyshire is right up my street.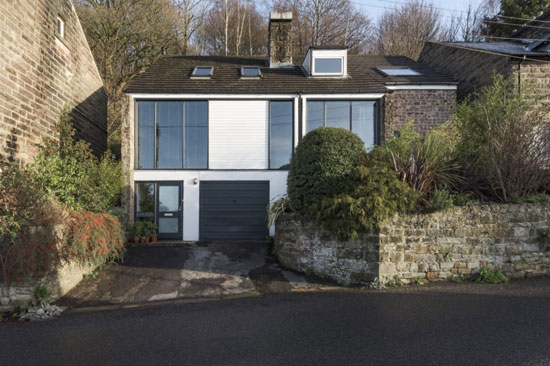 I don't recall the architect being featured in the past, but the agent mentions the work of Peter Adlington in terms of similar inspiration. Certainly a similar era.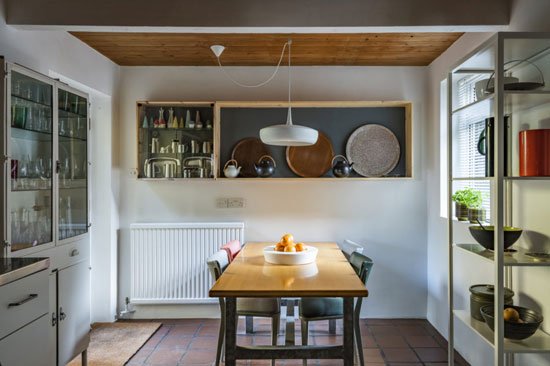 The house itself sits well within the traditional stone street. It doesn't bring obvious attention to itself, which I presume was the intention. Just offering up that extra bit of style. It's the inside where this 1967 construction really comes to life.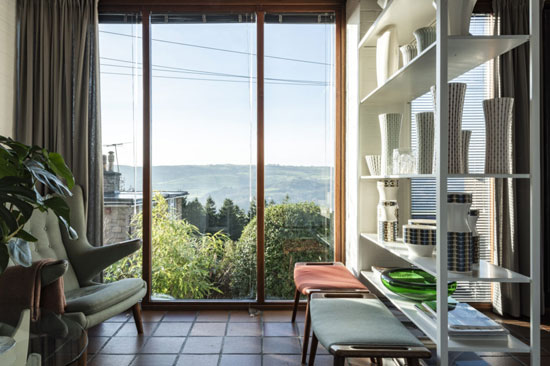 The inside is a mix of the old and the new, but you will have to look hard for the new. Yes, this has been updated and modernised, but the upgrades are very much in keeping with the original house.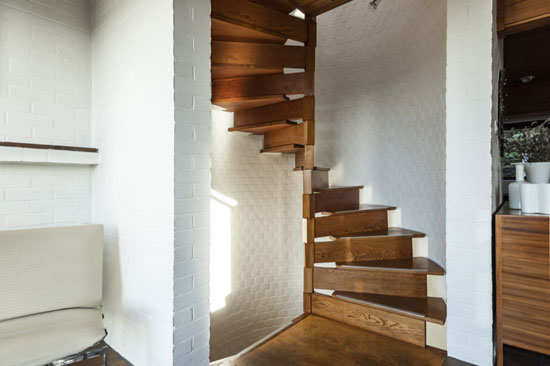 In fact, someone has taken a lot of effort to preserve the original finishes of this place, including the quarry tiles, whitewashed brickwork and pine cladding, which combine to create a wonderful midcentury backdrop.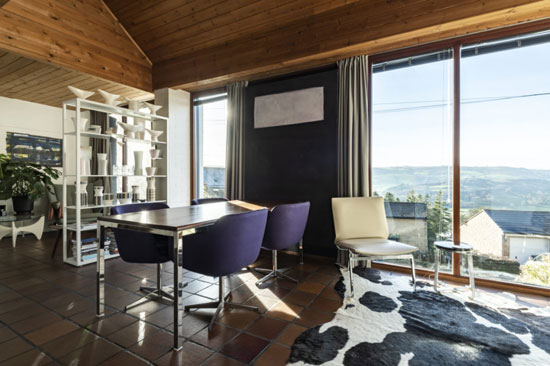 But there is more to the house than that. It's also about a well-thought-out layout and someone (presumably the current owner) with an eye for interior design.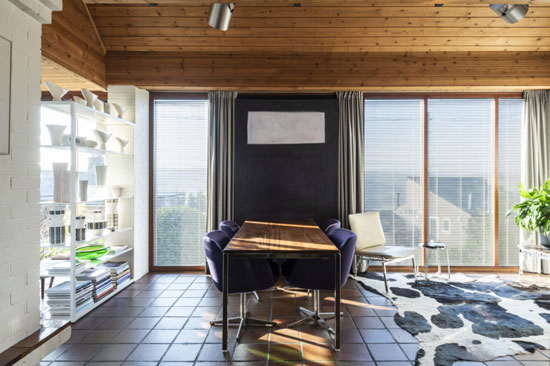 Some lovely views too, with three large panels of floor-to-ceiling glazing offering stunning views out towards Darley Dale and the Peak District National Park. Plenty of natural light too, courtesy of those windows. Matlock on your doorstep too. Can't be bad.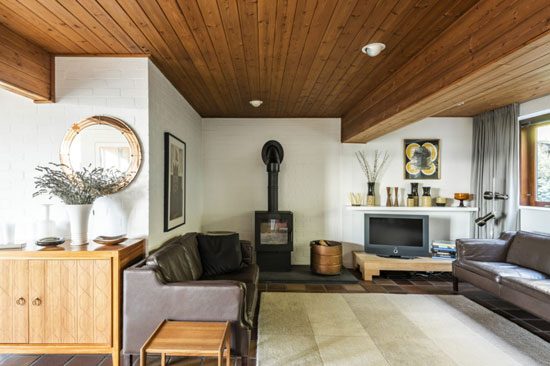 A good amount of living space as well, which covers three levels and kicks off with a wooden spiral staircase. Most spiral staircases impress me, but this one, set into a circular brickwork stairwell is rather wonderful.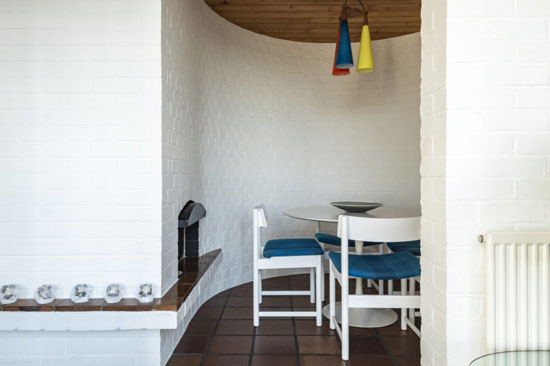 It accesses the first-floor communal spaces, which is primarily an open-plan living and dining room, with Heather Brown Welsh quarry tiles, a brick fireplace and wood-burner. The kitchen is accessed via the living room and was extended some years after the house was finished. It leads onto a 'generous pantry' and office space. A glazed door takes you into the garden from here.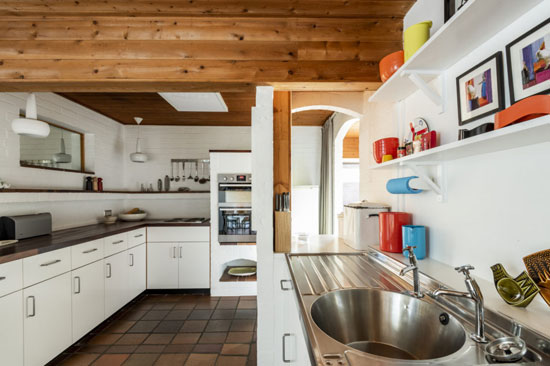 The garden is an eye-catching space too, with mature plants and shrubs arranged between boulders of 'mill stone grit' which make up the steeps sides of the Derwent Valley. A path takes you to the top of the garden, with more great views to take in.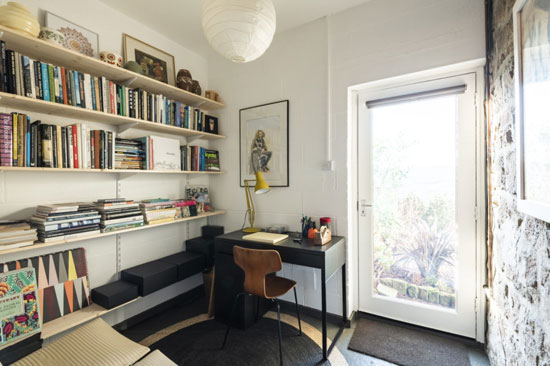 Head up a level of the house and you will find four bedrooms arranged on either side of the roof's pitch. There is also a family bathroom with cork tiles and original Armitage fittings, along with an original 1970s Signet shower.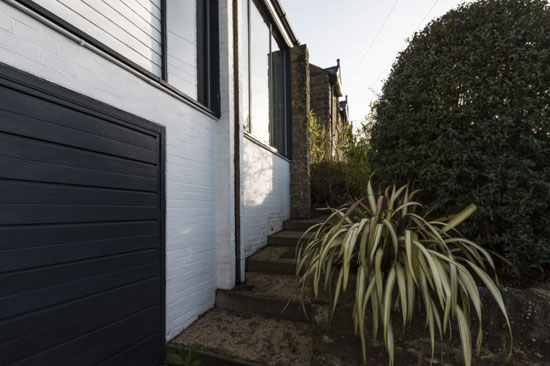 A guest suite with en-suite bathroom is at the 'northern end' of the house and below the main living space is a garage and a driveway with space for two cars.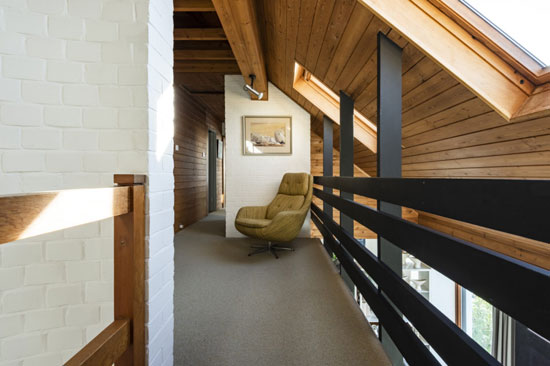 A lot of house and a lot of style. The location isn't exactly isolated (it has decent transport links) but it isn't in the heart of the city. That's either a plus or a minus depending on what you need, but it does impact on the price.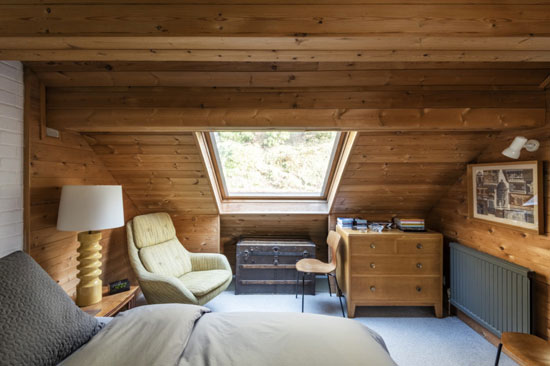 That asking price is £399,999.
Images and details courtesy of The Modern House. For more details and to make an enquiry, please visit the website.