Scandi style
1950s
,
1960s
,
1970s
,
Airbnb rentals
,
Brutalist
,
Denmark
,
Holiday lets
,
Midcentury modern
,
Modernist
,
Most popular finds
,
Renovation Projects
,
Sweden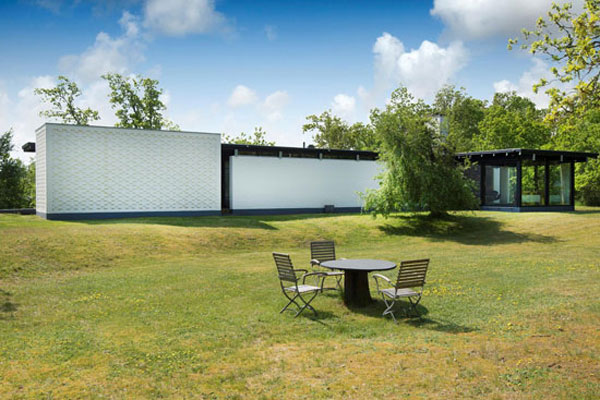 Do you like the idea of some Scandinavian modernism in your life? If so, check out the 25 most popular house finds on WowHaus for some inspiration.
When I say Scandinavian, I am focusing primarily on Sweden and Denmark. Thats not to say I have an issue with architecture in Norway and Finland, I just struggle to find any houses in those countries. Saying that, I have a gem coming up in Norway later this week. But before that, check out the most popular past finds.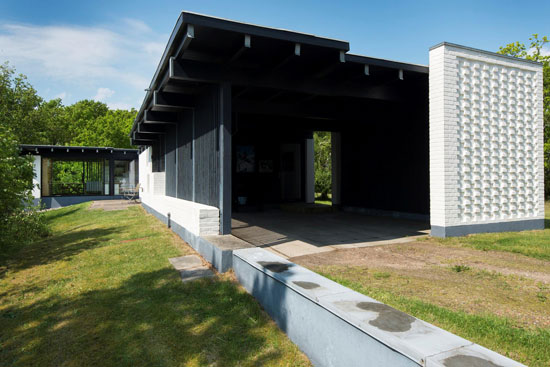 25. 1960s Knud Joos-designed modernist property in Skagen, Denmark
Let's start with a gem of Scandinavian modernism from 1961.
The work of Vilhelm Wohlert studio (who also designed the Louisiana Museum of Modern Art outside Copenhagen), this is actually US-style modernism with a Scandinavian touch. Bright, open-plan living space with some Scandi design touches and if you like art, plenty of wall space for that and some interesting pieces in the garden.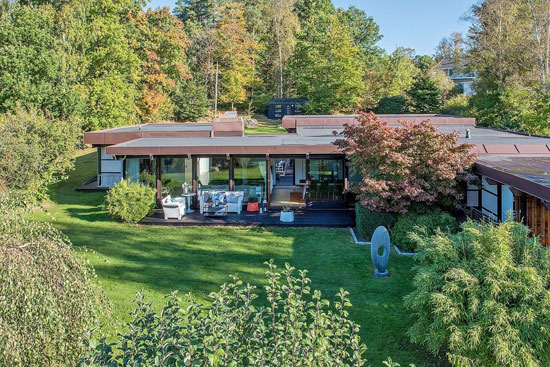 24. 1970s midcentury-style property in Lerum, Sweden
Another design that has more than a hint of US MCM about it.
Updated, but still plenty of original features, such as the free-flowing space, the beams, the brick fireplace and full-height windows. Pool and sauna too.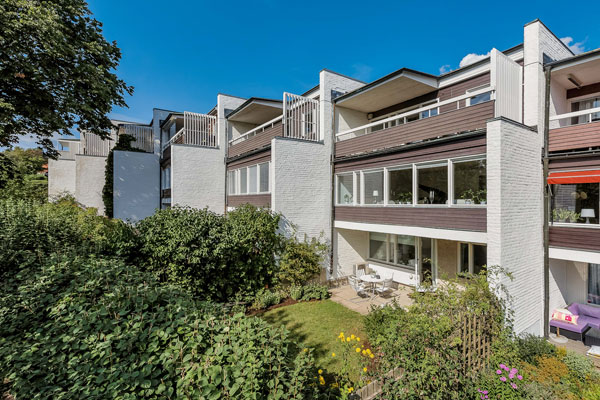 23. Three-storey townhouse in Stockholm, Sweden
Nothing quite says the 1960s like a three-storey townhouse.
In a sought-after location, these places rarely come up for sale. But this one did, with the architecture and layout intact. Saying that, the finish has been updated, but without taking away the character of the place.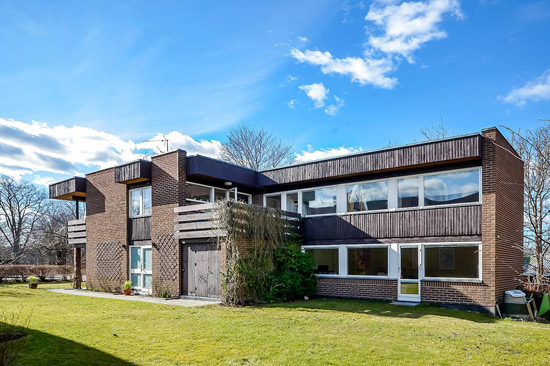 22. 1960s modernist property in Kyrkviken, Sweden
Now this is the kind of Scandinavian modernism I expect to see in Sweden.
The work of an unknown architect back in 1968, it has the angular frame, large windows and balconies, along with some exposed brick walls and the original wooden floors. Updated in places, but again, without taking anything away from the place.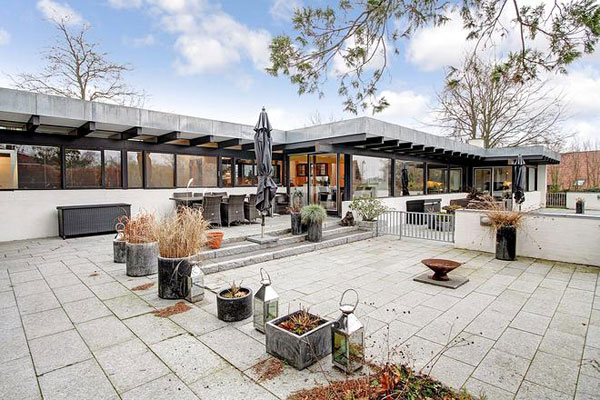 21. 1960s Henning Larsen-designed property in Birkerod, Denmark
Dating back to 1965 and updated in the mid-1980s, but this is still a great example of Scandi style.
Understated on one side, but a different story to the rear, with plenty of glazing overlooking the pool area. Inside is open, with exposed brick, beams and some lovely, original fixtures.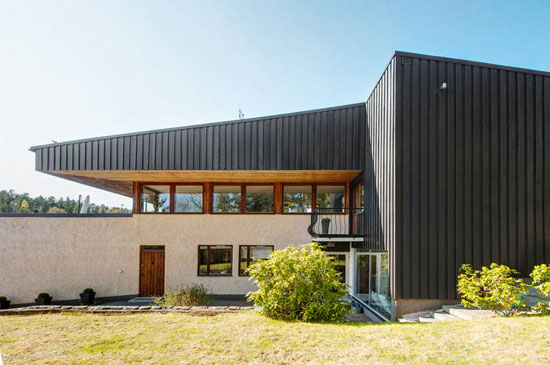 20. 1970s modernist property in Saltsjo-Boo, near Stockholm, Sweden
Something bold from the 1970s, which is often the case.
The architecture is untouched, but it did undergo a recent renovation, which has created more of a contemporary space inside. Talking of inside, this one also has an indoor swimming pool with lounge and sauna, should you want to relax.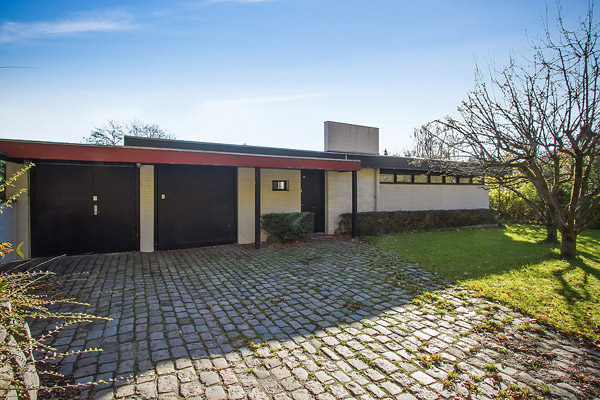 19. 1950s Kjeld Dirckinck-Holmfel midcentury modern property in Aalborg, Denmark
Pretty much everything you would expect of Scandinavian modernism inside and out.
An understated single-storey design, the inside looks to have had a light renovation, which serves to bring out the best of the interior. Wood ceilings, clean, white finishes, built-in storage, a wonderful fireplace and what looks like the original kitchen.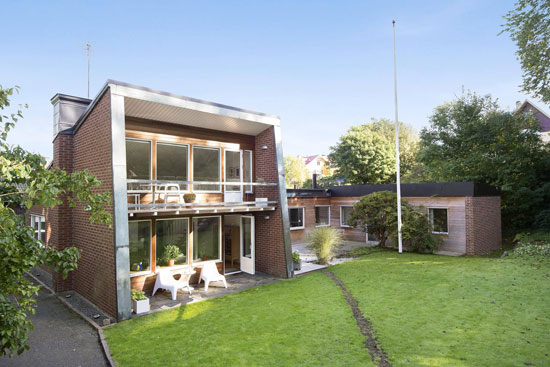 18. 1960s P. Tygesen-designed modernist property in Gothenburg, Sweden
Something a little different with this house in the wonderful city of Gothenburg.
Dating from around 1960, it is the work of an architect known for the light and space in his designs, which is definitely the case here. Love the double height living space and mezzanine level, complete with original staircase in particular.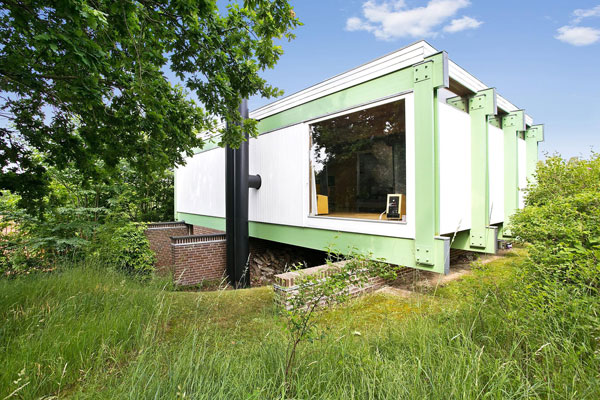 17. Jesper Lund-designed property in Hillerod, Denmark
Looks unassuming, doesn't it? Trust me, the interior of this one is VERY special.
The work of Jesper Lund (for himself) back in 1969, this is wonderfully preserved property both inside and out. This is pretty much a shrine to Verner Panton inside and a dream if you want something unashamedly retro. You have to see the spiral staircase.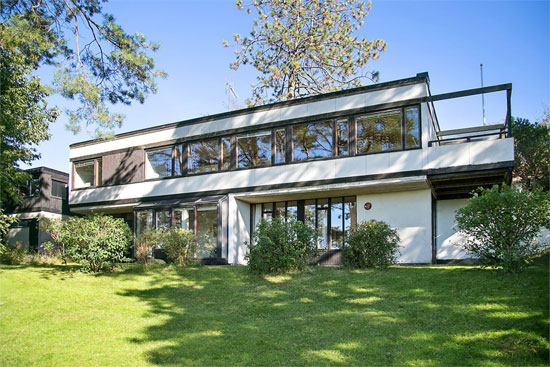 16. 1960s architect-designed modernist property in Trollasen, Sweden
Another in the Gothenburg area and a design kept intact for well over 50 years.
Like a number of these, sympathetically updated for modern-day family living, but without losing character or original fittings. Bright and open-plan with wood ceilings (and some walls), vintage-style kitchen (mixing original units with modern tweaks), Scandi light fittings and a spiral staircase. A very cool office too.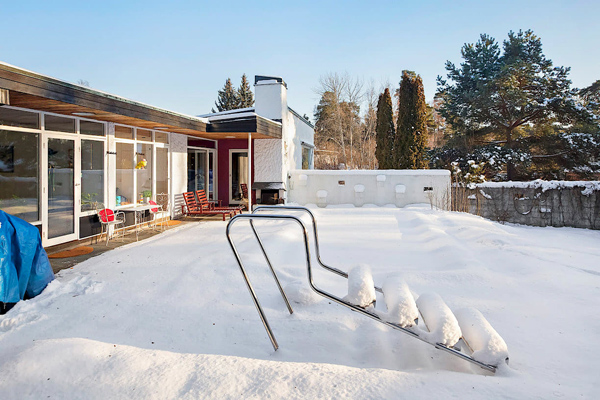 15. 1960s midcentury modern property in Kungsangen, near Stockholm, Sweden
The snow just adds to the cosiness of this particular design.
A 'first time on the market' and with all the details you would expect when hearing that phrase. Parquet flooring, wood ceilings, exposed brick walls and one of the coolest kitchens around. A very special house.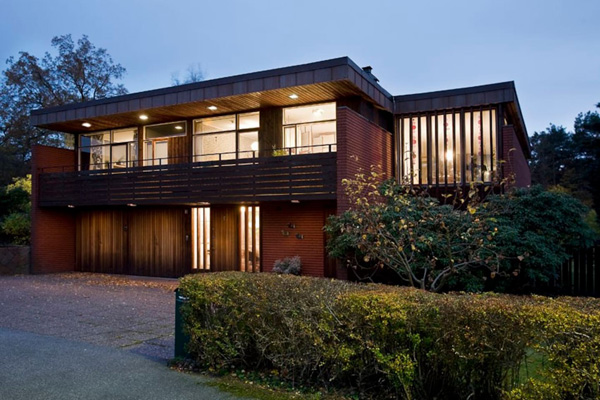 14. 1960s modernist property in Stockholm, Sweden
This one is on Airbnb, so you can book it for a break if you deserve one.
My kind of holiday home too. Pretty much unchanged for 50 or so years, with the roof, the glazing and the balcony areas all catching the eye. Inside is a mix of the old and the new, with the old definitely winning the battle. Very cool and well-located for Stockholm centre too.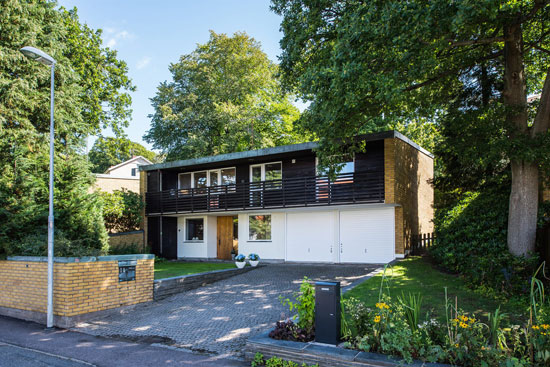 13. 1960s Arne Branzell-designed midcentury property in Gothenburg, Sweden
Another unmistakable Scandinavian design.
Angular modernism with balcony is very much of the era and location, with this one also throwing in authenticity too. The ceilings, the windows, the flooring and so many original furnishings. This place is a 'how to' guide for Scandinavian modernism.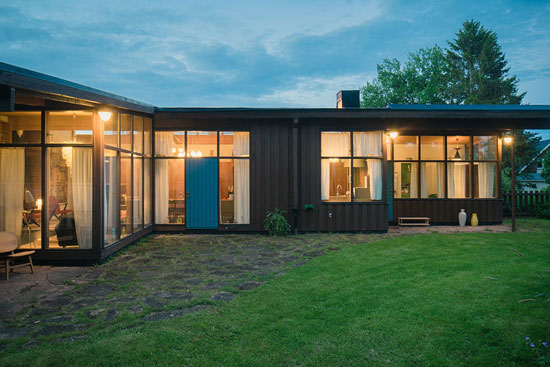 12. 1950s Greta Magnusson Grossman-designed Villa Sundin in Hudiksvall, Sweden
The headline to this one is the designer behind it.
If you know the name, it might be down to Greta Grossman's interior design pieces such as the Grasshopper lamp, the Cobra lamp or the 62 Series desk, all reissued of late. She designed houses too, mainly in the US, but she did just this one in Sweden. Dating back to 1959, little has changed, with this one almost like a museum of design. Another amazing kitchen too.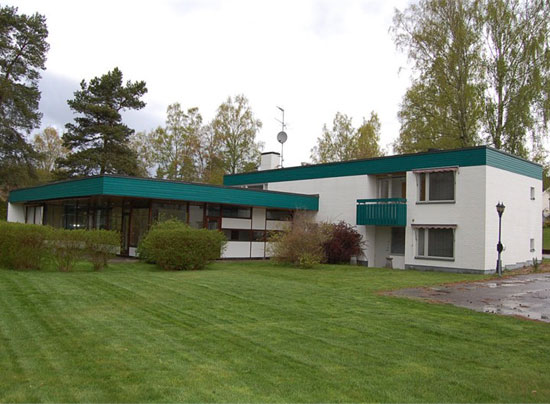 11. 1960s modernist property in Hultsfred, Sweden
Amazingly, this one was up for just £62k.
Why? Well, it seems that older properties outside the big cities in Sweden aren't too popular in Sweden, hence the bargain price. So much to love here too, pretty much an empty time capsule waiting to find a new and appreciative owner.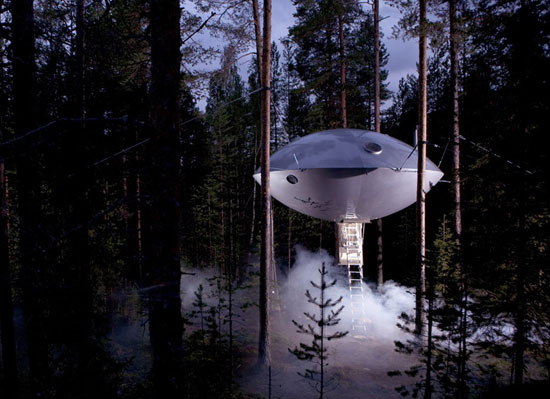 10. The UFO at the Treehotel, Harads, Sweden
Another holiday let, should you fancy dipping your toe into a Scandinavian lifestyle.
Not that you will be buying a house like this. It's a true one-off. One of the places you can spend some time in if you head to the Treehotel in Harads, Sweden, this pod-style living space has great views of the surrounding forest and river, plenty of isolation, but with activities available, if you want them.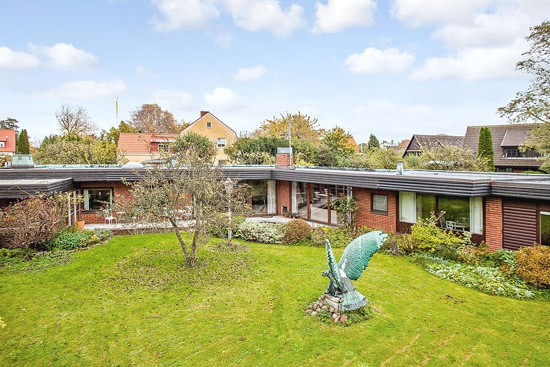 9. 1960s single-storey modernist property in Mellanheden, Malmo, Sweden
Again, a house sold by its period interior.
I originally described it as 'flicking through the pages of a midcentury Scandinavian interiors magazine', with little change since 1963. This is everything you would expect of the era, with the furnishings to match.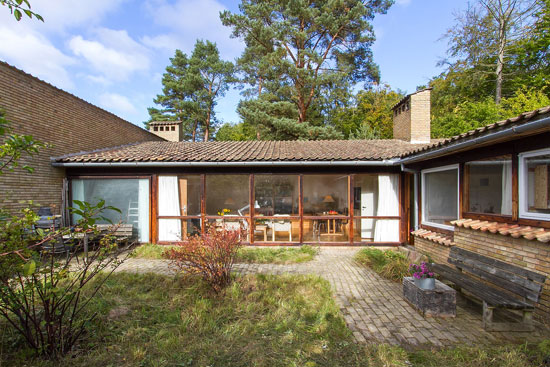 8. 1950s Jorn Utzon-designed modernist property in Helsingor, Denmark
Time for another giant of design to make a mark in the rundown.
his is one of the Kingo houses designed by Jorn Utzon in the 1950s, a development made up of 63 L-shaped houses based upon the design of traditional Danish farmhouses with central courtyards. They have listed status, which is perhaps why this one has changed so little over the years. A light hand at updating, not much more.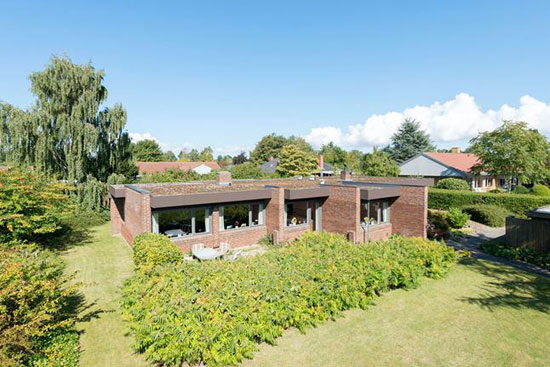 7. 1970s modernist property in Munkebo, Denmark
I don't know the area, but I love what I see in this 1974 build.
Subtle updates over four decades, most recently with the windows. But that's about it. Most of what you see is probably from the 1970s or just after, with good maintenance ensuring it all looks like new.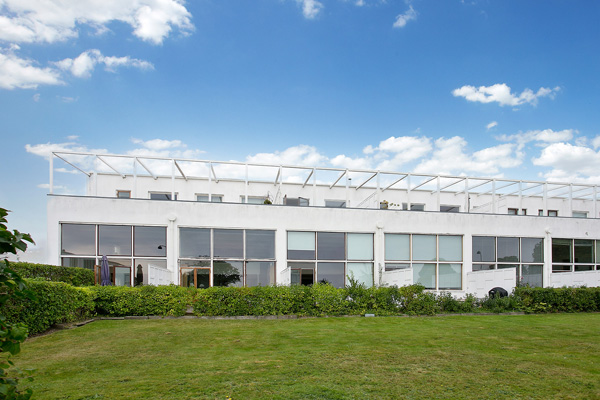 6. 1950s townhouse in the Bellevue complex, Klampenborg, near Copenhagen, Denmark
I really couldn't do a Danish round-up (or a Scandinavian modernism rundown) without mentioning Arne Jacobsen.
This is part of an extension to the Bauhaus-inspired Bellavista housing estate from the early 1950s and not far from the Bellevue Beach, which is one of the most popular beaches in Denmark. Listed architecture with a clean, modernist feel and an amazing staircase, double-height reception and communal gardens.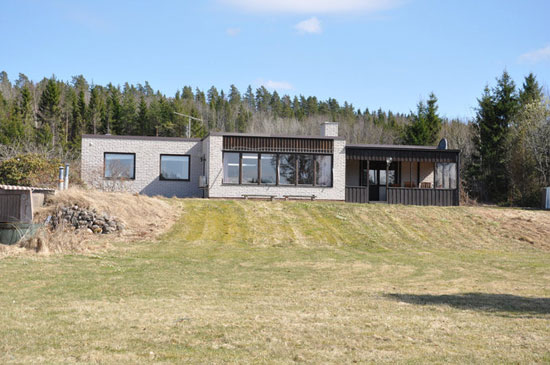 5. 1970s modernist waterfront property in Nassundet, Kristinehamn, Sweden
I think price and location played a part in the appeal of this one.
A waterside property in largely original condition, but one that needed some upgrading to bring it back to its best. Lots of land too. £143k was the price, but you suspect someone could have got it cheaper.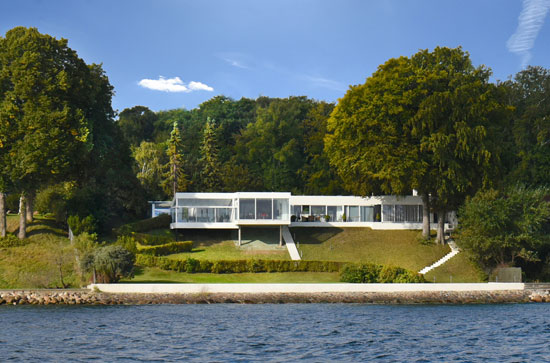 4. 1950s modernist property in Vedbaek, Denmark
Waterside modernism of a very different kind in Denmark.
This isn't new, it is actually around 60 years old, but heavily renovated and updated. It sits high on a hill, overlooking the coast and beyond, with the interior looking like a high-end furniture retail showroom. Check out the circular decorative pool too.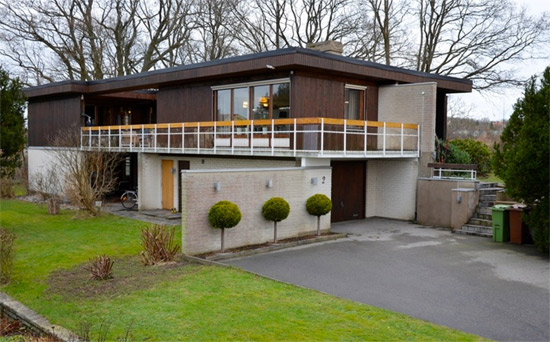 3. 1970s modernist property in Ronneby, Sweden
I think the Swedish people are so much better at renovating houses than the rest of us. They just know what to keep and what to change instinctively.
In the case of this one, keep the architecture 'as is' to maintain the character and once inside, make sure the bolder period details are intact whilst updating some of the background features. It's a winning formula.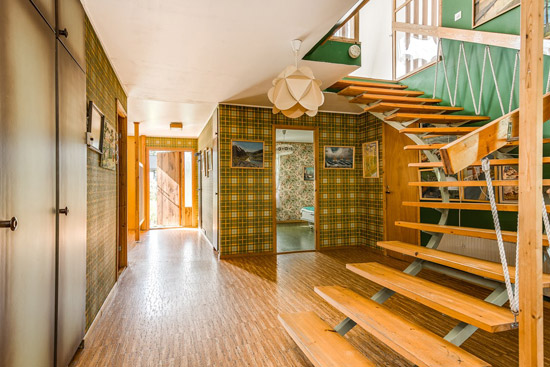 2. 1970s modernist time capsule in Sundsvall, Sweden
Yes, time capsule time. Pretty much nothing changed with this one.
The architecture itself would have caught my eye, but once you see the interior, you are likely to be blown away. The decor, the staircase, the kitchen and the wardrobes in the bedroom that match the decor. All of which was available for £111k or maybe even less.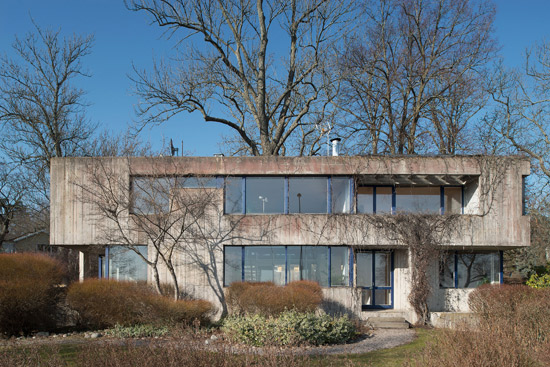 1. 1970s Leonie Geisendorf-designed Villa Delin brutalist property in Djursholm, Sweden
This was always going to be number one. This is one of the most popular houses I have featured across the board.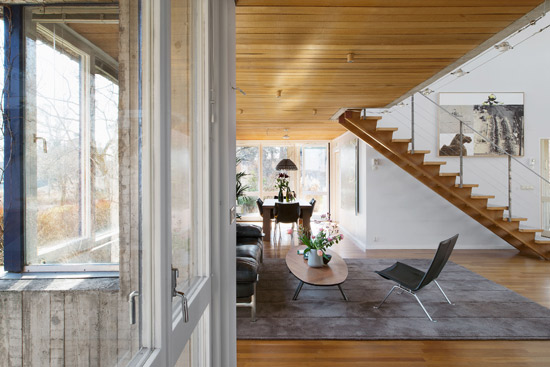 It works on so many fronts. The brutalism angle of course, but the interior is much softer, more in keeping with traditional Scandinavian modernism and with most of its key design features very well maintained. A sought-after location too, as well as some very nice coastal views.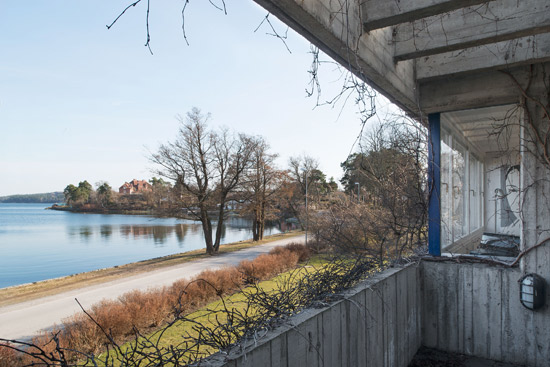 This wasn't a cheap option, but for many of you (myself included) this is a dream home should a financial windfall ever happen.