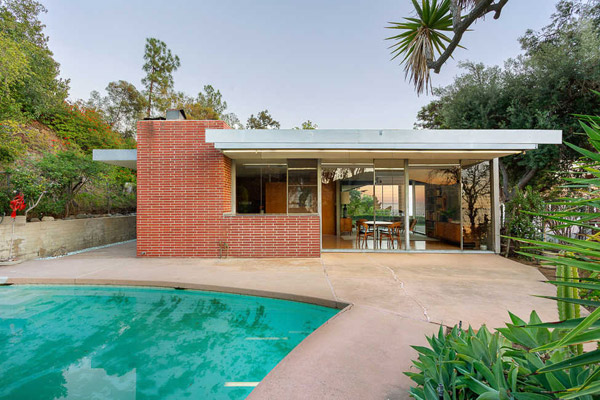 On the market for the first time, this 1960s Richard Neutra modernist house in Brentwood, California, USA is rather amazing.
Amazing because the house has barely changed since 1960. In fact, Julius Shulman captured this house back in 1965 and outside of the black and white imagery, there isn't a great deal of difference between the photos then and the ones you see here today. Even the home furnishings look unchanged.
Not that the furnishings are listed as being part of the deal, but it might be worth asking. They really are a core part of this one and so much character will leave this house when the interior design departs.
The house itself hovers somewhere between modernism and midcentury modern, with the house probably sitting well with the latter.
As for period details, you can check out the sliding walls of glass, the wood panelling, built-in seating, bookcases and desks, that wonderful untouched breakfast area and what looks like an original kitchen and a selection of mosaics that extend right into the pool area.
Those mosaics are the work of Dutch-born artist Elsa Sale, one half of the original couple who asked Neutra to create this place. In fact, this place is also known as the Elsa and Robert Sale Residence.
As for space, there is around 1,632 sq. ft. of that and made up of open plan living, dining and den areas, as well as three bedrooms, two bathrooms and the kitchen/bar space.
Head outside and you get the original swimming pool and entertaining space plus the gardens and a two-car carport.
According to the agent, some restoration is required, but I'll have to take their word on that as they have seen it up-close. To me, this is near perfection.
A noted architect, a great location and bags of character. Of course, it doesn't come cheap. You are looking at an asking price of $3,000,000.
Images and details courtesy of Crosby Doe Associates. For more details and to make an enquiry, please visit the website.
Property Location