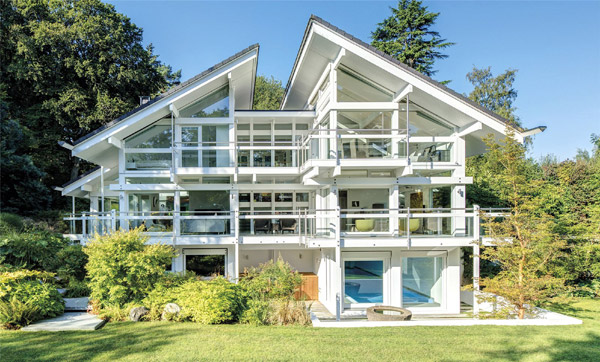 Not just any Huf Haus, this Huf Haus property in Great Missenden, Buckinghamshire comes with a swimming pool and tennis court.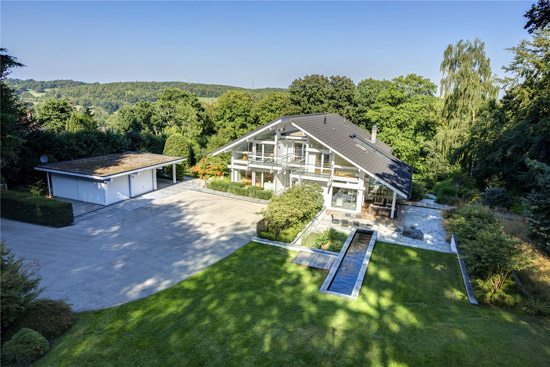 Saying that it does come at a price, like most of the Huf Haus properties out there. Well, with the possible exception of the Huf Haus currently up for raffle, which could be yours for the price of a raffle ticket. That's still ongoing if you are feeling lucky.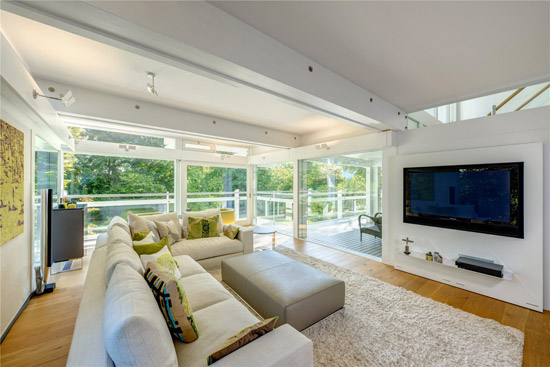 If you have the funds to buy one yourself, read on, as this particular Huf Haus is very special and with a little extra than most I see for sale.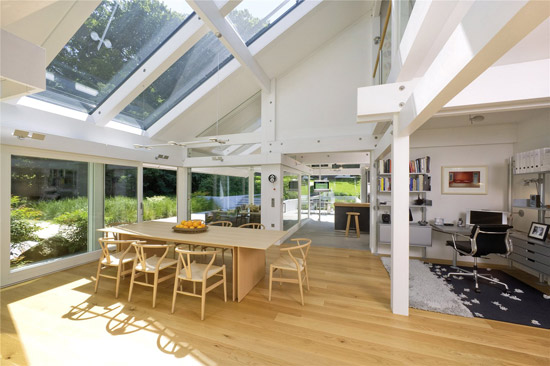 But at the end of the day this is a Huf Haus and as such, has similarities to pretty much every other Huf Haus out there. That's because each one is a prefabricated property designed and built in the German factory, before being transported out and built by the Huf team of builders on your plot.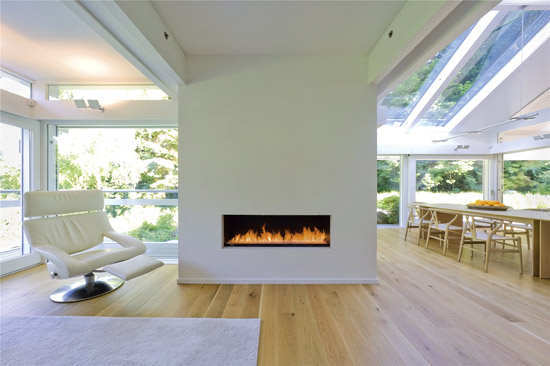 That design is produced with the client's input, so a choice of colour (they tend to be black or white in terms of the beams) and with a layout to your own personal specification. So each one original, but with a distinct look and feel.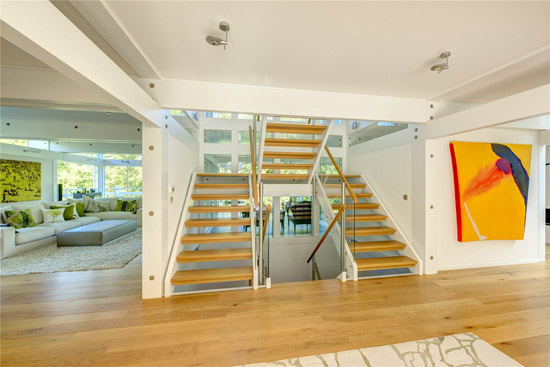 The one here sits in a 'tranquil and secluded' setting on the outskirts of Great Missenden and behind electric gates, with a driveway taking you past the car port and garage and through to the main house.
As I said above, they tend to be black or white, with this one going down the white route both in terms of the beams and the finish. It really is incredibly bright. Of course, that brightness is also boosted by the walls of glass and the glazed ceilings, key features of any Huf Haus property.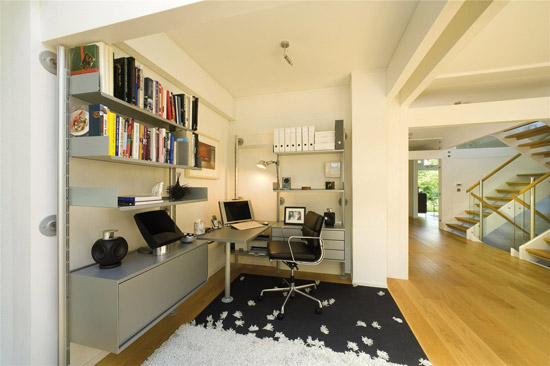 Once inside, you are greeted by an expansive reception hall with views of all the surrounding land and access to the other primary spaces.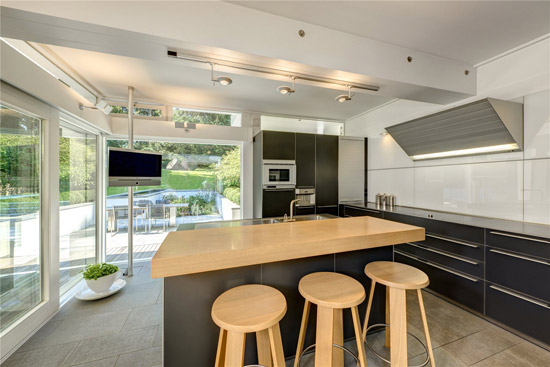 That includes a dining room and study area, which open onto the kitchen, while a covered terrace opens further onto the sun terrace for indoor/outdoor living options.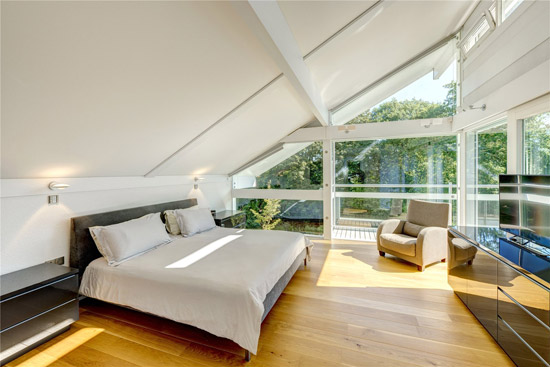 Beyond that is the family room, separated from the dining room by a 'futuristic' gas fireplace and at the other side of the hall the drawing room and a bedroom. Note that most of the downstairs rooms have sliding glass doors to open up the house up to the outside space.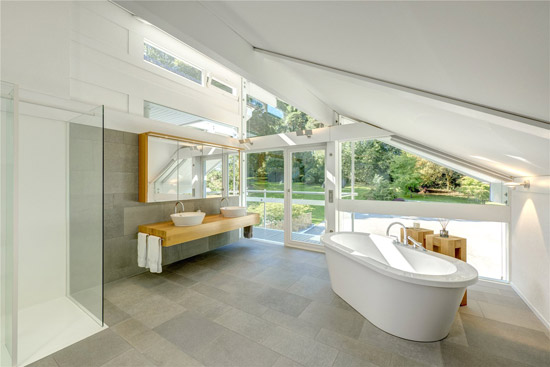 A dual staircase rises from the reception hall leads to the semi-galleried landing above, currently used as a library and reading room. Also up the stairs is the master bedroom suite with both dressing room and bathroom. Two more bedrooms here as well, each with en-suite shower rooms.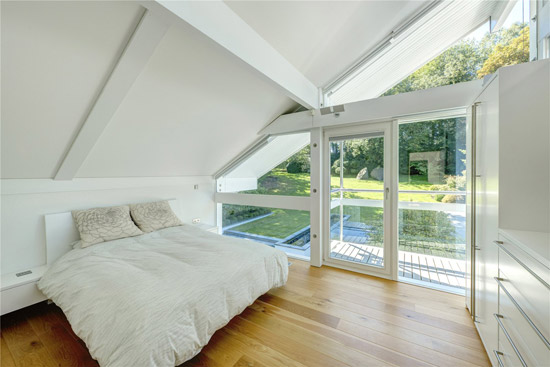 There is a lower ground floor as well, currently used as a home office/cinema and gym, but could be converted for other uses, including bedrooms, which was the original intention.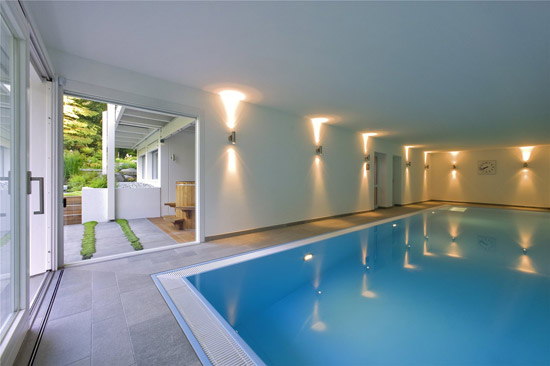 Of course, the spa area is here too, incorporating a 12-metre heated swimming pool and traditional cedar hot tub in the adjoining loggia.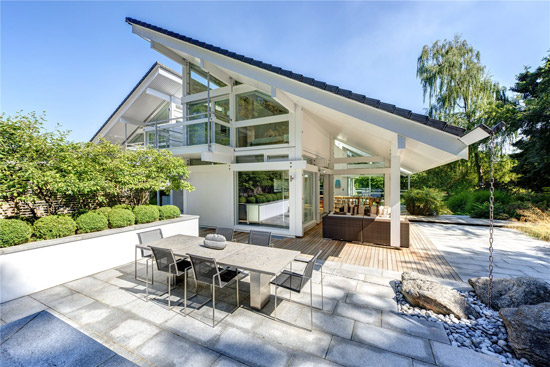 If that's not enough to tempt you, this Huf Haus also comes with what is described as a 'prize-winning garden' designed by Andy Sturgeon. See the listing for all the details of that. A path beyond takes you to a wooden bridge and mature woodland, while another path leads down to the tennis court at the lower end of the garden. Yes, this is pretty much your own health retreat. Only you live here full time.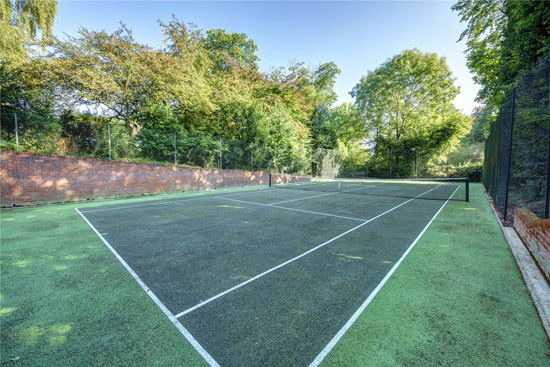 At least, you do if you have the money. No Huf Haus comes cheap and this is no exception. The guide price is an eye-watering £4,000,000.
Images and details courtesy of Hamptons. For more details and to make an enquiry, please visit the website.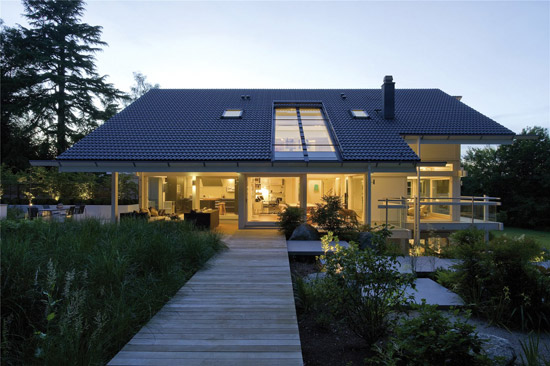 Property Location