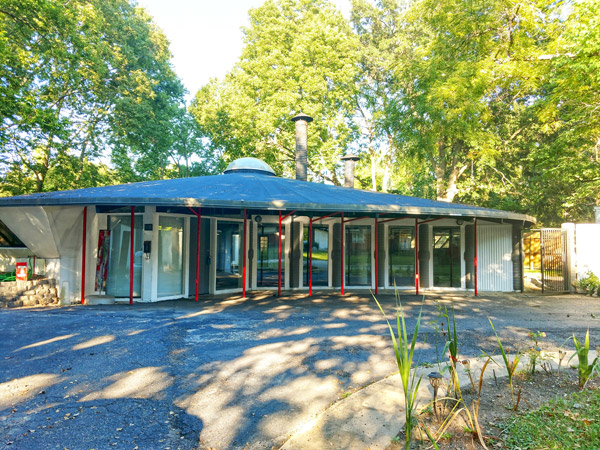 Not sure what's more appealing, the style or the price. But overall, this 1950s Bruce Goff circular modernist house in Urbana, Illinois, USA is a great package.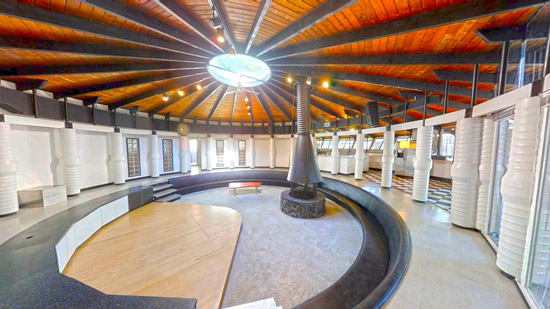 Yes, another circular house, but at the other end of the financial spectrum from the Jackie Gleason property I featured a couple of weeks back. More on the price in a moment. For now, let's talk about the architectural merits and background.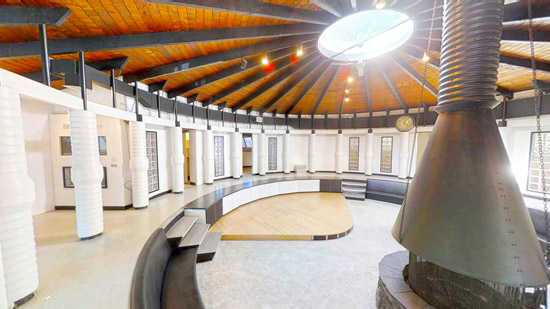 The house is said to date from 1955, although some records say 1965. Like the agent, I am going for the 1950s. The name of the place is the Garvey Round House, with the house named after its first owner, John Garvey.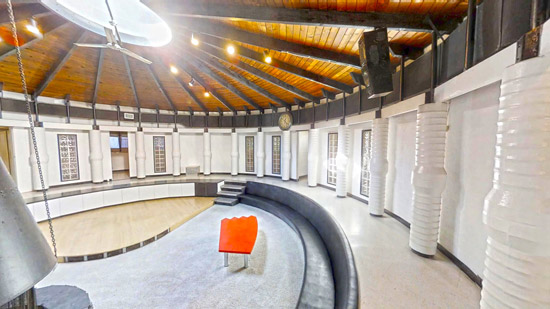 Mr Garvey is a significant player here. He was a violinist who taught at the University of Illinois, Urbana, with the amazing living room first designed as a giant music room for his personal needs. It actually has a hint of a 1970s night club to me, bringing back the much missed Villa Benedetti in Italy.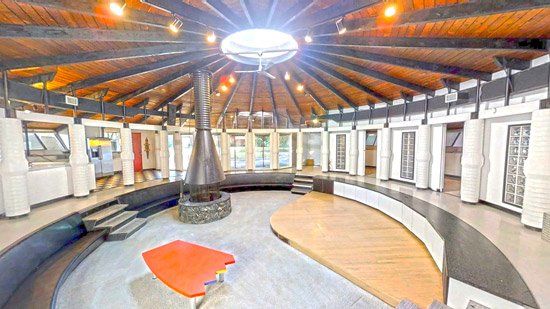 You can use it for whatever you like, but for hosting a party, this is pretty much perfect, especially with the mini stage area. Beyond that, it could be an oversized conversation pit or just a quirky place to hang out.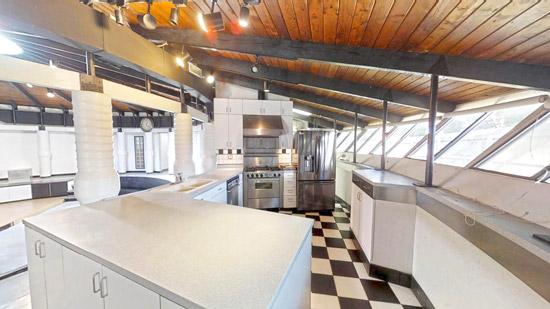 Love the wooden ceiling too, as well as the skylight in the centre and those very distinctive columns. There is something of the 'film set' about this one.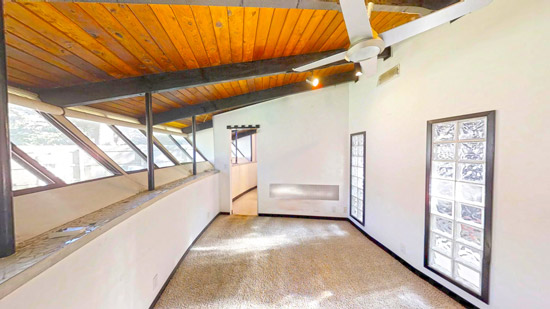 There are rooms off the living room, but obviously they struggle to have the same impact as the centre of the house. But you do get a kitchen, an office, and three bedrooms, all with slightly quirky layouts due to the shape of the house.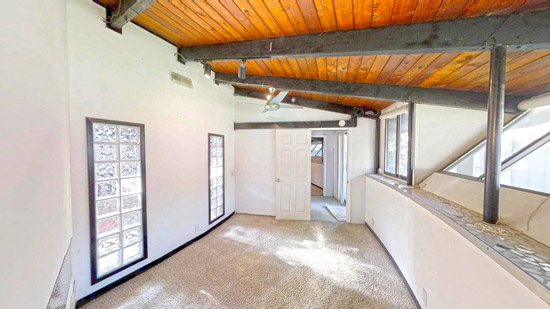 But that isn't quite all of the space on offer. A 'bonus house' behind, built fairly recently, includes a sauna and soaking tub. Outside you will find koi ponds at the rear and 0.3 acres of land overall to enjoy.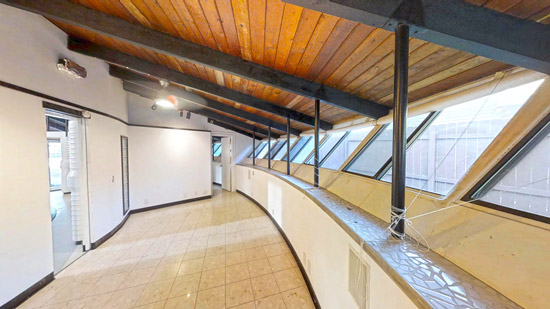 Very unusual, but rather fascinating because of that. If you want to live here, the house is on the market for $179,900. Even with a very weak UK currency right now, that's £138,000.
Images and details courtesy of Stefanie Pratt Homes. For more details and to make an enquiry, please visit the website.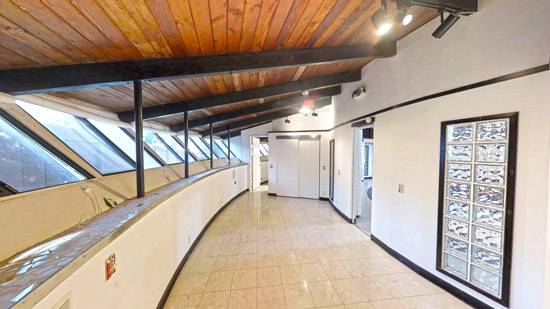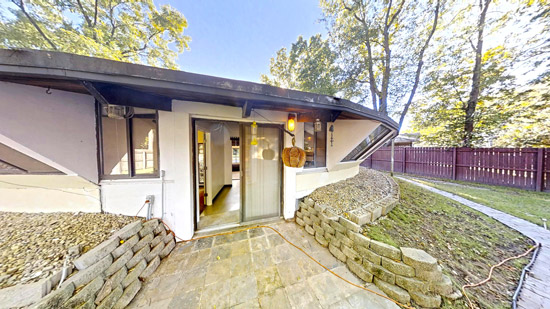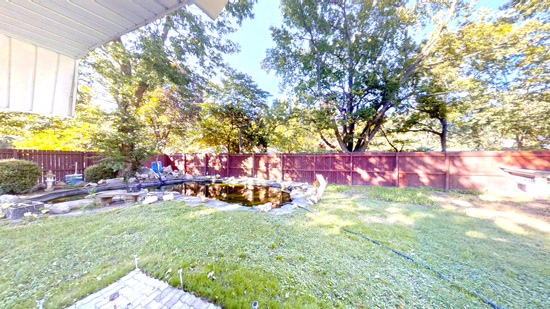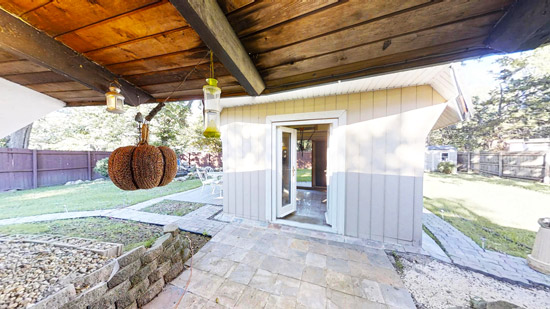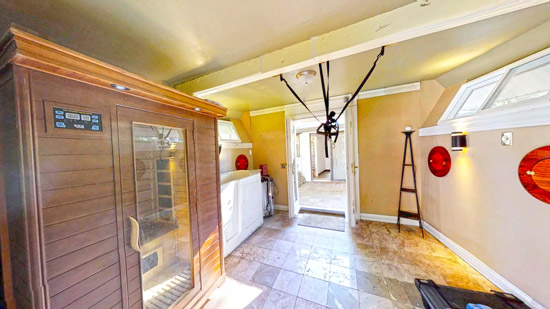 Via Curbed
Property Location