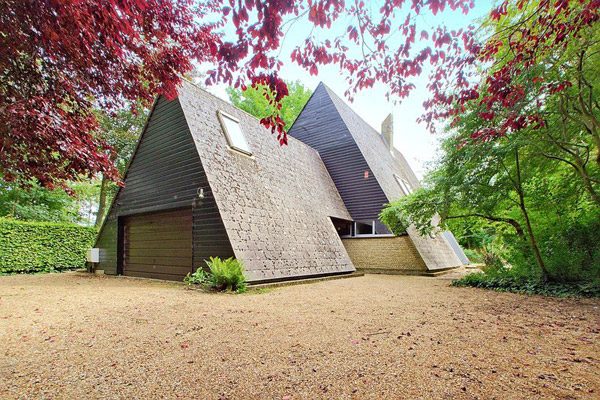 Featured early this year and extremely popular, this 1970s Scandinavian-style house in Climping, West Sussex is back on the market with a hefty price drop.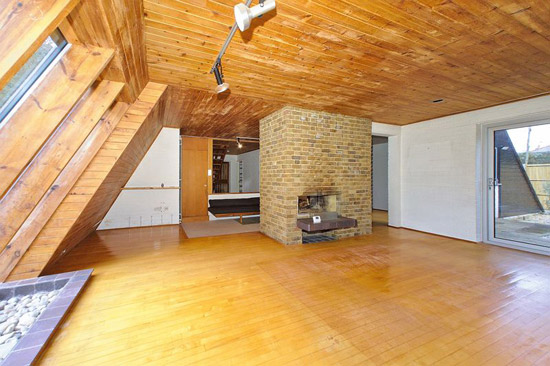 You really need to look at both listings alongside too, as the previous one showed this house furnished and very much at its best. The listing now shows the house completely empty. Yes, it probably gives you an idea of the space and layout, but it doesn't really sell it as much as the first one.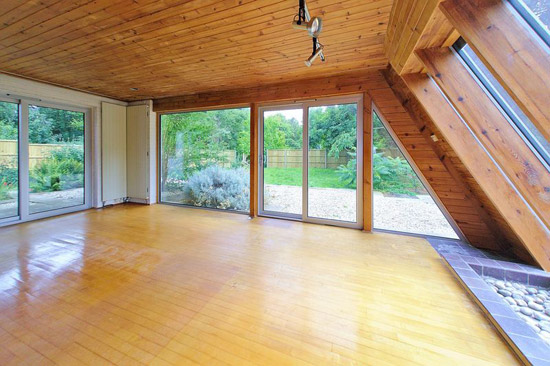 I second guessed at the 1970s originally, but I'm sticking with it as I think that's about right for this one.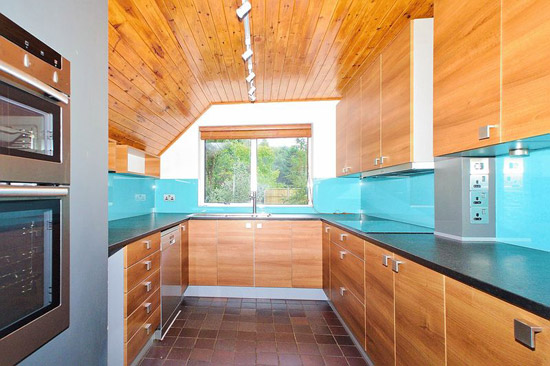 Has it changed? Well, in the main, no it hasn't. That bold Scandinavian-inspired construction is still as it was when first built, but there are a few updates here and there.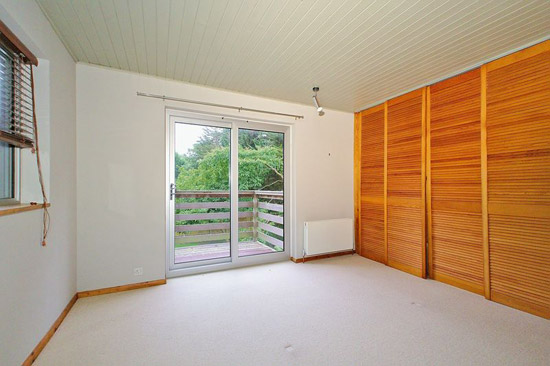 You do have to look closely too. I'm guessing the windows have been upgraded and it looks like the kitchen and bathroom have had updates. A wood burning stove too, which is presumably recent. But not much else.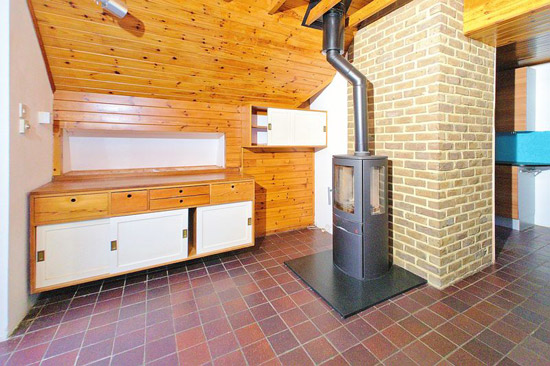 Beyond that, you are looking at all those lovely angles (as you would expect from a triangular-shaped house), the wood clad ceilings and the exposed brick are very much of the era.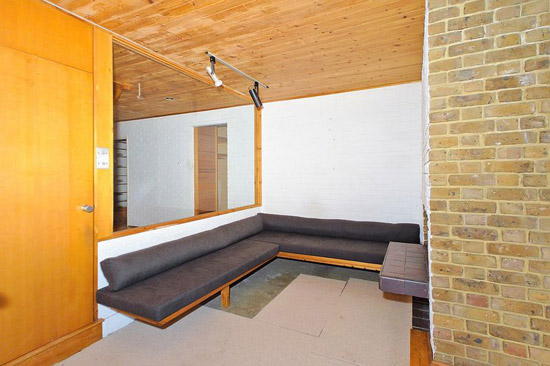 Love the fireplace in the living room too, along with the built-in units, the lighting, the exposed staircase and the layout itself, which has plenty of interesting spaces to play with.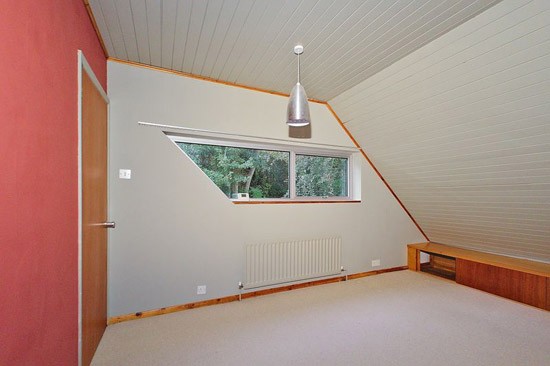 But it's the overall design you fall in love with. This isn't exactly a totally unique house, although it is individually architect designed. But you will have to go a long way to find something similar.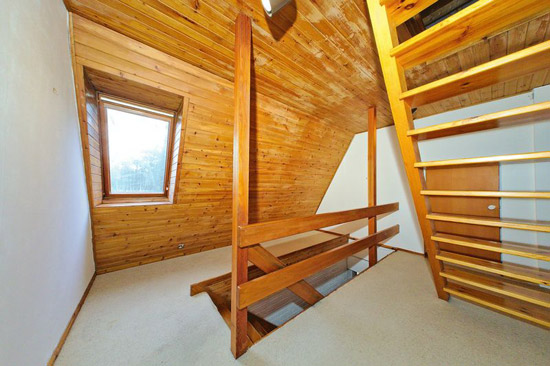 A reasonable amount of living space too. The ground floor is made up of a 'spacious' entrance hall, a triple aspect living room, dining room, fitted Kitchen, breakfast room with wood burning stove, a utility room, study and a library area. The study and library could apparently be used as ground floor bedrooms too.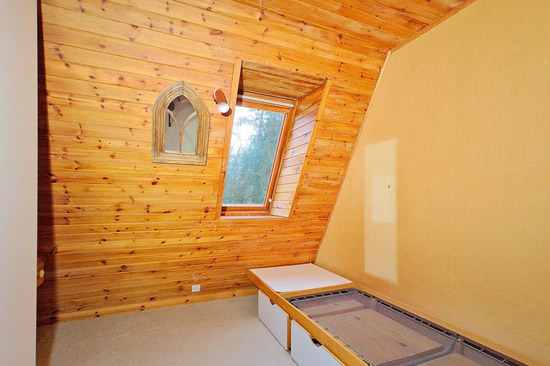 The first floor has a 'spacious' master bedroom with an en-suite shower room, as well as patio doors leading to a balcony. There are two further bedrooms, along with a family bathroom up here too.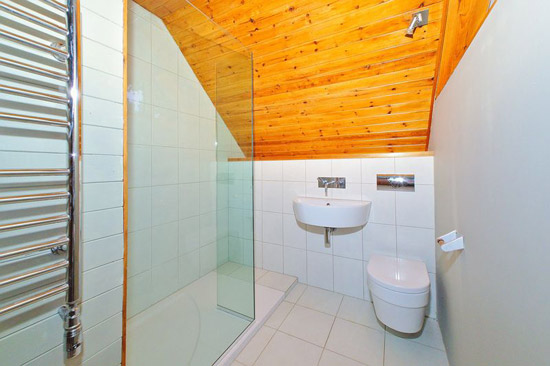 Note that there is also a a large loft room over the garage which can be accessed from the first floor. There are three loft rooms on the second floor too.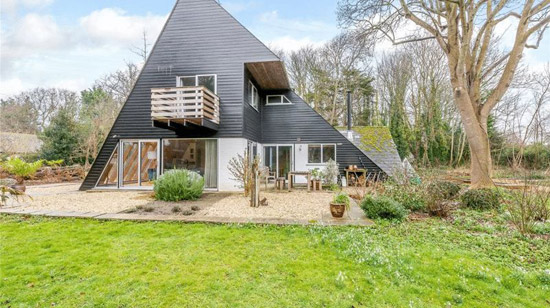 At the front of the property is 'extensive parking' for several vehicles leading to the large garage. To the rear is a mature garden with a large paved patio area.
And that's about it. As I said, do check out that earlier listing to see it furnished as it shows it off so much better. Back then, it was on the market for £725,000. Right now it is up for £550.000.
Images and details courtesy of White and Brooks. Fir more details and to make an enquiry, please visit the website.
Update: Thanks to Lesley for spotting that there is now a fence at the side of the house, which wasn't there in the past sale pictures. It suggests some of the land might have been spearated off, hence the lower price. But do check that yourself. Note that the original listing did mention 'potential for further development' within the two acres of land.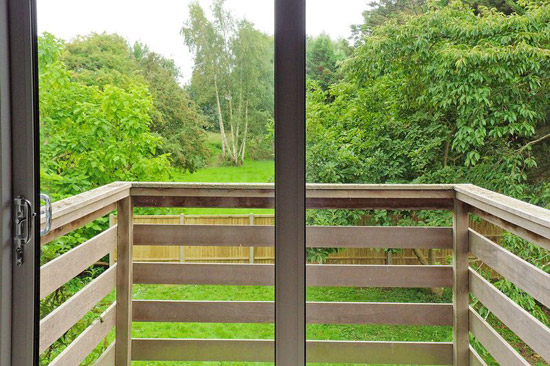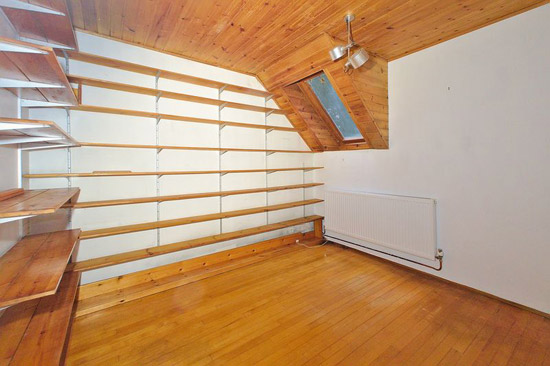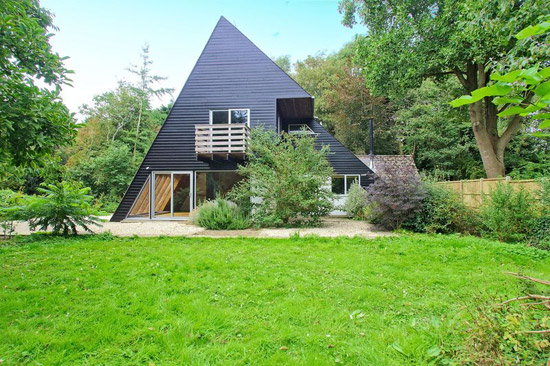 Property Location