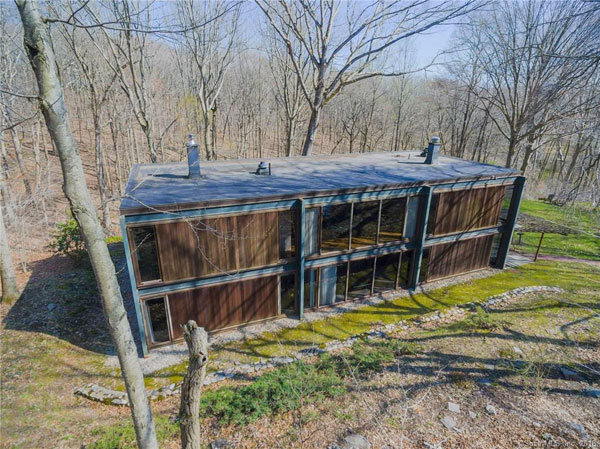 I love this one. If you like the idea of modernism and isolation, please do check out this 1970s John Dinkeloo modernist property in Hamden, Connecticut, USA.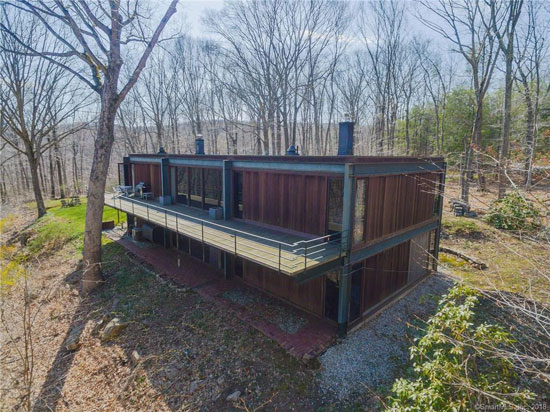 Modernism or midcentury modern? The agent goes for the latter and there is a strong case for that. I've opted for modernist, but it's only a label, so why cares?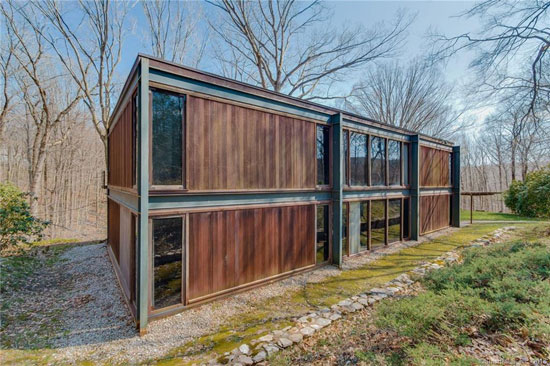 The important thing is the architecture, which was the work of 'noted Architect' John Dinkeloo, of Kevin Roche John Dinkeloo Associates and a track record that included working alongside Eero Saarinen. He designed and built the one for himself back in 1970. A man of great talent, obviously.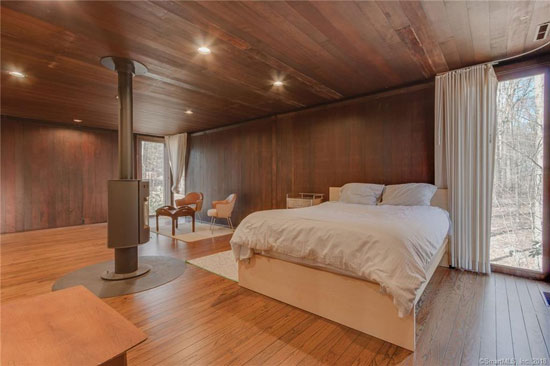 The location is rather special too. Check out the last of our images, which hopefully shows just how isolated this house is in the woods. Not for everyone, but if you want your own space, there is plenty of it here. 5.78 acres to be precise.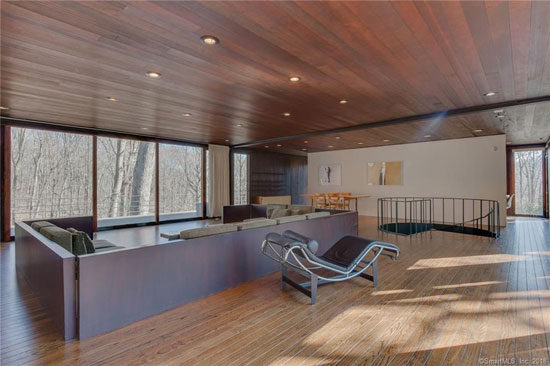 The house, with its dark wood finish, sits well amongst the trees too. Perhaps that was the idea. It also makes you feel a part of it too, thanks to the extensive balcony area and full height glazing. Fancy getting at one with nature? This is probably one to consider.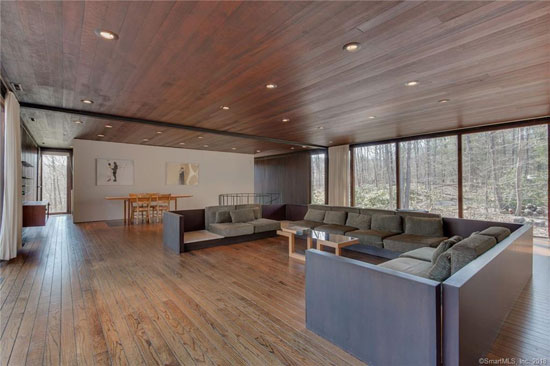 Yes, the 'boxy' design and location are selling points, but the interior really seals the deal.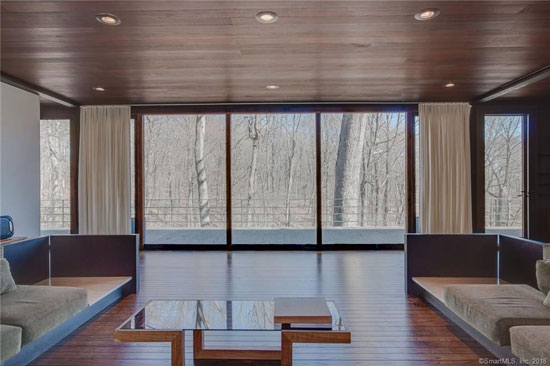 A house 'lovingly maintained and preserved', it has been updated here and there, but the majority of this one looks untouched for decades – and is all the better for it. In fact, an original John Dinkeloo designed sofa is still in place in the living room and stays with the house, regardless of who buys it.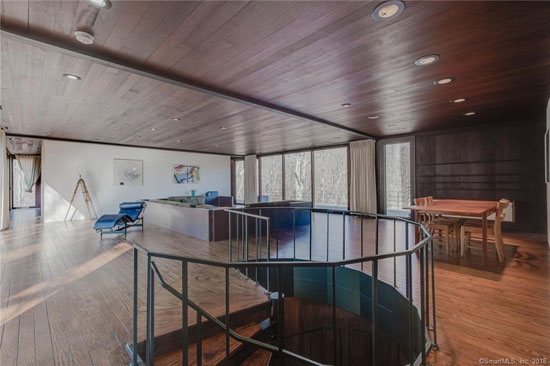 Elsewhere, the rooms are spacious, none more so than the main living room with wood walls and ceilings. A huge space broken up with the occasional design classic and that staple of 1970s living, the spiral staircase. Behind a partition is the kitchen, which is starting to look its age a little. Some things are best left in the '70s. Also on this floor is a substantial master suite with wood-burning stove.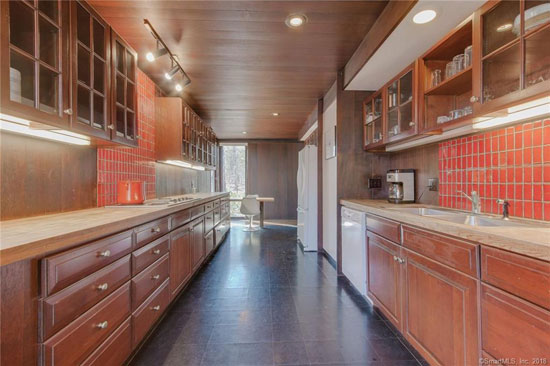 Elsewhere you will find three more bedrooms, two bathrooms and a large den with a three-car garage taking car of your vehicles or your excess clutter.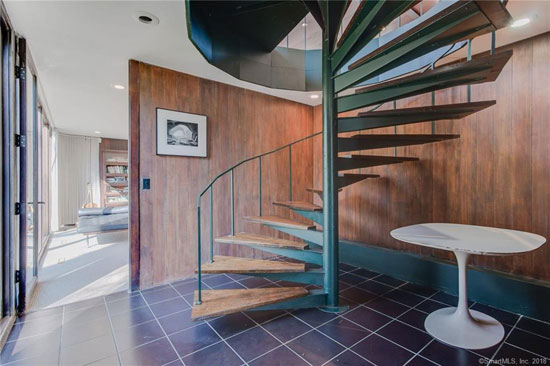 As I said, some work already done and perhaps a few more tweaks needed, not least with the kitchen area. But overall, this is a gem and definitely good to go. If you like the idea of moving in here, the house is up for $619,000.
Images and details courtesy of Raveis Real Estate. For more details and to make an enquiry, please visit the website.
More Connecticut house find here if you need them.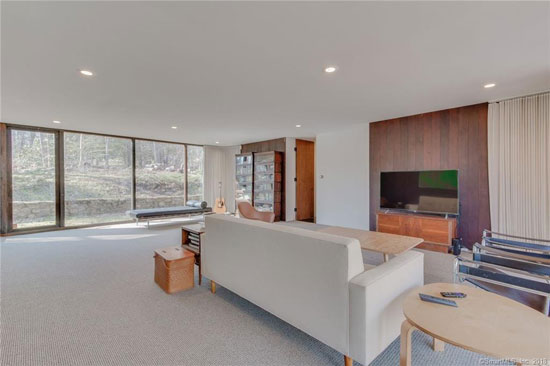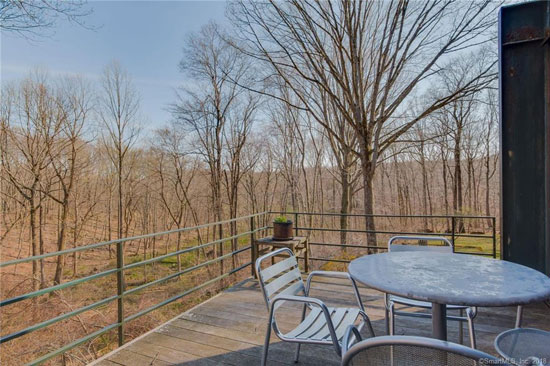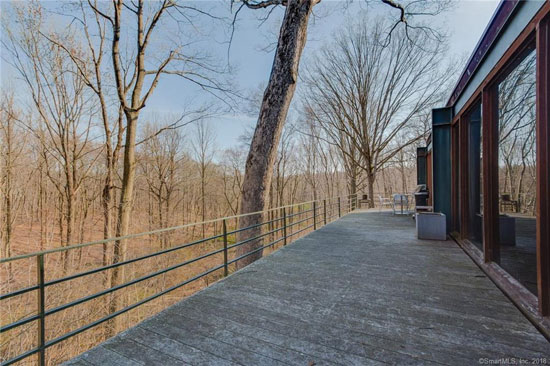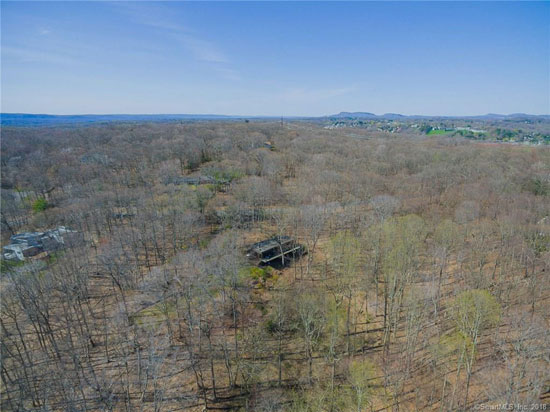 Property Location