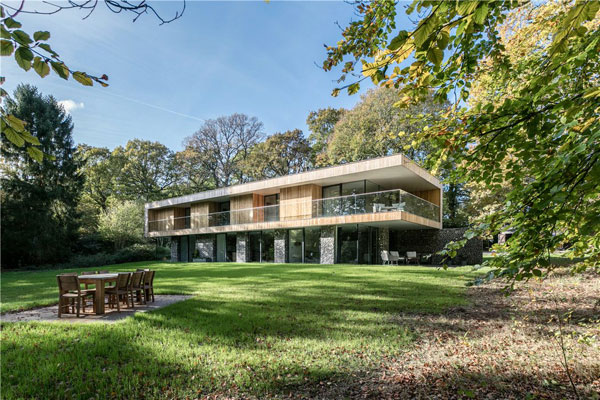 Now this is absolutely stunning. An ArchitecturALL-designed modernist property in Penshurst, near Tonbridge, Kent.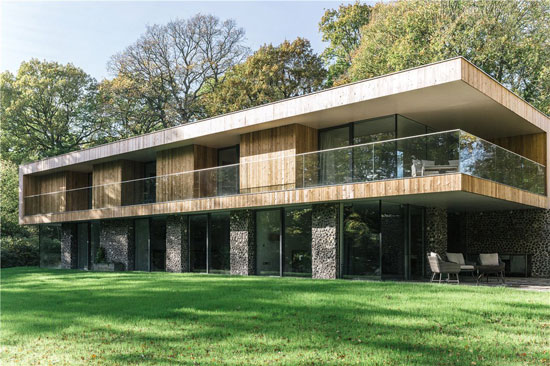 The house is actually a new build (as you might have guessed) and one of the better new builds we have seen for quite some time in the UK.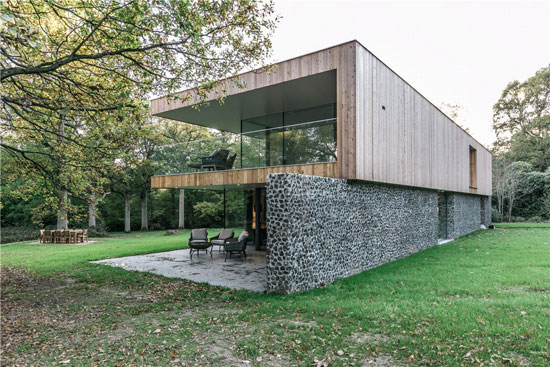 Where do I start? Well, how about that exterior. A ground floor with walls of glazing and stone feature walls, along with an upper floor with wraparound balcony, feature wood panels and even more full height glazing.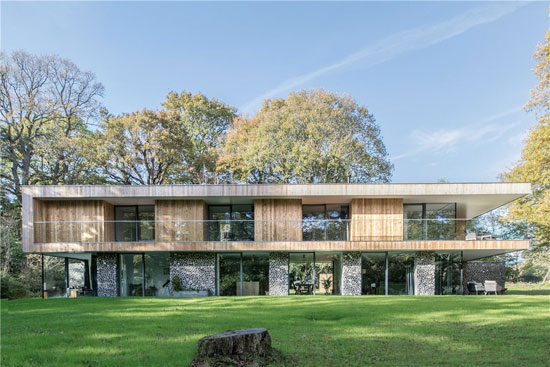 Even the rear of the place is eye catching, with more of that stonework and wood, albeit with less 'wow'. Perhaps that's for a bit of privacy. The balcony side looks out over the managed garden area and there is plenty of that. The outside space covers something like 5.3 acres in total.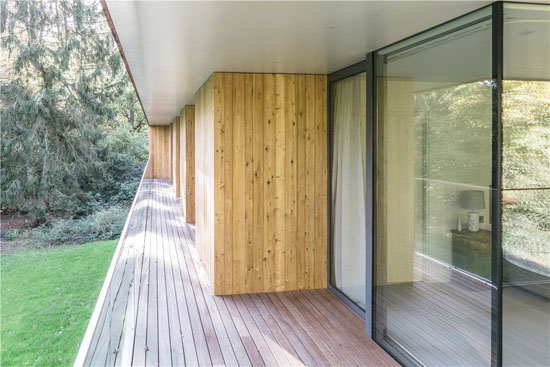 So lots of space outside and to be fair, no shortage inside. Plenty of high end detailing too, which you would expect of a place like this.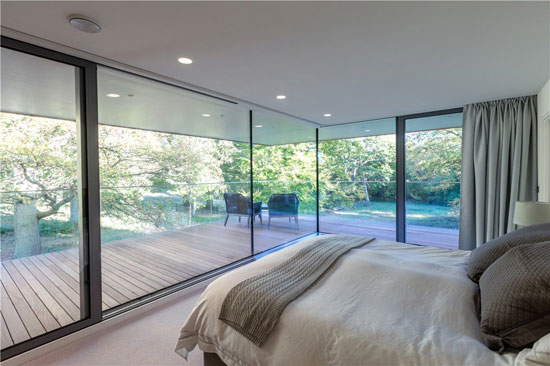 The kitchen / dining room space for example. The handmade oak kitchen has everything from Gaggenau appliances to a six-bottle wine cooler, as well as a Fired Earth natural stone floor and walk-in larder.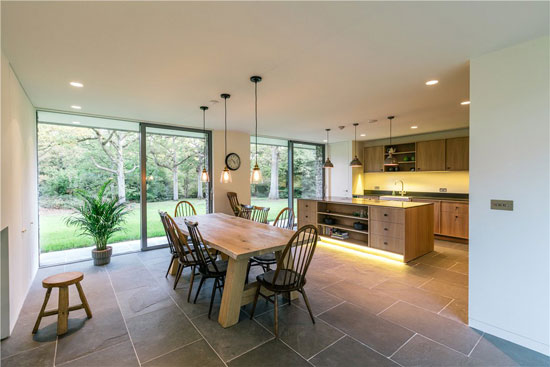 There is also a sitting room, again with Fired Earth natural stone floor and double sided log burner, a family / TV room, a study / snug with a handmade floor to ceiling fitted oak bookcase, a cloakroom and even a basement space, currently laid out as a gym and with two further storage rooms so you can keep the main floors nice and clutter free.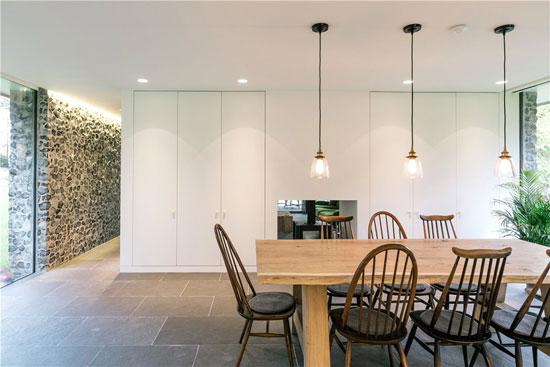 Head up the staircase and you will find a utility room, a master bedroom with en-suite, which includes a double ended free standing natural stone bath, walk-in shower and hand-built wardrobes, along with a family bathroom and four further bathrooms and some more en-suites.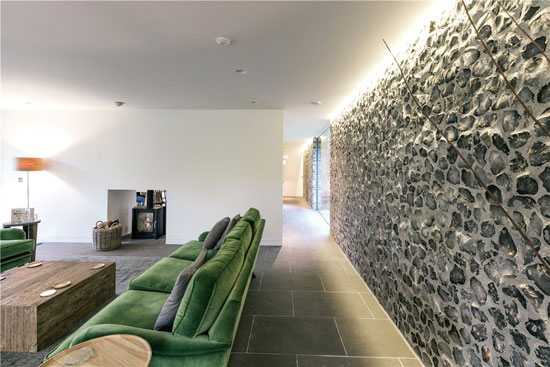 So many other features and details too, such as an air source / air exchange system to retain heat but provide fresh air constantly, underfloor heating throughout with individual room thermostats, solar panels, LED lighting, exterior lighting and much more. See the listing for the full, extensive breakdown of all of that.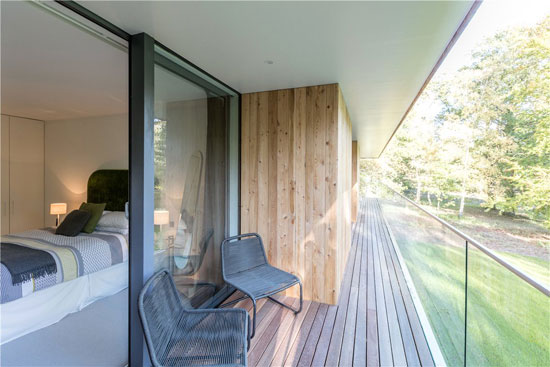 As we said, plenty of space outside too, which incorporates a private gated entrance and parking area, a wrap around paved terrace surrounding the property with a BBQ area and all of that lovely garden and woodland space.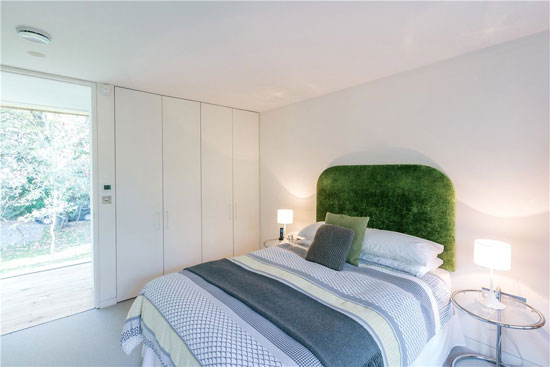 All nice extras to the real star of the show, which is the architecture itself. Of course it isn't cheap at £2,500,000, but we can always dream.
Images and details courtesy of Knight Frank. For more details and to make an enquiry, please visit the website.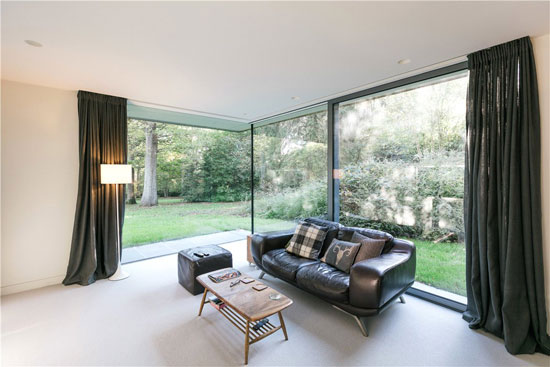 Property Location