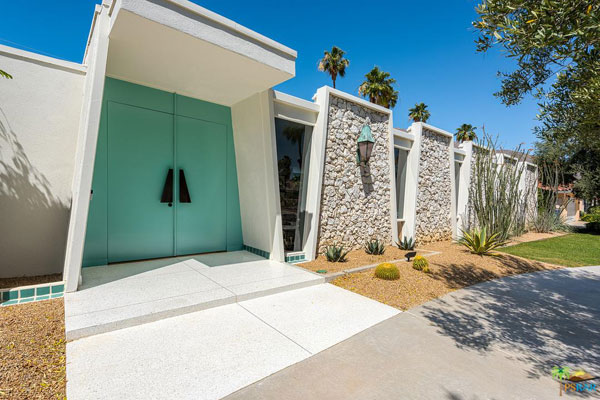 A wonderfully striking design. And this 1960s Hal Levitt midcentury property in Palm Springs, California is just on the market.
The exterior of this Class 1 Historic Site sells it for me. The 'isosceles trapezoidal piers' framing the front windows are just amazing, as is the floating fireplace within. But beyond that, this house is pure Palm Springs.
That's not a bad thing either. Inside / outside living, an interior open atrium and a large pool and plenty of space for entertaining. Like being on holiday every day of the week.
The general look and feel are still very much of the 1960s, but if you want a time capsule, then you might be a little disappointed.
The house has been extensively renovated and as a result, gains on modern-era amenities, but loses a bit on the character. Swings and roundabouts. But with the right decor and furnishings, I think you could turn this around.
If the finish isn't for you, the space should be. There is so much of it. Of course, the open reception area is substantial, as is the atrium. But beyond that are four master bedroom suites and five bathrooms, along with the resort-like pool area.
Palm Springs is never a cheap place to buy so the price tag of $1,895,000 isn't unexpected.
Images and details courtesy of Estately. For more details and to make an enquiry, please visit the website.
Property Location