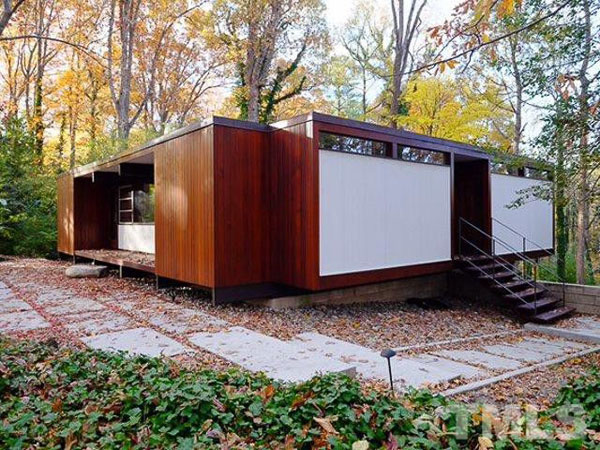 Now this is rather special. Someone has done this 1950s George Matsumoto midcentury property in Chapel Hill, North Carolina rather proud.
Of course, the architect did something proud once upon a time too. The architect was George Matsumoto, which designed this wonder for the Julian family back in 1955. I don't know what the brief was, but I expect he exceeded it and more.
It is tempting to call this a time capsule and in a way it. This is a glimpse into a midcentury modern lifestyle of the mid-1950s. But it hasn't always been this way.
According to the agent, the current owners have 'gone to painstaking efforts' to bring this place back to its former glory, preserving original features whilst adding in 'just the right amount of updates and improvements to delight the 21st Century homeowner'.
The real success here, is, outside of the kitchen and bathrooms, spotting what's old and new. You can take a punt, but you don't know for sure. Well, we would guess those lovely wood walls, the doors and the beams were original, with the architecture and layout in general also untouched. But beyond that, it could be 'repro' or it could be true to the 1950s.
Decent amount of space too, The house in just under one and a half acres of land, with around 2,656 sq. ft. of internal living space. That includes four bedrooms, three bedrooms, an open kitchen and dining area, office space and a lovely, bright reception. Space below ground level too, which looks like it could be adapted to something more useful.
$595,000 is the asking price for this one, which works out at around £446,000.
Images and details courtesy of Realtor. For more details and to make an enquiry, please visit the website.
Property Location