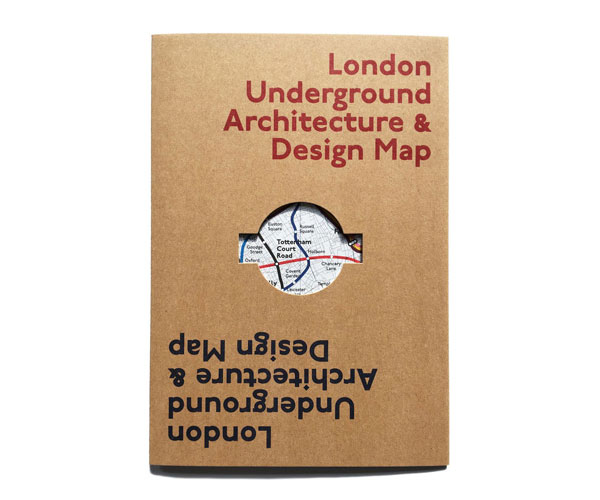 All images: Will Scott for Blue Crow Media
Yes, another map by Blue Crow Media. This time it's the London Underground Architecture and Design Map.
It's likely to be a popular one too. Transport​ ​design historian​ ​and​ ​broadcaster​ ​Mark​ ​Ovenden​ ​has​ ​curated​ ​the​ ​first​ ​in​ ​Blue​ ​Crow​ ​Media's​ ​new series​ ​of​ ​maps​ ​dedicated​ ​to​ ​the​ ​architecture​ ​and​ ​design​ ​of​ ​the​ ​world's​ ​finest​ ​public transport​ ​systems.​ ​
The result is a​ ​two-sided​ ​cartographic​ ​guide​,described as an​ ​'original,​ ​authoritative​ ​and​ ​fascinating​ ​insight'​ ​into​ ​the​ ​architecture​ ​and​ ​graphic​ ​design of​ ​the​ ​London​ ​Underground​ ​for​ ​transport​ ​lovers,​ ​students​ ​of​ ​design​ ​and​ ​anyone interested​ ​in​ ​the​ ​history​ ​of​ ​London.
The​ ​guide​ ​includes​ ​a​ ​geographical​ ​Underground​ ​map​ ​with​ ​featured​ ​stations​ ​marked​ ​on the​ ​front,​ ​corresponding​ ​photographs​ ​and​ ​details​ ​on​ ​the​ ​reverse,​ ​along​ ​with​ ​tips​ ​for where​ ​to​ ​find​ ​unique​ ​and​ ​unusual​ ​signage,​ ​roundels,​ ​clocks,​ ​murals​ ​and​ ​more.​ ​The​ ​map is​ ​protected​ ​by​ ​a​ ​slipcover​ ​featuring​ ​a​ ​distinctive​ ​die​ ​cut​ ​roundel.
This​ ​map​ also ​highlights​ ​the​ ​most​ ​unique​ ​and​ ​influential​ ​examples​ ​of​ ​architecture​ ​and​ ​design across​ ​the​ ​network.​ ​Stations​ ​by​ ​architects​ ​like​ ​Charles​ ​Holden,​ ​Leslie​ ​Green​ ​and Stanley​ ​Heaps​ ​are​ ​featured​ ​alongside​ ​more​ ​recently​ ​built​ ​stations​ ​by​ ​Norman​ ​Foster,​ ​Sir Richard​ ​MacCormac​ ​and​ ​Michael​ ​Hopkins​ ​&​ ​Partners;​ ​and​ ​original​ ​signage​ ​in​ ​Johnston lettering​ ​is​ ​featured​ ​alongside​ ​the​ ​murals​ ​of​ ​Eduardo​ ​Paolozzi​ ​and​ ​others.
Fancy one? It sells for £9 and is available now.
Find out more at the Blue Crow Media website